SATURDAY SIX: The Six Most Interesting, Most Unusual, and Strangest Souvenirs in EPCOT's World Showcase
This week's SATURDAY SIX takes a look at the Six Most Interesting, Most Unusual, and Strangest Souvenirs in Epcot's World Showcase. After last week's article on the Six Best Snacks in World Showcase, we're going stay in the same area and look at another underrated part of Epcot; all the unique gift shops. This is the one theme park in Orlando, if not the world, where you will not find the same old stuff. Outside of the Norway Pavilion, it's pretty much impossible to find any Frozen merchandise and you will have to go to Future World if you want the Disney Parks merchandise you will usually see at the other parks, Disney resorts, or Disney Springs. It's a breath of fresh air and there are so many incredible items throughout World Showcase. However today we are not going to look at those. Instead we are going to look in the nooks and crannies and find the six most interesting, unusual, and strangest items starting with….
# 6 – Panda Sitting On a Toilet (China Pavilion)
While World Showcase is filled my with great shopping experiences, by far and away my favorite area to browse is at the Yong Feng Shangdian Department Store in the China Pavilion. It is a gigantic store packed with some of the coolest and most unusual in all of WDW. Wall of actual swords? CHECK. Intricately designed wooden ships? CHECK. Jade sculptures? Gorgeous Chinese dresses? Paper fans and chop sticks? All here. This is a store you could spend the better part of an hour just walking through and checking everything out. It also may contain the most amount of panda related items in Florida. Panda stuffed animals, keychains, coffee mugs, earmuffs… you name it, this store has it. The greatest of all panda items is this Panda Siting on a Toilet toy. Who knows why it could possibly exist, but aren't you glad it does?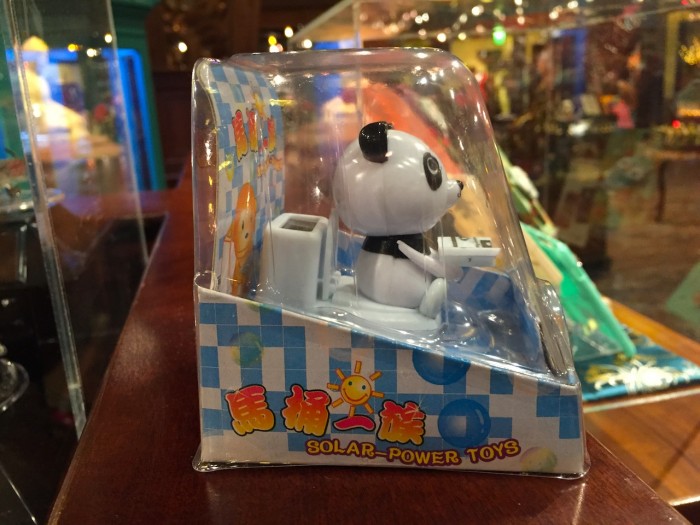 Speaking of animals, the China Pavilion is also your go-to place if you're looking to get a new wardrobe for your small dog. Socks, collars, silk Kimono robes, and – yes – even an outfit to make your dog cosplay as a panda. If you ever wanted Fido to dress better than your favorite theme park blogger, Epcot is the place for you.
–
# 5 – Camel Shirt (Morocco Pavilion)
In our monthly the Magic, the Memories, and Merch Disney Outlet Reports, I give a lot of grief to the Disney shirts which have a great looking face shot of a character on the front and then you turn the shirt around to see the back of the character sticking themselves through the shirt. This camel shirt takes it to the next level though. That said, I think Morocco is hands down the most underrated Pavilion in World Showcase. It is visually stunning and – for me – the only one that feels like I'm walking into a completely different environment as I explore it. Granted my world view is shaped by movies, but the Morocco Pavilion makes me feel like I am shopping in Aladdin's Agrabah marketplace or am about to turn the corner and see Indiana Jones shoot a swordsman. We buy a lot of gifts for our family at the stores in this area including incense and traditional Moroccan clothing.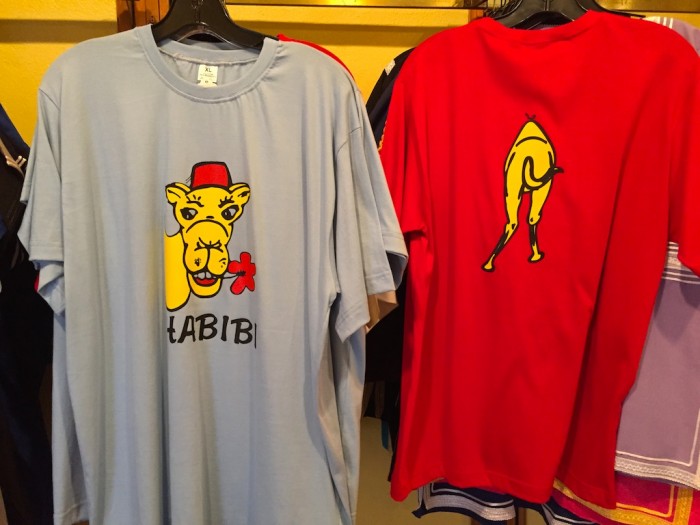 –
# 4 – Hockey Player Maple Syrup Bottle (Canada Pavilion)
We in America have Mrs. Butterworth syrup bottles while Canada has ones in the shape of hockey players… seems about right (although now I want to know what type of bottles the Japanese would use. Don't ruin my dream of a sumo wrestler or Hello Kitty syrup bottle.) Available at the Trading Post in the Canada Pavilion, these Hockey Players are just one item of a wall of maple syrup and maple candy options. Only thing missing is that flask we saw in Elf for those who follow the standard North Pole food groups of candy, candy canes, candy corn, and syrup. After enjoying the lumberjack show nearby, here is where you can get lumberjack clothing. The stores in Canada are also the only place within the Disney parks where you can buy official NHL merchandise (although to be fair, the American Adventure should have a sports section called "The Bandwagon Corner" which would currently be selling Tampa Bay Lightning merchandise.) We're sorry to report there are no Martin Short items available, but the good news is that there is no Justin Bieber ones either, so it all works out in the end.
–
Bonus points to the Canada Pavilion for having a Tervis shot glass. Whaaaaaat?!
–
# 3 – Guinness Candy (UK Pavilion)
We love gong to the UK Pavilion to get a drink at Rose & Crown, with a pint of Guinness being one of our favorites, so imagine our surprise finding you can find Guinness candy located just steps away? The shops within the Pavilion have an interesting mix of items including clothing themed to The Beatles, the Rolling Stones, and the BBC version of Sherlock Holmes (which gets my highest possible recommendation) along with other pieces of merchandise themed to the English royalty and professional soccer. Need kitchenware to serve your own version of English tea? Here's your one stop place to go in Walt Disney World.
–
# 2 – Disney Character Items in Mexico Pavilion
Walking into the Mexico Pavilion's Aztec temple is one of the coolest experiences at Epcot. As the area opens up  you get to see the San Angel Inn in the back, La Cava on your right, and various Mexican vendor carts filled with items directly in front of you. Thanks to the Day of the Dead celebration in Mexico, this area actually has more skull related items than Universal's Halloween Horror Nights, but also some fun photo opportunities with huge sombreros and authentic ponchos. While we mentioned earlier that World Showcase shops in general aren't filled with Disney characters, the La Princesa de Cristal shop does have a bunch of high end options. Presented by Arribas Brothers, who have an even larger store at Disney Springs, here is where you can buy an $815 Duffy the Disney Bear that is about as large as your index finger.
–
# 1 – A $400 Fly Statue (China Pavilion)
We end where we started, back at the Yong Feng Shangdian Department Store. The artwork and statues throughout the store are an attraction in and of themselves, but amidst the stunning displays are some items that may leave you shaking your head, such as this $429 fly. There are many spiritual items in the store, and animals play a large part of Chinese culture. In fact one of my favorite things in the store is the shirts and other merchandise related to the Chinese Zodiac (I am a Year of the Ox, represent!) I'm not exactly sure how respected flies are in the Chinese culture, but I still think I'd spend my money on a dragon statue.
–
–
HONORABLE MENTION: Pickle Ornaments (Germany Pavilion)
I have been informed by several members of the SATURDAY SIX staff that the pickle ornaments in the Germany Pavilion are, in fact, not weird. They stem from a German tradition in which children were rewarded for finding the pickle ornament hidden within their Christmas Tree. This practice would encourage children on Christmas morning to not just devour their presents under the tree, but instead to take a moment and appreciate the ornaments on the tree.
After careful consideration, I am here to debunk this tradition.
As a red blooded American, I spent much of my time as a kid going through high-sugar cereal boxes looking for the free toy inside. This did not make me appreciate the cereal surrounding the toy, and – if anything – annoyed me. Every kid knows that unwrapping the presents is the highlight of Christmas morning, it's what we literally waited all year for. Wasting our time by having us go on a recon mission before opening up the gifts? Sorry, the pickle ornament tradition is just your grandparent's version of an ad you have to watch before a YouTube video.
–
DOUBLE SECRET HONORABLE MENTION: Personal Massager (Japan Pavilion)
This hand held massager is quite possibly the most photographed item in World Showcase, at least by #Millenials on Instagram. The main gift shop in the Japan Pavilion is the Mitsukoshi Department Store and sells some of the coolest items in the entire park. Named after one of the oldest stores in Japan (original was founded in 1673, or one year after Disney announced Avatarland at Animal Kingdom) the store is one part pop culture explosion mixed with tradition Japanese items. Here you will find Godzilla, Transformers, and Power Rangers toys, but also bonsai trees, Calligraphy brushes, and Japanese lanterns.
I remember going to Tomorrowland in the Magic Kingdom as a kid and one thing that fascinated me was seeing Astronaut Food. When I see freeze dried ice cream, well, I'm going to have to try it. As an adult it is harder and harder to find food items that bring that feeling of wonder when seeing them, but lo and behold right outside the Mitzukoshi super store, a cart at the Japan Pavilion delivered with prepared squid.
Be sure to stop into the store to see the selection of pearl jewelry and a neat opportunity to pick your own pearl from an oyster.  An overlooked gem at the park with a very reasonable price. 
So there you have it: The Six Most Interesting, Most Unusual, and Strangest Souvenirs in EPCOT's World Showcase. See you next weekend for the latest installment of the SATURDAY SIX, where we'll look at something fun from the world of Disney and Universal. If you enjoyed yourself, be sure to check out The Magic, The Memories, and Merch! articles, or, for your listening pleasure, check out the Pardon the Pixie Dust podcast. You can also follow Your Humble Author on Twitter (@derekburgan)
If you enjoyed this article, you will surely like the following:
The Six Best Meet and Greets at the Magic Kingdom
The Six Most Unique Dining Experiences at WDW
Six OUTRAGEOUS Food Items at WDW
Six Theme Park Questions for the Magic 8 Ball
Special Thanks to crack staff photographer Brandon Glover and Megan Stump for their invaluable assistance with this article. Be sure to also check out Brandon on The Park Blogger podcast with co-hosts Aengus Mackenzie and Brian Carey. 
FINAL PLUG! Did you know The Unofficial Guide to Universal Orlando has a special edition of the SATURDAY SIX in it? Finally, someone came up with an actual reason to read a book. PRE-ORDER this baby now! (For every copy sold, a percentage of the profits* go towards buying a DVD of the Seven Dwarfs Mine Train rap video.)