SATURDAY SIX: Six MORE Extreme Eats at Walt Disney World
This week's SATURDAY SIX takes a look at Six MORE Extreme Eats at Walt Disney World. For some people, the thing they like most about their theme park vacations is the great attractions like Haunted Mansion. Others love the world class shows like Festival of the Lion King. Here at the SATURDAY SIX we say Nay Nay, because what we love are the EXTRME EATS. Candy apples the size of a newborn's head? An ice cream sundae using, among other things, 8 scoops of ice cream and a whole can of whipped cream? A cupcake topped with peanut butter icing, candied bacon, and chocolate drizzle? YES PLEASE, we'll take one of each. In fact, make that two. Today we are back for more of the most outrageous, the most insane, and definitely the most Extreme Eats on Disney property. So sit back, have a bottle of Pepto-Bismol handy, and let's begin our countdown starting with…
–
# 6 – Pop-Tart Sandwich (Pop Century Resort)
No, you are not seeing things. What you are looking at actually exists. Over at the Everything Pop food court at Disney's Pop Century Resort is what was once thought of as an urban legend. The Pop-Tart Breakfast Sandwich features egg, bacon, and cheese on a strawberry Pop-Tart. The egg is more of a hockey puck in (possibly) edible form. The cheese and bacon melt together in a scene straight out of the classic horror film The Fly. We'd like to tell you how this tastes, but we did not dare eat it as the Pop-Tart sandwich probably should be thrown directly into the fiery pits of Mordor.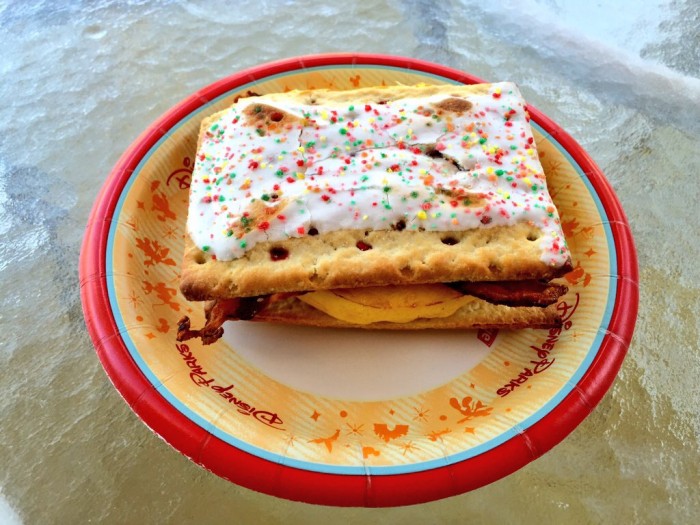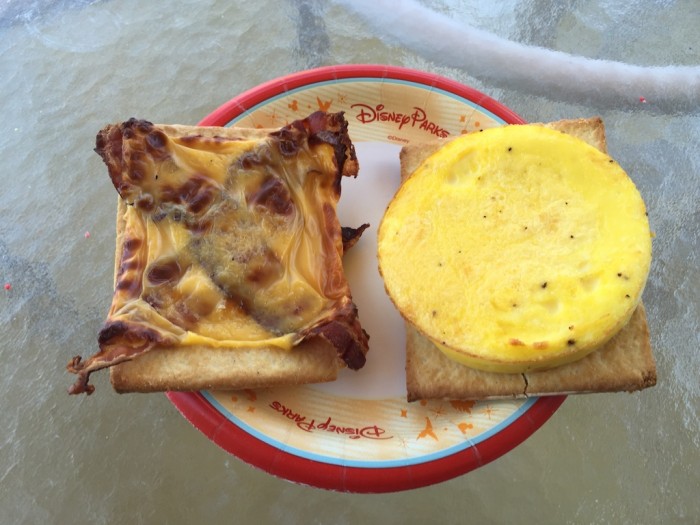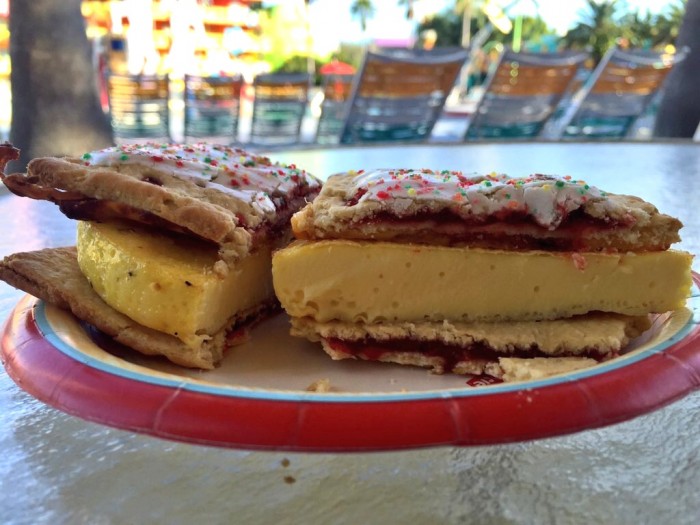 –
# 5 –  Sparkling Volcano (Rainforest Cafe)
These pictures of the Sparkling Volcano at Rainforest Cafe do not do its size justice. It's pretty dang big. The volcano mountain base is formed by a giant chocolate brownie cake served with vanilla ice cream underneath, whipped cream, and topped with caramel and chocolate sauces. The ice cream is encased with the warm brownie and the combination is terrific. To simulate a volcanic eruption, a "sparkler"  is put on top. This is a very fun dessert to share that tastes great. Kid's especially will love the presentation and it's recommended to go to the Rainforest Cafe at Disney Springs which now has its own working "volcano" that erupts with fire.
–
# 4 – Idaho Hot Dog (Gasparilla Grill, Grand Floridian Resort)
There are some things that – even seeing with your own eyes – are hard to believe are true. Case in point, the Idaho hot dog. Part of a new line of gourmet hotdogs at the Grand Floridian, the Idaho dog is served inside a baked potato (in lieu of a bun) and is topped with shredded cheddar cheese, bacon bits, chives, and sour cream. Ever wonder why you never heard of someone putting sour cream on their hot dog before? One bite of the Idaho dog and you'll know.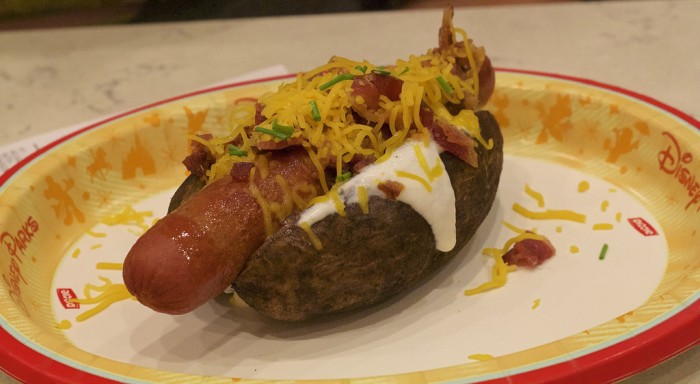 –
The Gasparilla Grill features a different gourmet hot dog each day. The aforementioned Idaho dog is available on Thursdays. On Mondays, the Seattle Dog is topped with jalapenos, Sriracha, cabbage and sour cream (whaaaaaaat?!) Tuesdays have a Kansas City dog with slices of Swiss cheese along with sauerkraut. Wednesdays brings a Memphis dog with bacon, barbecue sauce, scallions, and shredded cheese. Friday and Saturday brings classic dogs themed to New York (mustard, sauerkraut, and onion sauce) and Chicago (pickle spear, sport peppers, chopped onions, green relish and – of course – mustard.)
Sunday brought what we thought might be the absolute best of the bunch. The Cleveland Dog. Topped with coleslaw, hot sauce, and french fries (which seems like more of a Pittsburgh thing) the Cleveland dog in theory is incredible. However, for us the fries were cold, there wasn't much hot sauce, and the coleslaw just wasn't tasty enough. Disney and the Grand Floridian get an A+ for trying though. This is a next level bonkers selection of hot dogs, and this type of creativity is needed resort wide.
–
# 3 – Picnic Burger (Pop Century Resort)
Ever want to see a HEART ATTACK REPRESENTED IN FOOD FORM? Well here you go. At the Everything Pop food court at Pop Century (quickly becoming our favorite place on property to eat. The sloppy joe is in our top five foods at WDW) is the Picnic Burger. A burger topped with an actual grilled hot dog, cheddar cheese, lettuce, tomato, pickles, ketchup, mustard, and sauerkraut. If you are ever around someone who says they are so hungry they could "eat a horse," take them to get the picnic burger and see if they can walk the walk.  WARNING: This burger is NOT for amateur eaters.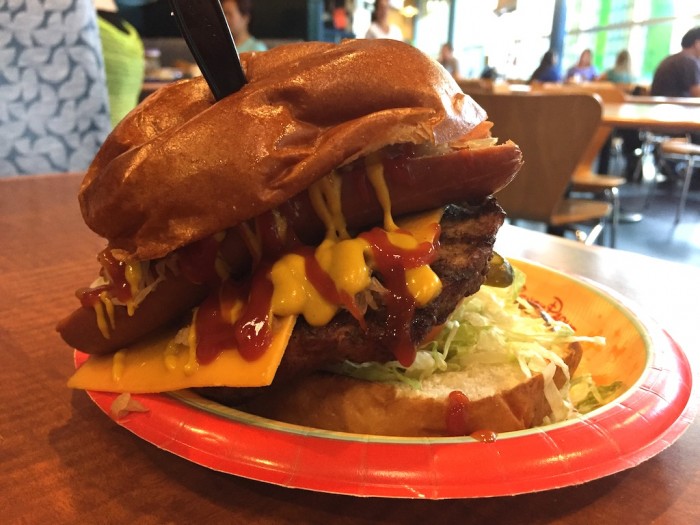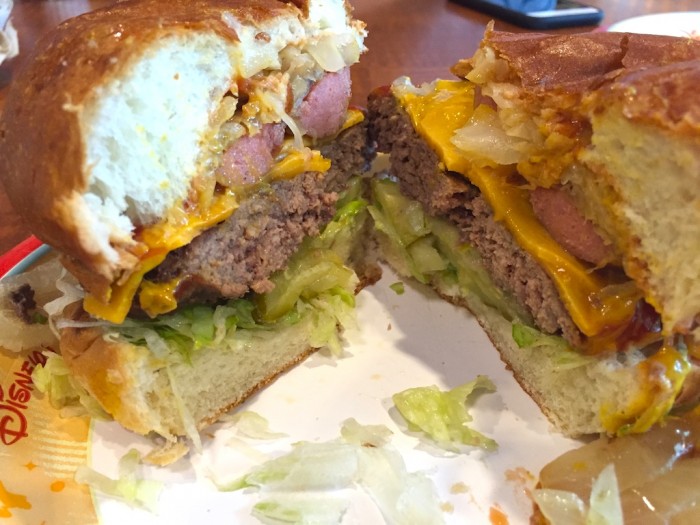 –
# 2 – Sand Pail Sundae (Typhoon Lagoon)
The Disney water parks, Blizzard Beach and Typhoon Lagoon, have some of the most overlooked gems for snacks on property. We've covered the incredibly awesome mini donuts in a previous article, but today we are going to examine the true Must Get: the Sand Pail Sundae. Served in an actual sand pail, this monstrous treat includes chocolate and vanilla soft-serve ice cream, waffle pieces, Sprinkles Jimmies, cookie pieces, hot fudge, caramel sauce, whipped cream and topped with a cherry. This ice cream sundae is so packed with quality ingredients, and served in such a great container, that it makes us not even miss Universal's Mini-Vermonster. So take our advice, if you want some great eats head to the WDW water parks (but keep in mind you won't fit into your bathing suit after).
–
# 1 – Gibsons S'Mores Baked Alaska (The BOATHOUSE)
So far Disney Springs has really brought its A-game to the table. The parking garage, along with the new dedicated ramp straight off I-4 has made parking in the area approximately one billion times easier. Jock Lindsey's Hangar Bar is a homerun. Morimoto Asia is an incredible experience. Erin McKenna's Bakery features must-try vegan donuts and cupcakes along with ice cream, so it's pretty much the greatest place in Florida for anyone with dietary restrictions such as gluten-free, vegan, or Kosher. But perhaps the best addition of all is The BOATHOUSE restaurant.
With wonderful theming (designed by Steven Schussler, the same person behind T-Rex Cafe and Rainforest Cafe along with Universal's Hot Dog Hall of Fame) the BOATHOUSE features a great menu, three waterside bars, a collection of almost 20 rare boats, and even Amphicars that can take guests for a 20 minute drive across Village Lake (for $125 per group). What you have to try however is the greatest dessert on Disney property…Gibsons S'mores Baked Alaska.
A chocolate-marshallow ice cream monolith, the Baked Alaska features a graham cracker crust and "floats" upon a pool of chocolate sauce. There are even bits of Hershey's chocolate bars popping out of the back. This monstrous treat comes to the table with a boning knife stabbed through it, as if Jason from Friday the 13th was the maniacal mastermind behind this delicious monstrosity.
The Baked Alaska is hands down the best dessert on Disney property in terms of taste, presentation, and size. The menu says it serves four, but trust us, it serves more than that (and we don't say that lightly). Run, don't walk to Disney Springs to try this.
–
So there you have it: the Six MORE Extreme Eats at Walt Disney World. See you next weekend for the latest installment of the SATURDAY SIX, where we'll look at something fun from the world of Disney and Universal. If you enjoyed yourself, be sure to check out The Magic, The Memories, and Merch! articles, or, for your listening pleasure, check out the Pardon the Pixie Dust podcast. You can also follow Your Humble Author on Twitter (@derekburgan)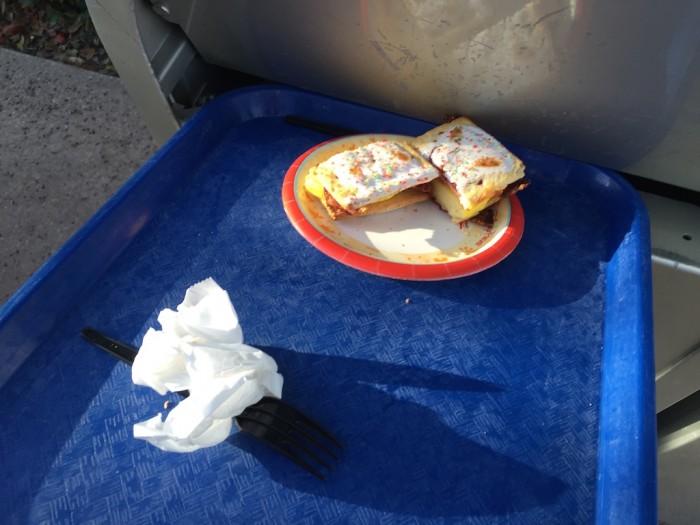 If you enjoyed this article, you will surely like the following:
Six Most Unique Dining Experiences at Walt Disney World
Disney Dining: 'Ohana at Disney's Polynesian Village Resort
Six Reasons Cinderella's Table is Worth Your Time and Effort
Disney Dining: FoodQuest at DisneyQuest
Special Thanks to crack staff photographer Brandon Glover, fresh off double secret probation Brian Carey, Crazy Cat Lady Laurel Stewart, and blogger to the stars Megan Stump for their invaluable assistance with this article. Be sure to also check out Brandon on The Park Blogger podcast with co-hosts Aengus Mackenzie and Brian Carey.
FINAL PLUG! Did you know The Unofficial Guide to Universal Orlando has a special edition of the SATURDAY SIX in it? Finally, someone came up with an actual reason to read a book. ORDER this baby now and support SIX NATION (boy do we need a better name than that.)