To Buy or Not To Buy: The Rapid Fill Refill Question
Is Disney's Rapid Refill mug worth purchasing for your vacation? The value of this refillable cup is going to depend on the length of your trip and your vacation style. Let's take a look. (Last updated/republished June 10, 2023)
Overview
What it is: A thermally insulated plastic or metal cup with an RFID chip for activation.
What it's good for: Drink refills from any Rapid Fill station at any Disney Resort — up to 19,200 free refills (approximately), or even more if your stay is longer than 14 days.
What it costs: Regular designs are $21.99, and upgraded metal cups that were sold in the past are $31.99. (As of June, 2023, the metal mugs are not available for purchase, but they may return in the future.) If you've purchased a Disney Dining Plan, the cup will be included for free.
How it works: Once purchased, the mug can be refilled at no cost at your resort's Quick Service location, or at other designated refill stations around the resort.  The standard stations have a choice of 6-8 beverages and usually include at least one non-carbonated option such as Powerade. Coffee, tea, and hot chocolate are also available.  Some resorts have Coke Freestyle machines for use with refill mugs. The cups are good for 14 days from the date of purchase, and have a 60-second waiting period between refills.

Now we're ready for the big question: should you buy it? I like to start with the obvious: if you don't drink soda, Powerade, or any other beverages that are included in the Rapid Fill options, then probably not. After that it gets a little murkier, so let's break this down from two angles. First we'll look at how cost-effective the cup is, and then we'll check out some of the intangibles that might add to (or subtract from) your personal value equation.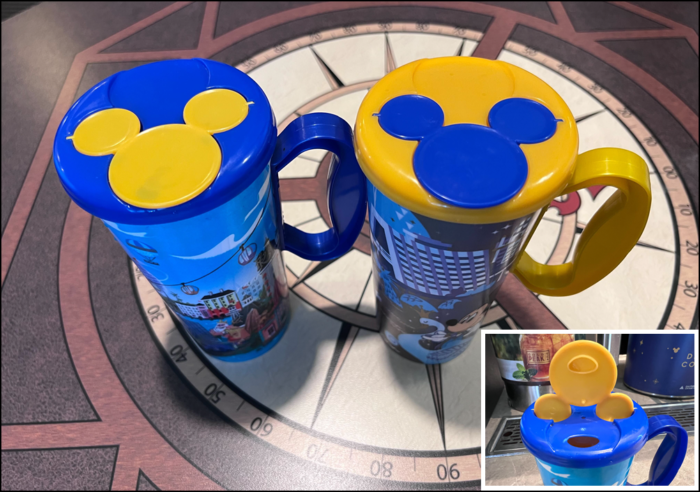 The Dollars and Cents Take
The starting point for any value question is always compared to what?  It's certain that if you scored all 19,200 refills you'd be way ahead on a cost-per-ounce basis.  But to get that maximum value you'd have to stand in front of the dispenser chugging a mug-a-minute, 24 hours a day for 14 straight days. You'd be way ahead on the cup — but that doesn't sound like a great vacation to me.
Instead, let's focus on situations where the cup is typically used:
• Eating meals at resort Quick Service locations
• Hanging by the pool
• Grabbing a refill to drink in your room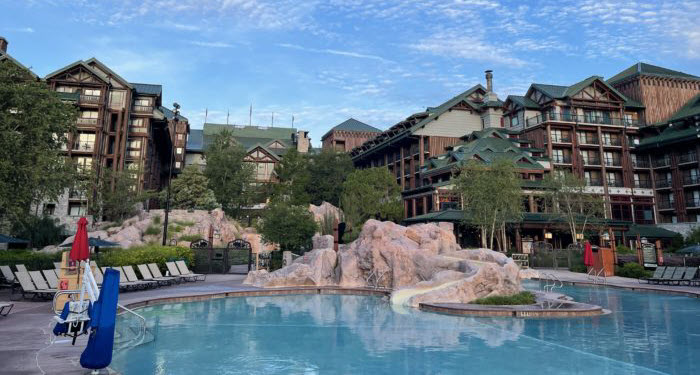 We can see right away that in most cases the cup is replacing an individually purchased serving, so that's what we'll compare to.  The math here is pretty simple. As soon as our per-day cost for single-purchase items passes the per-day cost of the cup, the cup is a better option.  The chart below compares the mug with Quick Service fountain drinks in the paper cup (which are refillable up to three times within the hour), 20 oz. bottles from Quick Service, and 12-packs of 12 oz. cans from a local grocery.

The easy math is in the Day 1 column where you can see how many total purchases you'd need to make to equal the cost of the refill cup. For instance, the refill mug will be a winning option if you're buying more than 5 Quick Service paper cups over the length of your trip, no matter how long it is. But if you've bought 12-packs of cans from the Publix or Target then you'll need to crack open more than 40 to come out ahead.
Coffee, tea, and hot cocoa are currently $3.49 each, so if that's your one fill a day it will take an extra day or so to break even compared to QS paper. On the other hand, if you're in the habit of grabbing a coffee fill-up to go with breakfast in your room and then eating dinner at your resort, the cup might pay for itself over a weekend visit.
The Intangibles
I'm pretty sure this won't shock you, but it's not uncommon to buy things for reasons that have nothing to do with how much money they'll save you. Individual taste is not up for dispute, and it's not possible to put a fixed price on satisfaction. Here are some common non-budgetary considerations that are often raised about these cups.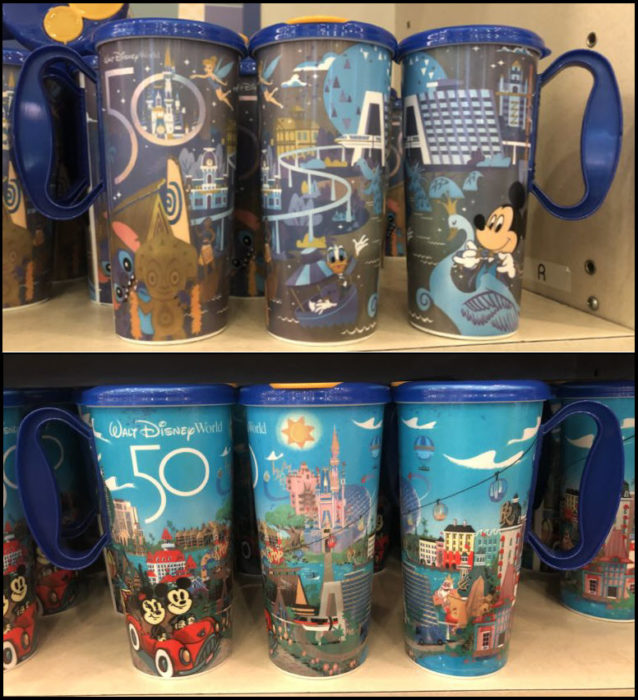 Souvenir value — Many find the cup to be an appealing souvenir, and have no trouble justifying the purchase on that basis. My kids are too old and cool to use sippy cups, but lidded cups from Disney are a suitably chill alternative when they need to be careful about spills. If you plan to use the cup as a travel mug for your morning joe, know that the metal cups cost more but they also lack handles and are therefore friendlier to automobile cupholders.
For those of you with kids who are thinking that the 50th Anniversary designs pictured above don't give you 4 different colors that your kids can "claim", fear not. There are two mug designs, and each comes with a choice of blue or yellow handle to make 4 unique combinations.
Station location — Most resorts have a refill station conveniently located near the feature pool.  If you spend your time at the quiet pools, you might have quite a hike for refills.  This convenience factor also applies to the location of your room.
Serving size — The cups only hold 13 ounces, about the same as a can of coke.  If you usually go with a 20 oz. bottle, you may feel like you are constantly refilling.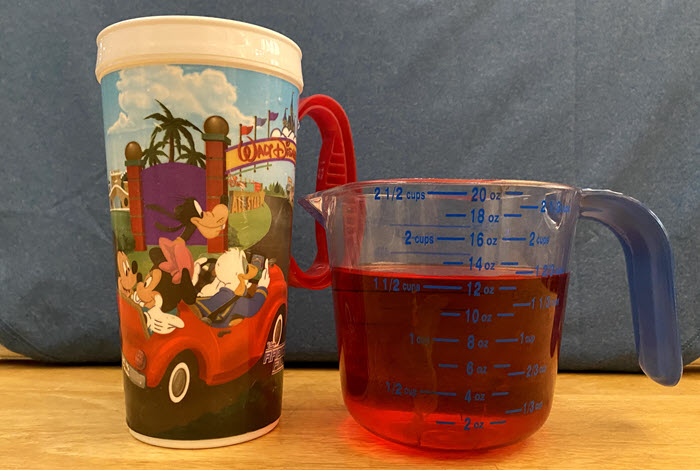 Eco-friendliness — It feels obvious that the cup is more eco-friendly because it eliminates waste.  Unfortunately the picture is not so simple: an alternate viewpoint on eco-friendliness relies on life-cycle energy usage.  From an energy perspective, you need to use a polypropylene cup like the Rapid Fill mugs about 17-20 times before it's greener than paper.
Self-discipline — Many of us customarily take a break from our healthy habits while on vacation. But if you're trying to maintain a limit on your sweet or sugary drinks, it's definitely easier to resist the call of a cup of soda when it isn't free.
Is your family pro-mug, or anti-mug?  What motivates your decision?  Let us know in the comments.