Your Top-Rated Epcot Restaurants
Today we're looking at your top-rated Epcot restaurants, based on the 122,000 Disney World dining surveys we received in 2016.
Dining is an integral part of any visit to Epcot. Epcot has around 30 quick-service and table-service restaurants – the most of any Disney World theme park. Epcot also has some of the best bars in the area, specializing in everything from tequila to sake to sweet, sweet German wines. And if you're asking whether the Disney Dining Plan is worth buying for your next Disney World trip, this article should help you find the best places to use those dining plan credits.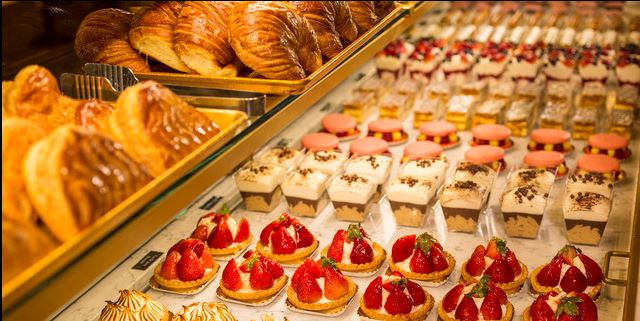 We'll also add a "Best Epcot Treats" section to include places like Germany's Karamel Kuche sweets shop and France's L'Artisan des Glaces ice cream parlor. Our editors point out that some people don't consider caramel or sugar cones a proper meal. We'll exclude (for now) small kiosks without seats or tables, like Taste Track.
The Best Quick-Service Epcot Restaurants
Our restaurant surveys use a straightforward "thumbs up/thumbs down" system. Epcot restaurants shown in green did better than average. Restaurants in red did worse than average.  As we did with the Magic Kingdom's restaurants, let's start with Epcot's quick-service restaurants:
Epcot Quick-Service Restaurant
Number of
Surveys
Thumbs Up
Percent
Notes

Les Halles Boulangerie-Patisserie (France)

1,014
96.7
Two years at #1
Kringla Bakeri og Kafe (Norway)
666
95.6
Yorkshire County Fish Shop (U.K.)
535
94.2
 Sunshine Seasons (The Land)
1,317
93.4
 Wide variety
 Tangierine Cafe (Morocco)
492
92.9
 Lots of vegetarian options
Fountain View Starbucks (Future World)
282
90.4
La Cantina de San Angel (Mexico)
915
89.2
Liberty Inn (U.S.A.)
391
85.7
Sommerfest (Germany)
178
84.3
 Pretzel looks better than it tastes
Katsura Grill (Japan)
305
83.9

Electric Umbrella (Future World)

661
79.9

Lotus Blossom Cafe

233
79.8
mean = 89.7 sdev=6.1
Y'all rated France's Les Halles Boulangerie-Patisserie the best quick-service restaurant in Epcot for the second year in a row. I agree. If you grab a $7.50 jambon beurre and eat it while walking around France, you'll have as close to an authentic Parisian experience as you can get outside of the city.
Likewise, Norway's Kringla Bakeri og Kafe and the U.K.'s Yorkshire County Fish Shop are near the top of this list every year. The Norwegian Club sandwich is my go-to meal at Norway, with turkey, ham, bacon, and two kinds of cheese. For sweets, you can't go wrong with Kringla's rice cream with strawberry sauce or the sweet pretzel with icing and almonds.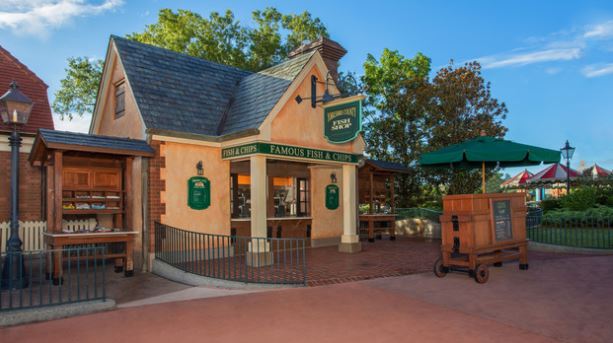 You may be surprised about the Yorkshire County fish and chips place, but let me tell you a story. One year we decided to have a TouringPlans meet-up here, where we planned to buy lunch for about a hundred people. The Yorkshire manager found out about it and got in touch with me. His concern was that this tiny window-in-the-wall couldn't meet his own quality standards while producing 100 meals in a short amount of time. That's right – his first concern was the quality of the food, not the money. We eventually worked something out for the meet, but that interaction still shows to this day in the food that Yorkshire produces.
At the other end of the list, China's Lotus Blossom Cafe is rated among the worst quick service restaurant in Epcot every year. I've been working on the Unofficial Guide for more than 15 years, and I can't remember a time when Lotus Blossom wasn't the worst place for a quick meal in Epcot. The menu is uninspired, the presentation is indifferent, and the setting is generic.
As far as Electric Umbrella goes, I give them credit for a more diverse menu than most non-ethnic Disney places. Their willingness to serve a veggie naan-which (broccoli slaw, edamame, tofu, and wasabi dressing on naan) is commendable. Lots of folks also like Electric Umbrella's free soda refills. I haven't given up on you, Electric Umbrella.
The Best Table Service Epcot Restaurants
Epcot Table Service Restaurant
Number of
Surveys
Thumbs Up
Percent
Notes
Tutto Gusto (Italy)
129
94.6
Tapas-style dishes and drinks
The Garden Grill (The Land)
992
93.0
Character meal with Mickey
Teppan Edo (Japan)
665
91.9
Biergarten (Germany)
1,016
91.5
Buffet
Rose & Crown Dining Room (U.K.)
529
91.1
Via Napoli Ristorante e Pizzeria (Italy)
1,148
90.5
With Blaze Pizza, the best pizza in WDW
Tokyo Dining (Japan)
217
88.5
Chefs de France
639
88.4
Tutto Italia
345
88.1
Akershus Royal Banquet Hall (Norway)
1,133
87.7
Character meal with princesses
Le Cellier Steakhouse (Canada)
615
87.5
La Hacienda de San Angel (Mexico)
639
87.3
Spice Road Table (Morocco)
251
86.9
Monsieur Paul (France)
102
86.3
Restaurant Marrakesh (Morocco)
317
85.8
San Angel Inn Restaurante (Mexico)
548
84.7

Coral Reef Restaurant (The Seas)

857
81.1

Nine Dragons Restaurant (China)

235
80.4
An improvement from last year's 69%
We used to consider Tutto Gusto a bar. I'm putting it in the list of Epcot's table service restaurants because it has waiters who will bring hot food to your table. And the hot food you should order is the cavatappi, spiral tube pasta served in sauce. And the sauce you should order is the ragu d'Agnello, made with lamb and pecorino cheese. That red sauce is at once savory and tart, rich and creamy. Tutto Gusto has always had good food. I criticized it when it jacked up prices and cut menu options soon after opening, but it looks like the value proposition may be back.
Over in Future World, The Land's Garden Grill takes the #2 overall spot in Epcot. If you had told me that two months ago, I would have been surprised. But I ate here last month and it was a good meal, possibly even a decent value for what it is. Our dinner included steak, ham, turkey, sausage, a better-than-average mac-and-cheese, green beans, and cobbler and ice cream for dessert. Plus it's a character meal with Mickey, Pluto, and Chip and Dale.  Each character visited twice, and that was more than enough time for photos and autographs, plus eating.
A few comments about the restaurants in the middle and bottom of the pack:
Via Napoli remains one of the hardest reservations to get in Walt Disney World. Our reader surveys invariably comment on how good the pizza is and how good-looking the waitstaff is.
Canada's Le Cellier Steakhouse used to be rated near the top of this list. They've gone through some price increases and menu simplifications. Per Se – just sayin'.
La Hacienda de San Angel has the most authentic Mexican food in the area. I think people aren't expecting that – they're expecting something more like San Angel Inn, and at lower prices.
I ate at Coral Reef a couple weeks ago and I daresay it was … average. In a good way. Certainly better than this 81.1% rating indicates. Maybe it's on an upward swing. Maybe I got lucky. We'll see. I do know that the place was completely packed at 8:30 p.m., with a long line waiting to get in, even when most of the park was getting ready for Illuminations.
China has been the culinary pit of Epcot for a decade.
The Best Bars in Epcot
Good news! All of the bars in Epcot are great.
Epcot Bars
Number of
Surveys
Thumbs Up
Percent
Notes
Weinkeller (Germany)
127
95.3
Les Vins de Chefs de France
142
95.1
La Cava del Tequila (Mexico)
414
94.9
Rose & Crown Pub (U.K.)
392
93.9
Sake Bar (Japan)
152
93.4%
Our loose definition of bar is that it's indoors and serves alcohol. That excludes places like Block and Hans at the U.S.A. pavilion, but really, every place that serves drinks in Epcot rates at least 90% in our surveys. It's no wonder Epcot's calendar is filled with Food & Wine-like events.
Germany's Weinkeller serves wine flights and wines by the glass. If you like sweet wines, this is the place for you. If I'm remembering right, the Riesling is the least-sweet wine in one of their flights. And there's a dessert wine flight if you want to get verrückt.
I'm a huge fan of La Cava del Tequila in Mexico. When it opened in 2009, La Cava set the standard for quality bars in Walt Disney World. La Cava serves more than 100 kinds of tequila and mezcal. If you're new to tequila, their super-friendly staff will help with selecting and tasting something to get started. Tell 'em I sent you.
There are a couple of places to get sake in Japan – inside the Mitsukoshi store, in the far back, and outside at the Garden House Sake stand (93.1%). Both are good. The one inside is tiny, and maybe that's part of the appeal.
The Best Snacks in Epcot
This is our first year calling out the best snacks in Epcot. Like the bars, almost all of these snack places are rated better than average. If you're looking for a quick snack to get you to the next country, these are the places to go.
Epcot Snacks
Number of
Surveys
Thumbs Up
Percent
Notes

Karamell-Küche (Germany)

648
97.1
L'Artisan des Glaces (France)
513
95.5
Club Cool (Future World)
1,279
94.4
 Free
Beverage Stand (Japan)
198
94.4
Morocco Coffee & Pastries
96
90.6
Crepes des Chefs de France
341
90.0
Kabuki Cafe
142
89.4
Shaved ices
Germany's Karamell-Küche ("Caramel Kitchen") serves caramel in all its forms, from the simple, rich squares, to coated apples, to baked goods. It's been popular since the day it opened. I agree it's pretty fantastic.
Likewise, the ice creams and sorbets served over at France's L'Artisan des Glaces have been hits from the start. I went in L'Artisan mildly skeptical about Disney's ability to deliver really good ice cream, but L'Artisan did (and does). I think L'Artisan serves a different style of ice cream than, say, Ample Hills over at the BoardWalk (scroll down a bit). L'Artisan's is lighter and I think the sugars are more balanced with the rest of the flavors, while Ample Hills is bold cream and really sweet. If, you know, you wanted to try both in the name of science, it'd probably be worthwhile.
Over in Future World, Club Cool offers free tastes of Coca-Cola's sodas from around the world. The Beverly, from Italy, is legendary among people who've tried it. I mention it here because it's free, and if Club Cool was an attraction, it'd be the most popular thing in Epcot.