Universal Dining: Jimmy Buffett's Margaritaville in CityWalk
Universal CityWalk is currently in the process of a major overhaul, adding new dining options and getting rid of some of the restaurant venues that were lagging behind. Late in 2013, Red Oven Pizza Bakery opened, followed by Cold Stone Creamery and Antojitos earlier this year. Starbucks moved from its upper level location down to a much better spot next to Cold Stone recently, and just a few days ago Menchie's frozen yogurt opened its doors. Hot Dog Hall of Fame and Vivo Italian Kitchen are expected to debut their original menus in the coming weeks, while Bread Box and the heavily anticipated Cowfish Sushi Burger Bar should be welcoming guests by the end of the summer. 
With all the new venues coming into CityWalk, it is easy to overlook some of restaurants that have been around for a while and still offer a great experience and unique atmosphere like Jimmy Buffett's Margaritaville. With a prime spot close to Islands of Adventure, Margaritaville offers plenty of indoor and outdoor seating along with three full bars and a margarita to-go window. The outdoor seating at the Porch of Indecision has been recently renovated and is a great place to enjoy the weather and people watch.
The Landshark Bar is located by the main entrance and has a lot of Jimmy Buffett memorabilia on the walls along with unique pieces such as giant suspended sharks and other marine animals.
There are two floors of seating, with the main indoor seating area having a large screen playing Jimmy Buffet music videos.
The giant suspended plane is one of the signature design elements of Margaritaville. Another large plane sits across from Margaritaville and is part of the Lone Palm Airport tiki bar. That particular plane was actually used by Jimmy Buffett and was infamously shot at by the Jamaican government, an experience which led to the Buffett song "Jamaica Mistaica."
Guests who like the theatrics of restaurants such as T-REX Cafe and Rainforest Cafe will like the Volcano Bar. After the Buffett song "Volcano" plays, the volcano will erupt, and margaritas pour into the giant blender.
There are plenty of tables inside, along with a limited number of booths.
The Porch of Indecision has a newly expanded seating area. Each night there is live music at Margaritaville (CLICK HERE to see a calendar of live acts). While normally I am a person who almost always prefers indoor seating with A/C over outdoor seating, at Margaritaville I actually prefer to sit outside.  The porch is right next to the waterway that leads to the Royal Pacific Resort, and that seems to add a little extra breeze. Being so close to Islands of Adventure allows you to hear the Port of Entry music loop, which is hands down my favorite background music in any theme park.
As someone who is obsessed with any food item that includes pretzels, I think the pretzel sticks appetizer is a good one. While the fried pretzels at NASCAR Grille get my pick for best pretzels on property, Margaritaville's hold up pretty well.
The white cheddar cheese curls appetizer is out of this world, helped out by the Landshark Lager barbecue sauce that comes on the side. Skip the marinara and ask for more of the BBQ sauce.
Margaritaville offers both boneless and traditional chicken wings. They can be served buffalo style or with the "Jamaica Mistaica" jerk glaze sauce. We tried the latter, and they were tasty, similar to what you would get at Buffalo Wild Wings, Duffy's or Miller's Ale House in Orlando.
We are big fans of outrageous foods while at the theme park resorts, and Margaritaville puts up a legitimate contender with the Volcano Nachos. House-made tortilla chips topped with chili, cheese, fresh guacamole, sour cream, jalapeños, tomatoes and scallions, is what it says on the menu, but that doesn't prepare you for the sheer size of this behemoth. Highly recommended.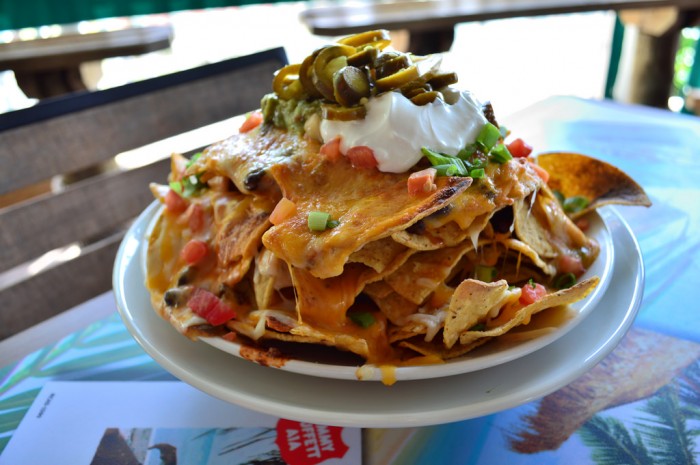 The Landshark Lager Fish & Chips was a nice surprise. The Landshark batter made these taste exceptional although I wasn't a huge fan of the jalapeño tartar sauce. The cilantro lime coleslaw on the side was also very good.
The Volcano Burger contains Margaritaville's volcano chili, lava cheese sauce, pickled jalapeños, guacamole and seemingly a whole bag of Fritos corn chips. It was a huge serving and fantastic.
The Cheeseburger in Paradise is the signature burger of Margaritaville. Loaded with American cheese, lettuce, tomato, pickles and paradise island sauce. it's another solid burger.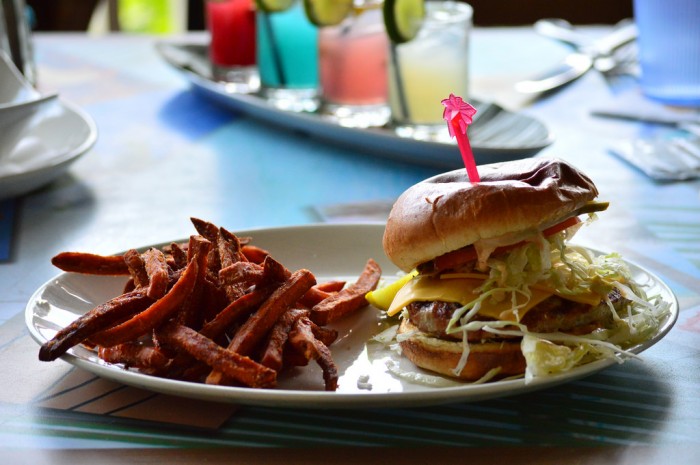 The Margarita Flight contains a sampling of some of the most popular margaritas. The flight has: Who's to Blame, Blueberry Pomegranate, Fins to the Left, and Last Mango in Paris. Our favorite was the Last Mango in Paris.
I'm a fan of gimmicky souvenir cups and loved this 22 oz. Booze in a Blender. You can have any margarita in it with an up charge of $8 (you keep the cup.) Or you can buy a blender sans drink in the Smuggler's Hold gift shop for $9.95. The gift shop itself is surprisingly large with pretty much any Jimmy Buffett, Landshark Lager, or Margaritaville item you could possibly want…T-shirts, magnets, glasses, CDs, you name it.
Margaritaville now has two desserts on the menu that are worth going out of your way to try. First up is the Chocolate Hurricane. Served on a lazy Susan, you can spin the plate and drizzle your own chocolate and caramel on top. Vanilla ice cream, brownies, shortbread cookies, banana, whipped cream, Kit Kat and Heath bars? Save room for this one. I'm all for this starting a trend in interactive desserts.
Margaritaville's new dessert shooters may be my new favorite dessert on property. You can buy each individually, or just do what we did and tell your server to "bring them all." Surprisingly very filling, these dense shooters have five different flavors but our favorites were the red velvet, triple chocolate and peanut butter. The creator of this dessert needs to be put into the Restaurant Hall of Fame immediately. First ballot.
Overall:  With a newly refreshed menu, Jimmy Buffett's Margaritaville has become my new go-to place in CityWalk to have a sit down meal. I love the Hard Rock Cafe, but sometimes the noise can overwhelming and make it almost impossible to have a conversation. Margaritaville has a much more relaxed atmosphere and its menu right now can't be beat, with the desserts being destination dining in and of themselves.
Other Universal Dining Articles:
Emeril's Tchoup Chop at the Royal Pacific Resort
Jake's American Bar at the Royal Pacific Resort
Character Breakfast at Jake's American Bar
Backwater Bar at Islands of Adventure
Antojitos Authentic Mexican Food at CityWalk
Jimmy Buffett's Margaritavile at CityWalk
Address: 6000 Universal Plaza, Suite 704 Orlando, Florida 32819 
Hours: Sunday – Thursday 11:00AM – 10:00PM; Friday – Saturday 11:00AM – 12:00AM
Reservations: OpenTable.com or call the restaurant at 407-224-2155
Special thanks to Brandon Glover for his assistance with this article. To see more of Brandon's photos, check out his Flickr page.