Walt Disney World Dining Reservation Finder Tool: FAQ
Who among us has gotten up at the crack of dawn to try to get a coveted Walt Disney World dining reservation and then been frustrated and disappointed to come up empty, not finding anything available at your favorite restaurant? When this all-but-inevitable situation occurs, DON'T PANIC. Take a deep breath and remember that TouringPlans has a handy dandy Dining Reservation Finder that can help you secure the reservations your family needs. Here's what you need to know.
What is a reservation finder?
You input the particulars of a restaurant reservation you want: name of the venue, date and time of day you want to eat, and the size of your party. We use some behind-the-scenes analysis of the Disney World website to scan for availability at that restaurant. When we find an opening at your desired time, we notify you.
What do I need to do to get started?
Create an account with TouringPlans. We have two levels of account: Basic Access and Member. Basic Access is free, and that's all you need to use the reservation finder (as well as some other nifty tools). Of course, we'd love for you to become a paid member, which comes with lots more to help with Disney World trip planning, but that's not necessary to start using the reservation finder.
What next?
Enter the Reservation Finder and click the ADD NEW REQUEST button.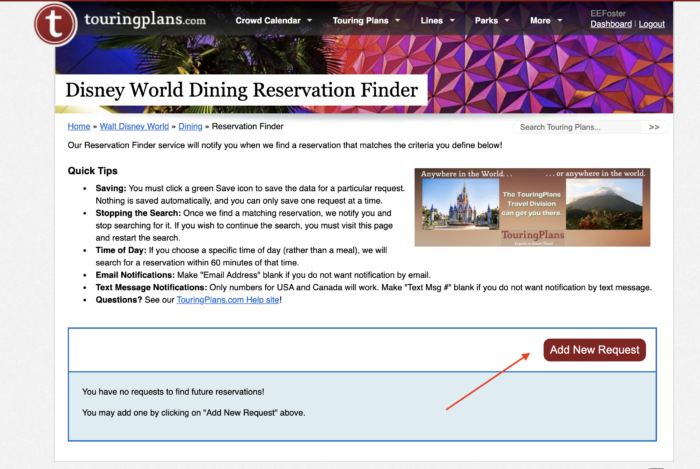 Then click on the restaurant field to select your desired dining venue. Select your party size. Select the dates you want to search for, either a single date, or a date range. Input your desired dining time. Add an email address and/or cell phone number.
A few notes:
There are a few dining experiences that we can't search for, but only a few.
Some Disney restaurants choke on reservations for more than six people. If you have a larger group, try breaking it up into smaller chunks (for example, if you have 8 people, make two reservations for 4). Try this on the Disney website as well as here. You can ask at the restaurant for tables to be merged.
If you just want to search one date, enter the same date in both the "search from" and "search to" fields.
If you select a meal (breakfast, lunch, or dinner), we'll search every dining slot in that range, so you might end up with a ping on a 4:30 or 10:00 p.m. dinner, for example. If you select a specific time, we'll search for openings an hour on either side of that time. If you input 6:00 p.m., we'll search for slots from 5:00-7:00.
We can only send text messages to U.S. and Canadian phone numbers. If you're from another country, or if you just don't want to be texted, leave that field blank.
Is that it?
Nope. The last thing you need to do is click on that little green save icon. (For you youngsters out there, that icon is an image of a floppy disc – a Pleistocene era form of digital storage.)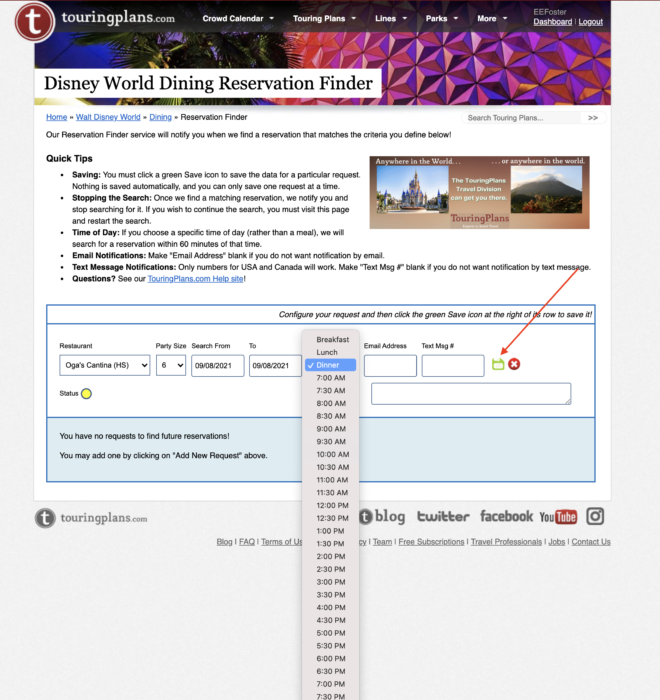 Can I search for more than one dining reservation?
Yes, you can have up to two active searches running at a time. To add a second search, just repeat the process. Once we find a reservation, you can add another.
What happens when you find an opening?
As soon as your desired dining slot opens up, we'll send you an email, text, or both (depending on what you've selected) saying that an opening has occurred at a specific place/date/time.
It's then up to you to go to the WDW website and grab it. We don't make the reservation for you.
Once you're on the WDW site, search for the place/date/time we sent to you, and, if you've acted quickly, the reservation should be available. You can speed things along a little by making sure your WDW account password is easily accessible and that they have a credit/debit card on file for you.
I went to the WDW site, but the reservation wasn't there. What happened?
Unfortunately that does happen sometimes. It just means that someone else got there faster. If you live in the U.S. or Canada, we suggest that you let us text you for openings so that you see them ASAP.
If you weren't able to secure the reservation you wanted, just re-input your info in the Reservation Finder and we'll search again.
What kind of success rate do you guys have?
There are no guarantees, and it depends a bit on which restaurant you want and how crowded the parks are on a particular day, but for many venues we have a 70% success rate in finding reservations for guests. And since this is a free service, there's no harm in trying.
For me personally, the Reservation Finder is my favorite TouringPlans tool. Snagging a late afternoon reservation at the always-sold-out Oga's Cantina during one spring break made me an absolute hero to my family.
What happens if you guys find me a reservation and I decide I don't need it any more.
No worries. Just ignore the text/email. You're under no obligation to follow through and make a reservation if you don't want to.
Why do reservations become available?
It could be any number of reasons, but often it's because another guest cancelled their plans. Think of the Reservation Finder as a way to match reservation cancellers with reservation seekers.
That's it folks. What other questions do you have about our Reservation Finder? Let us know in the comments.