World of Color in Walt Disney World's Downtown Disney?
Today's story on The TouringPlans Blog is somewhat unique and calls for a different kind of introduction. This, as you may recognize, is a map of the Downtown Disney shopping district of Walt Disney World. We invite you, if you dare, to read on because in today's story you are the Imagineer. And this blog post travels directly to . . . The Twilig..err…I mean, Downtown Disney.
Rampant rumors are swirling that the much-maligned makeover to Downtown Disney, specifically the now-defunct Pleasure Island, will entail technology from the World of Color show that opened in 2010 at Disney California Adventure. I stress that these are unsubstantiated rumors that have not been confirmed by Disney, and as with all rumors, are subject to change…or to being complete falsities or utter fabrications. That said, these rumors are coming from reliable sources, and they suggest that an announcement may be made as early as the D23 Expo.
There is no question that Disney is re-examining the Hyperion Wharf concept that it announced last year. The company stated as much on its Parks Blog earlier this week when it unveiled the Splitsville bowling alley. While it is typical Disney form to announce things that never get built (most of the Disney Decade comes to mind), it is not typical Disney form to admit its mistakes. The last instance of Disney announcing a "rethink" of a project was the Fantasyland Expansion in the Magic Kingdom, and shortly thereafter, the Seven Dwarfs Mine Train was announced, which was an upgrade from the project as originally unveiled. Does it stand to reason, then, that word from Disney that it is "rethinking" its Downtown Disney plans is code for "the plans are being improved, just wait!"? Well, that's anyone's guess.
All of these rumors about Downtown Disney made me feel compelled to get in the 'ole Imagineering Armchair (it's plaid and has duct tape covering holes that have worn in it over time, for those who want to envision this scene at home) and put on my thinking cap (a Sorcerer Mickey hat coated with a thick layer of tin foil) and ponder how this plan might come to fruition, and how it might impact my vacation planning. I encourage you to put on your Imagineering hat and ponder these questions with me, whether it be "just for fun," or "good practice for when this show opens in 2013," whichever the case may be. Here are the questions I asked myself:
Ideally, how would the show run? For those who haven't seen World of Color (uhh…why not?), check out these World of Color photos I've taken of it to give you an idea of the awesome scope and scale of the show. Even in a theme park that charges admission, and despite the show being over a year old, there is still huge demand for the show, so much so that dinner packages and FastPasses are an absolute necessity to get a good view of the show. While I'd love to see a show comparable in scope to World of Color at Downtown Disney, I wonder how the traffic flow would work were this offered to the public for free. As much as I loathe Disney's practice of nickel and diming guests, I think some type of admission or dinner package would be necessary if the show is on the same scale as World of Color (which is a huge, and unlikely "if"), otherwise traffic problems will get even worse at Downtown Disney, and the shows will be overcrowded by locals who camp out for several hours on end to see the free show, precluding many tourists, who budget their time differently while on vacation, from seeing the show.
A more pragmatic option seems like it might be running a show similar to that of the Belagio Fountains, which is smaller in scope but runs more frequently. This would cycle crowds better, and Disney could still offer some type of preferred seating package if it felt such was necessary to recoup to large capital investment of the show in its free Downtown Disney shopping district. Although I could see Disney banking on people "coming for the water show, and staying for the shopping," as its means of recouping its expenses of running the show.
What should be the substance of the show? In my ideal world, if we're porting things from California, let's port the technology of World of Color and the substance of the "Remember… Dreams Come True" fireworks show. The show would thus become a water show with video, audio, and special effects that pays tribute to classic attractions at Walt Disney World. If you think that doesn't sound as cool as a show featuring Disney animated classics, I'm betting you've never seen "Remember…Dreams Come True." It's unquestionably the best Magic Kingdom-style fireworks show.
The upside to this, for Disney, is that it's great advertising for the theme parks, which will cause some of those who would otherwise be freeloaders who are watching World of Awesome (my "codename" for this project–pass it on) to actually go to the parks. It's probably a pipe dream for me to hope that Disney does something Walt Disney World attraction-related for World of Awesome, but I hope it at least changes the substance of the show a bit for Walt Disney World. It would be nice to have somewhat unique shows on each coast.
How would this change vacation plans? This is the big one, and why I've chosen to write about World of Awesome on the TouringPlans blog, a blog that admittedly isn't too big on Disney rumors. I see World of Awesome as a bit of a game-changer for the way a lot of people ration their time at Walt Disney World. Back in the good ole days when Pleasure Island was open, Sarah and I would spend two or three nights there each trip. It gave us something to do when the parks closed early in the "slow" seasons, and we had a blast. We've searched for a suitable replacement since, from the lounges at the monorail resorts to Jellyrolls, to the Atlantic Train Wreck…errr…the Atlantic Dance Hall. All of these options (except the Atlantic Dance Hall) have been fun, but they don't offer the as many "hours of entertainment" as we found at Pleasure Island. And we haven't been back to Downtown Disney since the closure.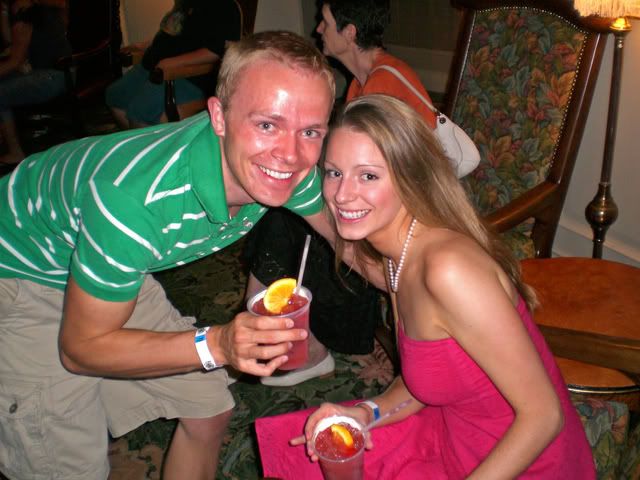 Having a bona fide show at Downtown Disney would give us a reason to go back there, and possibly give us a reason to add days onto our vacation. While I definitely would not spend a full day at Downtown Disney, I could see penciling in a day that involved a combination of a water park, mini golf, and Downtown Disney. I'm sure others would feel the same way, and with the new entertainment offered by Hyperion Wharf (or whatever it'll eventually be called) and World of Awesome, some people might easily be able to spend 5 hours at Downtown Disney. While I think it's a bit premature to call this show (that hasn't even been announced, and might not necessarily be in the cards at at all) at a Downtown Disney area (that was previously announced, but is seriously being re-thought) a "quasi-5th gate," for some people, it might be exactly that. Probably a stretch, but I'm going to stick my neck out and say that it could seriously change some vacation plans if/when it opens and if it isn't an incredibly watered down version of World of Color (both huge "ifs," again).  After all, they're not calling it World of Awesome for nothing! 😉
Let's hear your Armchair Imagineering! What would you like to see at Downtown Disney? Does a World of Color-type show sound appealing? If so, how would you like it implemented? How would a re-Imagineered Downtown Disney affect your vacation plans? Share your thoughts in the comments!