Collectible Milk Sippers and Popcorn Buckets at Star Wars: Galaxy's Edge
As a Star Wars fan and popcorn aficionado, I felt it was my duty to share this news with you all. Let's put this ship into hyperdrive and get right to it!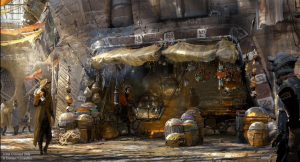 According to the OC Register, limited-edition sippers and popcorn buckets will be featured at Star Wars: Galaxy's Edge when it opens in Disneyland on May 31.
A mouse droid bucket will be available at Kat Saka's Kettle popcorn stand in the Black Spire Marketplace. The stand will also sell "space popcorn," which will combine sweet, spicy, salty, and savory flavors.
The Milk Stand, located in the Black Spire Village section controlled by the First Order, is where you'll find a bottle sipper for the famous blue milk. Not a fan of blue milk? There will be green milk, too.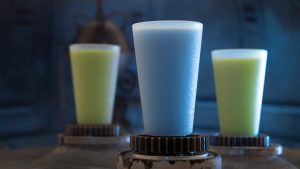 These bottles will be made of opaque white plastic, appear like old-fashioned milk bottles, and have a carrying strap. Blue milk is Bantha milk (a large beast native to the planet of Tatooine), and green milk comes from the Thala-Siren (a creature milked by Luke Skywalker in The Last Jedi). The milk containers will have a Bantha logo on one side and a Thala-Siren logo on the other.
As for what the blue and green milk will taste like, expect a non-dairy, plant-based smoothie texture featuring berry, tropical, and citrus flavors.
These collectibles are sure to be huge. Will you be standing in line for one? Let us know in the comments!