The Hidden Gem of Disney Cruise Line Pricing – Guarantee Rates
The lowest prices on Disney Cruise Line voyages are typically found within the first few days after they are released, more than a year before sailing. Today we'll look at the ins and outs of GT rates – another great way to save money on a Disney cruise for those who can't book that far in advance.
There are many reasons why guests might not be able to make a cruise reservation early enough to take advantage of those opening-day rates:
Your work schedule might not allow you to reserve vacation time that far in advance.
Your family composition might be changing.
Your child's school schedule is not yet available.
You're working through a medical issue (pandemic-related or otherwise).
Your financial situation is in flux.
If you're not able to book more than a year out, then one of the next best ways to save on Disney Cruise Line rates is to look for the hidden gem of DCL pricing – the Guarantee Rate. There are four versions of GTY rates on Disney Cruise Line:
General GTY
IGT – Inside Guarantee
OGT – Oceanview Guarantee
VGT – Verandah Guarantee
What do IGT, VGT, OGT, and GTY actually mean?
A little background first: When you book most hotel stays, you're guaranteeing that you'll have a room at the hotel. Sometimes this is a room of a particular type or configuration (a concierge suite or a king-sized bed, for example), but rarely are you booking a specific room number.
Conversely, on Disney Cruise Line, most of the time you ARE booking a specific room for your sailing – you know from the moment you place your deposit that you'll be in stateroom 6090, for example.
DCL Guarantee Rates are like the hotel booking situation – you're guaranteeing that you'll get a room, usually a room of a specific type (inside, verandah, etc.), but you won't know exactly which room you'll be in at the time of booking. Additionally, there are caveats associated with these fares: most guarantee rates are non-refundable, for example.
The upshot is – with a Guarantee Rate, Disney chooses your stateroom, not you. You're sure to get at least the category of stateroom you've selected. You may get a better room, though this is unlikely. For some Guarantee Rates (all but the GTY), you'll have some restrictions to your sailing. In exchange for forfeiting your room selection and accepting the restrictions, you're likely to save money.
How is GTY different from IGT, OGT, and VGT?
GTY is not the same thing as IGT, OGT, or VGT rates. GTY is a category status, not a discount or particular price rate. When a stateroom category (such as Deluxe Family Verandah, for example) gets close to full, Disney stops letting guests choose a particular stateroom. Instead, your booking will say GTY instead of an actual stateroom number. That means you are guaranteed whatever specific category (i.e., 9C, 7A, 4B) you booked – or better.
Wait, what?
General GTY bookings are more specific than IGT, OGT, and VGT bookings. With a GTY booking, you're picking a stateroom category, such as 10A which is a Deluxe Inside Stateroom. With IGT, OGT, and VGT rates, you're picking a stateroom type, such as Inside, Oceanview, or Verandah.
With GTY, you can pick a 10A Deluxe Inside Stateroom and you will get a 10A or above. Unlike the risk you take when you book an IGT rate, you will not get an 11 Standard Inside Stateroom under any circumstances when you book a 10A GTY. As long as you are outside the penalty period, you can also make whatever changes you like to your reservation. You can change names, drop someone, change the sail date, cancel, etc. There's no great advantage to picking a stateroom in GTY status. It's not cheaper, and it also does not increase your odds of being upgraded.
Common Questions about IGT, OGT, and VGT rates
Are there any red flags about booking "Guarantee" rates?
GT bookings are "restricted rate." This means you cannot make changes to your reservation such as taking off a guest or changing dates. You also must pay in full at the time of booking, no matter how far into the future the cruise is. Disney is charging you a lower rate in exchange for you giving up the normal flexibility you get when you pay the standard fee. If you're not 100% sure about your travel dates or your travel party, then booking Guarantee is not for you.
Can I request a room when I opt for a Guarantee rate?
You can make non-room-related requests such as dining times or special dietary accommodations, but you can't make requests regarding your room features or location. If you're passionate about the specifics of your room, Guarantee booking might not be for you.
If you happen to strongly dislike your stateroom assignment, it might be possible to upgrade your room. IF your sailing has space, and IF you get to the terminal early, and IF there are still upgrades available when you check in, just like every other interested passenger, you may be able to get a discounted upgrade in the terminal. Booking one of these rates does not leave you ineligible for these great deals. Also, if you booked an IGT and there is an OGT or VGT available, Disney will sometimes let you upgrade to the more expensive restricted rate.
When will I find out which stateroom I've been assigned?
Some Guarantee guests will start seeing their actual room numbers appear in their DCL accounts about a month prior to sailing, but Disney may assign your room as close as three days before you sail. I've sailed Guarantee several times and have usually gotten my room assignment about three weeks in advance.
Note: You won't get an email from DCL saying "We've assigned your room." You have to proactively check your account to find out your stateroom number.
How much can I save with a Guarantee Rate?
EXAMPLE 1:
During the last week of September 2022, I looked at the December 2, 2022 7-Night Very Merrytime Western Caribbean Cruise from Galveston on the Magic for a party of two adults.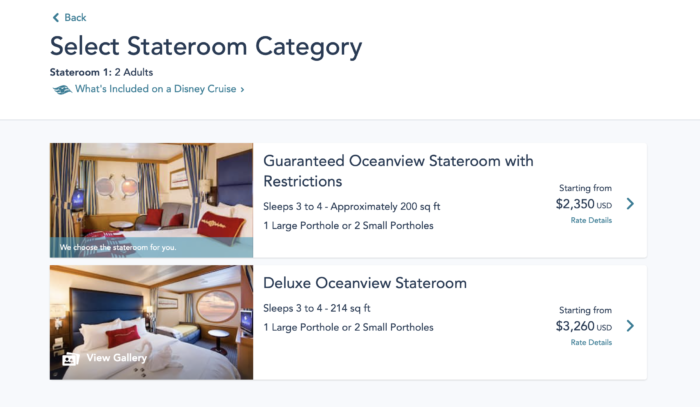 Right off the bat, you'll see that regular rates for Deluxe Oceanview Staterooms start at $3,260 and Guaranteed Oceanview Staterooms (OGT) with Restrictions start at $2,350 – a difference of at least $910.
The specifics of the OGT rate and its restrictions are well-documented before you check out.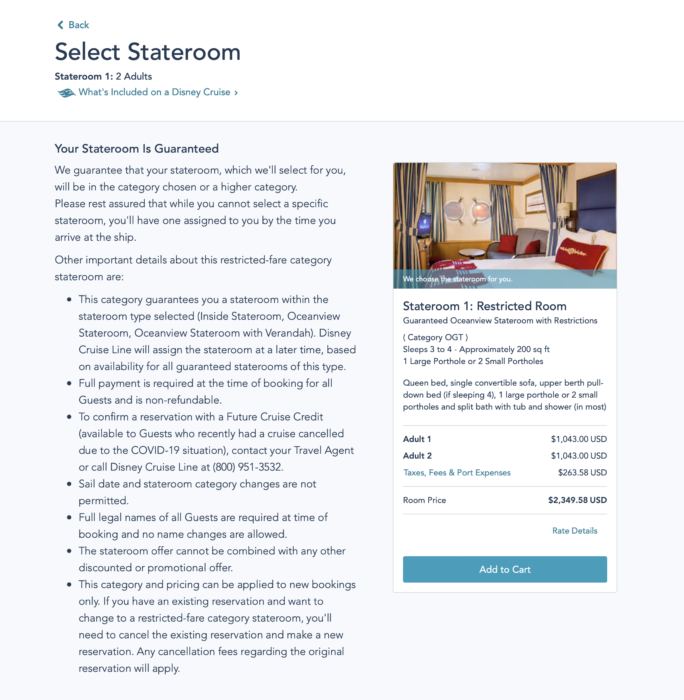 If you want to choose your own stateroom instead and remove some restrictions, you'll have more things to decide and lots more money to pay.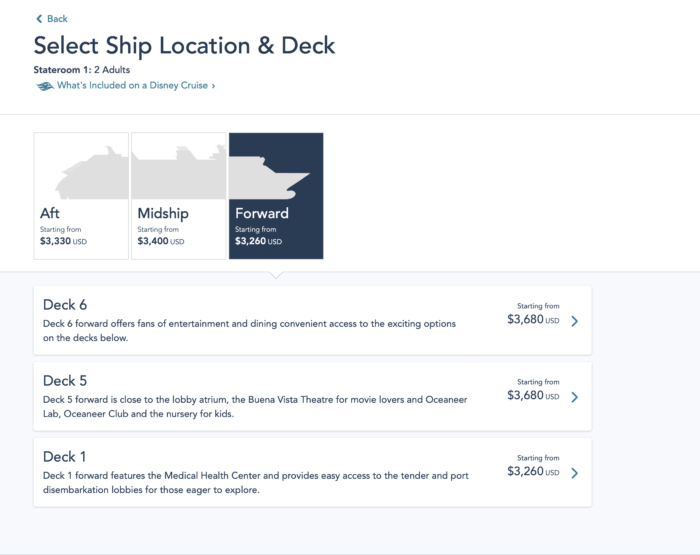 EXAMPLE 2:
Also during the last week of September 2022, I looked at the October 22, 2022 7-Night Halloween on the High Seas Western Caribbean Cruise from Port Canaveral on the Fantasy for a party of two adults. If you want a verandah stateroom, the opportunity for savings is even greater. Guarantee Rate (VGT) rooms start at $2,973, while regular rate rooms at this level start at $4,135 – a difference of $1,162.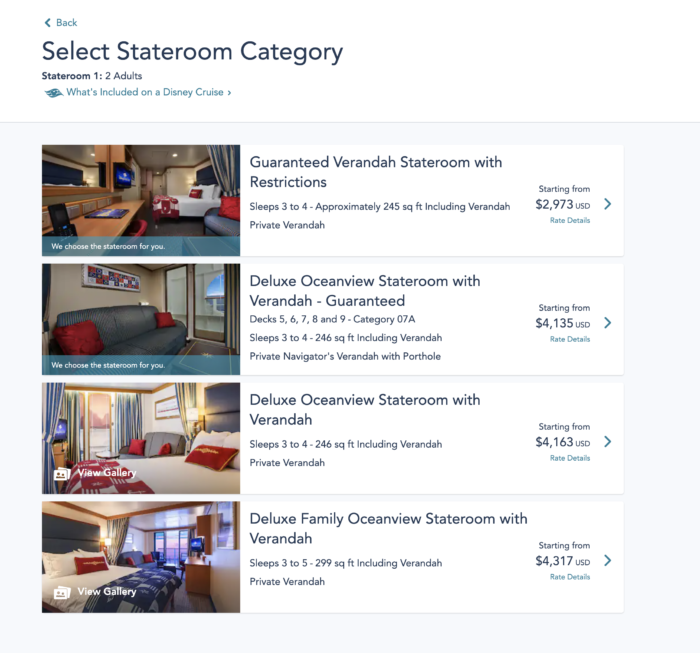 To be fair, the Guarantee Rate room you end up in might be slightly inferior to one you would have chosen yourself. The verandah might have an obstructed view, a slightly smaller footprint, or you might be on deck other than the one you prefer.
On the other hand, your most ideal of all possible rooms could cost even more. To reserve a specific Deluxe Family Oceanview Stateroom with Verandah on Deck 10 midship, you'll have to pay at least $4,947 – or $1,974 more than the Guarantee Rate. That's a huge chunk of change that could be used for port excursions, adult dining, and spa time. Or it could be the difference between going on vacation or not going on vacation.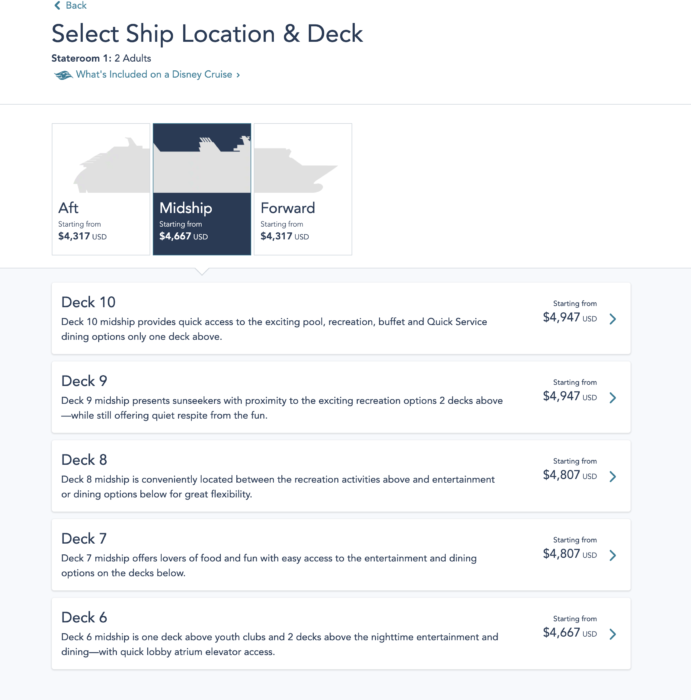 More Questions About Guarantee Rates
Saving thousands of dollars sounds AMAZING! Why doesn't everyone book with Guarantee Rates?
As enticing as these rates sound, they're not for everyone. Here are some reasons:
Guarantee rates typically start coming online at 3-4 months before sailing. If you're 100% set on going on a particular sailing, you might not want to wait that long to book.
Not all sailings will offer Guarantee rates. If a particular sailing is a strong seller, they might not need to have Guarantee rate offerings.
You have a strong preference for niche stateroom type. For example, I have a friend who often travels with her adult child with autism. When sailing on the Dream or Fantasy, she likes the Category 8A Oceanview rooms that have two TVs and a large single bathroom that gives her extra space to help bathe her child. There are very few of these unique rooms and she won't leave getting one up to chance.
You need a wheelchair-accessible room. If you need a room with particular accessibility accommodations, then you can't leave stateroom selection up to chance.
You have motion sickness issues. Some guests swear that lower-deck midship staterooms are best to ward off motion sickness. If you want to be sure of getting this location, don't leave it up to chance.
You prefer a unique stateroom feature. For example, some staterooms on Deck 5 of the Dream have huge verandahs. If sitting on your verandah is your cruising highlight, then you may want to lock in that particular selection
You're traveling with a large party. For example, if you're traveling with a family reunion taking up a dozen staterooms, you may want them all to be near each other and thus want to choose your location.
Guarantee Rates sound appealing. Should I just book my sailing now, or wait for a Guarantee rate?
Again, if you have the opportunity to book a year or more in advance, those rates will likely be your most economical option. If you didn't plan this far in advance, you can periodically look at how full your sailing is. If you see loads of availability five or six months out, and you're willing to gamble a little, you might want to wait a bit to book. Guarantee Rates are typically offered 60-90 days before a ship sails, occasionally sooner. If your sailing still has a ton of stateroom categories and choices available as it gets close to final payment date, there's a decent chance that a GT rate will be offered.
I booked a sailing and now I see that my room category has cheaper Guarantee Rates available. Should I rebook?
Maybe. Maybe not.
If you're outside the payment penalty period, you can rebook and apply whatever amount you've already paid to a new booking. If you're inside the payment penalty period (which is the most common time when you'll see Guarantee Rates offered), then you have some math to do. You'll likely have to pay a penalty for canceling your existing reservation and rebooking at the lower rate. You might lose your deposit, or substantially more than your deposit if you rebook.
I'm still confused by all this. What can I do?
An experienced travel agent can walk you through all your options with any DCL booking, including one with Guarantee Rates. Don't hesitate to reach out if you need assistance.