Everything You Need to Know About Kali River Rapids
You're going on vacation to Walt Disney World! The only problem? You're not sure which attractions are right for you and your kiddos and you have questions. Which attractions are too intense for little ones? What rides do I really need a FastPass+ reservation for? What's the disability access like for certain attractions? We're answering all those questions and more in our Everything You Need to Know attraction series with today's focus on Kali River Rapids at Disney's Animal Kingdom!
What is Kali River Rapids?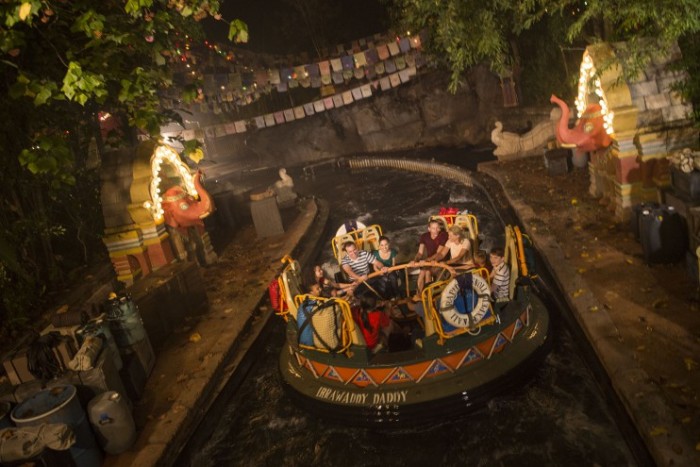 Kali River Rapids is a whitewater raft ride through a lush Asian rainforest where guests eventually encounter the dangers of a logging site.
Where is Kali River Rapids?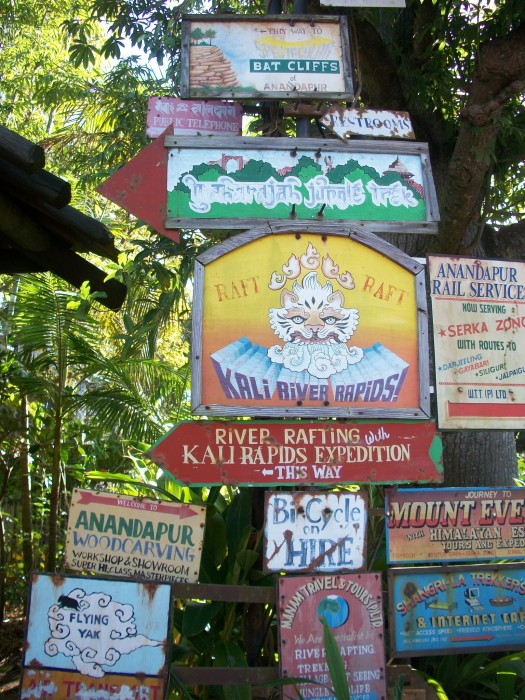 Kali River Rapids is located in the Asia section of Disney's Animal Kingdom park next to the Maharajah Jungle Trek.
What is the History of Kali River Rapids?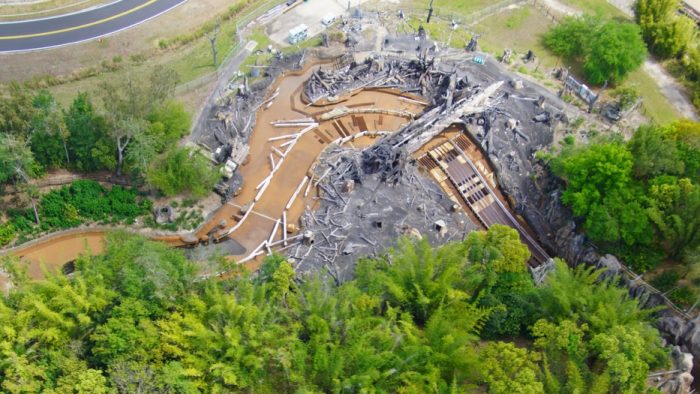 Kali River Rapids opened March 18, 1999, nearly a year after Disney's Animal Kingdom's grand opening. The attraction was originally going to be called Tiger Rapids Run but was later changed. However, it does sit next to the Maharajah Jungle Trek where guests may see live tigers, and there's still a tiger on the sign for the attraction and few tiger-inspired set pieces during the journey.
What You Need to Know About the Queue
The first part of the queue for Kali River Rapids is outdoors and winds through a jungle before leading into the rafting offices for the fictional Kali Rapids Expeditions. Much like the queue for Expedition Everest, the Kali Rapids Expeditions offices are incredibly detailed, immersive, and help tell the story. This part of the queue is partially enclosed, but guests move back outside as they approach the loading platform.
What You Need to Know About the Experience
Once the rafts leaving the loading platform, they float up and onto a slow-moving lift hill. Many guests expect the lift hill to lead to a huge drop, but it doesn't. Instead, they experience a small dip into the river where a geyser and waterfall are nearby for a little extra splash.
The rafts gently bump and bob down the river before heading into a logging site to see how logging devastates the land and the dangers that it causes. This is also where the rafts slide down a 20-foot slope producing a massive splash!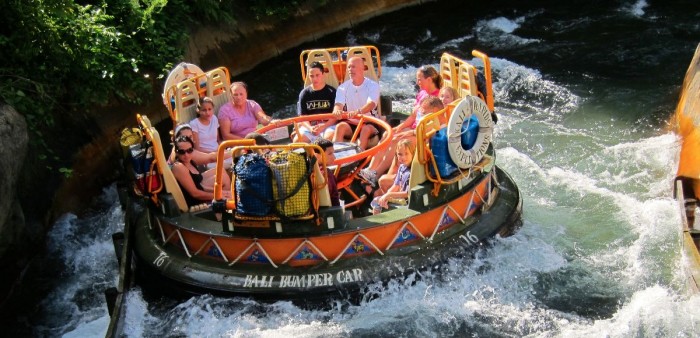 The raft will then continue its journey down the river, through a small cave, and under a bridge before returning to the station.
The whole ride lasts about 10 minutes, but many guests find the main part of the experience way too short.
What You Need to Know About Getting Soaked
While drenching yourself may sound appealing when visiting during the summer, it can make for an uncomfortable day for so short of a ride. This is even more true when visiting during Florida's cooler months of the year, especially when going back to your resort mid-day to change into dry, warm clothes was not part of your plan.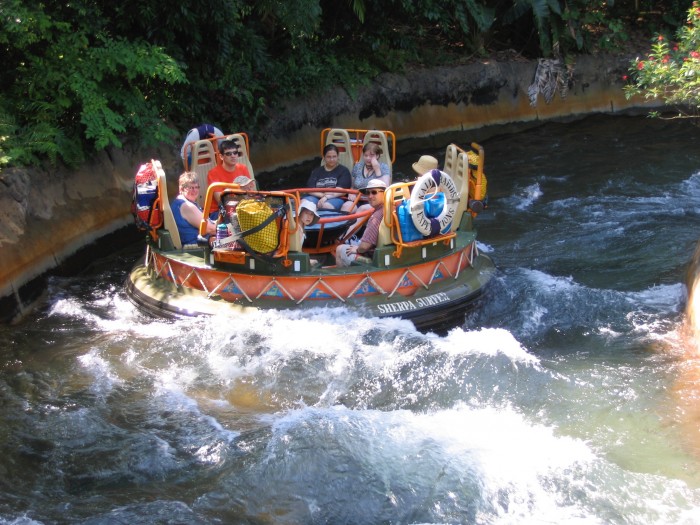 If you're determined to ride Kali River Rapids, consider wearing a poncho, water-resistant clothing, and sandals during your ride.  If you're wearing socks, take them off before riding and/or wrap a bag or poncho around your shoes to prevent them from getting soaked. After all, walking around in wet shoes pretty much guarantees painful blisters.
Fortunately, Kali River Rapids offers free 2-hour locker rentals to the left of the attraction entrance. For peace of mind, store anything here you wouldn't want to get wet and/or a change of clothes.
What You Need to Know About Ride Vehicles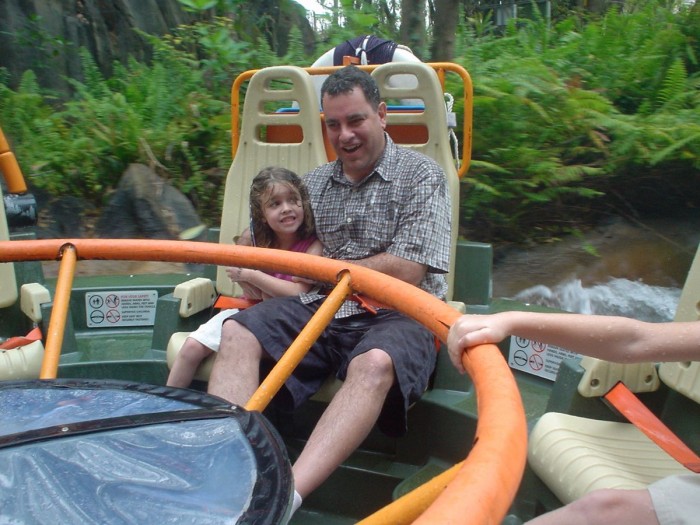 The large circular raft vehicles seat up to 12 guests in individual plastic chairs with an armrest on one side. There is a fabric lap belt for every two guests to share, and a circular raised platform rising from the center of the raft with a circular bar at the bottom for guests to rest their feet and another at the top for holding on to during the ride. Larger guests may be more comfortable if they have a two-seat section to themselves. Speak with a cast member if you have concerns.
What You Need to Know About Accessibility
Guests must transfer from a wheelchair or ECV to experience this attraction. Due to the nature of the experience, service animals are not permitted on this attraction.
In order to board the attraction, guests will need to take a small step from a moving walkway to the raft and then a small step down into the raft and then move to their seat.
What You Need to Know About Health and Safety Advisories
For safety, you should be in good health and free from high blood pressure, heart, back or neck problems, motion sickness, or other conditions that could be aggravated by this adventure. Expectant mothers should not ride. Expect the raft to spin, to be facing backwards at times, and for dips, drops, and bumpy or jerky movements.
What are the Height Requirements?
Guests must be at least 38 inches tall to experience Kali River Rapids.
Does Weather Affect Kali River Rapids?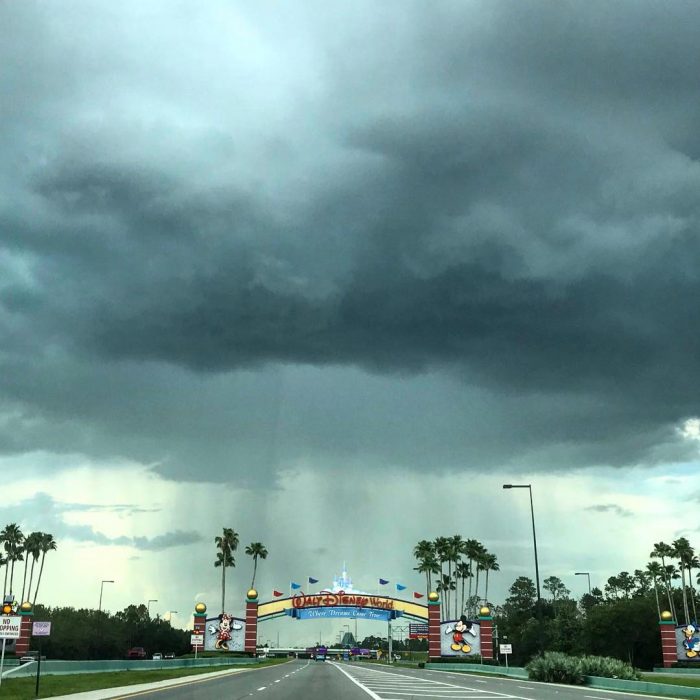 Yes. Since Kali River Rapids is an outdoor water attraction, it may close in inclement weather.
What's the Best Time of Day to Experience Kali River Rapids?
Kali River Rapids gets very popular in the summer due to the notorious Central Florida heat and humidity. Try to ride the first or last hour the park is open or use FastPass+ or the single rider line.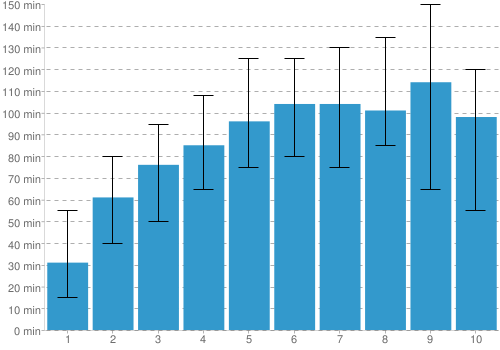 This chart shows you roughly how long you'll wait for Kali River Rapids when you visit on a day with a given Disney's Animal Kingdom Crowd Level. The blue bars represent the average "peak" wait time (that is, how long the line will be at its busiest). The bottom and top black lines represent the range of peak wait times to expect (for you fellow nerds out there: it's the 5th percentile and 95th percentile of peak wait times). Please note that these are estimates, and for a better forecast for your travel dates, see Kali River Rapids Wait Times.
Did I answer all of your questions about Kali River Rapids? Is this attraction at the top of your family's vacation to-do list? Let us know in the comments.