Five Things to Know About it's a small world
If you've ever been to the Magic Kingdom, or even if you haven't, you know about "it's a small world". At the very least, you've heard the song somewhere. Is it a must-do attraction that's worth the time on your first visit? Here are some facts about the attraction that may persuade you to either ride – or cover your ears and run away!
1. It opened with the Magic Kingdom in 1971.
There are a handful of attractions left in the Magic Kingdom where you can experience the magic as it was on opening day. One of those is "it's a small world" (always spelled without capital letters!). And personally, that's one of the reasons I ride it every time I'm there. I love the nostalgia and slower pace. But I can see why other folks may not share that love.
The original "it's a small world" was a last-minute attraction for UNICEF at the 1964-1965 New York World's Fair. Following its run at the fair, it moved to Disneyland Park where it debuted on May 28, 1966. Then in October 1971, the WDW version premiered. Other versions have been created for Disney parks around the globe since then.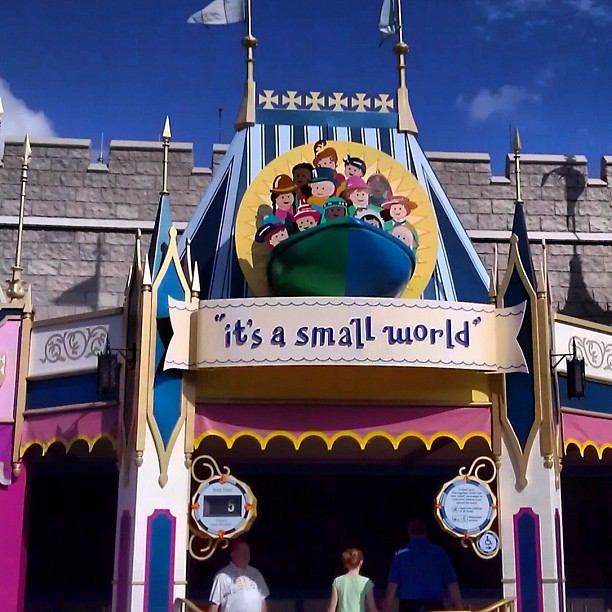 Over the years, "it's a small world" has become a "love it or hate it" attraction. This may be due to its earworm theme song and somewhat dated animatronics. But when it first opened, it was ground-breaking! Riding through an attraction in a boat was something new. The animatronics were state-of-the-art.
It proved so successful that others followed, utilizing the same idea. For example, Pirates of the Caribbean was first conceived as a walk-through attraction—that changed when the boat-ride approach proved to be so successful. Na'vi River Journey is the most recent boat ride to be built at Disney World.
2. It's a boat ride around "the world!"
It's a small world is in Fantasyland at the Magic Kingdom, across the way from Peter Pan's Flight. In the queue, you have a view of the boats and the attraction's signature backdrop as you approach the loading area.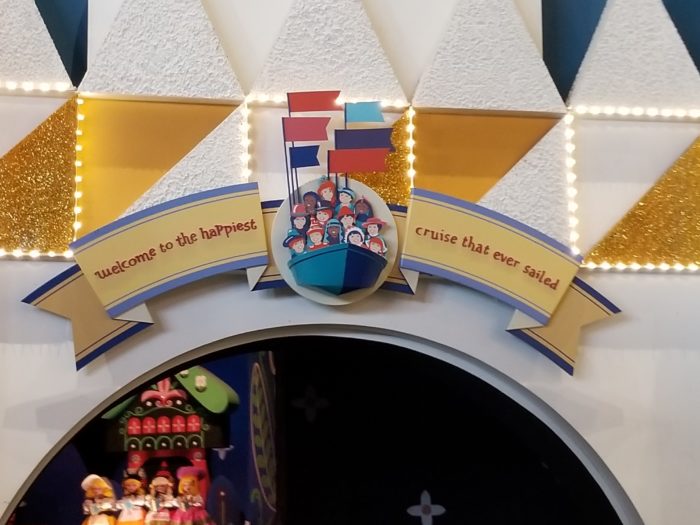 After settling into your boat, you'll experience a gentle 10-minute boat ride. The Seven Seas Waterway travels through more than 40 countries and regions of our planet. Along the way, animatronic dolls dressed in traditional costumes dance and sing "that song" in their native language. The whimsical, colorful scenes all have so much going on that you can see something new each time you ride. "What's that penguin doing?" "Is that a kiwi?" "Look at the balloon riders overhead!"
You'll see there's a sun shining in every room. This reminds riders that we all share the same planet, look up at the same moon, enjoy the same sun. The song lyrics say it this way: "There is just one moon and one golden sun." The "message" of the ride is a timeless wish for peace and unity throughout all peoples and nations.
As I mentioned before, there is a strong element of nostalgia here, which I personally enjoy. The pace and length of the ride lets me take a break from the often-hectic park activity of checking my phone for wait times and racing to the next attraction.
3. There are some 300 animatronic dolls in all.
As you ride, notice that each doll has the same face, but a different skin color and costume. It's another way the ride drives home the message of hope for peace and unity throughout the world. We're all the same, regardless of where we live!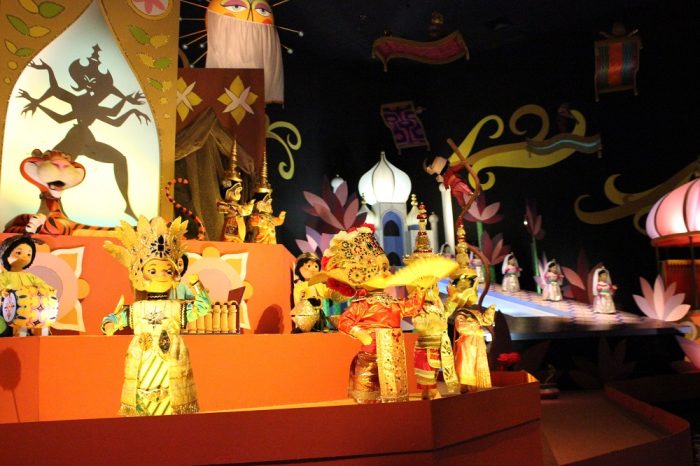 Recently, the Disneyland version added dolls in wheelchairs. This is the first time that a Disney attraction has included a character in a wheelchair. The doll represents a Latin American child and appears in that region and the finale of "it's a small world." Similar dolls will be added to other versions of small world in the future; Disney World received its doll in early 2023.
And if you've ever wondered, the answer is yes. When the lights are turned off, the dolls stay on, dancing (but not singing) through the evening after the park closes. The dolls always dance.
4. What about that song?
Walt Disney originally wanted each country's national anthem to play as riders passed through. It was a cute idea, but as you can guess, the result was not exactly what you could call global harmony. Richard and Robert Sherman were hired to create a simple song. It had to be easy to remember and easy to translate into other languages. In other words, an earworm. Wow, did they succeed!
The song is in the public domain since Disney never copyrighted it. Walt believed that it should belong to the children of the world.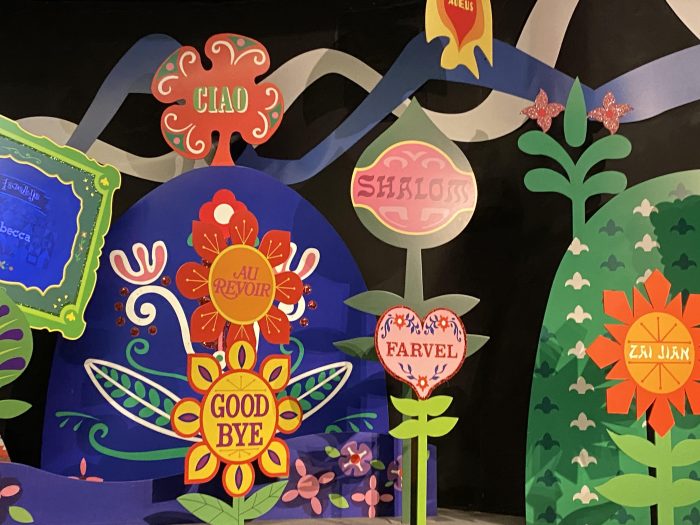 Bonus fact #1: Because it's played on a loop at each Disney Park around the world, it has the distinction of being the most performed song of all time.
Bonus fact #2: Musicians will appreciate this. While the verse and chorus have different melodies, the chord progression is the same for both. This means both melodies can be sung simultaneously, as occurs in the finale of the ride.
5. The Nuts & Bolts
"it's a small world" is an indoor attraction operating rain or shine. In addition to the 10 minutes on the ride, most of the queue is indoors. As such, it offers a welcome air-conditioned reprieve from the sun on a hot day.
Since this is a continuous-load ride, wait times are not usually very long. Even on a crowded day, it's rare for waits to exceed an hour, and 25-40 minutes is more typical. Lightning Lane is available for this ride with Genie+; it's rare for Lightning Lanes to run out and the return time is usually no more than an hour or two in the future.
There are no dips or drops, no health or safety advisories due to the tame nature of this attraction. There are also no height requirements; the whole family can ride.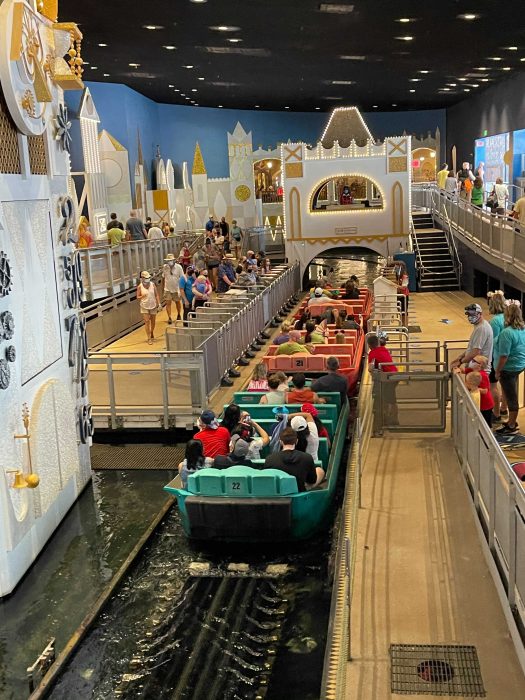 This is an accessible ride: guests must step over a small wall and then down a moderate step to enter their boat. Those in wheelchairs can stay seated to use the wheelchair-accessible boat; ECV users must transfer to a standard wheelchair.
The bottom line.
If, like me, you enjoy stepping back in time to an era when entertainment was simpler, "it's a small world" is a great choice and a must-do for me every time I visit the Magic Kingdom. And if you've never experienced it, I encourage you to give it a try. You may be surprised that it becomes an unexpected favorite of yours, too.