Which Attractions are the Best Use of Genie+?
Is Genie+ actually going to save me any time? Which rides should I focus on in order to make the most of Genie+? These, and other similar questions continue to be very popular here at TouringPlans and throughout the Disney planning community. We last took a look at initial time saving data back in mid-December of 2021 and updated it here in June and October of 2022. But a lot has changed since then – a lot of attractions have been added to Genie+, people have learned more about how the system works, and demand has started to decrease with the inability to pre-purchase and increasing, variable cost.
In this update, I've included only the past three months of data. Thankfully, we generally have enough people timing waits that we can get by with this short timeframe. The one exception is character meets – we don't have good enough data to include all of them in this analysis. That means if you have a WDW trip coming up and you plan on using Genie+, you'll be my hero if you time some character LL waits. For now, we know enough to know that they have pretty big time savings. This post was last updated on February 22nd, 2023.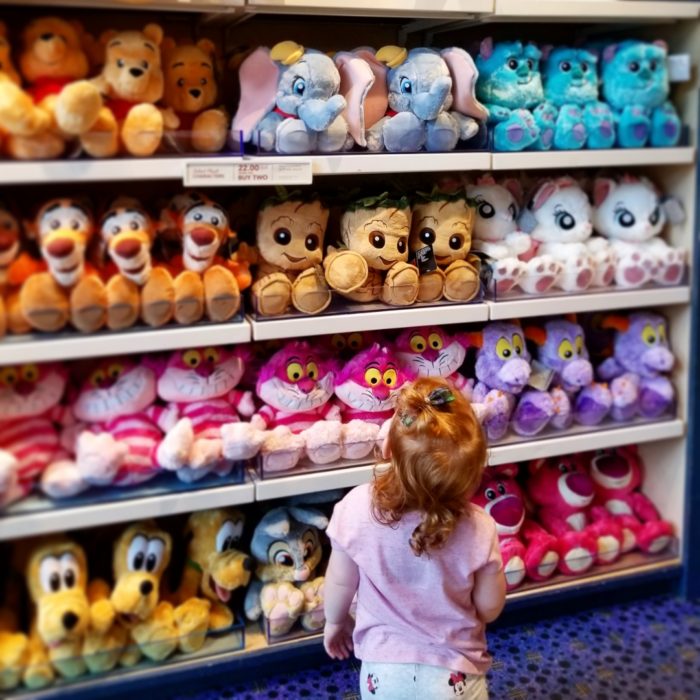 Explain the Math!
In order for me to be able to tell you how much time you might save by using the Lightning Lane at any attraction, I need to know two pieces of data:
How long you will wait in the Lightning Lane for the attraction
How long you would have waited in the standby queue if you entered at the same time.
In an ideal world, you'd all tour the parks in pairs. And one of you would get in the Lightning Lane while the other got in Standby, and you'd start your timers in the Lines app at the exact same time. Turns out, families and other touring parties don't actually split up like that in the real world. Shame on you for not giving us clean data!
But in reality, the data for how long the Lightning Lane waits are is easy enough to pull. I can get those directly from timed waits in Lines. It's when I try to correlate that Lightning Lane wait with a corresponding Standby wait that things get tricky. Since we don't actually have any nicely paired waits, we have to make some sort of calculation and/or assumption. What I chose to do was:
If an actual standby time was entered within a short period of time (before or after) the Lightning Lane user started their timer, I used that standby time for comparison. The qualification window for "short" varied by time of day. If it was morning and wait times were rapidly changing, it had to be within 10 minutes. When things were steadier in the middle of the day, 30 minutes was fine.
If there is no nearby actual standby time, I used the Touring Plans estimated wait at the time the user entered line as the best estimate of what the standby time would have been.
Once I'm confident in those two numbers, the all-important "Time Savings of DESTINY" will just be a simple subtraction: Time Savings = Standby Wait – Lightning Lane Wait
How Much Time Can I Save at Each Genie+ Attraction?
Just like the last time I presented this data, I've got some caveats. These are averages. That means that some savings are higher and some savings are lower, and these numbers can't guarantee anything. Your experience might change based on time of day or crowd level (which we'll explore a bit later). And this doesn't include every Genie+ attraction – some just varied too wildly or we didn't have enough data to be confident (cough – character meets – cough).
Back again for this article are the fancy-schmancy confidence intervals along with each average. You don't have to know all of the details behind the calculations there, but just know that they mean that we can be 95% confident that the real average time savings falls somewhere along that little line for each attraction.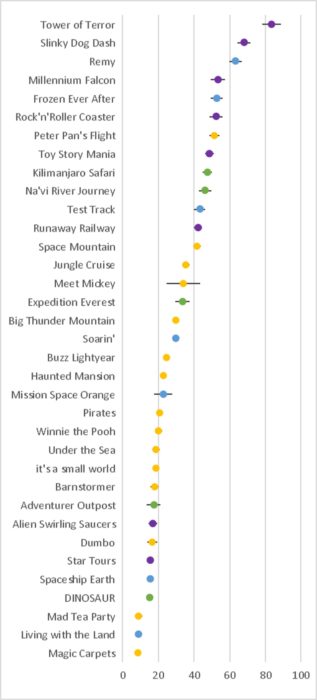 This chart looks very very different than it did last October. First, the scale is wildly different. A lot of the error bars have seemed to disappear. This isn't necessarily because of clean wait times (we all know wait times aren't clear), but because the scale is so big, those error bars sneak in behind the big dots.
What is the scale bigger? More time savings! In October, only one attraction saved an average of more than 50 minutes compared to standby (Slinky Dog Dash), and none saved more than an hour. Now, we've got SEVEN attractions that save more than 50 minutes, and THREE that save more than an hour. This represents big increased time savings at the very big headliners.
The increased savings aren't just happening at the headliners, either. In October there were 10 attractions that saved an average of over 30 minutes compared to standby. Now that number is 16. Lots of 30-minute-or-more savings.
EPCOT, which used to be the obvious loser, still makes a strong case for itself. Two out of the top five time savings. That's more than Animal Kingdom can claim. If you can actually reserve EPCOT's top three (a hard thing to do given availability on medium and high crowd days), Genie+ at EPCOT may actually be "worth" the purchase. It will likely require more walking though.
Hollywood Studios is a big winner, if you can catch it on a day where you can actually book and use multiple reservations before they all sell out for the day. Two attractions save over an hour each just by themselves (Slinky and Tower of Terror), and six different attractions average over 30 minutes of wait time savings. Not shabby.
Magic Kingdom is a good choice, just because of the sheer number of options. Several of them will save you significant time, but your real win will come from getting and using as many reservations as possible in order to boost your overall time saving.
How Do Genie+ Time Savings Change with Crowds?
For this analysis, we're going to use the following crowd level definitions:
Low = Crowd levels 1 through 3
Med = Crowd levels 4 through 7
High = Crowd levels 8 through 10
We're also going to zoom in on just the 12 attractions with the highest average time savings. Why twelve? Because I felt like it.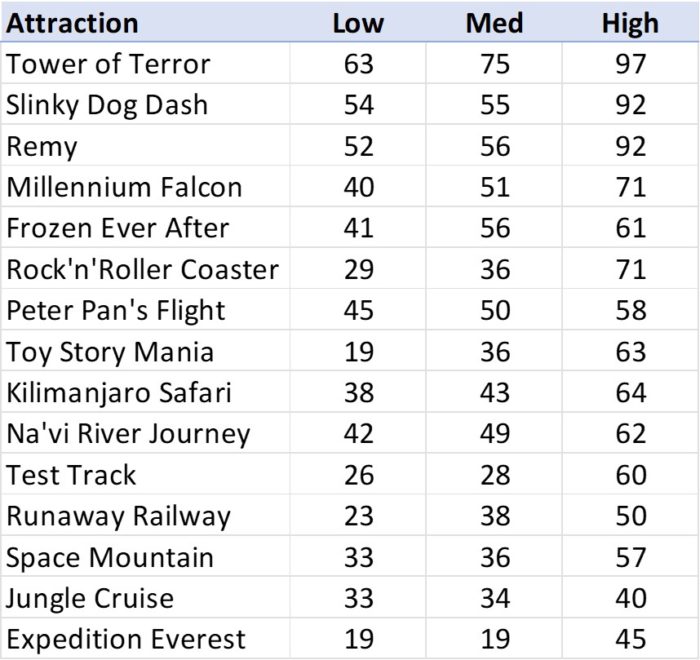 When we checked back in October, Tower of Terror had fallen way down on the time savings thanks to the end of its stealthy refurbishment. Well, stealthy refurbishment is back, taking down one elevator shaft and increasing wait times and potential time savings.
Beside that behavior, we can see some very sensible behavior. Time savings increase with increasing crowds. Interestingly, the difference between low and medium crowds is now much lower than the difference between medium and high crowds. In fact, in the last update, time savings for low crowd days ranged from 7 to 45, and now that range is 19 to 63. The range for high crowd days has shifted much more – from 38 to 66 in October to 40 to 97 minutes now!
How Do Genie+ Time Savings Change with Time of Day?
A little more data definition for this part of the post! I split each day into three time "buckets". The time associated with each wait is when the person entered the queue (and started their timer).
Morning = before 11 am
Peak = between 11 am and 5 pm
Evening = after 5 pm
This time I'm not going to give you any insight. Make inferences on your own!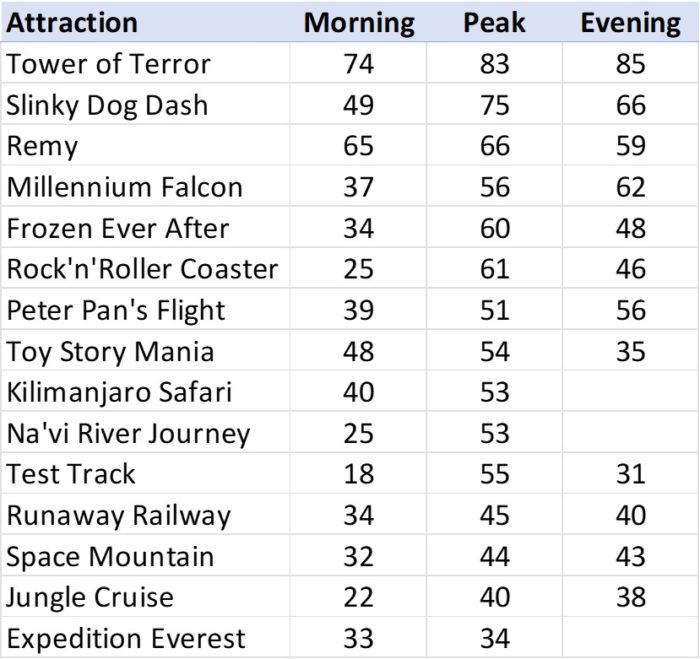 Just kidding. I can't help myself.
We almost always have time savings peaking during peak hours. Imagine that! But several attractions buck the trend, including Tower of Terror, Millennium Falcon, and Peter Pan's Flight.  We also see quite a few blanks in the evening. This is because Genie+ use (or at least timed Lightning Lane waits) basically evaporates at Animal Kingdom after 5 pm, so we don't have enough data to give accurate time savings for those attractions in the evening.
Now have some fun and put on your Disney data detective deerstalkers (that's right, I looked up the name for a detective hat, and it was alliterative, so you're welcome) and let me know what other things pop out at you from these results!
What Does This Mean For You?
The top attractions for saving time with Genie+ easily beat the rest of the options. Tower of Terror, Slinky Dog Dash, and Remy are the obvious winners. They it also books up really quickly (but not immediately), so keep that in mind when prioritizing.
There are now seven attractions that will save you more than 50 minutes compared to standby on average, and 16 that will save your more than 30 minutes. All of this helps push some of the math of Genie+ being "worth it", although you'll still have to consider the variable pricing to make the final call.
Genie+ at EPCOT is starting to make more sense. I still wouldn't purchase it for my family (and in fact, did not purchase it when we visited in July), because Early Entry rope drop can save you even more time than Genie+ can, with the right touring strategy. It's also much more difficult to walk back and forth between the attractions that save you time at EPCOT than it is at the other parks.
We're getting more and more data that says character meet and greets are an excellent use of Genie+ if they are important to your party, and especially if you don't have a character meal booked during your stay. They sell out quickly, and they save a decent amount of time on average.
Now it's your turn to participate! Want to earn your very own Disney data detective deerstalker? Let me know what jumped out at you from the results today. I can even send you a picture of one – I'm pretty sure that's how NFTs work.