REVIEW – We Went Back to The Crystal Palace to See if Things Improved. They Haven't.
Exactly one month ago The Crystal Palace restaurant reopened at Magic Kingdom. We were there at reopening day, with lots of our fellow Disney bloggers, and our experience wasn't so great. We figured we'd give The Crystal Palace a chance to be reopened for a bit and then revisit. Well, we've done so, and things have not improved all that much.
You can read up about our reopening day experience and how things have changed at The Crystal Palace. Here we are going to do a quick review of our revisit to see how things have improved, or not, since the December 2020 reopening.
The good news is the starting course is still delicious, and is in fact the best of the three courses. A seasonal salad of tomato and watermelon with blue cheese, candied walnuts, and a hot pepper jelly vinaigrette is far from a winter season salad, but it is still delightful. The cheddar and bacon biscuits with honey butter, caramelized onion butter, and hot pepper jelly are scrumptious.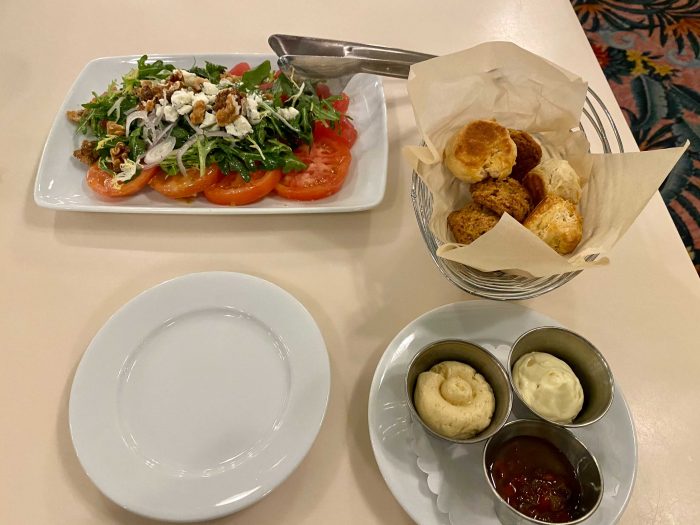 Chrissy decided to revisit one of the entrees she tried on our initial reopening visit. The Crispy Fried Chicken served with Honey Pot Drizzle, Macaroni and Cheese and Collard Greens, is decidedly Southern. The chicken was less greasy than our first visit, and the Honey Pot Drizzle is a delicious touch. It has improved a little, but it is still not that great. The Macaroni and Cheese's quality has declined a little, not as flavorful and less creamy.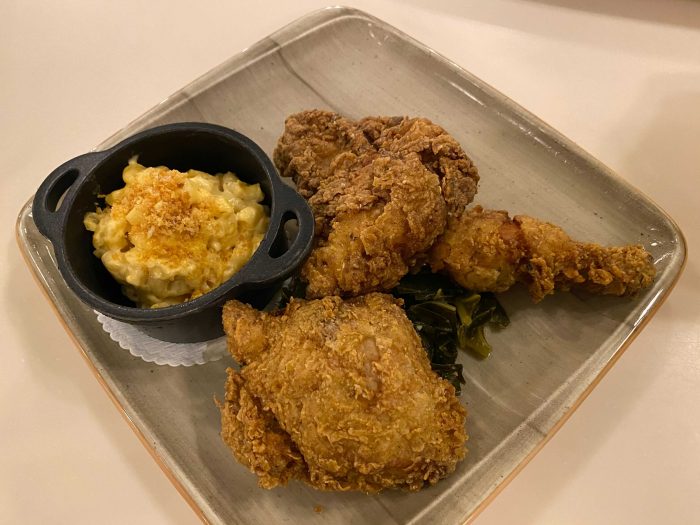 Nothing has changed with the final course, the Dessert Platter. This sampler has four individual-sized desserts which are fine for a single diner. But this platter is served to the table, even if that table has multiple occupants. The sampler has Hummingbird Cake (another Southern classic), a Vanilla Honey Cupcake, Seasonal Fritters, and Banana Cream Pastry. Another option is Plant-Based Strawberry Shortcake which is family-sized.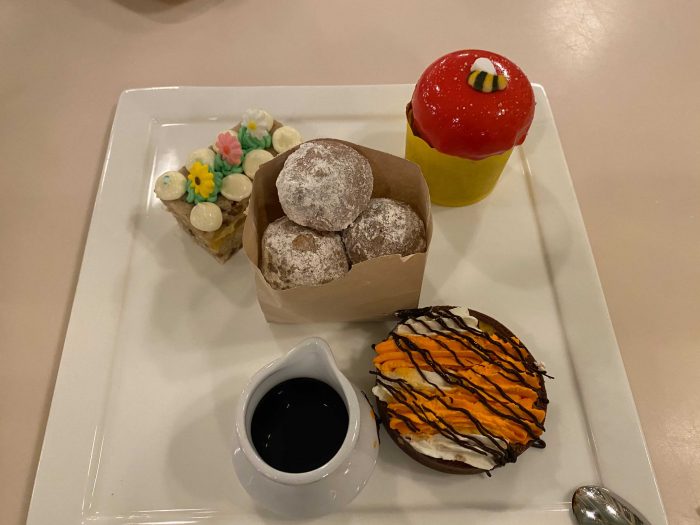 The service was wonderful on both visits. We have to hand it to the amazing Disney Cast Members for continuing the legacy of Disney service even in such hard times. For the price of $39 per adult and $23 per child we recommend Chef Mickey's at Disney's Contemporary or Garden Grill at EPCOT instead, however.
Have you dined at Crystal Palace? How was your experience?