There Are 147 Pressed Coins in the Magic Kingdom
Have you ever wondered if the pressed penny / pressed quarter machines around the parks were a good value? I certainly did, so I decided to do a bit of research this week.
Nearly all the coin press machines in the Magic Kingdom can be located using the map on the My Disney Experience app by searching "coin press machines." You can select the "find on map" option, which allows you to zoom in to see the location of each machine, or you can select "get directions", which will give you turn-by-turn walking directions to your selected destination.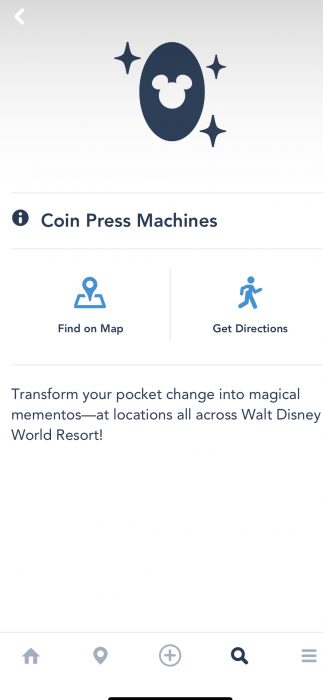 My Disney Experience Coin Press Machines search results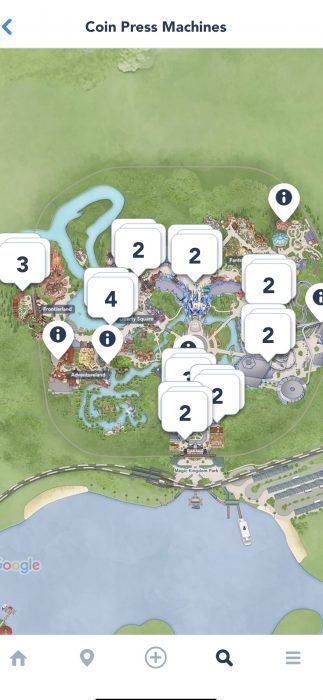 My Disney Experience map with zoom feature
As of the date of this article, the total number of machines nor the locations were totally accurate on the My Disney Experience app. I noticed the following anomalies during my research:
I located a total of 31 machines and only 27 are listed on the MDE app.
The Hall of Presidents machine is listed on the MDE app, but a Cast Member confirmed it is under repair off site.
The MDE map shows 2 machines between the entrance of the Emporium on the left of Main Street and the exit to Casey's Corner but I was able to verify 5 during my visit.
The machine at the Haunted Mansion had been moved from the front gate entrance to between the Riverboat and Columbia Harbour House.
There is a machine listed at Castle Couture, but this former merchandise location has been turned into a temporary Bibbidi Bobbidi Boutique location, so I was not able to verify a machine without an appointment. A Cast Member at the entrance of Castle Couture directed me to Sir Mickey's directly across the walkway as the nearest coin press machine.
During my trek, I was surprised that I did not see one repeat of any coin design. Some of the unique designs that I noted were the Tick-Tock and Cap't Hook coins at Curtain Call Merchandise and the Mike and Sully Space Mountain coin at Tomorrowland Light & Power at the exit to Space Mountain.
Of the 31 machines I located, 2 are pressed quarter machines. They are located inside the Emporium on Main Street and Star Traders in Tomorrowland. The Emporium location has 2019 Mickey, Mike & Sulley, and Dopey. The Star Traders location has Space Mountain Mickey & Pluto, Zerg, and the Tomorrowland symbol.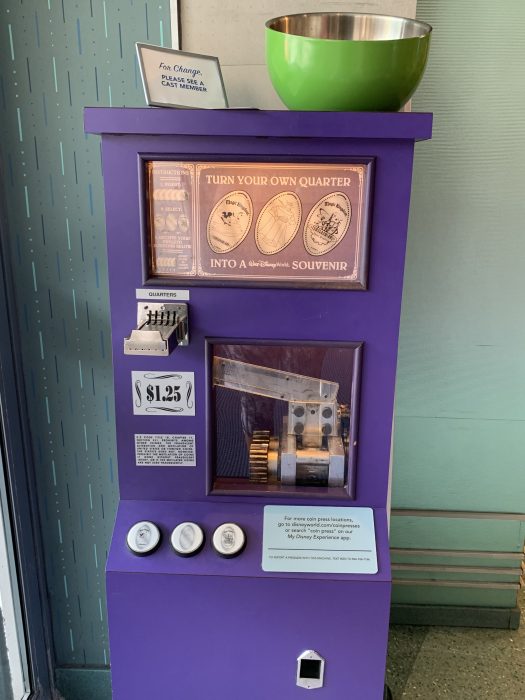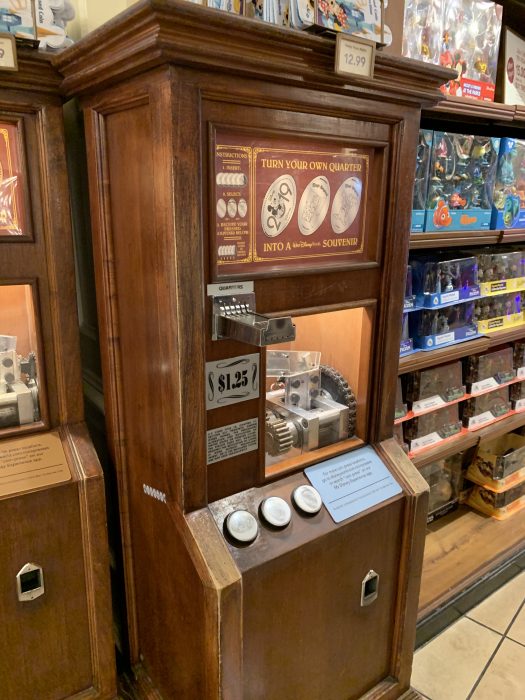 All 31 machines are broken down as follows:
3 pressed pennies for $0.51 each / 11 machines located in Magic Kingdom costing $16.83 total
4 pressed pennies for $1.00 each / 9 machines located in Magic Kingdom costing $36.00 total
8 pressed pennies for $1.00 each or all 8 for $5.00 / 9 machines located in Magic Kingdom costing $45.00 total
3 pressed quarters for $1.25 each / 2 machines located in Magic Kingdom costing $7.50 total
This means you would travel just under 7 miles and spend $105.33 to get every single pressed coin in the Magic Kingdom. Considering the steep cost of almost every other souvenir in the parks, this feels like a great value.
At one time in history, there was a pressed dime machine in Tomorrowland, but that appears to no longer be available at the time of publication. That said, machines sometimes appear and reappear for maintenance or when changes are made to the locations where they are kept, so we'll keep checking back to see if it reappears.
Do you collect pressed coins? Which park has your favorites? Do you have a storage system or display hack you'd like to share? Please let us know if you'd like this same information for the other Disney parks and resorts. Thanks for sharing!