10 Best Places to Meet Characters at Disneyland
Who doesn't love to meet characters at Disneyland?  Well, besides small children who are absolutely terrified of humongous Goofys and the like, of course.  And maybe teenagers aren't all that excited by the giant Buzz Lightyear they used to love, as moms of teenage boys will sadly recognize.  But, a large portion of the Disney visitor population is out to see as many characters as possible with, hopefully, as little waiting as possible.
Don't worry, Disney doesn't leave you on your own to find characters.  The Disney Mobile Magic App has a character locater built in to it!  There are also character meet and greets listed on the Times Guide that you can grab as you enter each park.  On the maps for each park there are Mickey Gloves denoting character locations.  There are many ways to find them.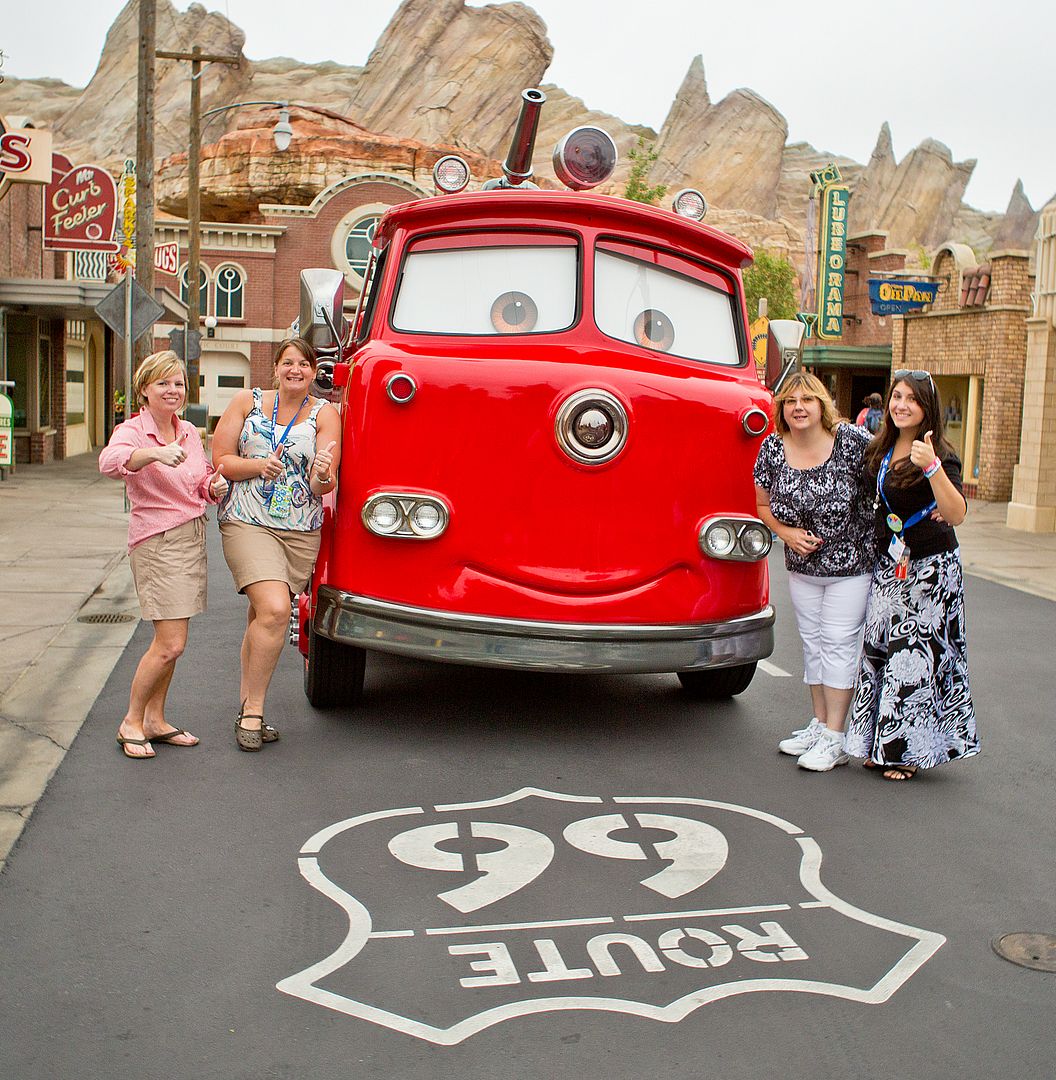 Let me share some good places I've found to meet up with your favorites.
1. Character Meals – The easiest, though certainly not the cheapest, way to guarantee you'll get some one-on-one character time is by booking a character meal.  Breakfast in the Park with Minnie and Friends at the Plaza Inn is chock full of them.  We saw 11 characters in one meal.  Goofy's Kitchen also has a dizzying array of characters.  Did you ever think you'd see Aladdin and Mulan in the same place?  Well you can at Goofy's!  There's a smattering of Princesses at Goofy's, but the real Princess concentration is at Ariel's Grotto in Paradise Pier.  Surf's Up!  Breakfast with Mickey and Friends in Paradise Pier Hotel is actually the only place you can eat breakfast with Mickey.  If you'd like to eat with some woodland friends, then you'll want to eat at Storytellers Café in the Grand Californian.  There are a whole lot of options for character meals at Disneyland and a whole lot of characters there to reward your efforts.
2. Native Areas – If you're looking for a specific character, you need to look in their native Disneyland home.  Buzz Lightyear, for instance, likes to hang out where all good space rangers would hang out – in Tomorrowland.  His good pal Woody, on the other hand, can be found over in Frontierland.  You'll also likely find Pocohantas and Jessie in Frontierland.  And who would you expect to find in a bug's land?  Flik of course!  I'm sure no one needs to tell you that there are some very cool Cars that roam the streets of, and park in, Cars Land.  You get the picture?
3. Dedicated Spaces – Some of the characters have actual homes in Disneyland.  Mickey and Minnie of course have homes in Mickey's Toontown.  Mickey and Minnie were recently evicted from their Florida homes, but they still are still California residents!  You'll find Tink and her Fairy Friends in their Pixie Hollow home over on the path between the central hub and Tomorrowland, and coming next spring, the Princesses are taking up residence in the brand new Fantasy Faire located near the central hub.
4. In the Wild – My family is big fans of seeing characters in the wild.  A character in the wild is a character that's not scheduled to be anywhere, they're not in their home waiting for guests, they're just roaming around!  The spontaneous character/child interaction that often occurs is so much fun to watch.  A little girl who just happens upon Aurora when she turns a corner is usually mesmerized.  And since Aurora doesn't have anywhere to be immediately, she usually has some time to chat!  Unfortunately, Disney has started scheduling their characters' time so much that characters in the wild are harder to come by these days.  Not impossible but harder to come by!  Watch for them.  They're out there!
5. High Traffic Areas – Characters often hang out in high traffic areas.  They know where their fans are!  Hollywood Land is a good example.  It's not native to any particular character but it's high traffic and there are characters back there all the time!  The hub in Main Street, U.S.A is filled to the rim with characters in the afternoons especially.  Buena Vista Street near the Storytellers Statue is becoming the same way.  The lines can get long, precisely because of the high traffic, but the payoff is good.
6. Special Events – Disney likes to load up its special events with characters.  Guy just did a photo essay of this year's Mickey's Halloween Party at Disneyland.  The characters are out in abundance and are often wearing costumes.  You can't go to a Halloween party without a costume right?
7. Games – What child, or adult with a childlike sense of fun, doesn't like to play games with characters?  The Mad Hatter can often be found around 2:30 setting up a very unusual game of Musical Chairs on Main Street, U.S.A.  And, when the parks aren't packed, the characters are a playin'.  We happened upon a Duck Duck Goose game with the big cheese himself one evening.  It's one of our best Disneyland memories!  Imagine my daughter's joy when Mickey picked her as "goose" and she got to chase him around the circle?  That's right, Mickey can run in those giant shoes.
8. Holiday Set Ups – As we all know, Disneyland goes all out for the holidays and they don't leave the characters out of the festivities.  Big Thunder Ranch converts over to a greeting place for the one character everyone wants to meet during the holidays  – Santa of course!  Santaaaa!  I KNOW him!!  Goofy sometimes impersonates Santa over in Toontown for a picture op in the gazebo.  Over at Paradise Pier the gazebo turns into a beautifully decorated Christmas photo op with Duffy.
9. Promotional Appearances – When a new Disney movie comes out, you can usually find their real life (?) counterparts in one of the parks.  When Narnia was out, we took pictures with the White Witch over in Fantasyland.  Merida had her own Scottish Fair happening over by it's a small world.  Wreck-It Ralph is coming soon, and Rapunzel was so popular she has stayed.
10. Voice Only Contact – Maybe not quite the same thing as meeting one, but there are a couple of ways to at least talk to a character!  If you're staying at a Disney hotel and schedule a wakeup call, you're not getting a call from the cast member working the phones that morning.  You're getting a phone call from a character!  I'd much rather Mickey wake me up than my alarm clock!
So where do you usually get your character fix at Disneyland?