10 Tips for Character Meals at Disneyland
So you're planning on partaking in the mother of all character interactions – a character meal. I'm a big fan of character meals. They're a great way to get some good face time with your favorite characters with no lines to wait in (once you're seated) since the characters come to you! You also get to enjoy some pretty good food while you wait for the characters. Now, Disneyland doesn't have a ton of character meals (five to be exact), but the ones they have are good ones. Unfortunately, character meals are expensive. When my family of four walked out of Goofy's Kitchen with a bill just under $200, I almost choked. Whether the expense is worth it for you will be a personal decision, but for those who choose to dine with the Mouse's favorite characters, hopefully the tips below will help you maximize your enjoyment!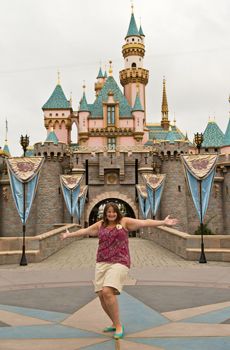 1. Decide Who You Want to See – All characters are not created equal in the eyes of your children. Whereas some adults get very excited by a sighting of a "rare" character like Max, many children will have no idea who that is and won't be very excited about seeing him. So talk to your party about who they really want to see. If princesses are your goal – Ariel's Grotto in Disney California Adventure is where you want to be. Chip and Dale and woodland pals? Storyteller's Café in the Grand Californian Hotel and Spa is a good place to find them. Mickey and friends are at the Surf's Up! Breakfast with Mickey and Friends in the Paradise Pier Hotel. Minnie has a ton of friends at Breakfast in the Park with Minnie and Friends at Plaza Inn in Disneyland. Goofy and a crazy assortment of characters are at Goofy's Kitchen in the Disneyland Hotel. No characters are guaranteed, but it's a safe bet that Goofy will indeed be at his kitchen, Minnie will be at Plaza Inn, and Ariel will be hanging in the grotto.
2. Book an Early Breakfast – I know it's painful to get up early on vacation, but it's worth it! Besides, if you're coming from the East Coast you'll be wide awake by about 5 am anyway. Trust me on that one. So go early and take advantage of an empty park after you finish. We booked the Plaza Inn one hour before opening time and we were able to take pictures in front of an empty castle after eating. We could see the crowd gathered behind the rope on Main Street, U.S.A. waiting to be let in, but we were ahead of them all and with time to spare. When you book an early meal you don't cut into your touring time either! It's worth it!
3. Let the Restaurant Know about Food Allergies – If you have food allergies of any kind, Disney is excellent at dealing with them. Let them know ahead of time so they can prepare. Many times the chef will have something ready for you to start with, and come out to your table to see what you would like to eat for the rest of the courses. Trust me, you'll feel pampered.
4. Position Yourselves Strategically at the Table – Don't just go sitting down at the table willy nilly! There are several things to consider here, folks! Whoever will want the most pictures with characters should be easily accessible. Don't put them in the back where it's hard for the characters to get back to them, or hard for them to get out. If everyone's getting up, that's not as important, but if it's only little Sally who wants pictures with every princess, let little Sally sit at the end of the table. Also, if any of the kids are timid around the characters, put them near you. They'll feel more secure if you're right there next to them.
5. Have Your Camera Ready – Those characters may come pretty quickly! When you sit down, get ready! Check your camera settings if you're taking pictures in manual mode and lock them in! Odds are they won't change much so you can set it and forget it. If you're taking pictures in automatic, take a test picture to make sure you're happy. You'll get the best pictures if you're near a window and the light is at your back so try to think through where the photographer is going to sit too.
6. Be Prepared for Autographs – Have those autograph books out and open, and have some good pens that are fat enough for character hands to handle, but not too fat to make them hard to use. Retractable Sharpies are great for autographs.
7. Characters First, Then Food – This sounds a little backwards, but trust me. Don't rush off to get your food before taking a look around the room for characters. If Minnie is at the table next to you, she's probably coming to see you next. You don't want to miss her while you're off getting waffles! She'll come back, but it may be a while. So take your time and try to plan your buffet trips accordingly. Another benefit to some pictures before food is that you should have less pictures with food on your kid's (husband's?) faces.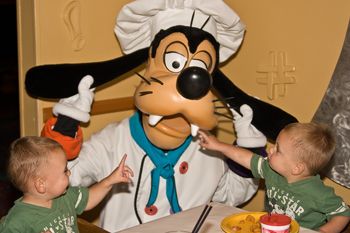 8. Plan Some Fun Poses – After several character pictures, they all start to look the same. Think of some fun poses ahead of time! Get out your finger hooks when Captain Hook comes around! Pooh seems to be much happier when being hugged. Aurora loves it when grown men pose like a princess with them. Bounce like Tigger! Have fun with these pictures!
9. Don't Rush – A character meal is supposed to be different than meeting up with the characters in the parks where you're in a line of people waiting for their moment. The characters can take a little more time with you at a character meal. So let the kids interact and have fun with the characters. Tell Donald he's your favorite. Sound like a clock when Hook comes near. Call Chip "Dale" (or vice versa), and see what he does. Have fun!
10. Don't Go too Crazy – Kids, and many adults, get very excited when characters are coming. Don't forget there are others there, too. Don't let your kids jump into someone else's moment, you'll get yours. Don't let the kids hit the characters. They're padded, but not invincible!
Do you have any tips for making character meals even better?