Disneyland Character Dining Restaurant Guide
Character dining meals at Disneyland Resort let kids and kids-at-heart stuff unlimited amounts of foods in their mouths while a menagerie of Disney characters stop by the table for some quality one-on-one time. Who wouldn't love that? In this post we'll go over all of the character dining options available at Disneyland Resort.
Character dining meals all feature several characters in attendance that come and go as you dine. Food is served buffet style, meaning you'll be sat at a assigned table, and drinks will be brought by the waitstaff, but you're on your own when it comes to picking up which food you want. Food selection includes breakfast staples, such as scrambled eggs, omelets, bacon, sausage, ham, hash browns, waffles, pancakes, or french toast, pastries; and fruit, and various other items that change seasonally.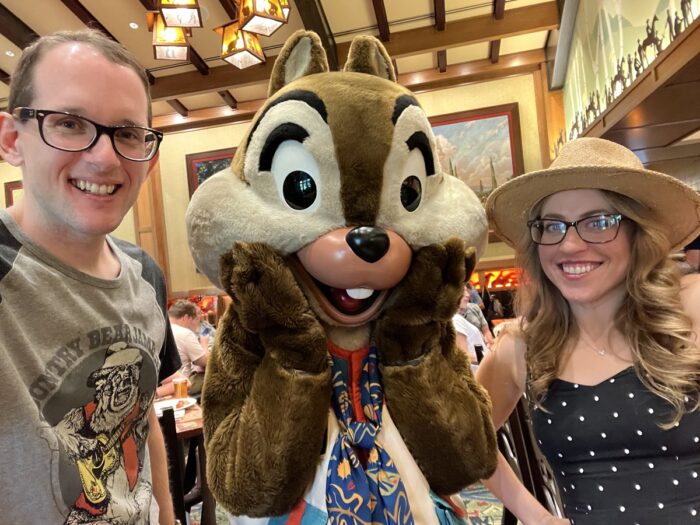 Disney characters join guests for breakfast each morning until 11 a.m. at the Plaza Inn on Main Street and Storytellers Café at the Grand Californian Hotel. Disney characters are also available for breakfast and dinner at Goofy's Kitchen at Disneyland Hotel, and a Disney princess brunch is available select mornings at Napa Rose in Disney's Grand Californian Hotel. Something to keep in mind with the prices of Disneyland's character meals, kids 10 and up are considered adults and will be required to pay the adult price for the meal. They grow up so fast!
During Disneyland Resort character dining meals, characters go from table to table around the room while you eat. There's usually at least three, and sometimes as many as five characters available during a meal. Characters usually visit each table separately, pose for photos, sign autographs, have a little chat, and then move on to the next table. Keep autograph books and cameras ready while you eat.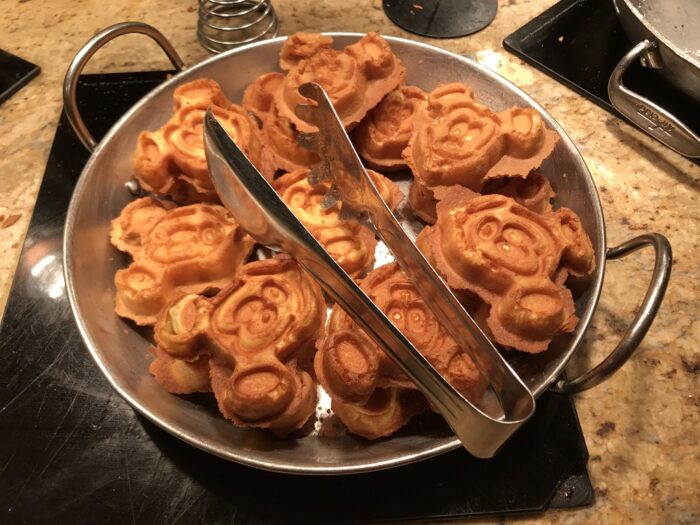 If you're interested in a Disneyland Resort character dining meal we strongly recommend you make dining reservations up to 60 days in advance. Call 714-781-DINE (3463) or use the official Disneyland app. Prices don't include tax or gratuities. Prices also fluctuate seasonally, so you may pay more than listed below during busier times of year.
Disneyland Resort Character Dining Restaurants:
Minnie & Friends – Breakfast in the Park – Plaza Inn – Disneyland 
Price:
Adults (ages 10 and up) – $41
Children (ages 3-9) – $24
Minnie & Friends Breakfast in the Park is unique because it's the only character dining available in a theme park. Minnie Mouse will always appear, but in our experience you never know what the rest of the cast of characters will be. We've seen Chip & Dale, Fairy Godmother, Captain Hook, Winnie the Pooh, Tigger, and Eeyore appear in various combinations. Character dining is only available during breakfast hours (8:00 AM to 11:00 AM), Plaza Inn is a quick service restaurant during the rest of the day.
Goofy's Kitchen – Disneyland Hotel
Breakfast Price (7 AM until 1:30 PM):
Adults (ages 10 and up) – $35.99-$59.99
Children (ages 3-9) – $35.99-$49.99
Dinner Price (5 PM to 9 PM):
Adults (ages 10 and up) – $35.99-$59.99
Children (ages 3-9) – $35.99-$49.99
Goofy's Kitchen is a madhouse, but it's a lot of fun. Goofy, Minnie, Pluto, and Chip & Dale meet fans while adorned in chef outfits. Among the food available food selections is Goofy's famous peanut butter and jelly pizza. Goofy's Kitchen is popular and Disney takes advantage of that in terms of price. During busier times of year the cost per an adult can reach around $60.
Mickey's Tales of Adventure Breakfast or Brunch Buffet – Storytellers Cafe – Disney's Grand Californian Hotel
Breakfast Price (7 AM until 10:55 AM):
Adults (ages 10 and up) – $49
Children (ages 3-9) – $29
Brunch Price (11 AM to 1:30 PM):
Adults (ages 10 and up) – $51
Children (ages 3-9) – $29
Mickey, Minnie, and Chip & Dale appear in camping outfits. In terms of food quality and selection, Storytellers is our favorite of the among Disneyland Resort's character dining options.
Check out our full Storytellers review to get an idea of what to expect at Mickey's Tales of Adventure Breakfast/Brunch Buffet.
Disney Princess Breakfast Adventure – Napa Rose – Disney's Grand Californian Hotel
Breakfast Price (8 AM to 11 AM):
Adults: $125
Children (ages 3 to 9): $125
Upon being seated you'll have a chance to purchase various extra-charge alcoholic and non-alcoholic drinks from a menu. Other drinks, such as juice, coffee, and soda, are included in the price. Princesses appear out on Napa Rose's patio where each group gets some one-on-one time, and change out around every 20 minutes.
The first course is a basket of pastries, and the second is a three tiered tray of finger foods, all of which is brought to the table. Groups are then brought to the buffet area where brunch items are available. In the past we've seen waffles, bacon, braised short rib, mac & cheese, fruit, and other brunch staples.
he final dessert course is brought to the table by the waitstaff as well. It's worth mentioning we've heard the food at Disney Princess Breakfast Adventure is prepared by Disneyland's catering department and not Napa Rose itself, but the quality is still good.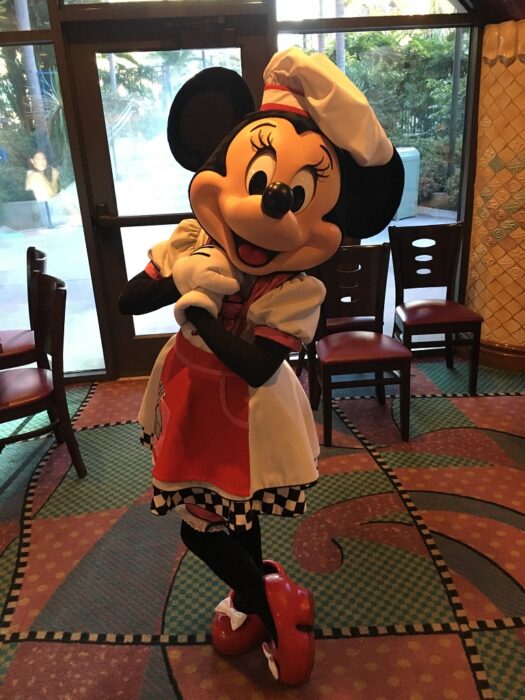 Plan your perfect Disneyland visit. Check out our Disneyland Crowd Calendar, which rates every day of the year on a scale of 1 to 10 so you can see how busy Disneyland and DCA will be during your visit. Also check out our Disneyland Touring Plans. These itineraries can show you how to beat the crowds and spend less time in line at your favorite rides. Our Touring Plans can also be personalized! All of our tools are used by hundreds of thousands of visitors each year and are constantly being updated by our in-park team of researchers and data scientists. We can even book your vacation for you. Our agents are the best in the world and they're ready and waiting to help you plan your perfect trip. Click here to get a quote!
What's your favorite Disneyland Resort character dining location? Let us know in the comments.