2023 Mickey's Very Merry Christmas Party Dates and Ticket Info
Are you planning a trip to Disney World this Christmas? Are you going to Mickey's Very Merry Christmas Party? Then you'll be happy to hear that Disney has announced dates, prices, and details for the 2023 holiday events. This year the parties run from November 9 to December 22. Read on for more details.
What Is Mickey's Very Merry Christmas Party?
Mickey's Very Merry Christmas Party is a "hard-ticket" event that's held at the Magic Kingdom several nights a week. On these nights, the park closes early to regular guests. Party attendees can enter the park a few hours prior to closing without needing to use regular admission, and the party itself features special entertainment, food, and decor.
2023 Event Dates, Ticket Prices, and Times
Tickets for Mickey's Very Merry Christmas Party will go on sale June 29 to guests of Disney World resort hotels, Disney World Swan, Dolphin, and Swan Reserve, as well as Shades of Green. Christmas Party ticket sales to the general public begin on July 6.
If you're thinking about a trip to Disney World for MVCMP, our Destination Specialists can hook you up in time to take advantage of early purchasing, and if you have a trip booked with us agents can purchase your party tickets too. To buy tickets yourself, book online or call 407-939-4240. If you're purchasing during the early access period, make sure you're logged in and your resort reservation has been linked to your My Disney Experience account.
Mickey's Very Merry Christmas Party 2023 Dates
The party will be held on a total of 25 dates this year, with the first on November 9 and the last on December 22.
November 9, 10, 13, 14, 16, 17, 19, 21, 22, 26, 28, 30
December: 1, 3, 5, 7, 8, 10, 12, 14, 15, 17, 19, 21, 22
Mickey's Very Merry Christmas Party 2023 Prices
Ticket prices range from $159 to $199, with child tickets (ages 3-9) priced at $10 less. There is also a $10 discount available to Annual Passholders and Disney Vacation Club members on select nights. DVC members must be eligible for Membership Extras to receive the MVMCP ticket discount. Tap the calendar images below to expand.
Event Times
On event nights, Mickey's Very Merry Christmas Party begins at 7 p.m. and lasts until midnight. Ticket holders may enter the park on their party ticket as early as 4 p.m., and entry at the tapstiles will close to those without party tickets at 6 p.m.
Party Entertainment
One of the big draws of MVMCP is the special entertainment offerings and opportunities. In addition to stage shows and lower-profile entertainment such as dance parties, these include:
Mickey's Once Upon a Christmastime Parade
Disney hasn't had a regular nighttime parade since 2016, but on party nights the Christmas Parade runs twice. All the tinsel and candy cane stripes you can dream of float by, along with your favorite Disney characters.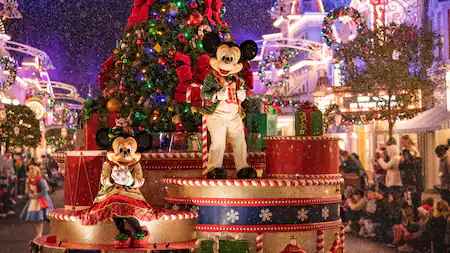 Minnie's Wonderful Christmastime Fireworks Show
Happily Ever After will not show on nights when Mickey's Very Merry Christmas Party is held. Instead, guests are treated to Minnie's Wonderful Christmastime Fireworks Show. Minnie herself hosts this show full of Disney characters and music featuring fireworks, projections, and other special effects.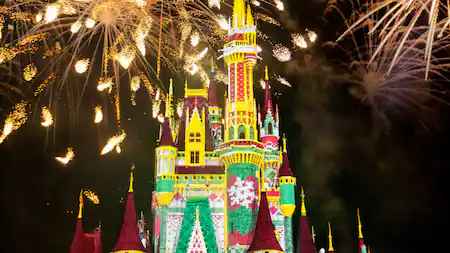 Cookies and Cocoa
Sometimes it's actually kind of chilly during Mickey's Very Merry Christmas Party. Cookies and cocoa are available gratis at several stops throughout the park to keep you fueled for the whole party.
Special Characters
Mickey's Very Merry Christmas Party features Meet & Greet opportunities with characters who don't regularly appear in the parks. The list (which varies from year to year) includes Jack Sparrow, Jack Skellington, and Sally, in addition to other characters who may be available at other locations and events. Princesses who often meet solo tend to appear at the parties side by side with their princes. Mickey and Minnie are there, of course, in special attire for the event; other M&G "regulars" may also be meeting in special Christmas Party costumes.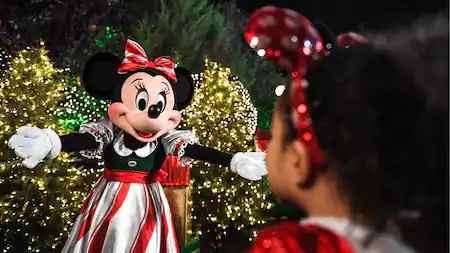 PhotoPass and Magic Shots
Mickey's Very Merry Christmas Party includes PhotoPass service with the price of your ticket, and there are a variety of party-specific Magic Shots.
Shorter Lines
Disney advertises shorter lines as a selling point of Mickey's Very Merry Christmas Party, and has announced that TRON Lightcycle/Run will operate during the party using a Virtual Queue. Here at TouringPlans, we feel this benefit should come with an asterisk: party-goers will typically have to choose between focusing on rides or focusing on entertainment. Days on which the party is held also tend to have noticeably lower crowds (and therefore shorter lines) than days in the same week without a party.
Should You Go?
Some people have already made up their minds one way or the other. But for those who are waffling, let's discuss. The sticky point is, usually, price. The median ticket price for 2023's Mickey's Very Merry Christmas Party is $179; for a family of 4, including tax, that brings your bill to $760.75. That's a lot of dough. It bears noting that the parade and fireworks become the "regular show" during the week between Christmas and New Year's, but the regular ticket prices during that week can hardly be called a savings strategy.
Regular ticket prices are on the higher end of the spectrum during November and December when the parties are held, but not quite high enough to support a talking point that the party ticket isn't that much different in price than a one-day ticket and you'll get a total of 8 hours in the Magic Kingdom if you arrive at 4 p.m. during regular hours. If you're considering that argument anyway, there are two things you need to really consider.
First, our Mickey's Very Merry Christmas Party Touring Strategy will give you a good idea of what you get can for that money, because you can't do everything. It's true that party days tend to have lighter crowds, and you'll likely get more done in the 3 hours between 4 and 7 p.m. on a party day than you would on a non-party day. But if your goal is to do a lot of the regular attractions in the Magic Kingdom, you won't be able to accomplish that unless you're skipping many of the party-specific attractions. And if you have kids, they may not make it through the whole party: It's Party Time at Disney's Magic Kingdom! Should I Bring My Young Child to the Bash?
Second, if you're skipping many of the party-specific attractions, now we need to revisit that price calculation. For regular admission tickets of four days or less, the price may be comparable to a party ticket. But after four days, the per-day cost for additional days drops like a rock. If you're comparing the price of a party ticket at $179 to adding a 5th day for an extra $40, that doesn't look so favorable for the party ticket.
Where this argument begins to make a lot more sense is when you know you'll need more than one day in the Magic Kingdom, but you don't want to buy a Park Hopper. Now you can do a full day in the Magic Kingdom on a regular ticket, including taking in Happily Ever After if you choose. Then you can come back and mop up anything you missed by entering at 4 p.m. on your party day. You'll still be paying more for your party ticket, but you'll be getting something extra to boot. You'll need some stamina if you're going to a different park in the morning, but the math gets closer to adding up on the financial front.
Taking that all in hand, a party ticket is most likely to be right for you if:
You're really interested in the party-specific activities, plus maybe a few regular attractions
You're visiting for only a few days (4 or fewer) and want to get part of a second day in the Magic Kingdom by combining a party ticket with a shorter-length regular ticket
You're visiting for any length of time and would like to get part of a second day in the Magic Kingdom without buying a Park Hopper.
Are you excited about Mickey's Very Merry Christmas Party? Let us know in the comments!