Mickey's Very Merry Christmas Party 2023 Strategy
We're heading into the last 6 weeks of the year, and that means that holiday season is in full swing! Our in-park testing team attending the very first Mickey's Very Merry Christmas Party at Magic Kingdom, and we've been watching the data from several other parties. That means we have an update for a party strategy! This is different than our approach to the Not-So-Scary Halloween Party, because there are so many things to do. Lots of entertainment and activities. So how do you make the most of your night?
We're purposefully sharing a strategy, and not necessarily a step-by-step plan. Enjoying a holiday party at the Magic Kingdom is all about knowing what you enjoy and how you want to celebrate the season. This strategy tries to balance attractions (especially those with holiday overlays) with entertainment pretty evenly, but you're welcome to play with that balance on you're own.
First, let's talk about the entertainment schedule that you'll need to plan your night around. Then we'll go over character options and treats, and then wrap things up with our recommended strategy for the night.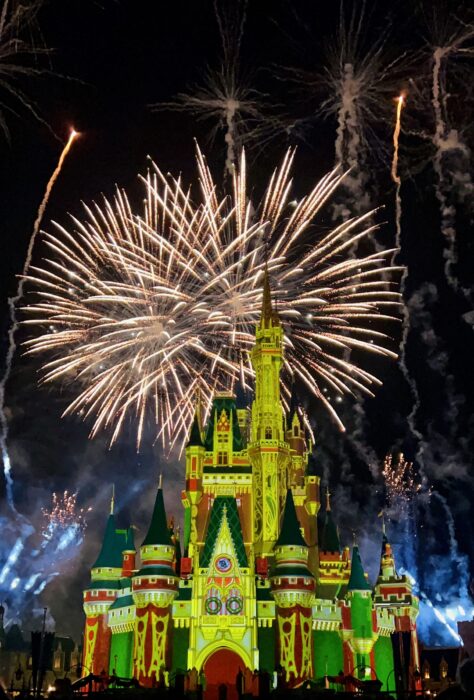 Very Merry Entertainment Schedule
Mickey's Most Merriest Celebration is a stage show in front of the castle. It has characters, music and dancing. You can catch this show at: 7:40 pm, 9:25 pm, 10:35 pm, and 11:55 pm
Frozen Holiday Surprise is a stage and project show that sees Olaf and the Snowgies transforming Cinderella Castle before being joined by the rest of the Frozen friends. You can see it at 8:15 pm on party nights.
Mickey's Once Upon a Christmastime Parade starts in Frontierland and heads down Main Street. It marches in all of its glory at: 8:30 pm and 11:00 pm
Minnie's Wonderful Christmastime Fireworks Show is a "yuletide fireworks display" according to Disney, and you absolutely don't want to miss it at: 10:00 pm
Club Tinsel is a dance party on the Rockettower Plaza Stage and it happens intermittently from: 7:00 pm to 12:00 am
The Collective 5ive is a boy band performing holiday season hits on Rockettower Plaza Stage intermittently from: 7:00 pm to 12:00 am
Disney Junior Jingle Jam is a mouthful, and is a fun Disney Junior dance party in Cosmic Ray's Starlight Cafe from: 7:00 pm to 12:00 am
Very Merry Characters
The characters are the absolute highlight of Mickey's Very Merry Christmas Party this year. You'll see 15 locations noted on your party map, but by our very scientific count, there are at least 52 characters that you can meet, excluding the ones who are usually present at the dance parties.
In this post, we're sharing characters who meet continuously throughout the night. There are other characters that meet intermittently, but there are so many that we'll cover them in their own post, which will be linked here once it's available!
Multiple Line Locations
These locations all have multiple lines to meet different sets of characters, or a single line with characters that switch out with each other.
Town Square Theater

Mickey Mouse is available in his Christmas gear, usually with a short wait
Jack Skellington (as Santa) and Sally have a much lower wait this year than they did last year! Last year the wait was frequently measured in hours, but this year it was more like 40 minutes.

Mad Tea Party: This location has two character areas on the side of the attraction near Cosmic Ray's and the characters rotate with no set times.

Tweedle Dee and Tweedle Dum
Alice and White Rabbit

Dumbo: At the attraction, the right side is running a queue for the Dumbo ride. The left side of the queue holds two lines with two characters each. All of them are in their holiday costumes.

Donald and Scrooge McDuck
Daisy and Minnie Mouse

Pete's Silly Sideshow

Seven Dwarfs had a posted wait time of about 15 minutes during the party, and actual wait times were even lower than that
Santa Goofy is meeting in the tent next to Pete's, in the area that has benches and charging outlets. Lines were even shorter here than they were for the dwarfs.

Castle Wall Behind The Carousel: All of these princesses and their princes meet just to the right of Pinocchio Village Haus:

Rapunzel and Flynn Rider
Cinderella and Prince Charming
Snow White and her Prince (whose name is apparently Florian???)

Agrabah Bazaar: In case you don't know where this one is, it's the tent at the back of the Magic Carpets, near Aloha Isle). These two sets of characters switch out with each other intermittently:

Aladdin and Abu
Jasmine and Genie
Single Line Locations
In these locations, you'll wait in one line even if we've listed more than one character.
Many Adventures of Winnie the Pooh | Pooh, Tigger, Eeyore and Piglet are all meeting in their winter gear, and with more reasonable waits than what we saw last year. The difference between the line for the attraction and the line for characters is confusing, so make sure you're in the correct one!
Fairytale Garden | Mirabel is in her same daytime location, and she doesn't dress any differently for the party.
Under the Sea | Ariel and Prince Eric meet outside of their attraction
Liberty Square Riverboat Dock | Tiana and Naveen
Liberty Square Gazebo | Santa meets in a very well-decorated gazebo. Bonus this year – he has a nice big settee so you don't have to sit in his lap!
Enchanted Tiki Room | Stitch meets in his Hawaiian Christmas shirt
Country Bear Jamboree | Country Bears (shocker)
Very Merry Food
Included Treats
There are "Holiday Treat" locations marked on the map that you are given when entering the party. These locations are also generally marked by a candy cane inflatable so that you know you can pop in as you tour throughout the night.
At each treat location, you will be offered various cookies and drinks, as follows:
Columbia Harbor House – Chocolate chip cookie and hot cocoa
Cosmic Ray's Starlight Cafe – Snickerdoodle cookie and hot cocoa
Pinocchio Village Haus – Red velvet cookie and hot cocoa
The Lunching Pad – Sugar cookies and apple cider
Tortuga Tavern – Buttercream-frosted gingerbread cookies and eggnog
Each location also offers allergy-friendly options.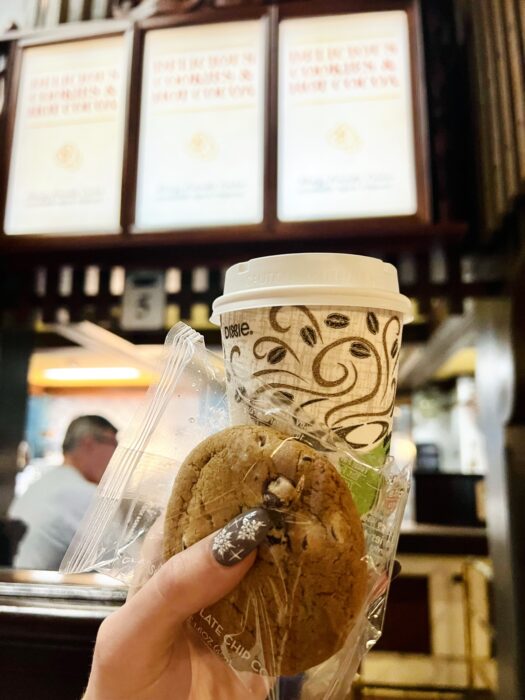 Specialty Food Options
There are a wide variety of other holiday food options that you can purchase before or at the party. Here are some highlights that you can incorporate into your evening:
Savory
Holiday Pot Roast Melt (Cosmic Ray's)
Holiday Turkey Burger (Cosmic Ray's)
Chicken Tamale (Pecos Bills)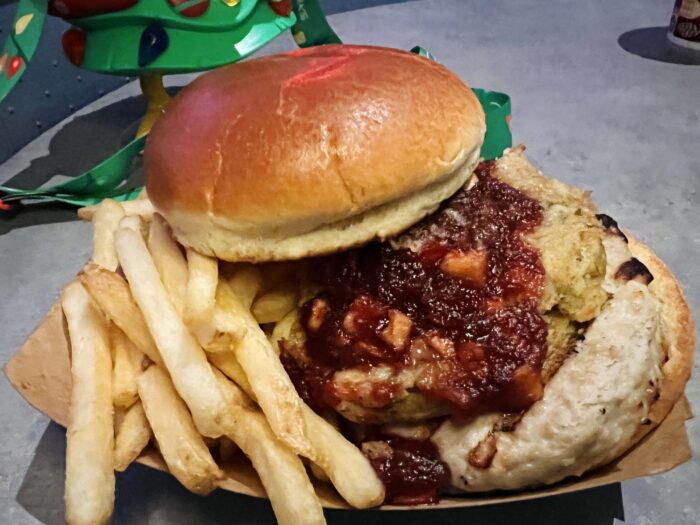 Sweet
Cookie Cake (Cosmic Ray's)
Peppermint Snowman (Friar's Nook)
Cranberry Citrus Float (Sunshine Tree Terrace)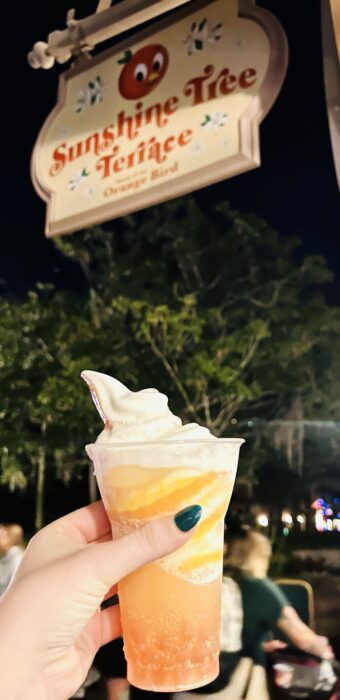 New this year, Mobile Order is available at several locations during the party, including Cosmic Ray's, Pecos Bills, and the Friar's Nook! This is incredibly helpful for avoiding potentially long lines that happen, especially for new exclusive food items.
Very Merry Strategy
So how do we incorporate all of this fun and festivity into one party? Here are my recommendations!
Pre-Party Hours
Although the party begins at 7 pm, your event ticket grants you access to the Magic Kingdom beginning at 4 pm. You should absolutely take advantage of that "extra" time. Crowds are so low at the Magic Kingdom on party days that most day guests will have already left by 4 pm (even though they can stay until 6 pm). This makes 4 to 7 pm an ideal time to either line up for popular characters or knock out a bunch of attractions.
Enter the park at 4 pm and complete as many of the following as possible:
Jingle Cruise (holiday overlay)
Pirates of the Caribbean
Big Thunder Mountain Railroad
The Haunted Mansion
Seven Dwarfs Mine Train
Keep in mind that wait times will be significantly higher than actual wait times. Even major headliners should be averaging a 20 minute wait.
Alternatively, you can start meeting a few characters early. Jack and Sally may be meeting by 4:30 pm, and only have a 40-minute wait this year, so you don't have to choose between them and attractions.
Early Party Hours
At approximately 7 pm, do the following:
Space Mountain (holiday overlay)
Tomorrowland Speedway (holiday overlay)
Monsters Inc Laugh Floor (holiday overlay)
Note: if you'd like to see the Frozen Holiday Surprise, make sure you get to the hub around 8:05! This will likely mean skipping one of the above attractions.
Peak Party Hours
From 8:35 pm to 11:00 pm:
8:35 pm The Collective 5ive and/or Club Tinsel – or … wait for it – hang out in Cosmic Ray's
9:25 pm Most Merriest Celebration
10:00 pm Minnie's Firework Show
11:00 pm Once Upon a Christmastime Parade
You can opt to stick in place and save your spot between events, or you can hop in line for characters, food, or treats.
Cosmic Ray's is the sleeper hit of the party this year thanks to some food and entertainment changes. That's because it's a special all-in-one location this year, perfect for families or those who don't want to hike all around the park:
You can mobile order everything on the menu, including party food – no need to wait in long lines if they exist
It's a treat location! Get your Snickerdoodles and hot cocoa while you wait for food
Disney Junior Jingle Jam- this DJ-led party was more hype than anything happening during Jollywood Nights. The music is fun and special characters like Fancy Nancy, Timone, and Vampirina hit the dance floor through the night. You can take pictures and video with the characters, but they mingle and boogie the whole time so there isn't a dedicated "line" to have time with them
There are restrooms, a water bottle refill station, and a Fuel Rod exchange inside this location
The party food here makes our "best of" list this year. They also have the usual chicken fingers and burgers for picky eaters.
Late Party Hours
From 11:20 to midnight:
Line up for last-minute characters
Mad Tea Party (holiday overlay)
Take Photopass pictures
Shut down the night at a dance party!
A Note About DAS
If you are eligible for DAS, it does work during the Very Merry Christmas Party. For characters, you can use it to greet any character meeting in a location that offers DAS during the day. With shorter character lines at this year's party, DAS may be more of a hassle than it's worth. Lines for characters and attractions are all relatively short.
One note, though, if you require an ECV or wheelchair – during the first party, Guest Services was totally out of ECVs and only had 2 wheelchairs left. There was a long line of guests waiting for ECVs to be returned so that they could head out and party. Arrive very early or make other plans.
Have you attended Mickey's Very Merry Christmas Party this year? Or are you planning to attend before the end of the year? Let me know in the comments!