25 Drinks of Christmas – Day Eight: Bees Knees at Cowfish
We're back with everyone's favorite theme park advent calendar: a daily countdown of our favorite drinks at Walt Disney World, Universal Orlando, and SeaWorld building anticipation to the Big Day. 
Criteria: Drinks can be alcoholic or nonalcoholic. Drinks can come from any venue on property. Bonus points awarded for atmosphere where the drink is served. Any drink with glow cubes is immediately disqualified. Ready? Let's go!
DAY EIGHT: Bee's Knees at Cowfish (Universal CityWalk)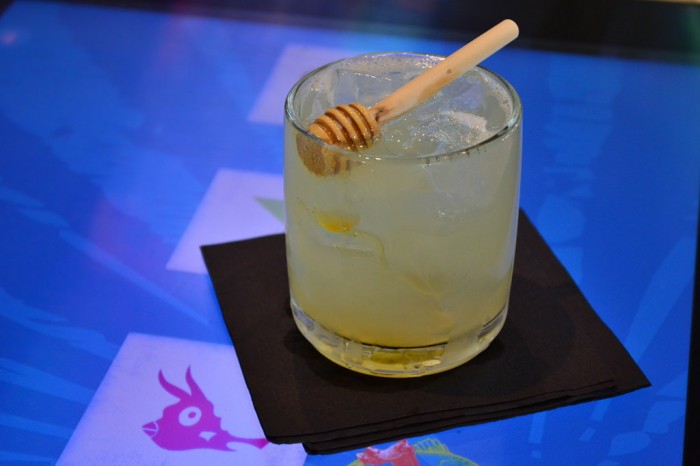 –
The Cowfish at Universal CityWalk is certainly one of the most unique restaurants in Orlando. Filled with tongue-in-cheek humor (both in the decor and on the menu), Cowfish fuses a burger joint and a sushi restaurant into a fantastic hybrid. With several bars, The Cowfish is also a great place to stop by for a quick drink and today we are going to recommend the Bees Knees. Served with a honeycomb stick drizzled with honey, Bees Knees is a citrusy gin drink with the honey adding a sweet note to the taste.
Ingredients:  Miller's gin, lemon and lime juice, honey, soda
Also be sure to stop by and try one of the hand-spun milkshakes. Each one of them is fantastic but you have to try the Marshmallow Crisp, The P "DOUBLE-B" & J, and the Gimmie More S'more shakes. SO GOOD!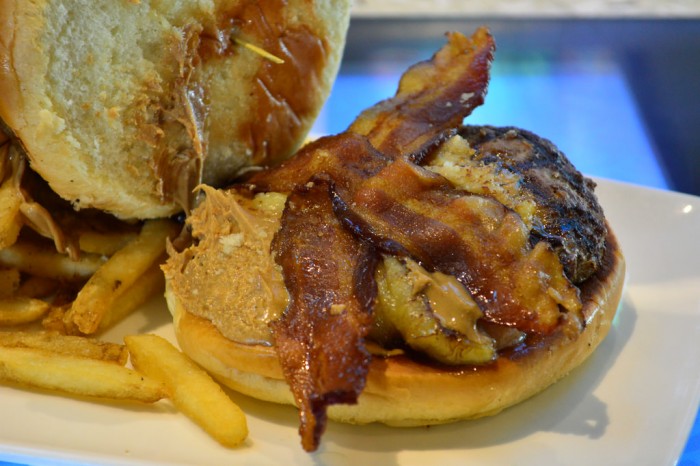 Previous Drinks of Christmas:
DAY ONE: Polynesian Pearl at Trader Sam's Grog Grotto
DAY TWO: Dufftoberfest at Duff Brewery
DAY THREE: Godiva Chocolate Martini at Mizner's Lounge
DAY FOUR: Blood Orange Side Car at Swizzle Lounge
DAY FIVE: Imperial Pilsner at Morimoto Asia
DAY SIX: Smoking Gun at Emeril's Orlando
DAY SEVEN: Mint Julep at BOATHOUSE
Interested in theme park drinks? Then do we have a eBook for you! The Walt Disney World Bars and Lounges eGuide by Brian McNichols. Over 250 pages and containing well over 400 photos, this eGuide takes you through EVERY bar and lounge on WDW property (trust me, Brian has the kidneys problems to prove it!) Also included? Recipes for some of your favorite WDW drinks. Ratings, descriptions, and photos for each of the 70+ bars and lounges. Talk about the perfect Christmas present!
Special thanks to crack staff photographer Brandon Glover and Megan Stump for their invaluable assistance with this article. Be sure to also check out Brandon on The Park Blogger podcast with co-hosts Aengus Mackenzie and Brian Carey.
You can always find Your Humble Author each week on the SATURDAY SIX, each month with the Disney Outlet Store Photo Report, and on Twitter (@derekburgan) producing original pieces of Burgan Fine Art™