4 Reasons We Love The Landing at Disney Springs
It is difficult for me to admit what I'm about to say — The Landing truly gives Disney Springs its identity. That's so hard because after all, The Landing at Disney Springs sits on hallowed ground, the former site of one of my favorite places: Pleasure Island. But those days are sadly over and it is time to welcome a whole new experience. Sure, there are still a few finishing touches to come, but there's lots to enjoy too. As a Pleasure Island fan who is still getting over its closure, I feel compelled (perhaps as my own grieving process) to share why I enjoy The Landing at Disney Springs.
Waterfront dining
One of the reasons the name and setting of Downtown Disney evolved into Disney Springs is its ideal setting along a glistening lake. None of the previous three sections of Downtown Disney (West Side, Pleasure Island, and the Marketplace) ever really took advantage of the waterfront location. The Landing has changed that.
Three distinct dining destinations feature the lakeside location as a showstopping amenity. Clearly The BOATHOUSE is champion of making the most of the waterfront with the crowning jewel being their Dockside Bar. A stroll down a pier, right alongside the Amphibicar launch, leads to a rectangular bar with seating for about twenty plus about 10 or so high-top tables. Rich dark woods, glistening from fresh polish, brass and nautical accents give an air of casual sophistication. As the various watercraft slowly move through the water, it is difficult to not feel like a member of the privileged few who have found their way to an exclusive, yet welcoming yacht club.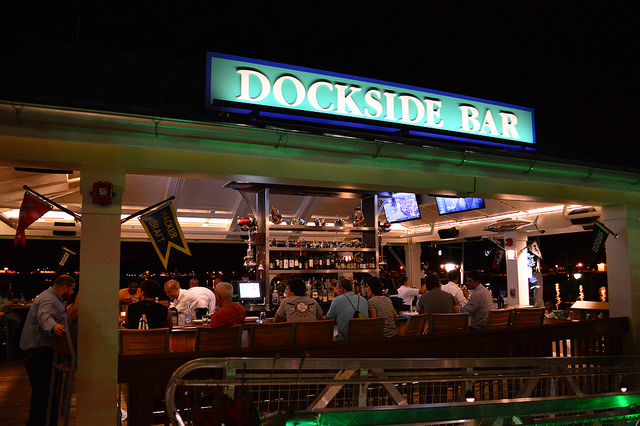 Jock Lindsey's Hangar Bar has three lakeside areas where you can enjoy their long list of cocktails and appetizers. The back porch seating area has lots of room and there are enough themed decorations that ensure the mood is not lost. The outdoor bar is a great place to hang out casually, though it can get a little cramped. The boat, Reggie, is definitely the most atmospheric, though it's tiny tables and side-by-side bench seating make it difficult for conversations. Still it has a very unique feel.
Paradiso 37 recently expanded it's outdoor seating both at the front of restaurant and along the back. Often we forget the beautiful views that this establishment offers, but it should be kept in mind if you do want a nice outdoor dining experience.
Culturally diverse dining
Towards the end of Pleasure Island's era, a restaurant entered the scene that brought a new level of culture and became a fan favorite. Raglan Road is a favorite of Disney guests of all backgrounds. Acclaimed as one of the best Irish pubs in all of Central Florida, Raglan Road offers a hint of sophistication with the fun and friendliness for which pubs are known.
Portobello, located around the corner from Raglan Road and also part of the The Landing, adds some authentic Italian flavors. However, some of the latest restaurants to open at The Landing elevate the culturally diversity to a new level.
Paradiso 37 opened 6 years ago, one of the first establishments to enter the post-apocalyptic scene of what was left of Pleasure Island. Originally Paradiso 37 was owned by E-Brands Restaurants, which filed for bankruptcy in 2011. An LLC owned in part by E-Brands former CEO assumed ownership of Paradiso 37. Despite a rocky start, in recent years this restaurant representing the flavors of Central America has come into its own. With a new expanded al fresco seating area, Paradiso 37 fits in nicely to The Landing.
The cultural diversity is now taken to a level once believed to be inconceivable at Disney Springs. Morimoto Asia's array of specialties acts as an ambassador for the bright, flavorful cuisine found all throughout the Asian continent. If you've ever wanted to try a traditional Chinese, Vietmanese, Thai, or other Asian dish but been afraid to do so, this is the place to dive into. According to our own Len Testa and his incredible review, you will be hard pressed to be disappointed.
The finishing touches, the two last remaining restaurants to open at The Landing, are both all about culture. I am most excited about Chef Art Smith's concept. My Florida Native heart couldn't be happier that Walt Disney World will fully realize and represent Florida cooking and culture once this establishment opens. Think down-home cooking that showcases Florida's fresh produce, seafood, and farming roots. Plus Chef Smith plans to warm our hearts with a bakery and wet our whistle with some moonshine. The name of the restaurant is a bit of a mouthful, Homecoming: Florida Kitchen and Southern Shine, but it fits considering the renowned chef worked at Walt Disney World in his early days.
Finally, Chef Rick Bayless will open Frontera Fresca, offering fresh, authentic Mexican cuisine. I think we can expect that same delicious dining experience that is offered at Epcot's Mexico pavilion because Frontera Fresca will be operated by Palmas Services. This restaurant group manages all of the food & beverage outlets at both Epcot's Mexico pavilion as well as at Disney's Coronado Springs Resort. No word yet on how / if this will impact Paradiso 37.
Easy access from parking garage
With the two new ramps, one from Buena Vista Drive, and the other almost directly off of Interstate 4 West, it is incredibly easy to get to the Orange parking garage. There are sensors on all the parking spots (except of course on the roof top) to show if the space is available and there are signs to show you have many spaces are available on each floor. It is so efficient! The one thing to keep in mind is that you can only access Disney Springs from the second floor.
The Landing is right next to where the Orange parking garage "deposits" guests, making it one of the easiest places to access within Disney Springs. See map.
A sense of place
There was much ado about Downtown Disney becoming a themed destination once it was reborn as Disney Springs. I read on various social media channels comments questioning why a shopping and dining destination needed a theme or "story." I can understand this sentiment, however, transporting guests to other times, places, or realities, is supposed to be one of Disney's cornerstones.
The Landing is not 100% complete and although the walkways feel very congested thanks to the remaining construction walls, there is a sense of place. Each facade feels modern yet charming. All of Disney Springs exists in the current age, but it is meant to feel as a place that has grown and evolved, starting off as a mid 1800's settlement. While I don't think it will ever feel completely authentic, The Landing executes this atmosphere the strongest (when compared to West Side and Marketplace).
Anytime I visit Disney Springs, I am drawn to The Landing more than any other place. It is the smallest of the three areas, but I find myself lingering here. Although it is hard for me to let go of Pleasure Island, it is somewhat satisfying that what has come to take its place is a lovely, inviting area that I enjoy visiting.