Avengers Assemble on the Disney Wish at Avengers: Quantum Encounter Dining Experience
Are you excited about sailing on the Disney Wish? I know I am! And one of the coolest parts about sailing on Disney Cruise Line are the dining establishments you get to experience, especially the rotational dining experiences you get to have.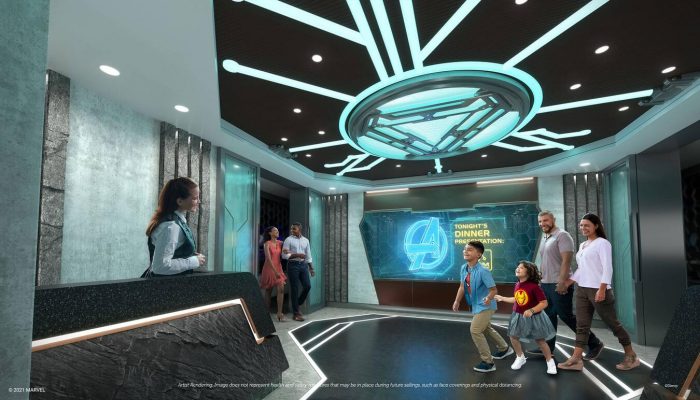 Recently, Disney shared that one of the rotational dining venues would be themed around Marvel and today, Disney has unveiled details about Worlds of Marvel and their "Avengers: Quantum Encounter", which features Ant-Man and The Wasp. This exclusive Avengers adventure will showcase the revolutionary quantum technology, mixed with world-class cuisine. It's more than a meal and more than a show: It's something that's never been done before in a restaurant on land or at sea! We'll let the video explain:
Wait….what did I just see? Will there be a way to GROW FOOD right in front of your eyes?
During Avengers: Quantum Encounter, Ant-Man and The Wasp are hosting a special presentation of the most powerful Super Hero technologies — such as Captain America's shield, Iron Man's arc reactor and Ant-Man's Pym Particles. Guests will have the opportunity to see an up-close look at holographic models, field reports and iconic scenes from the Marvel Cinematic Universe displayed on the screens that can be found throughout the room.
The highlight will be a hands-on demonstration of the Quantum Core, which uses cutting-edge technology to shrink and grow targets at the push of a button. A few "misfires" will result in Ant-Man-style hijinks, but the real trouble begins when an unexpected villain shows up with a fearsome army in tow, eager to get their hands on this powerful quantum technology. Ant-Man and The Wasp will need all the help they can get to save the day, calling on Captain America, Captain Marvel and yes, you for back-up.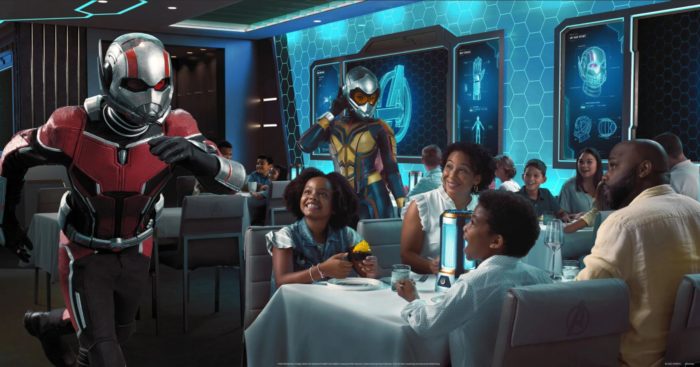 Every table at Worlds of Marvel will feature its own Quantum Core which can cause objects to shrink and grow remotely. During dinner, you will assist Ant-Man and The Wasp as they attempt some small-scale trials, perhaps shrinking oversized luggage for easy stateroom storage. When enough of the Quantum Cores are activated at the same time, the entire venue will become supercharged as energy pulses through the power channels in the walls and ceiling.
As far as food is concerned, Worlds of Marvel will offer dishes inspired by legendary locales like African Wakanda, Eastern European Sokovia and the Avengers' home base of New York City.
Worlds of Marvel is just one of three rotational dining experiences on the Disney Wish. The others include Arendelle: A Frozen Dining Adventure and 1923.
What do you think of Worlds of Marvel so far, as well as the show, Avengers: Quantum Encounter? The Disney Wish, the fifth ship in the Disney Cruise Line fleet will sail her maiden voyage on June 9, 2022.  Bookings are currently open to for cruises departing June through December 2022.