Columbia Harbour House: A Welcome Back Review
A popular port of call for hungry voyagers, Columbia Harbour House is a Liberty Square quick-service restaurant that has finally reopened at the Magic Kingdom.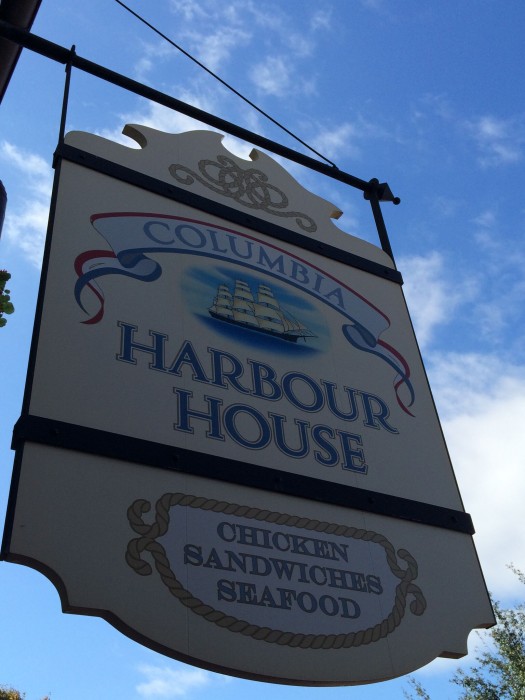 Located across the way from Haunted Mansion and straddling both Fantasyland and Liberty Square, this nautical eatery is renowned for its seafood menu and two floors of air-conditioned seating.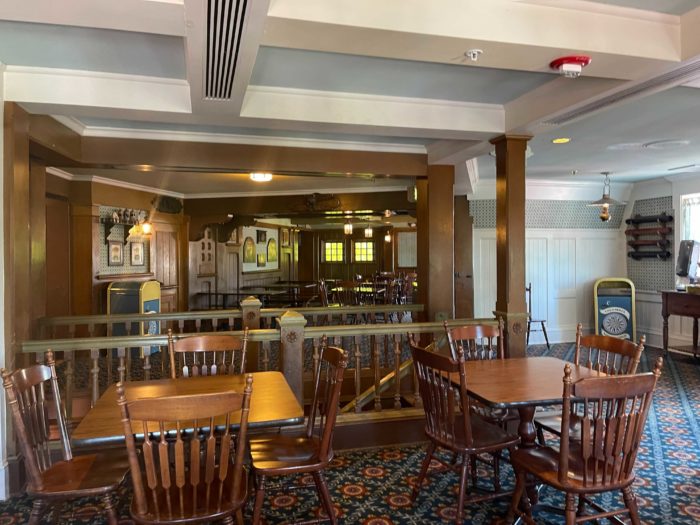 Guests dining here are surrounded by dark polished woods, model ships, scrimshaw, vintage maps, and the like. It's worth noting, however, that the second floor has great bathrooms (as indoor plumbing can be hard to come by in period-accurate Liberty Square!), as well as great views into the park!
Columbia Harbour House is currently open from 11:00 a.m. to 7:00 p.m.
The Menu
Columbia Harbour House's menu is a welcome alternative to the standard quick-service selection of burgers, chicken tenders, and pizza. Here guests will find fried fish, salmon, shrimp, New England clam chowder, and the like! Also, guests will find a variety of allergy-friendly and diet-friendly menus here as well.
Upon its Columbia Harbour House's reopening, our park reporter Chrissy sailed over to the quick-service spot to sample a few dishes see if its reputation still holds water!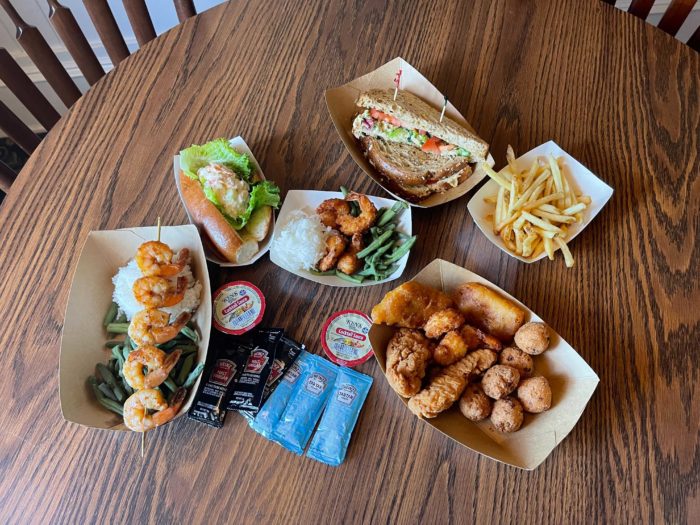 Entrees
Lobster Roll with Fries – $15.99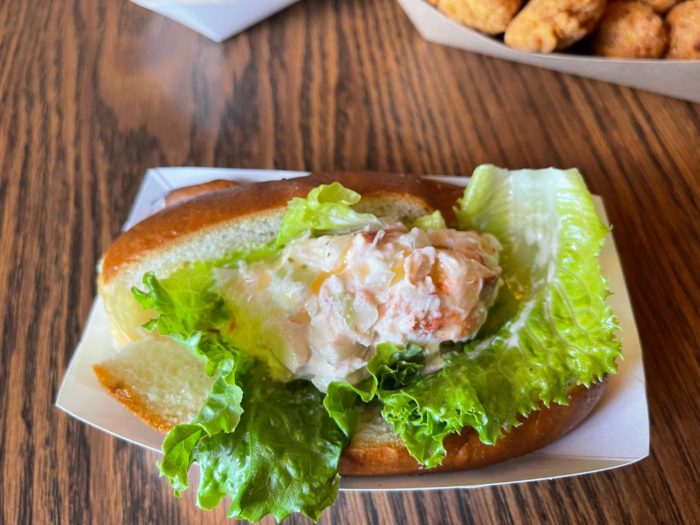 Described as chilled Lobster with a touch of mayo on a New England-style, Chrissy says this is the one thing she wouldn't suggest. Basically, it's too much money for too little lobster.
Grilled Shrimp Skewer with Rice & Green Beans – $13.99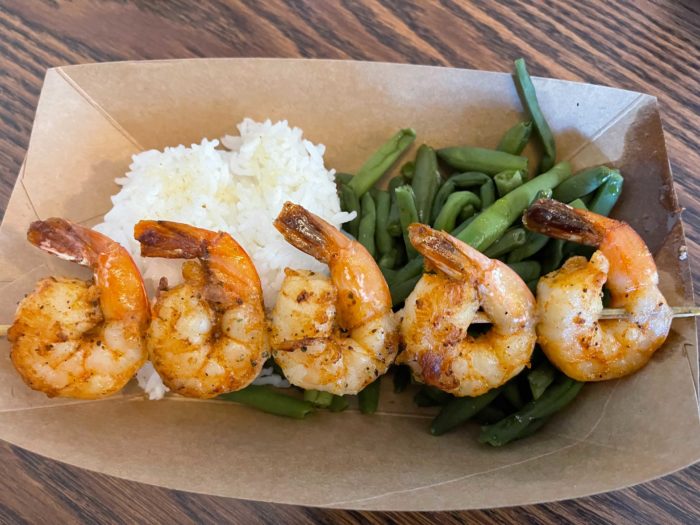 For anyone wary of a seafood dish from this quick-service restaurant. Don't be. According to Chrissy, this item was waaay better than you'd expect for a quick service shrimp. Loved it!
Plant-Based Lighthouse Sandwich – $10.69
Hooray for plant-based items! Listed as hummus, tomato, and broccoli slaw, and toasted multigrain with fries, Chrissy says this one is her new favorite! Delicious.
Trio Platter – $13.99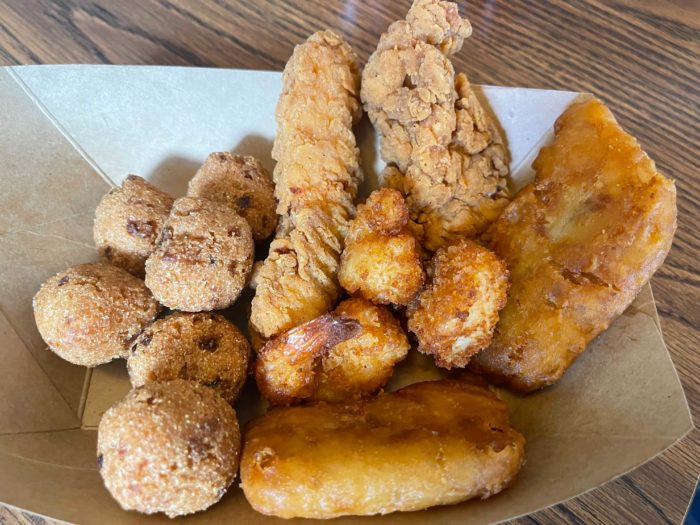 A longtime favorite Columbia Harbour House item, the trio platter comes with fried shrimp, chicken strips, battered fish, hushpuppies, and a side. SO. MUCH. FOOD. in fact, it's more than enough to keep 2 adults happy!
Kids' Menu
Kids Fried Shrimp – $7.69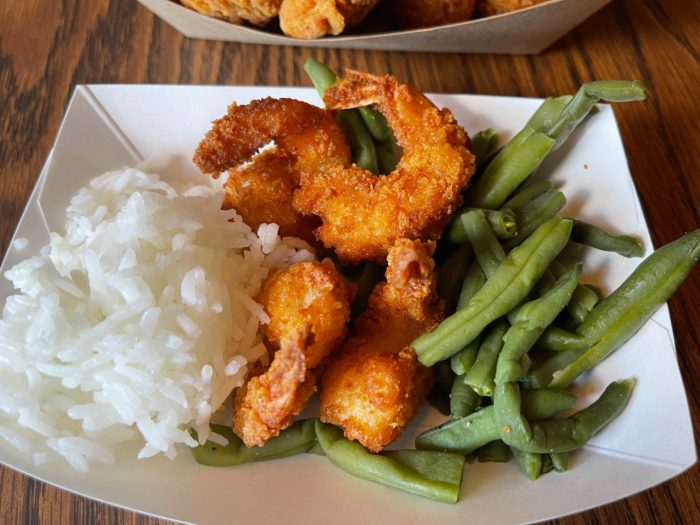 This item came with 4 crispy, tasty fried shrimp plus a guest's choice of two sides and drink. Chrissy ordered the green beans and rice and will 100% be getting this exact meal again soon! Outstanding value and so good.
Are you a fan of the Magic Kingdom's Columbia Harbour House? Which entree is your favorite? Let us know in the comments!