Disney VIP Tour – Is It Worth It?
Have you considered booking a VIP tour but wondered if it was worth the steep price? I just completed my second VIP tour since December, and I've put together a deep dive list of pros and cons.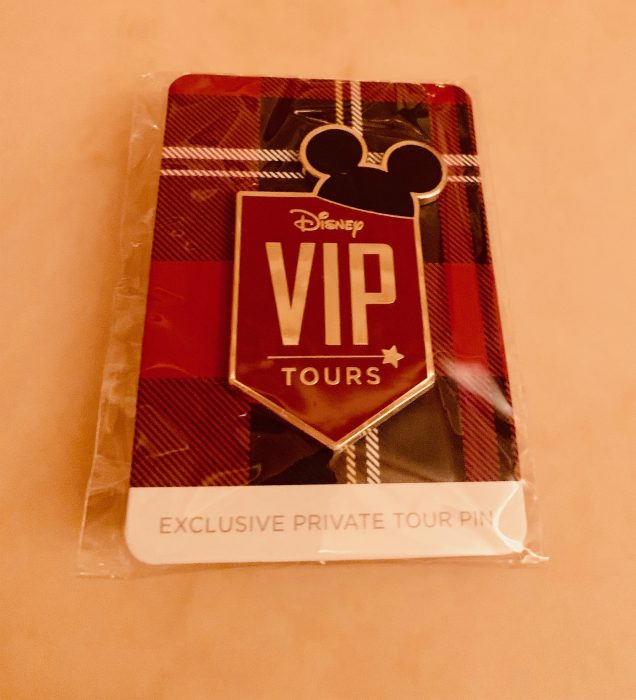 For VIP tours, Disney charges $425 per hour, for a minimum of seven continuous hours, with a maximum of 10 guests. All guests must have valid park admission and infants are included in the guest count. As with any Disney pricing, this amount is seasonal and subject to change at any time.
Additionally, while we are aware of outside companies that provide private tours inside Walt Disney World parks, we will only be discussing official VIP tours booked through Disney.
Let's start with the good stuff!
Pros
SPEEDY ACCESS TO EVERY ATTRACTION
With a VIP tour, you get FastPass or backstage access to any attraction – multiple times!
When arranging your tour, you submit a requested itinerary so that your guide can best plan the day. Standard height and medical restrictions for rides still apply during your tour and all other Disney rules and guidelines are still in effect.
For most attractions, your guide will act as a magical FastPass for your party. They will go to the front of the FastPass entrance and tell the cast member on duty how many people are in your party. Whether or not your guide goes on the attraction is totally up to them. In the event they don't ride with you, they will meet you at the exit. There is no need to worry about trying to locate them; they do this all the time. Your guide will find you.
For rides that have the option, your guide may load you on to a ride through a backstage entrance. During my last tour, we went through the exit to Buzz Lightyear's Space Ranger Spin and got in our Space Cruiser as other guests were exiting. Other than the cool van transport (see below), this might have been the most VIP-like part of the tour.
A significant bonus of the VIP tour is being able to go on favorite rides as many times as your stomach can handle. If your team wants to ride Slinky Dog Dash four times and wind down on the Alien Swirling Saucers, may the force be with you! If Pandora is on your list, you can spend the entire day circling through Flight of Passage. You can get into the character greetings that always seem to have lengthy lines, shows that you can't find a FastPass for, or just enjoy having an experienced hand direct you through the Epcot Food & Wine Festival.
PRIVATE TRANSPORTATION BETWEEN PARKS
Private van transportation between parks (aka air-conditioned transport) is included. Because you're guaranteed seven consecutive hours with your guide, you will more than likely be able to visit multiple parks. You'll be saving even more time by not having to bus/boat/monorail to your destination.
When it's time to change locations, your guide will lead your party backstage to a waiting van. Car seats or boosters will be in the van if you request them.
SNACKS AND WATER
On both tours that I have taken in the last few months, there were cast members waiting at the van with cold water and a basket of snacks that included chips, cookies, applesauce pouches, and candy. On my most recent tour there were snacks at both the departing and arriving destinations. These are included in the price of your tour and you are encouraged to take more than one water and/or snack. All other food and beverage (like meals and in-park snacks) will be your responsibility during the duration of the tour. You do not need to worry about providing meals and snacks for your guide; Disney covers their expenses.
INSIDER TIPS ON POPULAR RIDES
Once we realized that our first tour guide was willing to share tips for Buzz Lightyear and Toy Story Mania, we fought over who was going to sit next to her on the 2nd and 3rd passes. The same applies for hidden Mickeys, interesting park trivia, and fun (but respectful) stories about celebrities. You have a subject matter expert with you for at least seven hours, so save up those trivia questions.
THE STRESS OF DISNEY TRIP PLANNING MELTS AWAY
With a VIP tour, much of the the usual stress and anxiety of planning a Disney trip is gone. It's a very odd feeling to just stroll along in the parks without constantly being aware of that the lines for the rides are increasing with every passing moment (or am I the only one?!). If you decide to use some of your tour time to enjoy a sit-down dining experience, make your reservations in advance as usual. Your guide can assist you with same day reservations if they're available, but they can't create space where there isn't any. In other words, they can't bump existing reservations to get you into Be Our Guest because you're paying for a VIP tour.
Cons
COST
You're paying more than $3,000 for the tour and then an appropriate amount for gratuity. That's A LOT of money!
Gratuities are not required, but they are accepted. We've had good experiences, so we decided to tip our guides.
THE GUIDE QUALITY VARIES
This probably doesn't come as a shock, but every experience can be changed just by the personalities of the people around you. I've had two different guides and the experiences were vastly different. One guide was high energy and became a part of our group immediately. She was in on our coordinated ride photos and we ended the day with hugs and shared Instagram follows. My other guide had a professional and pleasant personality but was nothing like the first cast member. She reviewed our plans, asked if there were any changes, and marched us from ride to ride without ever looking back to see if we were following. We quickly learned to loudly alert her if some of our trio of little people needed a restroom or snack break. Both guides were knowledgeable, professional, and provided a wonderful experience, but they were very different.
You may make requests for specific guides, but since tours can be booked 180 days in advance, you aren't guaranteed to receive your requested cast member. Disney promises the tours will be "fun-filled and efficient" and that is accurate based on my experience.
EVERYONE IN YOUR GROUP NEEDS TO BE ON BOARD WITH YOUR PLAN
Plan your itinerary with the entire group in mind. Your whole group really needs to agree on the entire itinerary or things get a little off kilter. Your guide can only be in one location at a time and several attractions have a double check-in process for FastPasses, which means your guide needs to stay with you until you're almost ready to ride. Take this into account when booking for people with varying height, or medical restrictions, or certain ride aversions. Nobody wants to force a bunch of teenagers to ride Dumbo all day and the whole team will be unhappy if little ones are forced to hang around while the taller folks ride Everest.
IT'S EXHAUSTING
A VIP tour makes for a very busy day. You aren't spending any time waiting in line so you're either on a ride or walking to the next attraction. In our experience, it's very easy to log eight miles of walking during a seven-hour tour that includes several snacks and a sit-down lunch. Both groups I toured with needed a recovery day after our VIP experiences, so my advice is to skip the cute sandals and grab the comfortable, orthopedic tennis shoes and moisture wicking socks.
Is a VIP tour on your bucket list? Would you do this for a milestone birthday? Have you already done a VIP tour and have thoughts you want to share? Let us know in the comments.