Disney's Aulani Resort: Small Tips to Make a Big Difference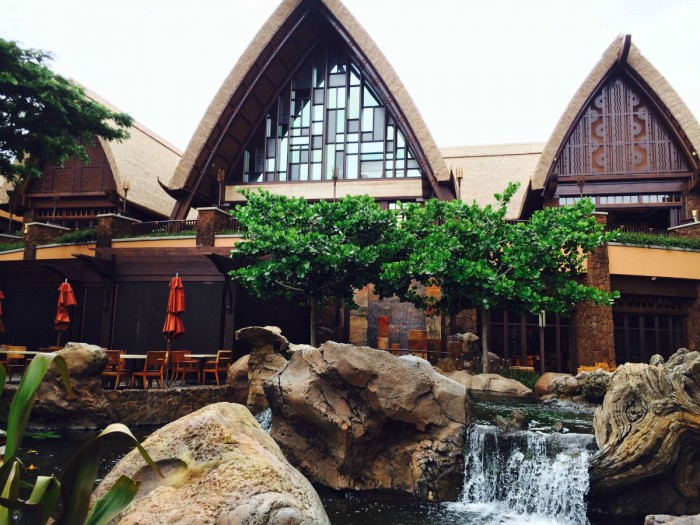 One of the benefits of being a frequent Walt Disney World visitor is starting off a vacation at the World with virtually no learning curve. Knowing ahead of time exactly what plans need to be made before visiting and being able to navigate the entire resort and every park make it easy to become immediately immersed in the magic. So, although my family felt that familiar Disney welcome when we arrived at Aulani this summer, we knew ahead of time that it would take some time to get familiar with the ins and outs of the resort.
This article shares a few of these ins and outs in the hope of helping future visitors to Aulani ease into their vacation a bit faster. Because, believe me, everyone who stays at this gorgeous resort will want to enjoy every moment and relax at every opportunity.
Shopping for groceries, sundries, and souvenirs. Before settling into their room on the first day, many Aulani guests want to pick up at least a few basic grocery and sundry items. Aulani's Kālepa Store has lots of Aulani/Disney souvenirs as well as a limited selection of groceries. Some of the grocery prices at the Kālepa Store aren't too bad by Hawaii standards, but if you are looking for more selection or better prices, there are a couple of off-site options. These include a shopping area in Kapolei with stores such as Target and Costco about 10 minutes from Aulani. If coming from Honolulu, take H-1 West to Exit 1, or if coming from Aulani, take HI-93 East to Exit 1A.
Another option is Island Country Markets (an ABC Store) within walking distance of the resort. This small grocery store also offers souvenirs, beach items, beer and wine, and more. The prices for some items seemed good while others seemed a bit high, but (after an initial stop at Target) we made a couple of visits here during our stay and found everything we needed. Hawaii-themed baseball caps were a bargain at only $12-15, and goggles for the pool started at $3.99. In addition, the store had good-quality waterproof smartphone pouches for around $20, which allowed us to use our phones to take many fun photos as we floated along Aulani's lazy river or cruised down the two water slides.
Walking to Island Country Markets and Ko Olina Station. To get to Ko Olina Station, which is the shopping center where Island County Markets is located as well as several souvenir and other retail stores, restaurants, and an ice cream shop, you can walk out of the Aulani lobby and down to Olani Street. However, we found an alternate, flatter, and safer way in that it avoids the busy entrance/driveway into Aulani. To go this way, head to the parking garage and take the elevator down to level 1, exit onto Olani Street, and cross to the shopping center.
The Daily 'Iwa. Aulani's daily activities newsletter is called the Daily 'Iwa. The 'iwa is a Hawaiian seabird, also known as
the great frigatebird. According to a Cast Member, the newsletter was given this name because it allows guests to "navigate," like a bird. Depending on the day, the front page of the 'Iwa highlights available tours, live music, Disney character meet and greets, and more. Inside the newsletter are details on activities such as Aulani's outdoor movies, shopping, and beach fun. It also divides activities into those for 'Ohana (family), Keiki (children), and 'Opio (youth ages 13-17). The back page gives practical information such as restaurant and bar hours, pool hours, PhotoPass information, and beach rentals.
Aulani's website has an example 'Iwa with descriptions of activities, and your arrival packet will include a Sunday through Saturday schedule that shows some activities. However, you will not have a printed schedule of all the activities on a specific day until you can pick up a copy of the 'Iwa for that day. The next day's 'Iwa is usually available in the early evening, and you often have to ask a Cast Member for one. I had luck getting it from the front desk (and no luck getting it from a Cast Member who was stashing a stack under the desk at the pool towel kiosk one late afternoon; when I asked if I could have one, she just laughed and said "You weren't supposed to see that"). If you are interested in a particular activity during your visit, I suggest asking a Cast Member at the front desk or the Pau Hana community room if it will be offered in the next few days.
Before our trip, we were most interested in what nights we could see the Starlit Hui or the 'Ohana Disney Movie Night. They are usually offered two to three nights a week, but the days can change depending on the season. If you like to plan ahead and know the dates of your visit, I suggest calling the resort to see if a Cast Member can tell you what days these activities will be offered.
Aulani Starlit Hui. The Starlit Hui is Aulani's version of luau entertainment (without the food). It is performed two to three times each week at 8:00 PM, with a 7:30 PM preshow, on the resort's expansive Hālāwai Lawn. We arrived 30 minutes early for the preshow, so around 7:00 PM, which seemed like good timing. Although there was already a line, and it seemed like we were pretty far back in it, we didn't have to wait long before the Cast Members starting letting everyone in, and we got a great spot. Each family is issued a woven lauhala mat to sit on, which adds to the festive Hawaiian atmosphere.
'Ohana Disney Movie Nights. Like the Starlit Hui, Aulani's outdoor movies are shown at the Hālāwai Lawn starting at 7:30 PM. We arrived 15 minutes before the show and so were farther back than at the Starlit Hui, but being close is not as important for the movie. The screen is huge and the sound system fantastic, and there is something so magical about an outdoor movie. Bring your favorite snacks and beverages to enjoy.
Pool chair policy. Many guests claim poolside lounge chairs early in the day by placing a pool towel or personal items on chairs, and it can get difficult to find chairs as the day goes on. However, Aulani does have a "chair policy" where they fold a towel on the back of saved chairs that don't seem to be in use. If the towel is still folded that way in one hour, they say they will free up the chair and move any personal items to lost and found. How well the policy is enforced can vary, but if you are having trouble finding chairs, I suggest asking a Cast Member if there are any that can be freed up.
If you are interested in renting premium pool seating, a good resource is my recent article on Aulani cabanas, casabellas, and more.
Trendy wristbands. When picking up pool towels each day, each guest receives a wristband. It is quite fun to see what color you will get each day. On our first day at the pool, my teenage son quickly realized that many of his peers were sporting multiple wristbands. He joined the trend and had a nice collection at the end of our stay. The bands are now one of his favorite souvenirs of the trip.
Pau Hana Room. The Pau Hana Room offers a relaxing family room type atmosphere. It is a great place to get out of the sun, or relax on your first day before your room is ready. There are video games, board games, crafts, books (including some of the best books I saw during my trip about Hawaii and its culture), and DVDs to rent. My boys rented several movies to watch in our villa at night. Also, the Cast Members at the Pau Hana Room are a great resource for questions about activities and Aulani in general.
Signing up for kid/teen programs. Aunty's Beach House is the club house for Aulani's program for kids ages 3-12.
It offers various activities throughout the day as well as full-day programs. Aulani also has a teen lounge and spa called Painted Sky for ages 13-17, which offers activities as well as just a place for teens to just hang. If you think your kids will want to take advantage of either of these, a parent must fill out a youth activities registration form. You can download a registration form for Aunty's Beach House from the Aulani website before you go or just go fill it out at Aunty's once you arrive. There is a different form for teens that I was not able to get from the website, so I simply visited Aunty's on our first day and filled out both forms.
Menehune adventure for kids (and interested adults). Visit the Pau Hana Room from 10 AM to 7 PM to play the interactive Menehune scavenger hunt. According to Hawaiian folklore, Menehune are small mischievous, magical people who hid in the forests and mountains to escape from Tahitian settlers; they are reputed to be master craftspeople and builders. Statues of the Menehune are hidden all over the resort, and guests can search for them on the Menehune Adventure Trail using a tablet game console. (Even if you don't do the interactive hunt, you can challenge your family to count hidden Menehune at the resort; we especially enjoyed looking for them as we floated along the lazy river.)
Tours for adults (and interested kids). Aulani offers some great guided (and self-guided) tours focusing on topics such as the resort's artwork, Hawaiian culture and language, as well as the wildlife and nature at Aulani. Visit the Pau Hana room from 10 AM to 7 PM to check out the self-guided tours. Guided tours (listed in the Daily 'Iwa) meet in the lobby and last about 45 minutes; interested kids must be accompanied by a parent.
Reservations at table service restaurants. Aulani has two table service restaurants. Makahiki offers a character breakfast buffet and a dinner buffet without characters. Ama Ama is the resort's signature oceanfront restaurant offering breakfast and dinner. I made reservations for both ahead of time on the resort's website. During our visit, I checked the website just to see what availability was like; although it was possible to get a reservation for Makahiki up to the day of, Ama Ama had less availability (including none the day before on one occasion). If you don't mind the possibility of being turned away, both restaurants take walk ups when they have availability.
The 'Oleo Room. One of my husband's and my favorite places to sneak off to when the kids were watching a DVD in the villa was the Oleo Room. This lounge is open from 5 PM to 11 PM, with a "sunset menu" from 5 PM to 7 PM offering specially price appetizers and drinks. It is decorated with wooden carvings of various objects accompanied by their Hawaiian words; the bartenders, all of whom speak Hawaiian, will help you with pronunciation. There were only a few other people here on both of the nights we went for the sunset menu. It was great fun to sit at the bar and learn some Hawaiian words.
Pizza delivery. Getting pizza delivered is so much fun on vacation. We ordered pizza on one night from Pizza Corner in Ko Olina. The delivery to the valet area outside of the lobby was very quick, and the pizza was hot and delicious.
Listen in the elevator. As you ride Aulani's elevators, you may find yourself humming along with some familiar Disney songs. And then you realize they are all being sung in Hawaiian! Every time I got on the elevator I felt so happy because of this music. I was hoping to buy a CD of these songs in the gift shop and asked a Cast Member. She said unfortunately there is no CD, although guests ask this question all the time and some ride the elevator just to record the songs on their phones.
Room views. Aulani is laid out in a giant horseshoe, with its incredibly themed pool/water complex, Waikolohe Valley, in the middle. Your view will be based on the room category you book, including ocean, pool, island, and standard. However, because the views can vary widely from category to category, you may want add a room request to your reservation to ensure you have the best chance of easing into your vacation in a room where you are happy with the view. Such requests include a high floor, a view facing the inner part of the resort (overlooking the pool), or a view of the Hālāwai Lawn where the Starlit Hui is performed.
I added a room request when I made our reservation and then called the resort about a week before we arrived to confirm it was in the system. Although requests are in no way a guarantee, I can report that we were pleasantly surprised that our request was met.
Disney Vacation Club member mingle. If you are a Disney Vacation Club member, it's worth checking out the Mahalo Member Mingle, which was offered on a Monday at 8 AM during our visit. Yes, 8 AM is early, but they had plenty of coffee on hand as well as breakfast items. We got to meet some fellow club members, participate in a trivia contest with prizes ranging from small trinkets to lithographs and gift certificates, play "guess what DVC resort" based on a photo slide show, and hear about excursions at Aulani. There was a short video about Disney Vacation Club resorts and cruise adventures but no sales pitch. Everyone also received a lei and Aulani/DVC baseball cap.
At the end of our Aulani vacation, aside from wishing I could turn back time to the beginning of the vacation, one of my main thoughts was, "If only we knew then what we know now." I hope this article will help you become familiar ahead of time with some of the smaller details that can really enhance a trip. Or maybe you have already been to Aulani and can share other tips or add to mine? There is so much more to do at Aulani that I didn't cover—arts and crafts workshops, ukulele lessons, workouts on the beach, storytelling at the Mo'Olelo Fire Pit, excursions, and more. Can you tell that I can't wait to go back someday?