Everything You Need to Know About Astro Orbiter
You're going on vacation to Walt Disney World! The only problem? You're not sure which attractions are right for you and your kiddos and you have questions. Which attractions are too intense for little ones? What rides do I really need a FastPass+ reservation for? What's the disability access like for certain attractions? We're answering all those questions and more in our Everything You Need to Know attraction series with today's focus on the Magic Kingdom's Astro Orbiter!
What is the Astro Orbiter?
Astro Orbiter is a retro-rocket-themed spinner attraction where guests ride high above Tomorrowland and past a myriad of planets.
Where is Astro Orbiter?
The Astro Orbiter is located in the center of Tomorrowland at Walt Disney World's Magic Kingdom.
What is the History of Astro Orbiter?
When the Magic Kingdom opened in 1971, there wasn't a whole to see or experience in Tomorrowland. That all changed in 1974 when the land began its expansion for Space Mountain, Carousel of Progress, and the Astro Orbiter which was then known as the Star Jets.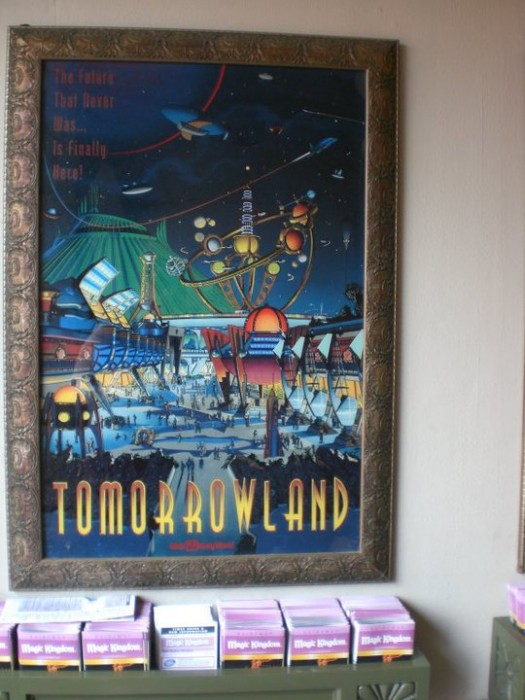 The Star Jets debuted November 28, 1974, heavily inspired by Disneyland's version of the attraction of the same name. In addition, both sat on top of the PeopleMover and served, as Walt would say, as a "weenie" for the land drawing guests towards it. Disney World's was different in that it boasted more of a space shuttle design.
Unfortunately, the problem with Disney Park Tomorrowlands is having to keep up with Tomorrow. This is why, in 1994, Tomorrowland received an overhaul where it became a retro-future presenting the future that never was. Since the Star Jets didn't compliment this new theme, the attraction was renovated into the Astro Orbiter which reopened in 1995 with a retro, steampunk design.
What Do You Need to Know About the Queue for Astro Orbiter?
The queue for the Astro Orbiter begins on the ground level next to the queue for the PeopleMover. Now even though Walt Disney World is home to a number of incredibly detailed and interactive queues, sadly this isn't one of them.
The ground level portion of the queue is a series of switchbacks leading to an elevator which guests then ride up to the ride platform and loading station. It's notorious for its slow loading speed so be warned!
What are the Ride Vehicles Like for Astro Orbiter?
Each rocket accommodates two guests with one in front and one behind as opposed to side by side. Cast Members may load one adult plus two small children in some cases. It's tight quarters so guests riding solo may way to request their own vehicle, and larger adults may be more comfortable requesting their own as well.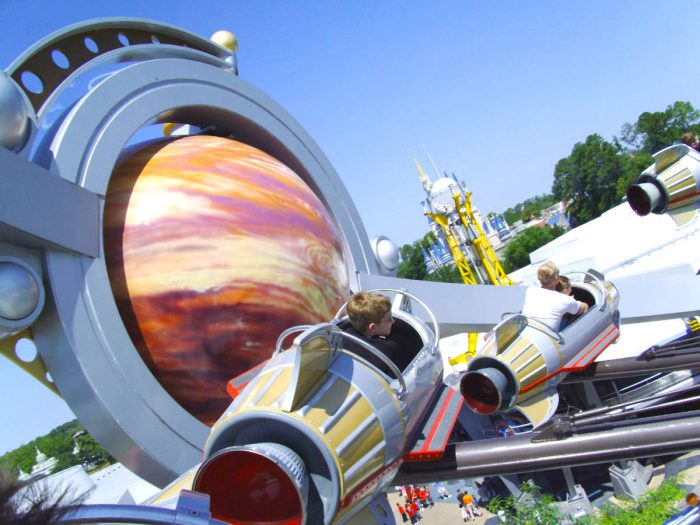 Guests sit on a hard bench with their feet and legs somewhat stretched out in front of them similar to Space Mountain. The guest seated at the rear is the only rider with a back rest, and there is one fabric lap belt for both riders.
In order to board, guests must step over a small wall and then down a moderate step. It is more challenging to board than the Magic Carpets of Aladdin or Dumbo.
What Do You Need to Know About the Ride Experience for Astro Orbiter?
As the Astro Orbiter is a spinner attraction, the ride experience consists of spinning around an axis similar to the Magic Carpets of Aladdin and Dumbo. However, Astro Orbiter is unique in that it sits atop the PeopleMover and is much higher and surprisingly faster than the park's other spinners.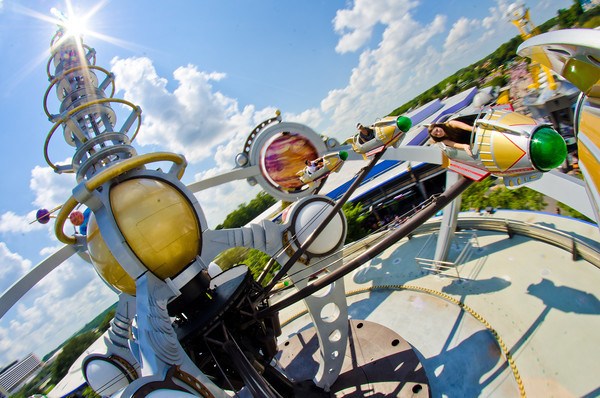 The guest riding in the front has total control over the vehicle through either pulling or pushing a handle-shaped lever. The ride time lasts about a minute and a half.
What Do You Need to Know About Accessibility for Astro Orbiter?
Guests must transfer from a wheelchair/ECV to experience the attraction.
What Do You Need to Know About Health and Safety Advisories for Astro Orbiter?
Guests prone to motion sickness or who have a fear of heights should not ride. Also, even though there isn't a height requirement to ride, Astro Orbiter spins A LOT faster than the other spinners at Walt Disney World. It definitely isn't as tame as it appears.
What are the Height Restrictions for Astro Orbiter?
There are no height requirements for Astro Orbiter.
What Do You Need to Know About FastPass+ for Astro Orbiter?
Astro Orbiter does not offer FastPass+.
Does Weather Affect Astro Orbiter?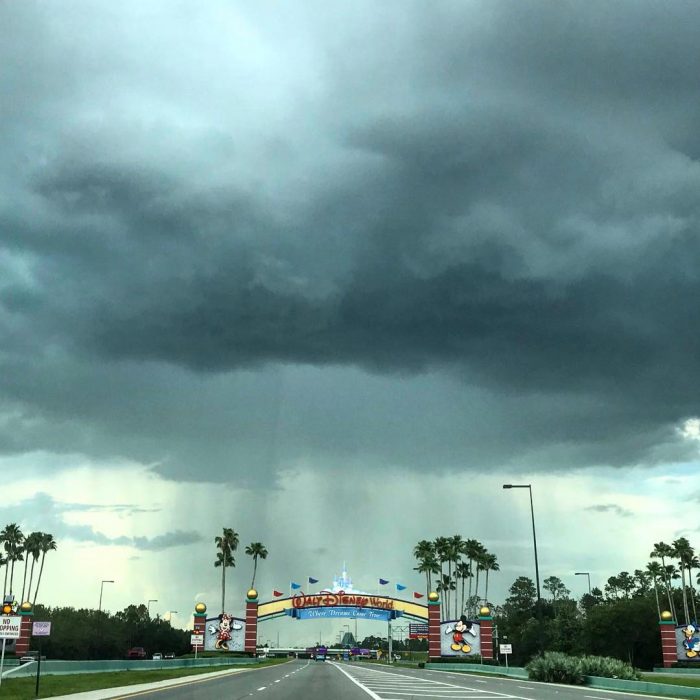 Since Astro Orbiter is an outdoor attraction, it will shut down in inclement weather.
What's the Best Time of Day to Experience Astro Orbiter?
Like most attractions at Walt Disney World, the wait times for Astro Orbiter are often the shortest first thing in the morning or right before the park closes. Due to the lengthy, exposed queue, I suggest not waiting in line for Astro Orbiter during the heat of the day. However, nighttime rides are especially picturesque and offer a whole new experience!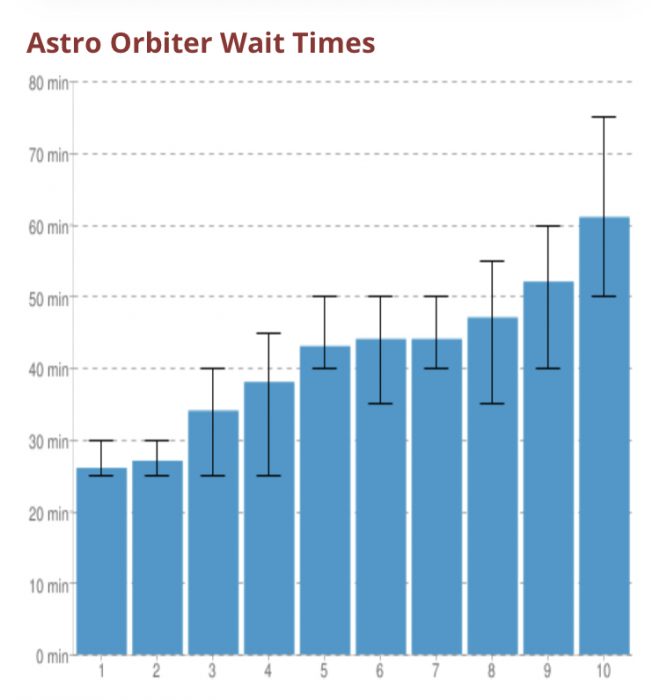 This chart shows you roughly how long you'll wait for Astro Orbiter when you visit on a day with a given Magic Kingdom Crowd Level. The blue bars represent the average "peak" wait time (that is, how long the line will be at its busiest). The bottom and top black lines represent the range of peak wait times to expect (for you fellow nerds out there: it's the 5th percentile and 95th percentile of peak wait times). Please note that these are estimates, and for a better forecast for your travel dates, see Astro Orbiter Wait Times.
Did I answer all of your questions about Astro Orbiter? Is this attraction at the top of your family's vacation to-do list? Let us know in the comments.