Everything You Need to Know About the Tomorrowland Speedway
You're going on vacation to Walt Disney World! The only problem? You're not sure which attractions are right for you and your kiddos and you have questions. Which attractions are too intense for little ones? What rides do I really need a FastPass+ reservation for? What's the disability access like for certain attractions? We're answering all those questions and more in our Everything You Need to Know attraction series with today's focus on the Tomorrowland Speedway at the Magic Kingdom!
What is the Tomorrowland Speedway?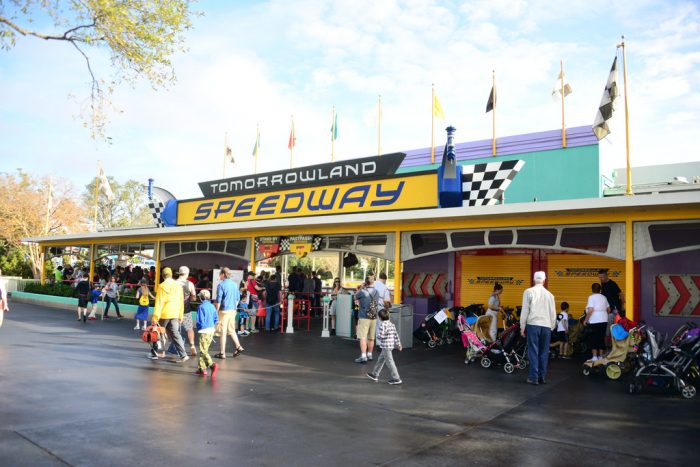 The Tomorrowland Speedway is a miniature motorway where little princes and princesses, as well as the young at heart, can take to the open road along a guide rail at an exhilarating 7 mph.
Where is the Tomorrowland Speedway?
The Tomorrowland Speedway is located in Tomorrowland at the Magic Kingdom next to the Mad Tea Party and across from Cosmic Ray's Starlight Cafe.
What is the History of the Tomorrowland Speedway?
The Tomorrowland Speedway is one of the original Walt Disney World attractions that opened on October 1, 1971.
The attraction's track has changed through the years, as has its name. Originally known as the Grand Prix Raceway, in 1994 its name was changed to the Tomorrowland Indy Speedway before being shortened to simply the Tomorrowland Speedway in 2008.
What You Need to Know About the Queue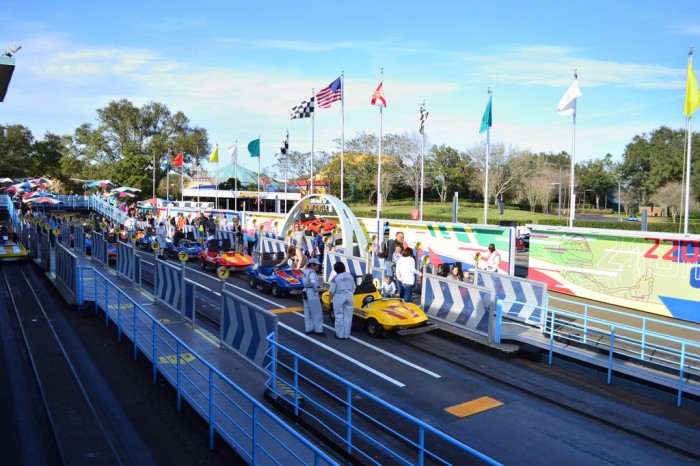 The queue for the Speedway winds outside the entrance and across a pedestrian bridge to the ride's loading area.
Tip: Turn right off the bridge and then head to the first loading area rather than continuing to the second one.
What You Need to Know About the Experience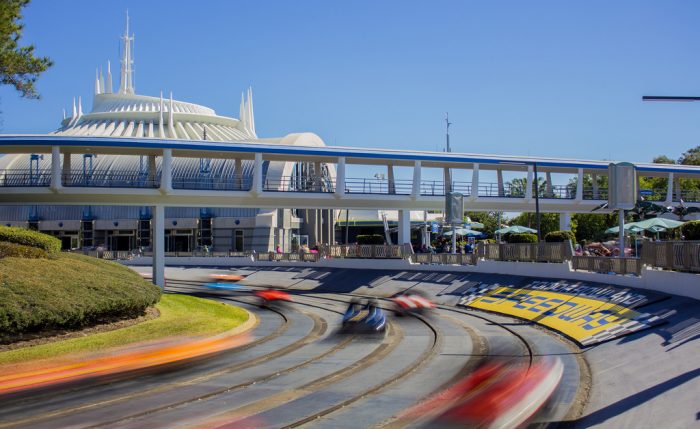 The Tomorrowland Speedway is typically about a four-and-a-half-minute ride in a sleek, somewhat retro-inspired gasoline-powered car. Guests putter around gentle curves and even over the roadway at one point with views of Storybook Circus, Space Mountain, the Tomorrowland PeopleMover, and other areas of Tomorrowland.
Be prepared for the smell of gasoline and loud, continuous noises. Also, even though drivers are constantly warned not to bump the cars in front of them, it still happens. Despite that, the Tomorrowland Speedway is a great family-friendly attraction offering more of an experience than thrills.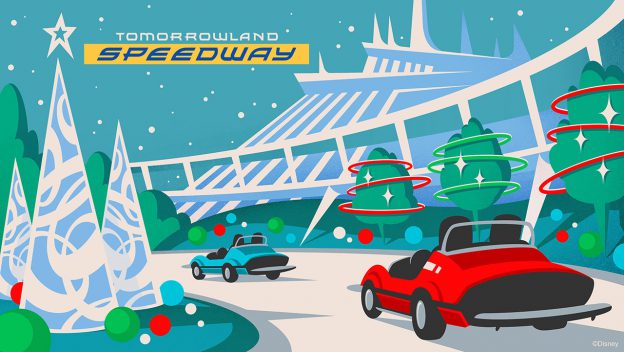 In 2019, the Tomorrowland Speedway received a holiday overlay complete with lights, holiday displays, and more for guests of Mickey's Very Merry Christmas Party and later for all park guests towards the end of December.
What You Need to Know About the Ride Vehicles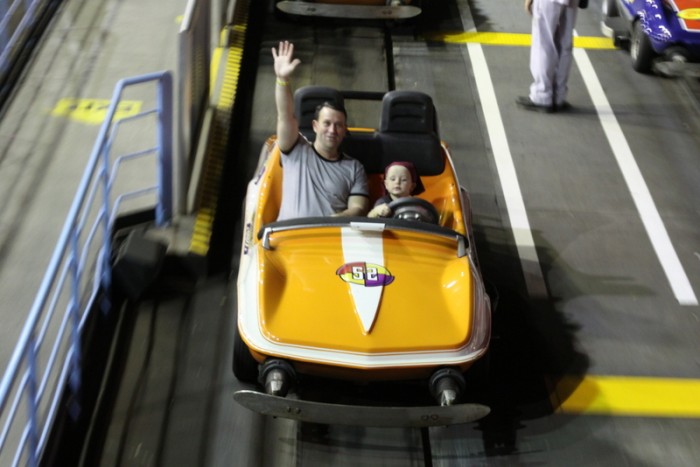 Standard capacity is two guests per car. However, Cast Members can load one adult plus two small children, or two adults plus one small child.
Guests sit on a hard bench with a back with one fabric lap belt for all riders. Guests must step over a small wall and then down a moderate step into the car.
Note: The driver must be a certain height to reach the foot pedals. This is why there are two height requirements. While children must be 32 inches tall to ride, no one can drive alone unless they are 54 inches tall.  If you decide to let an older child drive alone, be sure to explain that they are in control of their ride vehicle and provide instructions for how to work the car.
What You Need to Know About Accessibility
Guests must transfer from a wheelchair/ECV to experience this attraction.
What You Need to Know About Health and Safety Advisories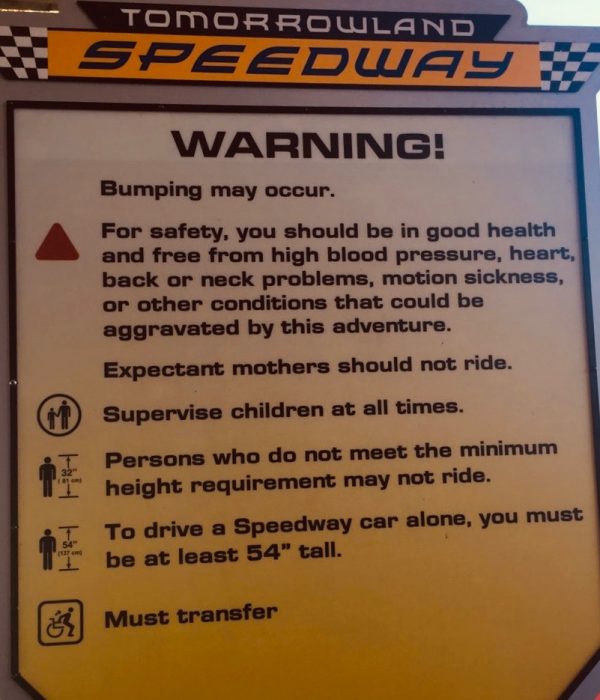 For safety, you should be in good health and free from high blood pressure, heart, back or neck problems, motion sickness, or other conditions that could be aggravated by this adventure. Expectant mothers should not ride. Also, be aware that bumping can (and usually does) occur.
What are the Height Requirements?
Guests must be at least 32 inches to experience the Tomorrowland Speedway, and drivers must be at least 54 inches to drive unassisted. This ride does offer rider swap.
Does Weather Affect the Tomorrowland Speedway?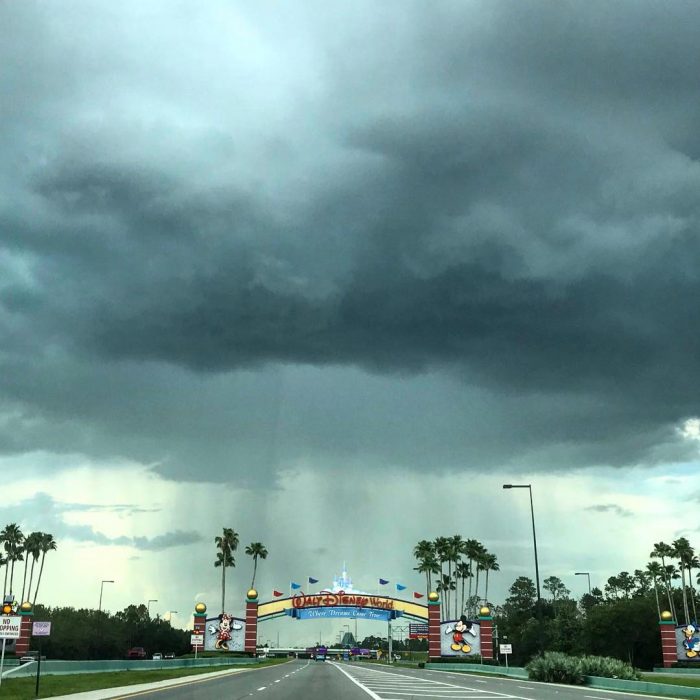 Since the Tomorrowland Speedway is an outdoor attraction, it will shut down due to inclement weather. Guests waiting in the queue are mostly exposed to the elements.
What's the Best Time of Day to Experience the Tomorrowland Speedway?
For the shortest waits, try to check out the Tomorrowland Speedway before 10 a.m. or during the last 2 hours before park closing.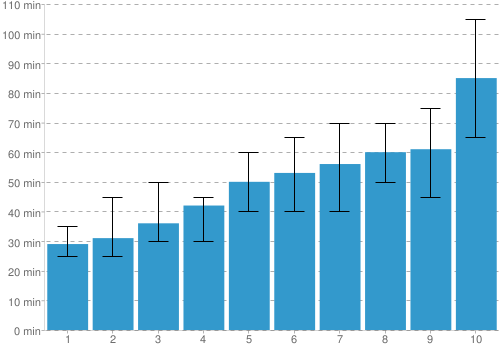 This chart shows you roughly how long you'll wait for Tomorrowland Speedway when you visit on a day with a given Magic Kingdom Crowd Level. The blue bars represent the average "peak" wait time (that is, how long the line will be at its busiest). The bottom and top black lines represent the range of peak wait times to expect (for you fellow nerds out there: it's the 5th percentile and 95th percentile of peak wait times). Please note that these are estimates, and for a better forecast for your travel dates, see Tomorrowland Speedway Wait Times.
Did I answer all of your questions about the Tomorrowland Speedway? Is this attraction at the top of your family's vacation to-do list? Let us know in the comments.