Five Facts to Know About Remy's Ratatouille Adventure
Inspired by Pixar's animated feature Ratatouille, Remy's Ratatouille Adventure opened in October 2021 as part of Walt Disney World's 50th-anniversary celebration. Located in the France Pavilion of EPCOT's World Showcase, we think that it's a not-to-be-missed attraction for first-time EPCOT visitors and repeat attendees alike.
Early bonus fact: the similar ride in Disneyland Paris is called "Ratatouille: The Totally Zany Adventure of Rémy."
1. It's All About the Rat
The title of the attraction is 100% accurate. The 2007 movie followed several characters and their various subplots, but this attraction focuses on Remy's part of the story. Here, his entire plot line is condensed into a 4½ minute ride.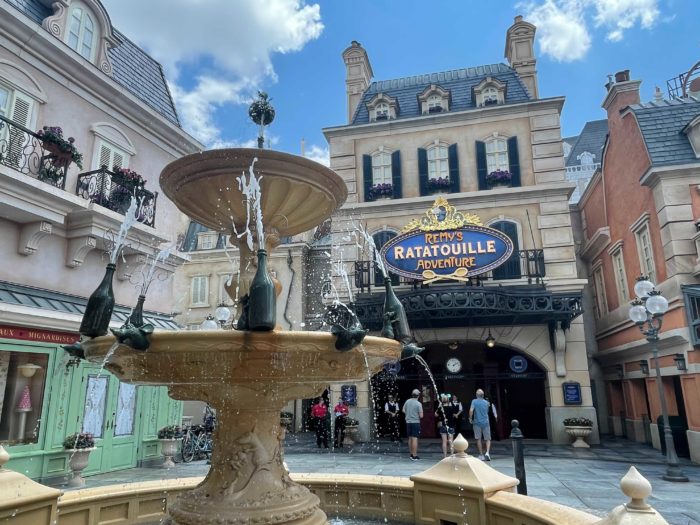 As a rider, you'll shrink to the size of a fellow rodent and accompany him on his life journey. You'll board a rat-shaped vehicle as a rat with a dream, then scurry through the busy kitchen, narrow walls, and expansive dining room of Gusteau's famous Paris restaurant, all from the perspective of a fellow rat-pal. At the end, you (and Remy) will be running your own kitchen as some of Paris's most celebrated chefs. Spoiler: despite the name, there is no ratatouille served … at least, not on the ride.
There are a couple of fast-moving scenes, including one in which Remy is chased with a cleaver, that may frighten small children. But our seven-year-old grandkids loved it from start to finish!
Bottom line: while the standby queue can be long, we think it's totally worth your while to wait. Which brings us to…
2. You'll Need a Plan if You Don't Want to Wait in a Big Line
Remy's Ratatouille Adventure is the first all-new major attraction at EPCOT in more than a decade and the first in World Showcase since 1988. It's also a family-friendly ride with no height requirement, appealing to EPCOT's youngest guests. That means it's pretty popular, and lines can get long.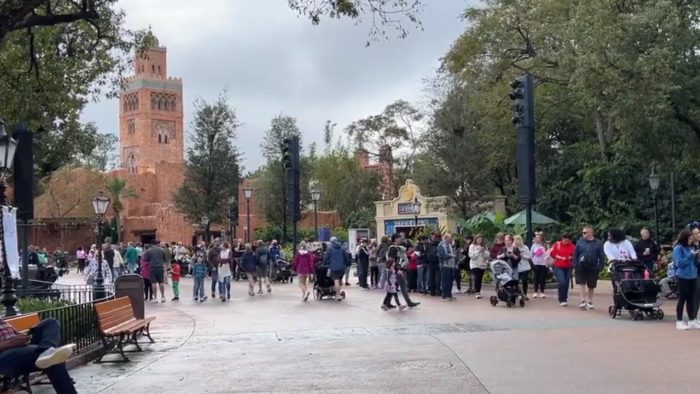 Without using Genie+
If you're staying on-site and can use Early Entry, it will be valuable here. Ride Remy's Ratatouille Adventure as soon as the park opens. Your best bet is to arrive at EPCOT's International Gateway entrance at least an hour before the park opens. (If your resort isn't on this side of the park, you can take a rideshare to one of the EPCOT resorts.) That will give you a 10-minute head start on folks walking from the park's front entrance.
I can personally vouch for the wisdom of entering at the International Gateway. We arrived for Early Theme Park Entry, entered the park from the front entrance, and ran for Remy. By the time our group made it to the queue, the line was already a 40-minute wait mostly due to others who entered from the International Gateway.
If you can't take advantage of Early Entry, wait and ride during the last hours the park is open or during Extended Evening Theme Park Hours. This is when wait times can be at their lowest for the day.
Note that Remy has signs for a single-rider line, but it's not currently in use.
With Genie+
Buy and use Genie+ to enter via the Lightning Lane. If you only have one day in EPCOT and want to make the most of it, consider Genie+ if riding early or late doesn't work for you. But make sure that you're ready to snag that reservation right at 7 a.m. because Remy Lightning Lanes go fast.
3. It's a Little Different Every Time
Many of Disney World's most recent attractions have used trackless vehices. If you've experienced Star Wars: Rise of the Resistance or Mickey and Minnie's Runaway Railway, you know what to expect. Without the limitations of being locked into a set route by the track, your ride vehicle is free to take you to any number of places in any order. This means that every time you ride, your experience can be just a little bit different.
As your rat-mobile moves through the ride, Remy's story is told using massive room-sized 3-D screens, detailed sets, and sensory effects like heat underneath the stove and a splash of water. Some riders find that the screen effects can induce motion sickness. If you're prone to nausea, see Dealing with Motion Sickness on Your Disney World Vacation.
4. There's more Remy to enjoy in the Allée des Marchands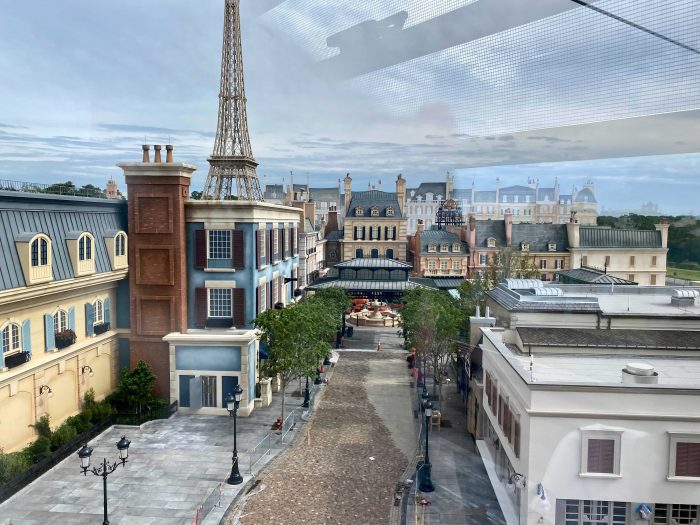 To accommodate the new attraction, the France Pavilion had to be expanded. The new section is done with the care and detail that you've come to expect from the Imagineers. Stroll the Allée des Marchands (Alley of the Merchants) and take in the French-inspired architecture. There are a lot of Remy-inspired touches throughout this area, making it feel like the ride's queue begins in the street.
Tucked into a corner, you can hop on Chef Skinner's scooter and Chef Colette's motorbike from the movie. Everyone in my family took turns sitting on them for photos. Look at the sewer covers in the "street" to see Remy paddling his little boat with a spatula, reminiscent (or should I say, "Remy-niscent"?) of the way he arrived in Paris. On the pavement, you'll discover Remy's footprints traced in the concrete.
Looking up, glance in one of the building windows to see bottles of wine with the label "Château Ego," named for Anton Ego, the food critic in Ratatouille. The dates on the wine bottles are significant, too, but we'll let you guess what they refer to.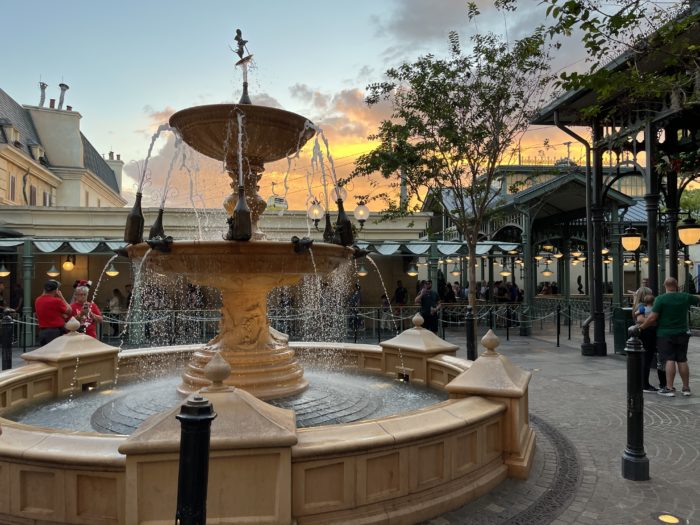 Most striking, however, is the champagne fountain in the middle of the street. The champagne-bottle spouts are designed so that the water looks like champagne exploding out of a just-opened bottle. And at the very top of the fountain is Remy himself. This spot is a great photo op and there's usually a cast member there to take PhotoPass pictures, too.
5. It's Not on the Ride, but There Is Ratatouille
La Crêperie de Paris, the new eatery in this area, serves sweet crepes and savory buckwheat galettes (so they're gluten-free!). The menu features the cuisine of chef Jérôme Bocuse, who created the menus at Chefs de France and Monsieur Paul.
This restaurant has both a table service section and a quick-serve counter. The table-service side, La Crêperie de Paris, serves a selection of crepes along side soup, salad, ice cream, and cider. The counter side, "Crêpes À Emporter by La Crêperie de Paris," offers the most popular crepes, the ice cream, and the cider. Both sides offer a ratatouille galette, so if you've never had ratatouille, here's your chance!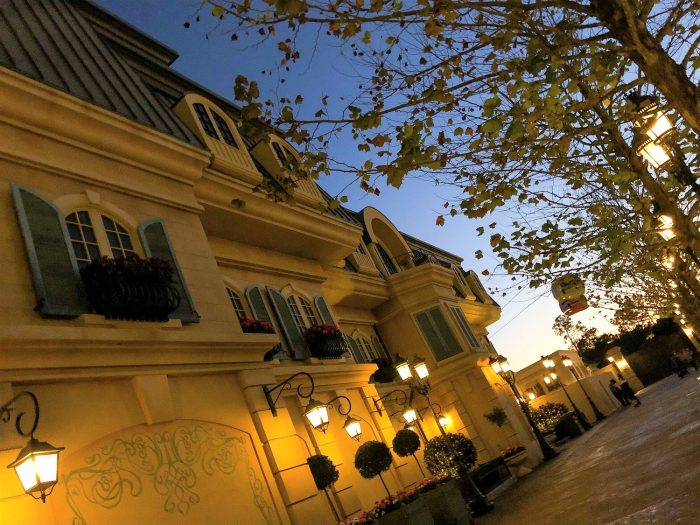 The France Pavilion has long been a favorite of ours, and this expansion secures its place at the top of the list. Especially after sunset, the atmosphere is amazing, and the glow of the lights is romantic. It's fair to say that "the city of lights" has found a small and cozy sibling here at EPCOT, a place you'll want to enjoy again and again, even if you don't take a ride with the rat.
Have you ridden Remy's Ratatouille Adventure? What did you think? Let us know in the comments!