Fellow Grandparents: Here Are Ten Things We're Doing in Advance of Our Grandkids' First Trip to WDW
Over the last couple decades my wife and I have visited Walt Disney World regularly, sometimes with our children and sometimes alone. (It was one of the first real empty-nester trips we took after they all moved out.) Our trips continue to bring us joy each time we return.
This fall, we're visiting WDW world with our daughter, son-in-law, and three granddaughters. The three girls (and their dad) have never been before, and we can't wait to see this magical place through their eyes.
We intentionally waited until the youngest (6 years old) was old enough to walk most of a full day on her own and tall enough to enjoy all the attractions. (Her Older Sister is 9 and her Oldest Sister will turn 11 while we're there.)
We four adults started planning this trip in 2019, intending to visit in October 2020 but canceled our trip due to the pandemic. Thank goodness we didn't tell the girls about our plans last year – the disappointment would have been awful. This year, we announced our trip in the spring.
I thought I'd share some of the things we've done (and will do) as we head into our October Adventure. Your preparations will of course vary, depending on several factors, including how old your grandkids are, your budget, your timetable, your mode of transportation, hotel location and amenities, among others. But this will give you a snapshot of one family's preparations and maybe give you an idea or two that you may want to try. (By no means do I intend this to be prescriptive – just offering suggestions – so please read on in that spirit.)
We shared the news of our upcoming October trip with them Easter weekend when they came to visit us. Our daughter had prepared a special Easter egg hunt, hiding plastic eggs outside. Three of the eggs had notes inside them that, when laid side by side, instructed the girls to come into our living room.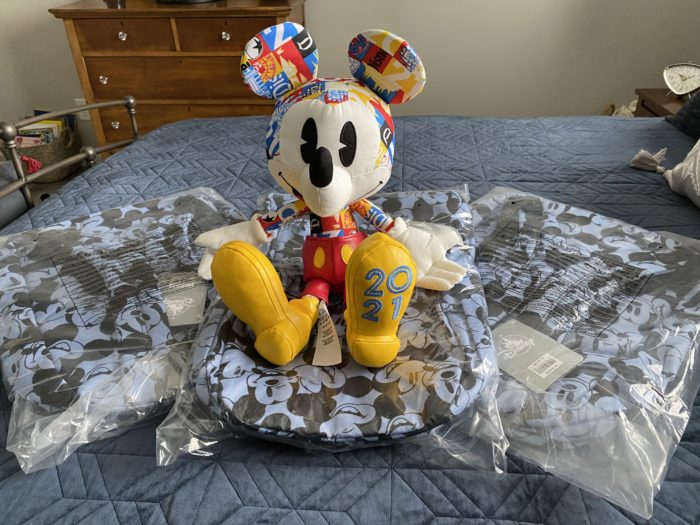 On our couch was a 2021 Mickey Plush doll and three Mickey backpacks (purchased on a deal at shopDisney). Inside each was a certificate with the girl's name and the dates of our trip.
You can guess that when they came into the room there was a lot of jumping up and down, which lasted for some time. Good thing we caught it all on our phones so we can play it back when they go on their first prom date…
Since then, here's what we've done (and plan to do):
Time passes differently for kids than it does for adults. Christmas is so far away when you're young but comes so often now that I'm older! To keep their excitement alive, we thought it would be fun to give them a little Disney something each month before the trip. Gifts including things like Disney sleepwear, Disney character tee shirts we found at Target or Kohls, and their MagicBands.
We're packing a couple little things to give them at the start of each day while we're at WDW: little bottles of Mickey hand sanitizer from the grocery store, socks with their favorite characters, things like that. Once we arrive, we'll give each girl a gift card we ordered from shopDisney so it was personalized with their names.
We gave the parents a copy of the 2021 Unofficial Guide to study (they're both educators who love to read) and kept them updated about breaking news (which seems to come more often as we approach October 1st) by visiting this blog daily.
From the outset, the four adults agreed this seven-day trip would not be a "Dumbo or Die" experience. To get park passes we had to plan which parks we would visit on which days; but we also planned pool time and some quiet evenings into our itinerary. Rest is important not only for the youngest, but for the oldest (Grandpa) as well.
We asked each girl to choose 2 or 3 attractions they wanted to see for sure at each park, making it clear they may not get all their choices. Then we loosely planned an itinerary for the day, agreeing to stay totally flexible.
We're not concerned about all the walking involved since the girls are older and their family regularly camps, hikes, and spends lots of time outdoors. But every family's situation is different; if you're taking a little one who will need a stroller or one who will want to be carried after an hour, you'll take that into account. Shorter park visits punctuated by rest time back in your room may make sense.
We shared ideas about our favorite places to eat with the parents, who then reviewed menus with the girls. Then we chose when and where we'd eat and made reservations. (Most days, that includes breakfast in our rooms.)
We plan to have a grandparents/granddaughters sleepover night, so the parents can have a special evening all to themselves: they can dine where they want, stay out late, enjoy some wine, all without having to look after the girls. My wife and I will also have an evening to ourselves, which allows their family to spend time together alone. While it's fun to be together, it's also nice to have a little time apart!
We purchased Memory Maker so we can create and share magical photos they'll keep forever. Once we're home, we think we may print them into a book to give them at Christmas. It can be a lot more fun to look at photos in a book than on your computer or TV.
With all the changes coming up as we head toward October 1, we've tried to let the girls know that plans will change, so the key to having fun will be to stay flexible!
One last note: our daughter and family plan to fly into Orlando the evening before our October Adventure begins. They'll stay at an airport hotel overnight, allowing the girls to get a good night's rest before joining us to ride out on the Magical Express the next day.
And that's our family's idea about what to do before heading to WDW with grandkids. We know it will be a time that creates a lot of special memories for them (and us!).
Let us know your thoughts about preparing to take grandchildren on their first trip in the comments below.