How Do Individual Lightning Lane Return Times Shift Throughout the Day?
Last week, we spent two days digging into return times for Genie+ reservations across every park. That was a lot of numbers and dots and words. But we didn't cover what is potentially the most cost-effective way to spend your money skipping lines during a WDW trip – Individual Lightning Lane Access. At parks like Animal Kingdom and EPCOT, it's hard to get much real value out of Genie+. But both of those parks (as well as Magic Kingdom and Hollywood Studios) absolutely have rides where paying for Individual Lightning Lane Access can save you a significant amount of time under a wide variety of crowd conditions. These Individual Lightning Lane (ILL) attractions all have very different return time distributions, just like Genie+ attractions. Today we'll be looking through three different days of data to see how the Individuals Lightning Lane return times shift throughout each day.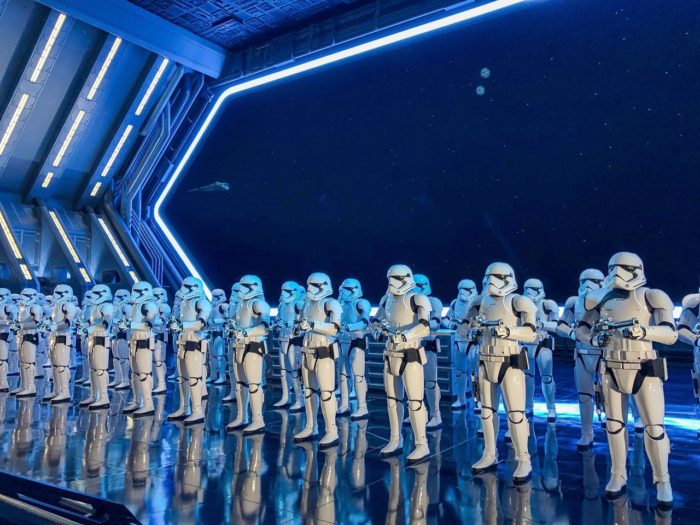 Explain the Math!
If you read the two articles about Genie+ return times, you know that the data for those posts was ugly and required a lot of cleaning. Not much has changed for ILL data. Thankfully, we can start with the same basics.
That means that we're looking at two main data points today:
Time – This is what we're calling the time that you scroll through My Disney Experience and decide that you want to purchase ILL Access for a specific attraction.
Return Time – This is the earliest return window that you can select for the ILL attraction at the time that you search. Since ILL return times are selectable, instead of just defaulting to the next available, this doesn't mean that you are stuck with the return time that you are given, or that is shown on this graph. It's just the earliest available – so you wouldn't be able to select anything earlier.
With those two data points, we can make some pretty awesome colorful plots of the time that you make the reservation and earliest time that you can return. And then things start to get complicated. Each attraction has a different plot, and each day has a different plot. To get really predictive, we have to combine all the days together and extract some meaning out of them. And on top of all of that, the data is ugly. Thankfully, since ILL return times are paid for individually, a lot less cancellation and dropping/switching happens. So maybe the data isn't as ugly. But we still see some interesting behavior.
October 27th – Crowd Level 1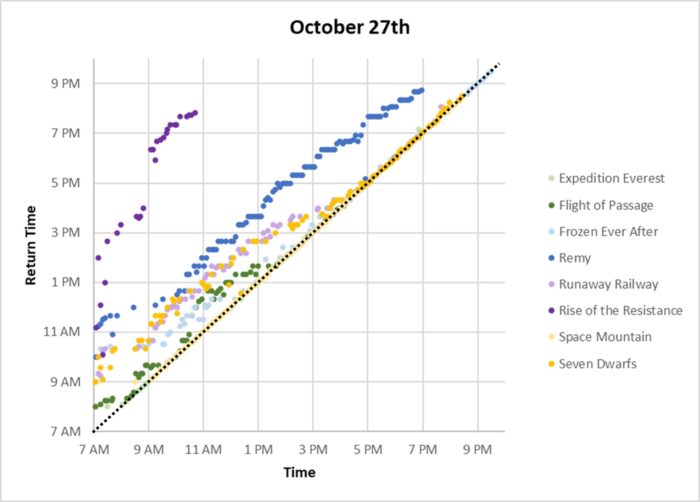 A couple of quick notes on how to read these graphs, and then we'll hop into analysis. First, the time you scroll the app to purchase your ILL is on the horizontal x-axis. And the earliest time that you'd be able to select as your return window, when you'd get to show up to hop into the Lightning Lane at the attraction, is on the vertical y-axis. If ILL for an attraction is available for immediate use when you purchase it, it would show up on the dotted black line. I'll call that "Buy Now Ride Now" – or the ILL version of walk-up availability. If a certain color of dots disappears totally from the graph, it means that the attraction has sold out for the day.
Rise of the Resistance sells out first of all of the ILL attractions, around 11 am. By just after 7 am, the earliest return times are already up to 2 pm. And at 9 am, when off-site guests are eligible to purchase because the park opened, we see an immediate 2-hour jump in available times. So if you were an off-site guest, you were likely stuck with a return time between 6 pm and 8:30 pm. After 11 am, you couldn't pay your way around standby even if you wanted to.
Remy's Ratatouille Adventure is the only other attraction that sells out before the park closes. Its earliest available time starts at 11 am (the park opens at 10 am), and then it stays booked out by about 3 hours for most of the day, until it sells out around 7 pm.
Mickey and Minnie's Runaway Railway is also a popular option early in the morning, but is only booked out about 2 hours in advance when the park opens, and stays booked out 2 hours in advance until around 2 or 3 pm, when it eventually shifts to having Book Now Ride Now availability. Posted wait times were only at about 45 minutes at that point in the day, so demand for skipping standby had already dropped.
Seven Dwarfs Mine Train sees demand and return time availability that almost exactly matches Runaway Railway on this day. By the time the park opens, it's booking 2 hours in advance. It stays that way until right around 3 pm, until it also gets to a point of Book Now Ride Now availability. The posted wait time in the middle of the afternoon hovered around 50 minutes, so again, not much incentive to pay your way around.
Frozen Ever After stays booked about an hour ahead for the morning before hitting Book Now Ride Now by 1 or 2 pm, with posted wait times of 55 minutes.
Similarly, Flight of Passage stays booked about an hour ahead, until it shifts to Book Now Ride Now at 1 pm, with posted wait times of 50 minutes.
Two attractions, Expedition Everest and Space Mountain, stay Book Now Ride Now all day. Expedition Everest's posted wait time never went above 15 minutes all day. So it's not surprising there weren't many people paying $7 to skip that.
November 22nd – Crowd Levels 6-9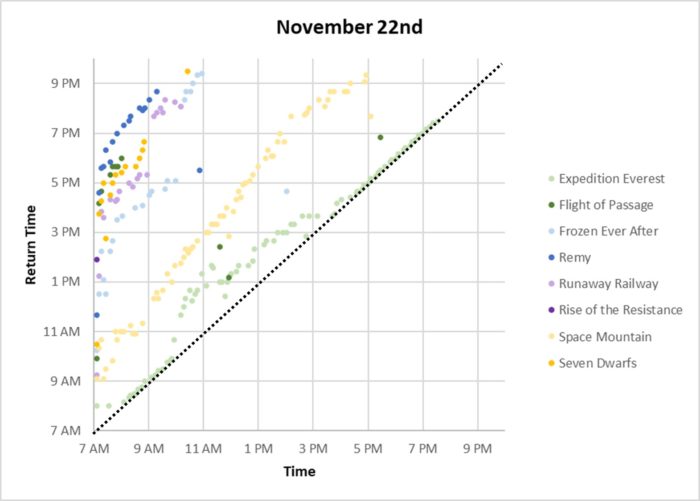 On a much more crowded day, there is only one Rise of the Resistance dot on this whole graph. That basically means that Rise of the Resistance sells out almost instantaneously for the entire day. If you aren't staying onsite, or you don't wake up right at 7, or if your phone randomly decides to restart itself (is that just me?), you are out of luck.
Flight of Passage isn't far behind, and sells out around 8 am. So once again, off-site guests are out of luck. Interestingly, though, there are three more Flight of Passage dots that randomly appear later in the day. I would normally assume that someone had cancelled/dropped their reservation and released it back to the available "pool". All official language, though, says that ILL purchases aren't cancellable.  But the dots appear to be too random and sporadic to be releases of additional inventory by Disney, so it's an interesting anomaly that pops up in the data.
Seven Dwarfs Mine Train books all of the way out to 7 pm before the park opens. Then something happens – no more dots appear until about 10:30 am. Looking back at the data, on the 22nd, Seven Dwarfs Mine Train didn't open for Early Theme Park Entry, or when the park opened. Its first posted wait time was at 9:30. So either when the ride was officially down no ILL reservations were sold, or when the park opened, all ILL reservations were immediately snatched up by off-site guests that were finally eligible to purchase.
Remy's Ratatouille Adventure sees an immediate spike to return times around 5 pm, and then also sells out before the park opens. So if you're keeping track at home, that's three (or potentially four) rides that sell out before off-site guests were eligible to purchase on this one day.
Mickey and Minnie's Runaway Railway doesn't sell out before the park opens, so it shows us our first definite example of a second spike in a return time curve. At 7 am, return times spike to 3 or 4 pm. Then when the park opens, the earliest available return time jumps from just after 5 pm to almost 8 pm in a matter of minutes. All of those off-site guests eat up 3 hours of capacity right when they become eligible.
Frozen Ever After follows a similar pattern, just an hour later when EPCOT opens. Return times immediately spike to noon, and then when the park opens at ten, return times jump from 5 pm to 8 pm again.
Unlike the crowd level 1 day, Space Mountain actually starts booking out about 5 hours in advance, and does eventually sell out for the day by 5 pm. Which makes sense given that the posted wait time .
The one attraction that still never sells out – good ole Expedition Everest. In the middle of the day it does book out 1-2 hours in advance, but remarkably by 4 pm when there are not even any other Genie+ reservations available at the entire park, it returns to Book Now Ride Now availability. At that point its posted wait time is only 45 minutes.
December 10th – Crowd Levels 3 and 4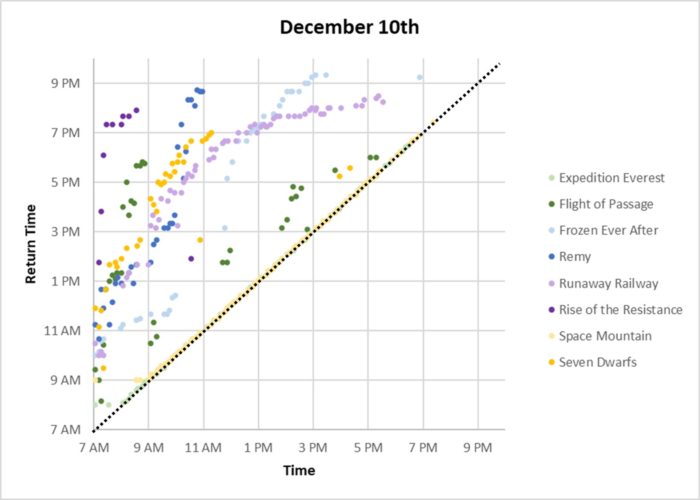 There's a lot of weirdness on December 10th, but Rise of the Resistance isn't particularly impacted. It immediately spikes to afternoon and evening return times, and then sells out before the park opens. So even on this crowd level 3 day at Hollywood Studios, offsite guests get no chance to purchase ILL access for Rise.
Flight of Passage is where things start to get wonky. Before the park opens, return times are already into the afternoon. And then at 8 am when offsite guests become eligible to purchase, they jump to 4 pm almost immediately and then appear to sell out by 9 am. But then after 9 am, and throughout the rest of the day, availability continues to pop – typically just an hour or two in advance. Unlike the last day of data we looked at, these dots aren't really sporadic or random at all. They follow a pretty predictable pattern and there are quite a few of them. This almost looks like releasing of more reservations when wait times were dropping – but there's nothing to confirm that hypothesis.
The next ride to sell out is Remy's Ratatouille Adventure, which once again sees its return times spike when the park opens, from 3:30 to 6:30 pm almost instantly. It sells out for good by 11 am.
Seven Dwarfs Mine Train sees about a 2 hour spike in return times when Magic Kingdom opens for the day, and then sells out just after 11 am. It does show a few random "dropped" times in the afternoon, like Flight of Passage did in November.
Frozen Ever After is booked out to around noon by the time the park opens at 11 … but then its availability dots randomly disappear off of the chart. They don't make a return until noon, when the earliest available is at 3 pm, and they almost immediately book out to 6 pm. Looking back at the data for that day, Frozen was open for Early Theme Park Entry, but then went offline from 10 am to 11:30 am. Based on the data, it looks like ILL purchases remained unavailable for 30 minutes after the ride reopened, and when they did go back on sale, up to two hours may have been removed from the inventory of reservations.
Mickey and Minnie's Runaway Railway doesn't see much weird behavior. It's interesting though, that return times increase pretty steadily throughout the morning and are booking 6 hours ahead by 1 pm. But then there's a remarkable flattening of the return time curve, and it takes 5 hours for the return time to move from 7 pm to 8 pm. Perhaps wait times didn't spike as much as people were expecting, so those that held off on their purchase decided to just wait it out in standby instead.
Once again, Expedition Everest and Space Mountain don't ever leave Book Now Ride Now territory. Space Mountain's posted wait time never went above 50 minutes and Expedition Everest's posted wait time never went over 40 minutes.
What Does This Mean For You?
If you want a shot at buying ILL access for Rise of the Resistance, and potentially Flight of Passage or Remy's Ratatouille Adventure on high crowd days, you'll have to stay on-site. They often sell out before the parks open.
It's hard to save much time at Expedition Everest or Space Mountain using ILL access. Even on high crowd-level days, the time you save is potentially not worth the cost for skipping one line. Prioritize all other attractions before these two.
Some data we collect points to some interesting behavior that's not advertised – either people cancelling ILL reservations or more inventory being released throughout the day. We'll keep an eye on this, but it shows that if something is sold out it may be worth your time to occasionally refresh and check again.
If a ride experiences downtime, ILL reservations will likely get taken down for a time – but if the ride comes back online, check again. Reservation return times will likely be significantly later than they originally were, but they should become available again.
Have any questions about Individual Lightning Lane? Let us know in the comments.