Answering All Your Questions About Virtual Queues
I admit, that title is a bit ambitious. But I'm gonna give it a go, and if I miss anything let me know in the comments. Last updated/republished October 8, 2023.
Just to give you a preview, here's what we're going to cover:
What are Virtual Queues?
Why you need to know about Virtual Queues
The basics of Virtual Queues at Disney World and Disneyland
General details about the process of getting a Boarding Group
Some reasons why Disney uses Virtual Queues
What happens if you miss your Boarding Group window
What Are Virtual Queues?
In the broadest sense, a virtual queue is any system that lets you hold a place in line without standing in it. You know how at the supermarket you can take a number at the deli counter, then grab a few more things while you're waiting to be called? That's a virtual queue, and it doesn't use anything more sophisticated than a roll of cardboard tickets.
Many theme parks and water parks use virtual queues, but here we're talking about the Virtual Queues at Disney World (and Disneyland). In all honesty, the system in other places is more straightforward. More like take a ticket in the deli line, less like needing a Ph.D. in MDE.
Why Do I Need to Know About Virtual Queues?
When Flight of Passage first opened anyone could show up, get in line, and ride it. A six-hour line, yes, but it worked the same as every other line in the park. Now, many new attractions at Disney parks use a Virtual Queue when they first open, and there's no standby line. If you don't know in advance that you'll need to use the Virtual Queue, you may not be able to get on Disney's newest rides.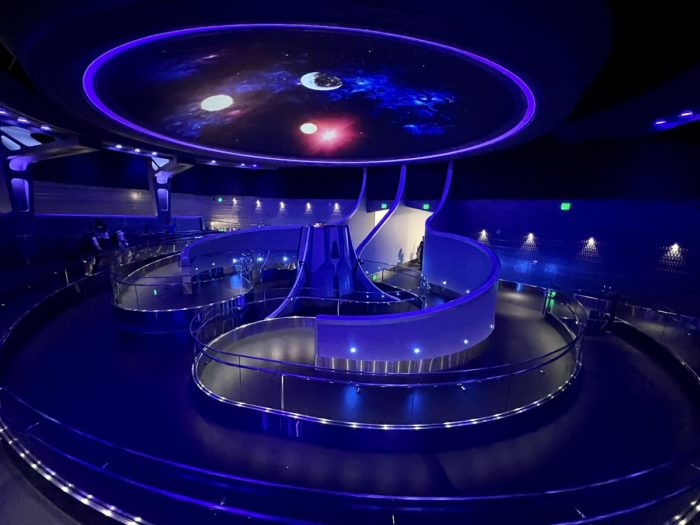 Many of these attractions offer the opportunity to ride by purchasing an Individual Lightning Lane. But in the early days or if the parks are crowded, the ILLs are usually gone by the time the parks open. If you're not staying at a Disney World Resort, this might not be an option for you.
Disney uses Virtual Queues for different types of experiences. The basic steps for joining are the same, but they have slightly different rules. This article focuses on the Virtual Queues for attractions.
What Are the Basics?
The My Disney Experience (MDE) app is used to join Virtual Queues at Disney World. Virtual Queues at Disneyland use the Disneyland app. You'll need to install the appropriate app and sign in.
For attractions that don't use a standby line at all, the Virtual Queue opens a few times a day. These openings happen at scheduled times, and are often called "drops". At each drop the queue stays open until the drop is full.
For attractions where a Virtual Queue is used when the standby line gets too long, you'll usually need to have entered the park before you can join. Check in the app to see whether a Virtual Queue is in use or not.
If you join successfully, you'll be placed into a numbered "Boarding Group". Many other people may have the same Boarding Group as you. When your Boarding Group is called, you'll have an hour to get to the ride entrance and sign in. There is always a chance that you might not get called if the ride goes down for part of the day, etc.
Can You Give Me a Few More Specifics?
Sure. For attractions that are currently using a Virtual Queue, click one of the links below for a walkthrough for that specific ride.
Some attractions, such as Journey of Water Inspired by Moana, switch over from a standby line to a Virtual Queue when they need to manage demand. For these attractions, you'll check in the app to see whether the Queue or standby line is in use right now. There's no special knowledge needed in advance to use these Virtual Queues.
For attractions that don't use a standby line at all, details below have been pretty consistent.
The Drops
There are usually 2-3 drops per day. Everyone who wants to ride needs to have a park reservation if they need one. And everyone who is riding should also be linked in MDE's Family & Friends.
The first drop is at 7 a.m., and you don't need to be in the park to join.
The second drop is at 1 p.m., and to join this drop you need to have entered the park. Disney's language implies that you need to be in the park, but in practice we find this is not true. If you were in the park in the morning and left to take a break, you'll still be able to join even if you haven't gone back yet.
There is sometimes a third drop for Extended Evening Hours or a hard-ticket event, For these drops, you don't need to have entered the park.
For each Virtual Queue attraction, you can only enter with a Boarding Group once per day during regular hours. If you're eligible, you can get a second one during a hard-ticket event or Extended Evening Hours.
When the rides are newest, each drop closes in literally seconds. It's possible to do everything exactly right, and still not get a Boarding Group. After the attraction has been open for a while, Boarding Groups are easier to get.
Tips for Success in Getting a Boarding Group
You can set up to enter the Virtual Queue an hour before the drop. If you haven't joined before, use this time to check for problems. If someone in your group isn't showing up in your app, you'll have 60 minutes to get any Friends & Family issues sorted out. Once that's done, you can come back 5 minutes or so before the drop to select your party and test whether to use WiFi or data. Many people find it useful to set timers to make sure they don't forget.
Make sure that you have a good signal. There are people in camp WiFi and people in camp data, but the right answer can depend on where you are standing and can change over time. You can test in advance from the location where you are going to book by using the Refresh button on WiFi and on data to see which is faster.
Having multiple people trying on different devices will increase your chance of success. It's OK if they're all logged in using the same MDE account.  For drops where you might already be in the park, make sure you're not going to be on a ride or deep in a queue when it's time to book – I've been caught this way more than once.
Monitoring Your Group
If you were successful, you can check on the status of your group at any time — and you should. The ebb and flow of arrival times, ride downtime, and the number of people purchasing ILLs all affect how fast Boarding Groups are called. Don't assume that it's a constant pace, or that any estimated return time will be accurate. (Some Virtual Queues offer estimated return times, and some do not.)
You can check the status from the Virtual Queues tile (under the hamburger menu) or the Disney Genie "My Day" tab. Below, notice how much the callback estimate has changed in a little under two hours.

Riding Two Virtual Queue Attractions in the Same Day
Rules about being in more than one Virtual Queue at a time are complicated. Disney changes these whenever they feel like it. The best way to figure out if you can be in two different queues at the same time is to look for an answer about those specific queues. We try to keep these updated in our FAQ section below.
With both of Disney World's newest coasters using a Virtual Queue, you might wonder if you can ride them on the same day. The answer is a strong maybe. For more details, see How to Get a Boarding Group for Tron and Cosmic Rewind in the Same Day.
Why Does Disney Do It This Way?
It can be frustrating to have so little control over your return time, and many people find getting a Boarding Group stressful. So why does Disney use these Virtual Queues? I don't work for Disney so I can't say for sure. But here are some reasons why they might think the positives outweigh the negatives.
With standby lines, newer attractions tend to have some of the longest waits, and longer queues tend to be more off-putting to infrequent or first-time visitors. That makes sense—if you've been on most of a park's other attractions many times, you're probably more willing to skip them to wait for just one ride. Disney may feel that Virtual Queues give infrequent guests a better experience, at minimal cost to those who would have been willing to wait in a really long line.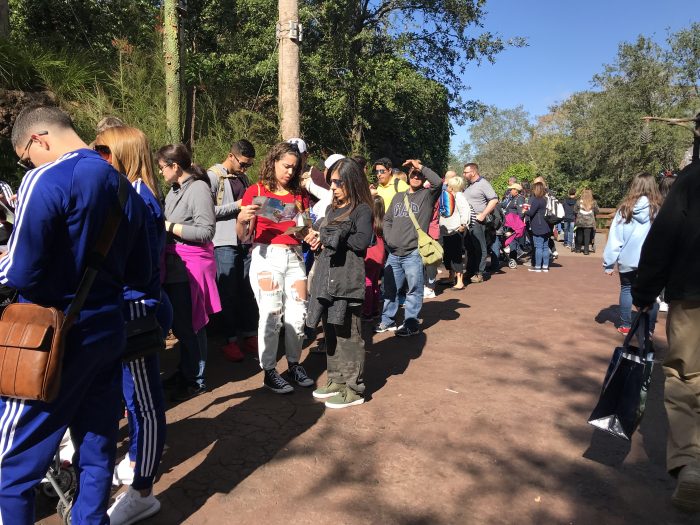 Balk points aren't the only factor. New rides can be prone to extra downtime or unreliability until the kinks get sorted out. Standing in a queue for hours only to have it be "dumped" because the ride is down is very frustrating, and Virtual Queues avoid this.
Finally, Virtual Queues help keep the line from overflowing the queue space for the ride. The queue at Flight of Passage holds about 2-3 hours worth of riders, but in the first year or two the line routinely exceeded four hours and spilled over into the land; people were waiting so long that a bathroom was added to the queue. Virtual Queues would have provided better space management for the extra demand.
What Happens if You Miss Your Boarding Group Window?
The uncertainty with Virtual Queues return times creates some unavoidable conflicts with reservations or transportation. If you're only a little late, let the Cast Member at the ride entrance know what happened. Usually you'll be allowed to ride even though your group has expired. If you're late because of a dining reservation, bring your receipt to show the conflict. If you're very late for some other reason, Disney's recommendation is to start at the Guest Experience team. Look for the stands with blue umbrellas throughout the park. If you are not allowed to ride because your group has expired, you can join the Virtual Queue again if there is another drop that day.
All that being what it is, I don't recommend intentionally showing up late for your call. Some attractions are very loose about enforcing return times, and others are very rigid.
Other Frequently Asked Questions
Which Attractions Are Currently Using Virtual Queues?
At Disney World, there are currently multiple attractions using Virtual Queues.
Guardians of the Galaxy: Cosmic Rewind has a Virtual Queue and no standby line.
TRON Lightcycle/Run has a Virtual Queue and no standby line
Journey of Water Inspired by Moana uses a Virtual Queue from time to time when the standby line gets too long. Check in the app to see whether a Virtual Queue is currently in use.
At Disneyland, no attractions are currently using Virtual Queues.
Can You Be in Two Virtual Queues at the Same Time?
That depends on what they are for. At Disney World, there is currently no restriction on being in the Virtual Queue for multiple attractions at the same time. This means that:
You can be Virtual Queue for Journey of Water and Cosmic Rewind at the same time.
You can be in a Virtual Queue for TRON / Lightcycle Run and Cosmic Rewind at the same time.
At Disneyland, you cannot be in two attraction Virtual Queues at the same time. But Disneyland isn't using a Virtual Queue at any attractions right now.
If You're Eligible for a Virtual Queue During Extended Hours, Can You Get One During Regular Hours Too?
Yes. You can get a Boarding Group for an attraction during the park's regular hours and also join the Virtual Queue during extended hours. This also applies to Virtual Queues offered for hard ticket events such as Disney After Hours, Mickey's Not So Scary Halloween Party, and Mickey's Very Merry Christmas Party. If you also buy an Individual Lightning Lane for the same attraction, you can get three rides in one day.
What About the World of Color Virtual Queue?
Virtual Queues for Entertainment (shows at a fixed time) have different rules than Virtual Queues for attractions. You can read about World of Color's Virtual Queue here: Step-By-Step Guide For How To Get a World of Color Virtual Queue Spot.
How Do Virtual Queues Fit In With Genie/Genie+?
Virtual Queues are a completely separate system from Genie/Genie+. There is only a single point of intersection, which is that if you have a Boarding Group you'll be able to view the status from the My Day tab in Genie.
How Do Virtual Queues Work With DAS?
If someone in your party is eligible to use the Disability Access System (DAS), you still have to join the Virtual Queue and get a Boarding Group. Once you arrive at the ride and show your DAS card, you'll be directed to the Lightning Lane to minimize your wait.
Can You Get an Individual Lightning Lane and a Boarding Group in the Same Day?
For rides that offer both ILL and Boarding Groups, yes you can get both in the same day.
Can I Do Two Attractions with Virtual Queues on the Same Day?
Maybe. For a more detailed answer, see How to Get a Boarding Group for Tron and Cosmic Rewind in the Same Day.
If You Need to Enter the Park to Be Eligible for a Drop, Does Everyone Who Will Ride Need to Enter?
Yes. Everyone in a group needs to meet the eligibility requirements, whatever they are, for the drop they are trying to join.
Will I Still Have to Wait in a Line After My Boarding Group Is Called?
Usually, yes. You may need to wait anywhere from 10 minutes to 45 minutes, on average, or longer if the ride goes down briefly while you're in the queue.
If There Are Four People in a Boarding Group and Two Don't Want to Ride, Can the Other Two Ride Twice?
When you show up for your Boarding Group and tap in, nobody checks to see if the MagicBand or ticket card belongs to you. So if Dad ran out of steam before your group got called and he left his MagicBand with your kid when he headed back to the hotel, your kid can use it to ride twice. This only works if the owner of the MagicBand or ticket has entered the park that day—you can't get a Boarding Group for Grandma and bring her MagicBand along while she lounges by the pool. Check in promptly if you want to try, since you'll need to be able to complete the first ride before your window expires.
Disney's answer to this might be that Lightning Lanes and Boarding Groups are not transferrable. But in practice, we've never had an issue letting one family member ride with another member's MagicBand or ticket, and we know that this is not uncommon.
If a Ride Uses Both Individual Lightning Lane and Virtual Queue, Which Is Easier to Get?
That depends on how long the ride has been open and how popular it is. The one thing that's always true is that if ILLs are selling out before park opening and you're not staying at a Disney Resort, the Virtual Queue will be your only option.
Can I Practice Joining the Virtual Queue Before My Trip?
Yes. You'll need to make a park reservation for the day that you want to practice (unless your ticket doesn't need one). So if you're trying for a ride in a park that doesn't usually have same-day reservation availability you'll need to do some planning. But as long as you don't actually enter the park, it won't use up your admission.
Do I Need A Park Pass Reservation to Join the Virtual Queue at 7 a.m.?
That depends. If you need a park reservation to enter the park, then yes. If your ticket allows you to enter without a reservation, then no.
Can You Use Rider-Switch With a Virtual Queue?
Yes, you can. If you're not familiar with the basics of Rider Switch, see Rider Switch at Disney World: Guide and FAQ. The key for Virtual Queues is that you'll set up your Rider Switch when you return for your Boarding Group, and your first group of riders will wait in the Virtual Queue. When the second group redeems the Rider Switch pass, they'll wait in the Lightning Lane. Since you can wait quite a while in the Virtual Queue, Rider Switch can save the second group a lot of time.
Which Rides Have Switched From Virtual Queues to Standby Lines?
At Disney World, Rise of the Resistance and Remy's Ratatouille Adventure have used boarding groups in the past.
At Disneyland, Rise of the Resistance, Spiderman WEB Slingers, and Mickey & Minnie's Runaway Railway have used boarding groups in the past. Indiana Jones Adventure also briefly used a Virtual Queue when Disneyland reopened in April, 2021.
In addition to the standby queue, all of these rides are currently available using Lightning Lane or Individual Lightning Lane.
Did we get everything? What questions do you have that we didn't answer? Let us know in the comments!
First published September 20, 2022.