How has Genie+ Availability Changed?
Effective use of Genie+ at Walt Disney World is a total moving target. Availability keeps changing, attractions get added or removed, people tend to use it differently, and now it even costs a different amount each day … and all of this makes it really hard to plan. Bonus: if you don't plan, you're probably only going to get to make and use 2 or 3 Genie+ reservations in a day. And Disney knows it, which is why they added language a while ago to lower your expectations.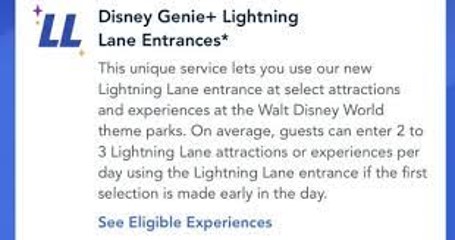 All of this constant changing means that you need updated information to make decisions with. We last updated this information back in October 2022, when pre-purchasing of Genie+ was phased out, and Genie+ demand dropped dramatically. Since then, there have been several additions of Genie+ options, as well as the really busy season over the holidays giving us lots more data! So it's time for a refresh (Last updated February 22nd, 2023)
Explain the Math
If you've read earlier versions of this article, you already know all of this stuff. You can "test out" of reading this section if you can interpret the color chart below!
Each park below will have a set of three tables. Each table shows you data from a certain range of crowd levels:
LOW = Crowd Levels 1 through 3
MED = Crowd Levels 4 through 7
HIGH = Crowd Levels 8 through 10
You can look at any attraction (which are shown in the rows) and a booking time (which are shown in columns, and represent the time you'll be able to make a reservation). The color of the box where you land will show you the chance that you'll be able to get a return time. A green box means the attraction is never sold out at that time. A red box means it's always sold out by that time – you'll be out of luck. And if the box is yellow, you've got a 50% chance of it being sold out already. Brand new for this series – I've also got accessible versions of the charts in each section for those with color blindness. For those charts, blue = 100% availability and orange = 0% availability.
In addition to the color, you'll see a time in each box. That is the average return time you can expect for that attraction at that booking time, given a certain crowd level. So, for example, if you look at Millennium Falcon on a low crowd day, and you think you'll book it at 11 am, you can expect a return time of 1:15 pm. The times in each box are rounded to the nearest 15 minutes so that your brain interprets them more easily. Don't want to tire out those brains in the middle of important Disney planning.
One important note is that the time in the box is an average return time for that entire hour. So if a 2 pm booking time box shows an average return time of 2:30 pm, that means that attraction has immediate availability. That's because the 2 pm return time you'd get at 2 pm averages out with the 2:55 pm return time you'd get at 2:55 pm, etc.
If an attraction doesn't appear on a list, it means that we have no return time data for that attraction at that crowd level. If it does appear but is blank/colorless, that means that we did have some return time data at that crowd level, but not enough to make statistically significant inferences.
Animal Kingdom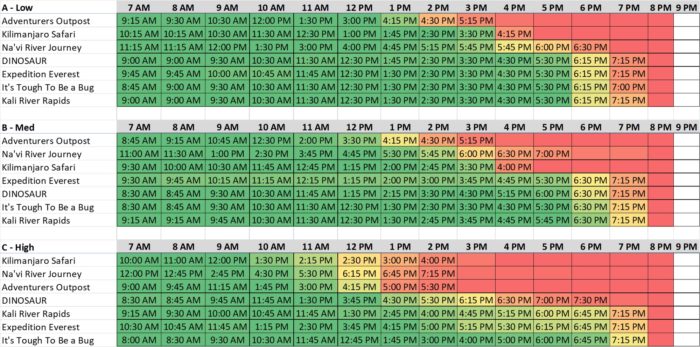 On low crowd days, availability is significantly "worse" than it was in our most recent update. But that is partially because the sun is setting earlier in the winter, which decreases the capacity of Kilimanjaro Safaris. Adventurers Outpost used to be the only attraction that sold out before 5 pm, and now it's selling out by 2, with the Safaris and Na'vi River Journey also selling out before5.
On medium and high crowd days, availability still looks slightly worse than our last update. Especially on those high crowd days, when the Safaris, Na'vi River Journey, and Adventurers Outpost all sell out by noon-ish, your options get limited quickly. Even still, if the park opens at 8 am, you should be able to get and use every Genie+ reservation here. Genie+ demand is still down at Animal Kingdom, but capacity is also lower in the winter.
EPCOT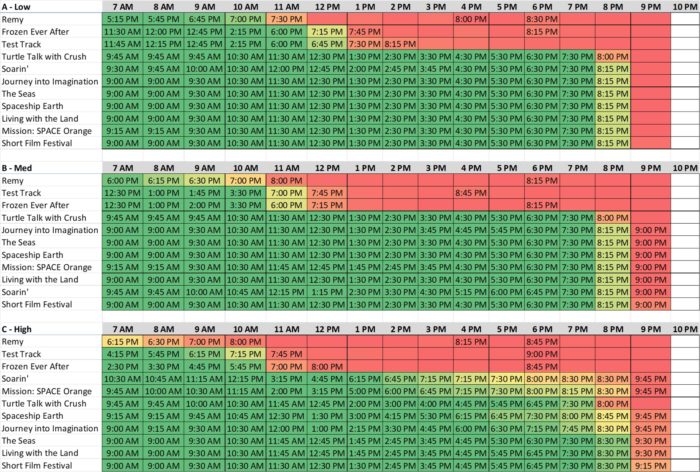 First and foremost, according to the data, Remy still sells out pretty quickly. It's not booking up instantaneously, especially not on low or medium crowd days. You'll likely only have trouble with it on high crowd days, when it does sell out incredibly quickly. It's selling out slightly faster than it did in the summer and fall of last year. Demand is up.
The real difference here is in return times and availability for Frozen Ever After and Test Track at all crowd levels. In October, on low crowd days, both attractions were selling out around 2 pm. Now that's noon. Medium crowd sell-outs have gone from noon to 11 am, and high crowd sell-outs have mostly stayed the same. It will be increasingly difficult to book all three of these headliners on medium and high-crowd days.
That being said, there's one caveat. For the first time, we see reservation "refreshes" that are available even at this aggregated hour-long level. On most days, you'll see some additional availability at the "big 3" around 4 pm and 6 pm. Not always, and even still, you have about a 5% chance of getting a return time within those hours. But 5% is better than 0% if you're willing to watch your phone and grab one.
After those top 3 … demand for Genie+ at all other attractions isn't high. At all. In fact, return times on high crowd days aren't even that different than the ones on low crowd days for all of the other attractions. This is the only park where we see this weird behavior. It goes to show how difficult it is to make good use of Genie+ at EPCOT beyond the top three.
Hollywood Studios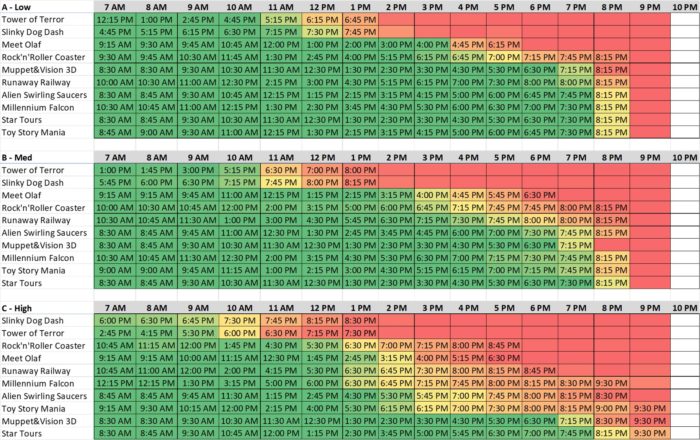 Well, Hollywood Studios is back to its old, frustrating self. In our last update, on low crowd days, Slinky and Tower of Terror were selling out around 5 pm. Now they're both selling out before 1 pm.
Thankfully, on low crowd days you can still get reservations for most "B-Tier" attractions like Runaway Railway, Toy Story Mania, and Rock 'n' Roller Coaster almost until the park closes, and with decent availability throughout the day. Only Meet Olaf and Rock'n'Roller Coaster sell out earlier than park close on those low crowd days. But keep in mind that our sample size here is very low. Low crowd days at Hollywood Studios are like unicorns. Rarely seen in the wild, but totally do exist.
Things are even worse on medium-crowd days, when Tower of Terror and Slinky Dog Dash sell out between 11 am and noon, that "next tier" of Olaf and Rock'n'Roller Coaster sell out between 3 and 4, and Runaway Railway joins them by selling out between 5 and 6.
On high crowd days, Slinky and Tower of Terror are now selling out before 11 am, four different attractions sell out around 2 pm, two more sell out around 3 or 4 pm, and only Muppet*Vision and Star Tours have decent availability into the evening. Zero fun to try to coordinate a day with Genie+ at Hollywood Studios with high crowds.
Keep in mind, eventually Rock'n'Roller Coaster is going down for a length refurbishment. That's a lot of Genie+ "capacity" that is evaporating, with no obvious plans for replacing it. Things will get even worse.
Magic Kingdom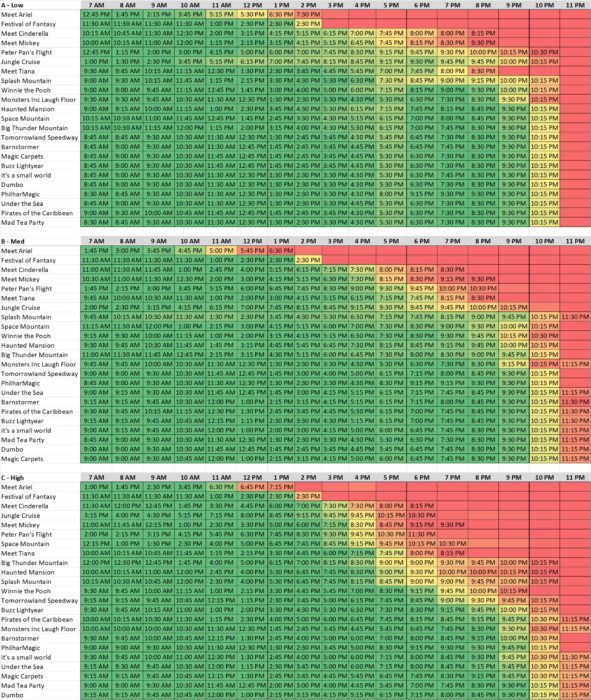 Back in our October 2022 update, all of the low-crowd days were party days, so the hours in our heat chart were very limited. Now we have a better sample because we've seen low-crowd days with full operating hours. Hooray!
Character. Meet. And. Greets. They sell out incredibly early. This was true in October, and this is true now. Capacity here is severely limited, and these reservations can save you a large amount of time. So don't sleep on these reservations. They've moved way up on our Genie+ priority list for Magic Kingdom! The one bit of good news is that Mickey used to sell out first, and now he's seeing slightly more availability.
That's where the good news stops. Back in October on medium crowd days, no attractions (other than Mickey and the afternoon parade) sold out before 8 pm. You had all day to get and use whatever reservations you wanted. Now, all character meet and greets and Peter Pan's Flight are gone by 6, with Jungle Cruise following at 7. Still not terrible, but not as great as it was.
High crowd days see even more sell-outs. Character greets, Jungle Cruise, Peter Pan's Flight and Space Mountain all sell out by 5 pm. That's a lot of options to try to get and use before 5. Big Thunder Mountain and Haunted Mansion then sell out slightly after 6, followed by Winnie the Pooh and Speedway at 8 pm. You're going to have to do slightly more planning on efficient use of Genie+ at Magic Kingdom on those high crowd days.
What Does This Mean For You?
Advance planning is not shockingly still required if you want to get more than your "2 or 3" reservations in a day with Genie+, and any "easing" of that problem due to the lack of advance purchase has now evaporated.
In the last three months, we've seen the cost of Genie+, on average, go WAY up thanks to variable pricing. And yet, demand is also up. I'm no psychologist, but it's possible that the purchase of Genie+ is seen as necessary on high crowd days, and then also somehow seen as a "bargain" on low-crowd days thanks to variable pricing, and still purchased. It's weird.
Magic Kingdom on low and medium crowd level days is still a sweet spot – there's good availability everywhere, and availability at the big headliners is only slightly worse than it used to be. But the high crowd level days at MK are seeing continuing worse availability.
Did you use Genie+ during the winter at WDW? Have your opinions changed about whether you'd use it on a future trip? What are your successes or frustrations? Let me know in the comments!