Mickey and Minnie's Runaway Railway: The Spoiler-Free Review
Mickey and Minnie's Runaway Railway debuts today at Disney's Hollywood Studios.  Some folks, like me, have been looking forward to Runaway Railway's opening since the day it was announced.  They won't be disappointed.  I've recently experience the ride, and it's everything it should be – a classic, funny, family-friendly ride for a park that needs more things like this.
The show building for Mickey and Minnie's Runaway Railway is the Studios' Chinese Theater, and the former home of The Great Movie Ride.  Inside the building, the queue area for Runaway Railway looks reasonably similar to the old queue area for Great Movie Ride.  The differences start in the pre-show.  Guests seem to be organized into groups of around 32 people, and then led into small theater spaces.  A film clip plays, explaining the ride's setup: Mickey, Minnie, and Pluto are going out for a drive.  They pass Goofy, who's conducting a train.  And then … things happen.  I won't spoil the ride by describing what happens.
Here's part of the pre-show:
The Ride
Guests board a train, conducted by Goofy.  There are 4 train cars, each with 2 rows of 4 people, so 32 people per train.   There are 10 or 11 show scenes, depending on whether you count the last bit as a scene.  All the scenes feature Disney's latest seamless projection technology, vibrant colors, and elaborate sets.  The projection clips are fast-paced, clever, and funny.  Speaking of fast, I'm pretty sure I saw a reference to Toy Story's Zurg in one of the scenes – let me know if you spot it.  There's also one scene with a great demonstration of the capabilities of Disney's trackless ride technology.
Here's a layout of the ride, courtesy of OrlandoParkStop.com. The layout shown seems to exactly match the ride: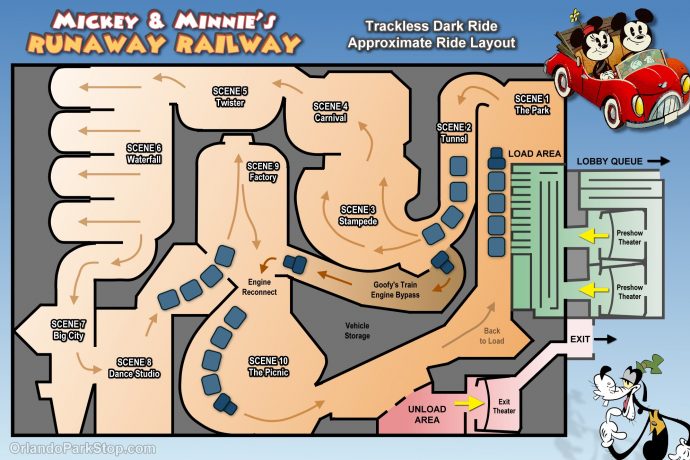 The whole ride took around 4 1/2 minutes.  I think the ride capacity is somewhere between 1,500 and 1,600 guests per hour. I'll re-time that tomorrow when I can ride multiple times.
Touring Tips for Mickey and Minnie's Runaway Railway
Because it's one of three family-friendly rides in the park, expect Runaway Railway to be crowded from the moment the park opens.  It will also attract crowds because it's at the center of the park, at the end of Hollywood Boulevard.  Runaway Railway's ride capacity seems like it'll be slightly higher than Slinky Dog Dash.  If you can't get FastPasses for either ride, my suggestion would be to ride Slinky first, then Runaway Railway.  (We'll see if that changes once Runaway Railway starts operating with regular guests today.)
Mickey and Minnie's Runaway Railway is a Tier 1 FastPass+ attraction for Disney's Hollywood Studios, so you'll be able to get FastPasses for it, Slinky Dog, or Millennium Falcon: Smugglers Run.  To save time in line, get FastPasses for whichever one you can.  When the park opens, head for one of the other rides you didn't get FastPasses for, as soon as the park opens.  While you're in that line, try to get a boarding group for Rise of the Resistance.
The Mickey Mouse Cartoons
If you've not yet seen the new Mickey Mouse cartoons, they're all available for free on YouTube.  Around 94 of them have been released since 2013, each of them a 5-minute gem of storytelling, humor, and animation.  My favorite is Potatoland, which is pretty much the platonic ideal of a modern Mickey Mouse cartoon:
The Rating
The Studios really needs more rides like Mickey and Minnie's Runaway Railway – it's a great ride for the entire family, it fits in well with the overall theme of the park, and it's every bit as good as the new Mickey Mouse cartoons.  I need to ride it a few more times to finalize the rating.  For now I'd say it's probably going to be between 4 and 4 1/2 stars.
What are your thoughts on this ride? Are you excited to experience it? Let us know in the comments.