Pros and Cons of Disney Cruise Line Dinner Seating Times: Early vs. Late
For dinner on Disney Cruise Line, guests are assigned to one of two seating times, which they will have for the entirety of their sailing — you'll eat dinner at the same time every night. For sailings originating from U.S. and Canadian ports, seatings are typically at 5:45 p.m. and 8:00 p.m. For sailings originating in Europe, seatings are typically at 6:00 p.m. and 8:30 p.m.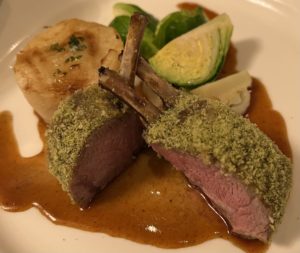 Every sailing offers counter-programming that corresponds to the dinner times – shows in the theater that match the dinner hours. So if you have the 5:45 early dinner, you'll be able to watch the 8:00 stage show, and vice versa.
When you book your cruise, you'll be asked to select your preference for earlier or later dinner seating. Many folks new to cruising are intimidated by this choice. Which is better? How will it impact the rest of the cruise? How do you decide?
There are some factors to think about as you make your decision. Some of the considerations that are Pros for one guest may be strong Cons for another guest. So rather than present a pure Pro/Con list, I'm listing things to think about – and you can decide if these items feel Pro or Con to you.
Are you coming from a culture where dining early or late is particularly important to you? It's worth noting that on U.S. cruises, the early seating tends to "sell out" more quickly and on European cruises, the late seating fills more quickly. Many Europeans think that even 8:30 is too early and consider 6:00 to be basically late lunch.
Are you coming from a time zone where it will be more or less challenging to have a particular dining time? Guests who live on the U.S. west coast sailing from Port Canaveral or Miami may also find that the early seating feels like lunch rather than dinner. East coast guests sailing out of San Diego or Vancouver may find the late seating challenging.
Do you have any medical issues that will impact the time you eat? For example: Do you have acid reflux or other issues that mean you need to eat your last meal of the day several hours before bedtime? Do you consume a medication that must be taken on a full, or empty, stomach at a particular time.
Do you have a child who will be asleep during the later dinner seating? Many young children simply cannot stay awake past 7:30 or 8:00 p.m. If you want them to eat dinner with you in the main dining rooms, then the late seating may be untenable. On the other hand, if you really want them to see the theatrical performances, then you have option to feed the kiddos room service or pool deck quick service rather than a full sit-down meal.
Are you picky about where you sit in the main theater? Early diners will be able to see the second staging of the mainstage show, but may not get there quickly enough to snag a particular seating area. If you're particular about your location, opt for late dinner so that you can be first to line up for the early show.
Are you OK with your family members consuming a substantial snack during the late afternoon? Folks who are used to eating early at home may be fine adapting to the late seating if they have a substantial snack in the late afternoon to stave off the hangriness. (Hello room service cheese plate.) But if you have rules about between meal eating or are trying to limit overall calories, this may be less of an option for you.
Do you have any long port adventures (on-shore excursions) planned that will get you back to the ship close to, or after, the early dinner time? If you have land-based plans that will get you back to the ship late, you may want to opt for the later dinner seating.
Will you want to shower/change prior to dinner? If you're staying on the ship you may want to be able to spend every possible moment at the pool. If you want to do this, and shower, and change before dinner, the later seating might better suit you. Even if you just like to dress up for dinner in general, you want more time to do this.
Do you want a slightly quieter dinner atmosphere? While there are young kids at both seatings, there are likely to be more kiddos at the earlier seating, making the late seating a bit quieter.
Will you be enjoying Palo, Remy, or Enchante brunch? Brunch at these venues are substantial, multi-course meals. If you're have late mid-day adult meals, you might want more ample time to digest than the early seating would allow.
How long is your sailing? You may be able to easily cope with a slightly sub-optimal dining time if you're on a quick 3-night sailing. Or, if you're on a 12-night voyage, you may feel that you have ample time to adapt to either option,
Will you actually be dining in the rotational restaurants? Some guests on 3-night sailings may be able to book dinners at both Palo and Remy or Enchante and will opt for room service or poolside dining on their third night on board, making moot the question of which main dining room seating to select.
Do you care when you eat breakfast during disembarkation day? The time of your last breakfast is related to your dinner seating assignment. Early dinner eats early breakfast and late dinner eats a later breakfast. If you want to sleep a bit more on your last day and won't be running to catch a plane, then selecting late dinner may help your situation.
Do you eat slowly? Some guests find that they're less rushed during the second seating because the servers don't have to immediately turn over their table.
Depending on how far out you book, one or the other seating time may not be available. If your seating preference is not open, you can request an alternate seating time by joining the waitlist on the My Reservations section of the DCL website. I've gotten off the waitlist for my preferred seating a few times.
If you don't make it off the waitlist before you sail, stop by guest services when you're on the ship and they may be able to help you. There may be another party who wants the opposite assignment and Guest Services may be able to swap you.