FAQ: Disney Cruise Line Room Service
There is no shortage of food available on the Disney Cruise Line ships – from the elaborately themed main dining rooms and the elegant adult restaurants to the unlimited soft serve ice cream on tap and the pool deck burger and pizza stations, there are noshes around every corner. But if you don't feel like venturing out of your stateroom, there is plenty you can eat right there. Yep, you can get room service during your cruise!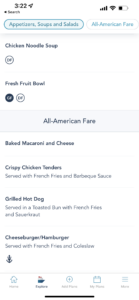 With so much food everywhere on the ship, why would I want room service?
There are plenty of times when you might need some sustenance but you don't want to venture out of your room. These might include:
You have an early morning port excursion and you want to sleep as long as possible before heading out.
You have the late seating for dinner and you want an afternoon snack to tide your over.
You have the late night, or middle of the night, munchies.
You want to surprise your kids/parter with a sweet treat.
Your port excursion arrived back at the ship late and you missed your assigned dinner seating.
You have a hankering to eat something that's on the room service menu.
You're watching a great movie on your stateroom TV and don't want to stop to go to a restaurant.
You need to stay in the room with your napping child and want a snack.
You want to feed your children early before dropping them at kids clubs as you head out to dinner at the adult dining venues.
Your stateroom is on Deck 2 and you're feeling too lazy to go up to Deck 11 for a sandwich. (It's vacation, we don't judge.)
You love dining on your own verandah, looking at the sea.
Where do I find the menu?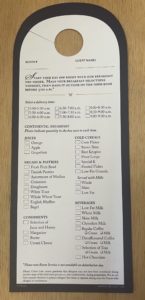 The main source for room service menu information is your Disney Cruise Line Navigator app. In the post-COVID world, the app, which was once merely helpful, is now an absolute necessity. In addition to serving many (many, many) other functions, the app has complete menu information for all the onboard restaurants, bars, and other dining experiences, including room service.
In addition to the app, you may also find a room service breakfast order form located in your stateroom's desk drawer.
What's on the menu?
Here are the official offerings.
Continental Breakfast:
Beverages: orange juice, apple juice, grapefruit juice, low fat milk, whole milk, skim milk, chocolate milk, hot chocolate, decaf coffee, regular coffee, hot tea
Cold cereals: Corn flakes, raisin bran, Rice Krispies, Froot Loops, Special K, Frosted Flakes, low-fat granola
Fresh fruit bowl
Bakery items: danish, muffins, croissants, doughnuts, English muffins, white or wheat toast, bagel
Condiments: butter, margarine, cream cheese, jam, honey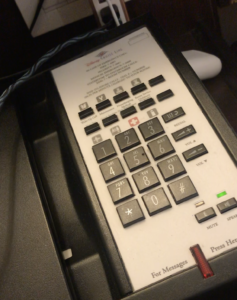 Lunch and dinner:
"All Hands On Deck" – cheese and cracker plate
Salads: Chicken Caesar salad, Greek salad, mixed green salad, grilled salmon salad
Soups: Creamy tomato soup, chicken noodle soup
Fresh fruit bowl
Baked macaroni and cheese
Chicken tenders with fries
Grilled hot dog with fries and sauerkraut
Cheeseburger or hamburger with fries and coleslaw
Buffalo chicken wings with dipping sauces
Pizza: Pepperoni, cheese, or Margherita
Sandwiches (served with coleslaw and potato chips): BLT; New York steak panini with caramelized onions; tomato, basil, and mozzarella panini; grilled cheese
Desserts: Key lime pie, chocolate chip cookie, oatmeal raisin cookie
What is this going to cost me?
Everything listed above is free. (Well, free in the sense that there is no additional charge above the cost of your cruise.) The only cost for ordering the items above is a tip for the cast member that brings the tray to your stateroom.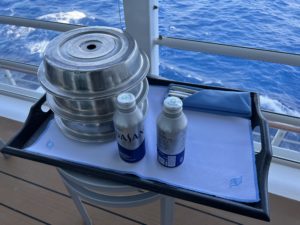 Is there a different menu that costs money?
You can get few snacky items added to your room service order, for a small additional charge. These include packaged M&Ms, salted peanuts or cashews, or packaged popcorn.
Beer, wine, canned soda (Coke, Diet Coke, Sprite, ginger ale), and bottled water (Dasani, Smartwater, or Evian) are also available for an additional fee, as are specialty coffees, a fruit smoothie, and a fresh green juice.
As an example of pricing, a can of Coke costs $2.00 via DCL room service.
A member of my party has a food allergy, can we be accommodated with room service?
Probably. A few of the items on the regular menu (above) have allergy information next to them. For example, the chicken soup is coded DF, for dairy free, and the Greek salad is coded GF, for gluten free.
Additionally, there may be allergy-friendly items available that are not on the official menu. For example, if you need something like almond milk or soy milk instead of cow's milk, they may be able to provide this. There may also be packaged allergy-free cookies and other snacks that are available off-menu.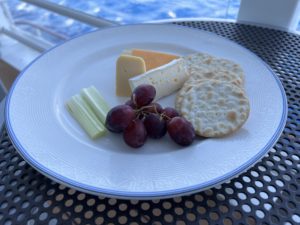 That said, all the DCL menus have a disclaimer at the bottom which reads, "Disney Cruise Line cannot guarantee that allergens may not have been introduced during another stage of the food chain process or, even inadvertently, during preparation. We do not have separate kitchens to prepare allergen-free items or separate dining areas for guests with allergies or intolerances. Please alert your server to any food allergy concerns before placing your order."
Whenever you're traveling with someone with a food allergy or other medical issue, be sure to complete and return the Request Special Services form at least 60 days prior to your departure.
How do I order room service?
To order room service breakfast, fill out the order form that's in your stateroom desk. Be sure to note the number of each item you'd like to receive. For example, if you two glasses of orange juice, mark a "2" in the OJ box. You should also select a half-hour delivery window. Place the order form on the outside doorknob of your stateroom prior to 3:00 a.m.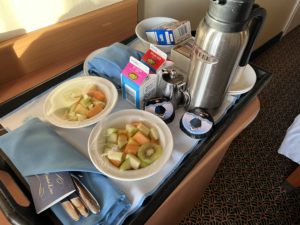 For all other room service orders, or if you have questions about any menu items, just pick up the telephone in your cabin and press the "Room Service" call button.
How much do I tip?
A gratuity is optional for most room service orders; however, tipping is polite and greatly appreciated. The amount you tip is at your discretion. If you're looking for a rule of thumb, start with $1 per item ordered or $2-3 per person and go up from there.
On a recent cruise on the Dream, my daughter and I ordered room service continental breakfast of coffee, fruit, and cereal. We tipped $5.
How do I tip?
You can hand your server cash, or there is a line on the room service delivery receipt to have a gratuity added via your stateroom account.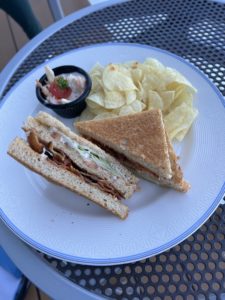 Do I have to order a whole meal?
Nope. My unofficial assessment of the situation is that it may be more common to order a few disparate items rather than a full meal, though you're certainly welcome to do that as well. Go ahead and just order cheese and crackers as an afternoon nosh or just a plate of cookies and milk before bed.
How long will it take my room service order to arrive?
In my experience, breakfast orders reliably arrive during your selected delivery window.
In most cases, non-breakfast room service orders arrive with 20-30 minutes. If you have concerns about timing, just ask what the situation is when you place your order. They may know if they're running behind.
Are there times when I can't order room service?
Room service is available 24 hours a day up until 1:30 a.m. on debarkation morning for most guests.
Guests staying in concierge level rooms often have the ability to order breakfast room service on their departure morning.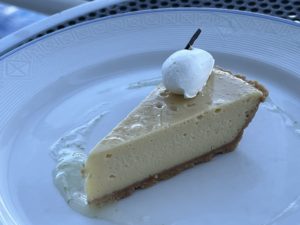 I've seen people post photos of food in their room that doesn't look like it's on the room service menu listed above. What's up with that?
There are a number of possible explanations:
They're eating food that they picked up themself at the pool-deck quick service location or at the buffet. You're welcome to get a plate of peel-and-eat shrimp at Cabana's, for example, and bring it back to your room.
The food is an onboard gift item purchased by the cruiser, by the cruiser's travel agent, or by the cruiser's friends or family. Onboard food-related gift items include cakes and cupcakes, fruit platters, and specialty beverages.
The food was a Castaway Club perk. Platinum level Castaway members (guests who have completed at least 10 DCL sailings) are entitled to a gift that may include food items.
The guests are in a concierge level stateroom. Guests in concierge rooms that include a dining table are allowed to order any main dining room food to their stateroom.
The food is related to a special sailing. For example, DCL will often give a box of fancy chocolates to guests on holiday sailings.
It's an off-menu item. DCL may have some room service offerings available that aren't on the official menu. For example, you may be able to get Mickey-shaped ice cream bars delivered. If there's something you have hankering for and don't see it on the menu, it can't hurt to ask.
What do I do with my room service tray when I'm done?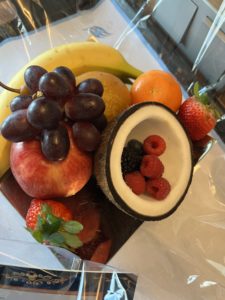 You can just put the tray in the hallway outside your room when you're done eating. The proper next step is to call room service again to ask them to remove the tray from the hall, but it will eventually disappear whether you do that or not.
If you have something messy on your tray, a half-eaten bowl of mac & cheese, for example, it's nice to cover your tray with a napkin when you put it out so that other guests don't have to look at your discards.
If you've ordered something from room service that you'd like to save for later, maybe you got a fruit bowl for breakfast but want to eat it later in the day, you may want to put it into your stateroom refrigerator so that your room attendant doesn't mistake it for refuse.
I just need some ice. Is that part of room service?
You can get ice by calling room service, or if you happen to see your stateroom host, you can ask them for ice as well. You can also use either of these methods to get things like extra glasses or a corkscrew.
Any other room service tips?
Some guests will order a pot of coffee just before bedtime. The DCL coffee carafe typically keeps drinks warm for many hours. By ordering at night, they'll be able to wake up to a pot of coffee without having to wait for a morning delivery.