Review: Breakfast at Primo Piatto at Disney's Riviera Resort
Primo Piatto is the main quick-service dining option at the Riviera Resort. Its menu features familiar foods, with a dash of flavors found in cafes found along the French and Italian riviera. The food quality is very good for a quick-service restaurant, as long as the kitchen isn't rushed.  Today we have an initial review of Primo Piatto's breakfast options.
Primo Piatto is on the ground floor of the Riviera Resort's east wing.  It's an attractive space, with white walls and tables, and blue and red seating.  Large glass windows run along one side of the restaurant, providing a view into the Riviera's courtyard, bocce court, and quiet pool.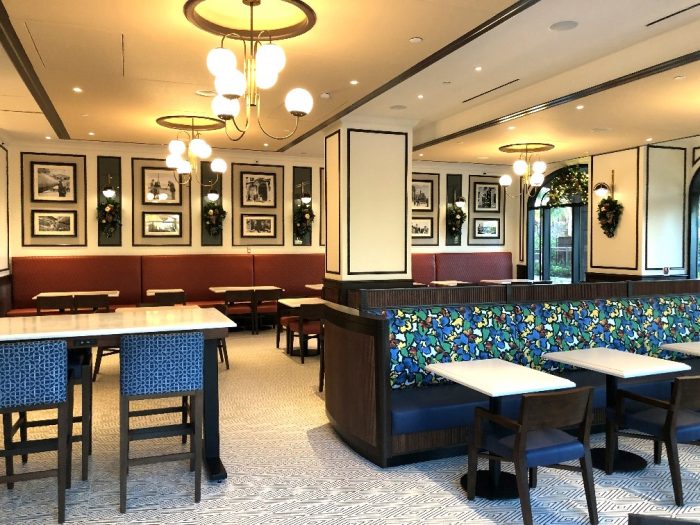 Quick-Service Breakfast Options
Our favorite breakfast items are the Croque Madame and the Primo Piatto Breakfast Platter.  The Primo Piatto Breakfast Platter starts with fluffy scrambled eggs served over polenta made with mascarpone cheese. Here, the polenta adds texture to the eggs, and the mascarpone offers a hint of sweetness. The flavors might not be what we normally eat for breakfast, but after a couple of bites you'll ask yourself why we don't. This dish comes with a brioche roll, bacon, and Italian sausage.  The vegan version of the Primo Piatto is the Scrambled "Egg" Bowl, with plant-based eggs, roasted vegetables, and plant-based sausage. These are served in an excellent, light-tasting olive oil pesto.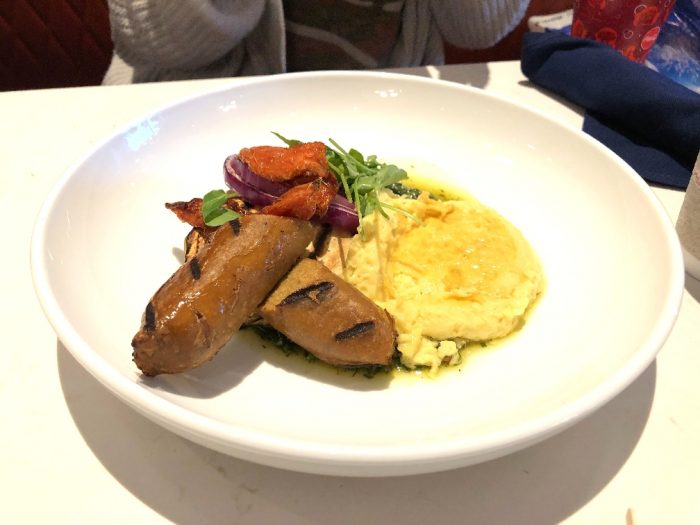 The Croque Madame is a grilled ham and Swiss cheese on a hearty sandwich loaf, topped with more Swiss cheese and a fried egg. Eaten together, it's ham, eggs, cheese, and bread – everything there is to love at breakfast, except perhaps hash browns. This comes with a protein selection, which includes bacon, sausage, or plant-based sausage.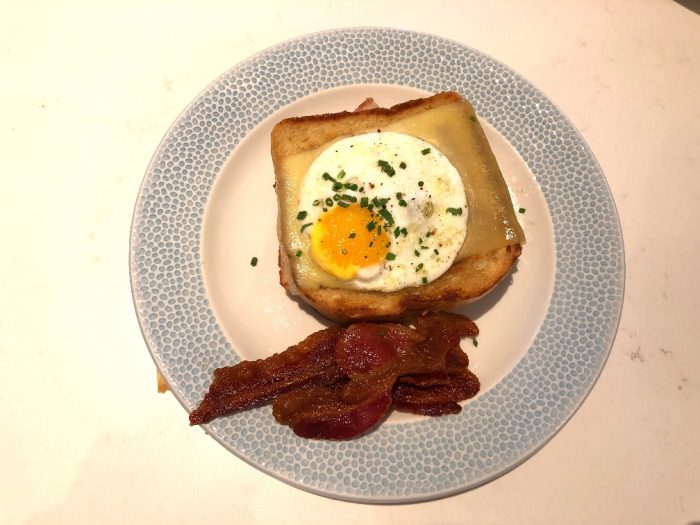 We also tried the Cinnamon Crumble 'French Toast' Bread Pudding.  The easiest way to explain this is as a cinnamon toast-flavored muffin, topped with a vanilla-flavored sauce.  It's served with a choice of meats, and I got it with plant-based sausage.  The main difference (to me) between these plant-based sausages and animal-based sausages is that the plant-based versions tend to dry out faster.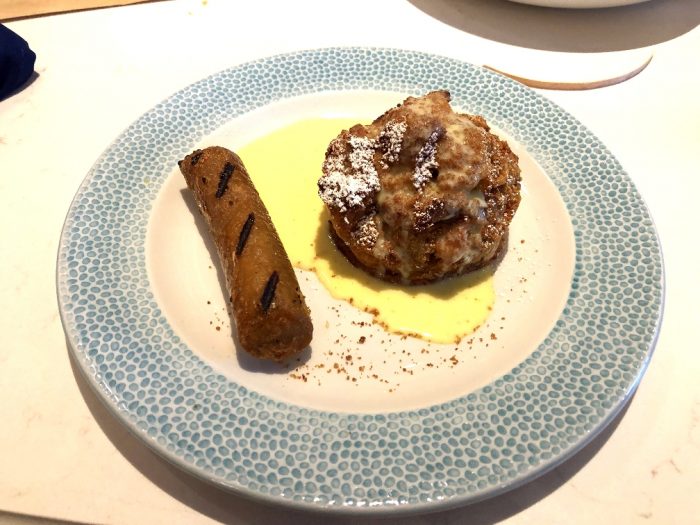 Here's the full breakfast menu, including the kids' menu for breakfast: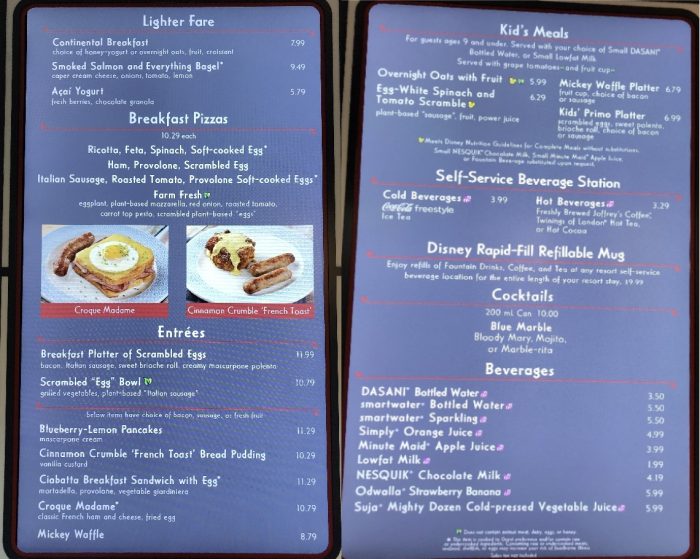 Grab-and-Go Breakfast Options
In addition to the table service menu, Primo Piatto has grab-and-go options.  The breakfast pastries looked good: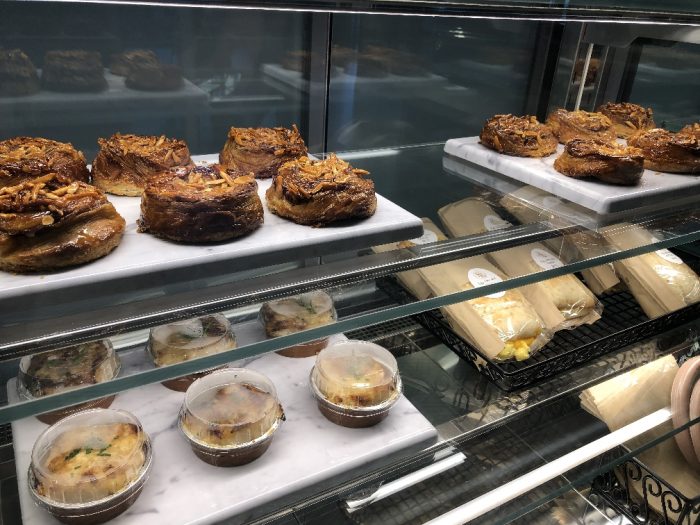 Along with these is usual set of Disney choices, including fruit, salads, juices, water, and more.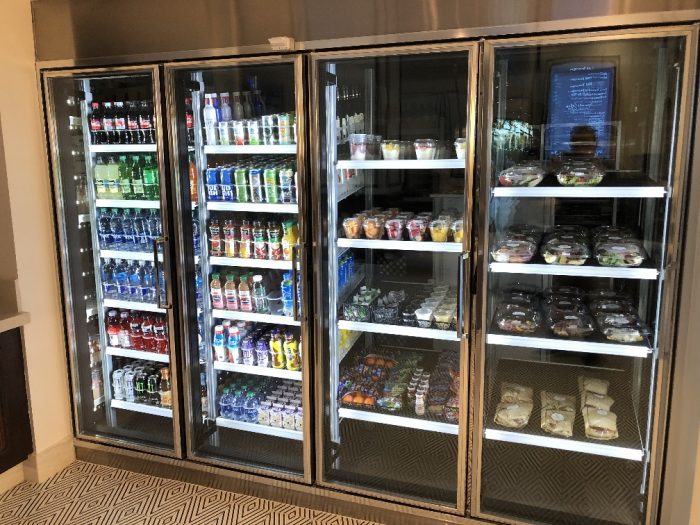 What are your thoughts about the options at Primo Piatto? Let us know in the comments.