SATURDAY SIX: The 6 Most Interesting, Unique, and (Sometimes) Weird Merchandise in WORLD SHOWCASE
This week's SATURDAY SIX takes a look at merchandise in Epcot's World Showcase! Regular readers of this fine blog series know how much we love our theme park merchandise (including the stuff we wish Disney would make) and nowhere at WDW is there a bigger collection of interesting items than at EPCOT. While there are a few pieces of merch we enjoy in Future World (including the great Mickey's Mini Garden in the Land Pavilion along with the Living Seas pressed penny) where we love to shop is in World Showcase. Today, we're counting down those great shopping experiences starting with . . .
# 6 – Basically, anything in Mitsukoshi store (Japan Pavilion)
We all have our favorite rides in EPCOT (but if yours isn't Spaceship Earth, you're doing it wrong) and the park has one of the best lineups of restaurants around (with the newest addition, Takumi-Tei, possibly being the best meal in all of Walt Disney World). However, one of my absolute favorite things to do is visit the Japan Pavilion and shop at the Mitsukoshi Department Store. Named after one of the oldest stores in Japan (founded in 1673), Mitsukoshi is one part pop culture explosion mixed with traditional Japanese items. Here you will find items featuring Godzilla, Transformers, and the Mighty Morphin Power Rangers, but also bonsai trees, calligraphy brushes, Samurai swords, and Japanese lanterns.
My personal favorite part of the store is the next level bonkers assortment of knickknacks and general office related items. Sponges shaped as cats, spoons shaped as fish, and dish scrapers shaped as penguins are just the tip of the iceberg. There are so many cool and unique items to be had, many of which you had no idea you needed (but you do, trust me).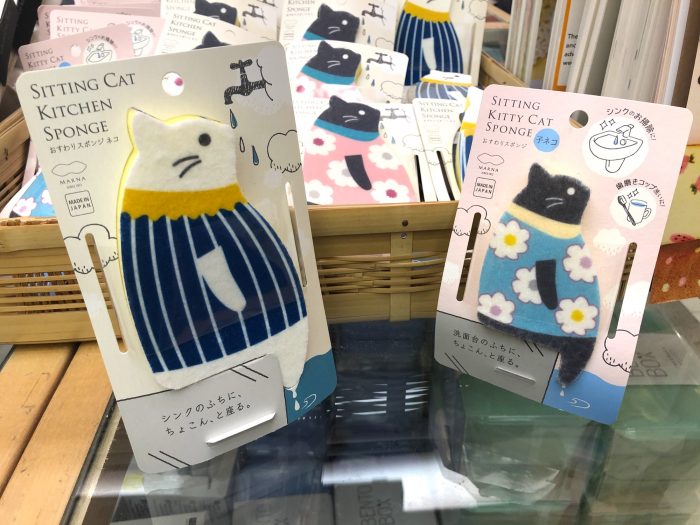 For Valentine's Day, one of the gifts I gave to my (vegan) significant other was this rice scoop from Mitsukoshi that was in the shape of a fish.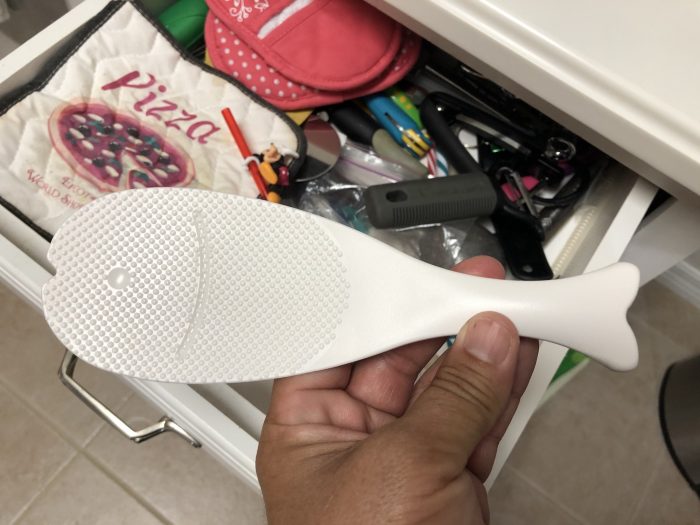 The scoop was made out of a non-stick material and worked great.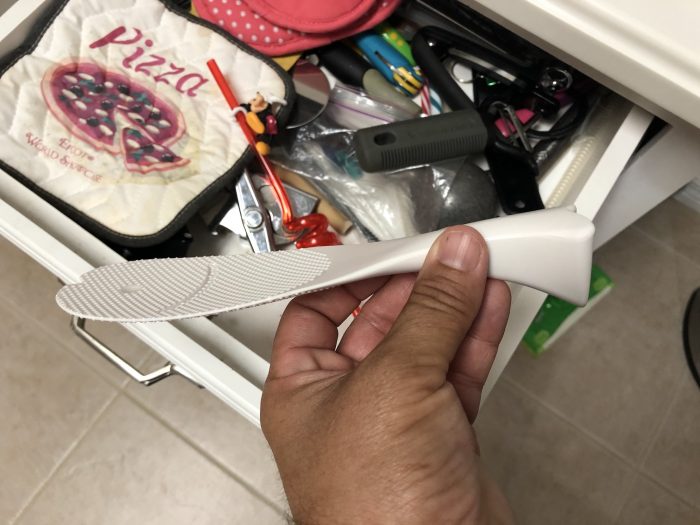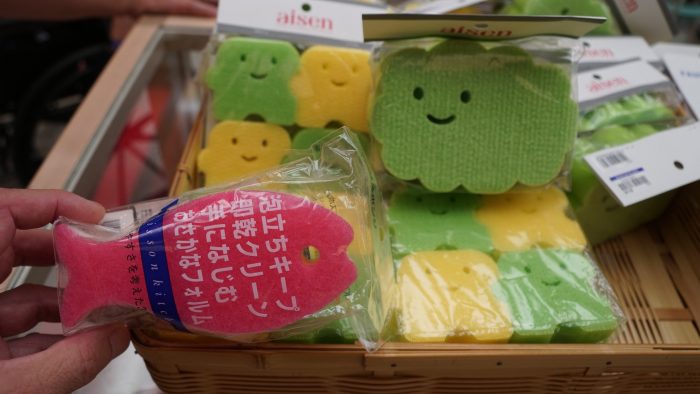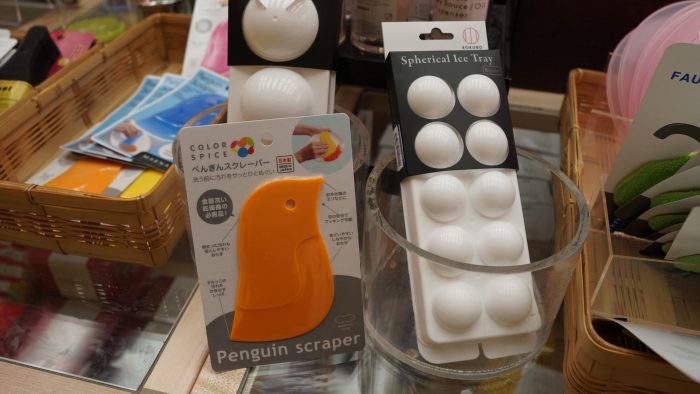 Mitsukoshi offers an interesting selection of books, including several dedicated to the art of origami. For me, the paper folding art of origami is like a Rubik's cube. Two things I really like and would love to master, but generally get frustrated quickly and give up. These Piperoid Animals below seem to be the love child of origami and my arch-nemesis, Metal Earth. How cute do they look though, right?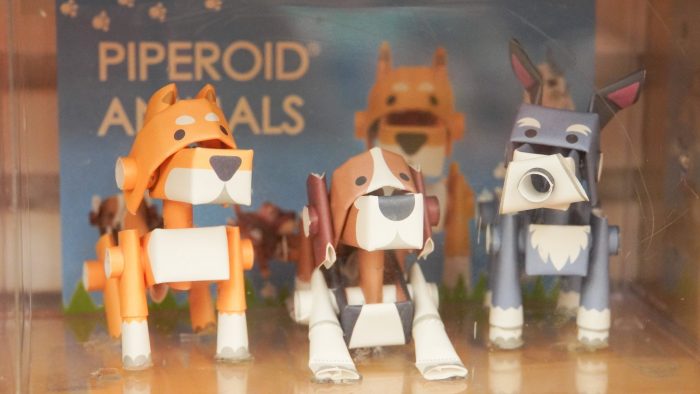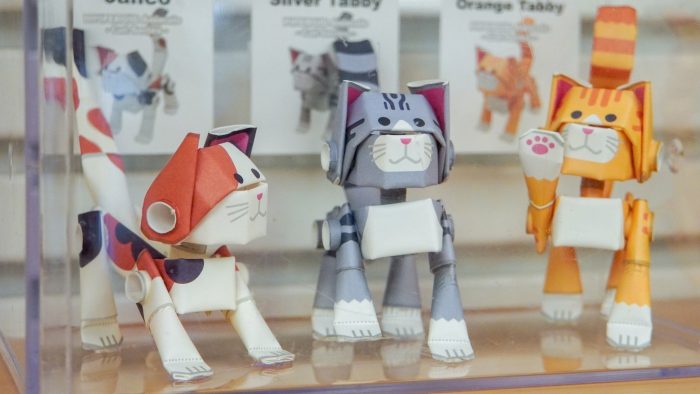 I'm not a huge fan of blind boxed pin sets, or blind bagged Wishables, but I was fascinated by these blind boxed bears that hug your iPhone charging cords (presumably to help prevent you from ripping the cord when you pull it out from the iPhone).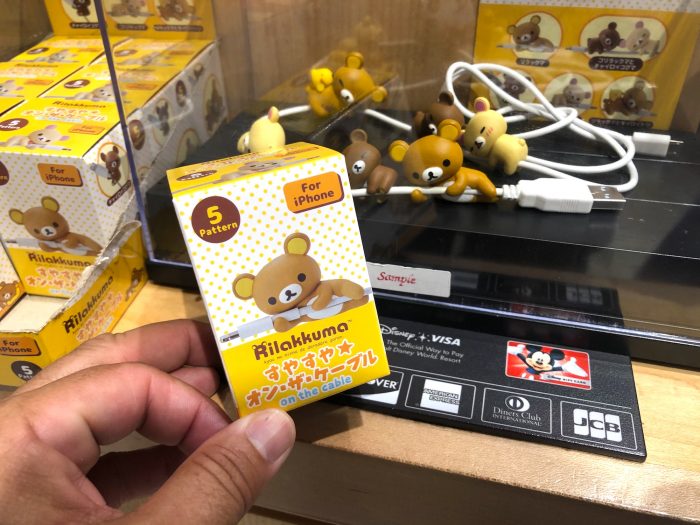 The small bird sleeping on top of the sleeping bear is my favorite.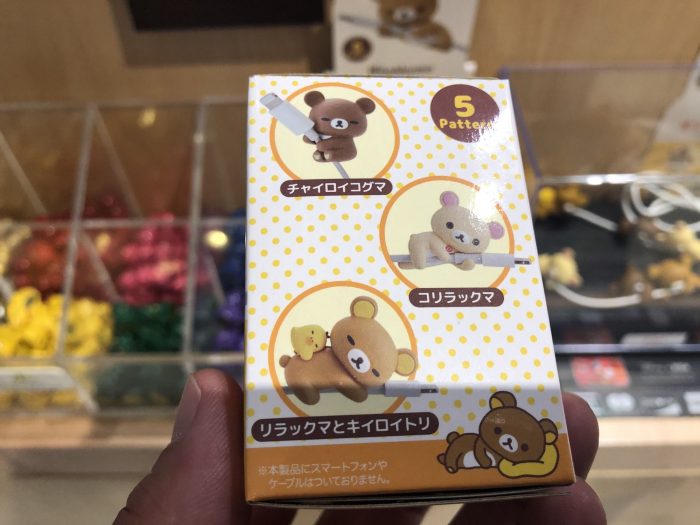 Be sure to stop by Mitsukoshi to see the selection of pearl jewelry along with the opportunity to pick your own pearl from an oyster — an overlooked gem at EPCOT with a very reasonable price.
# 5 – Animals Sitting on a Toilet to Poop (China Pavilion)
Another store in World Showcase that gives a similar feeling to being in Mitsukoshi is the Yong Feng Shangdian Department Store in the back of the China Pavilion. It is a gigantic store packed with some incredible items. Wall of actual swords? CHECK. Intricately designed wooden ships? CHECK. Jade sculptures? Gorgeous Chinese dresses? Paper fans and Florida's largest selection of chopsticks? All here. This is a store you could spend the better part of an hour just walking through and checking everything out. It also may contain the most amount of panda related items outside of mainland China. Panda stuffed animals, keychains, coffee mugs, earmuffs… you name it, this store has it.
But my favorite item is this Animal Siting on a Toilet toy. Who knows why it could possibly exist, but aren't you glad it does?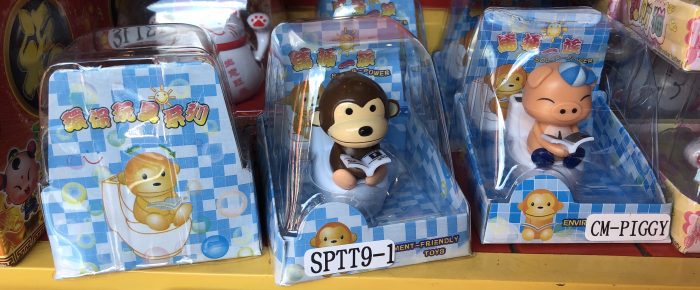 There are versions featuring both male and female pigs.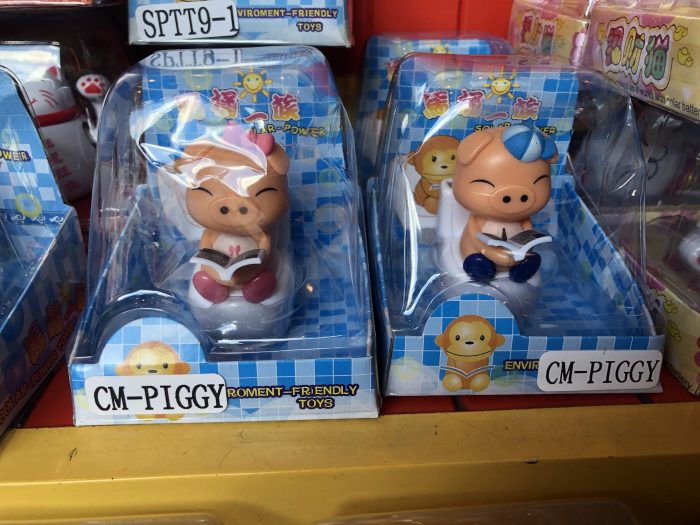 They are solar powered and are billed as an "environment friendly toy." I'm just wondering where these would go. Do people have them in their work or home office? Do you put an animal sitting on a toilet in your own bathroom? Why do they need to be solar powered? Do people keep them outside?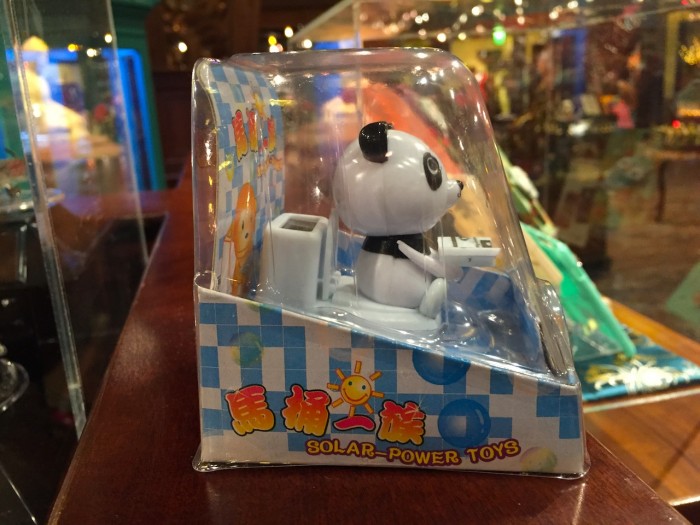 Speaking of animals, the China Pavilion is also your go-to place if you're looking to get a new wardrobe for your small dog. Socks, collars, silk Kimono robes, and – yes – even an outfit to make your dog cosplay as a panda. If you ever wanted Fido to dress better than your favorite theme park blogger, EPCOT is the place for you. I loved these "non skid" dog socks that have the non skid portion in the shape of a paw print. Nautical themed because when you take your miniature poodle out with you on the yacht, you want to make sure they're safe when walking from bow to stern.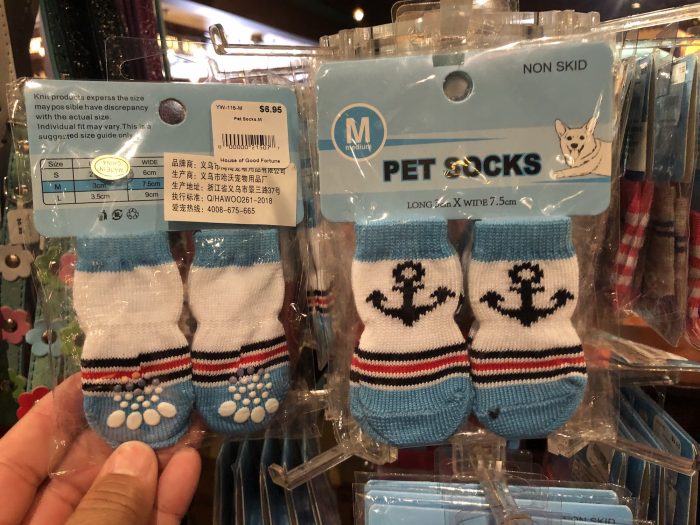 # 4 – Dale Hockey Puck (Canada Pavilion)
The gift shop in the Canada Pavilion is the perfect stop to get a piece of maple sugar candy, but what we love is the amount of merchandise featuring Dale as a hockey player. Not only can you get Dale (along with his mountain hiking partner Chip) on a variety of t-shirts, prints, and glassware, you can even get him on an actual hockey puck. Canada, don't ever change.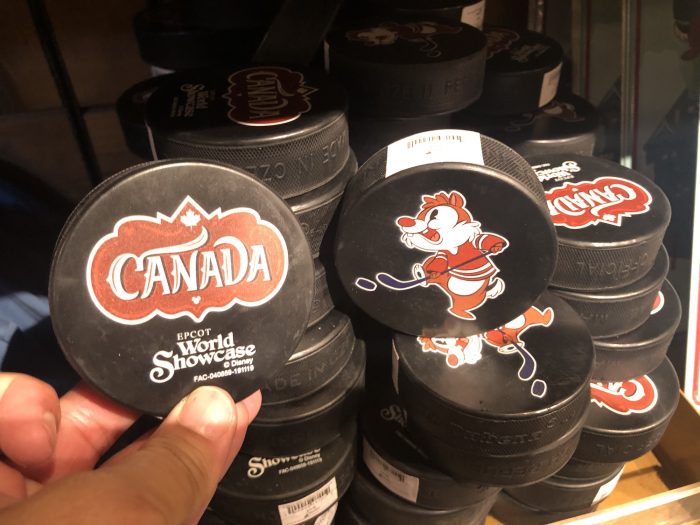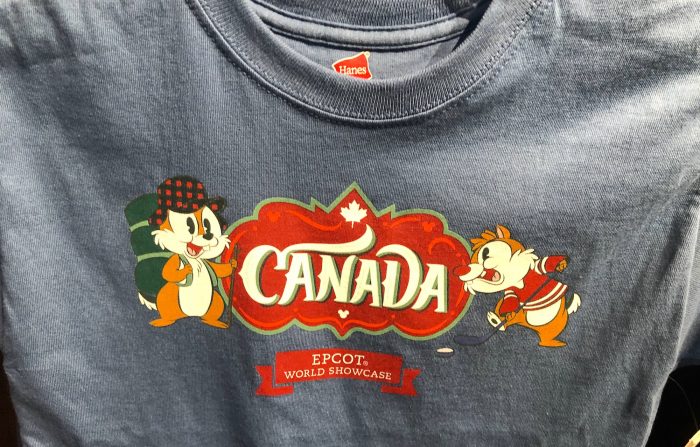 If you wanted hockey related puns and non-sensical shirts, the Canada Pavilion has got you covered.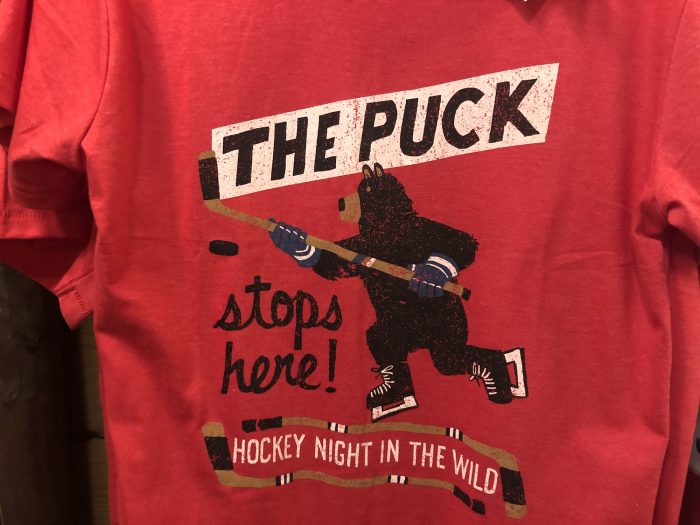 Imagine going to the Vacation Kingdom of the world and this is the shirt you buy.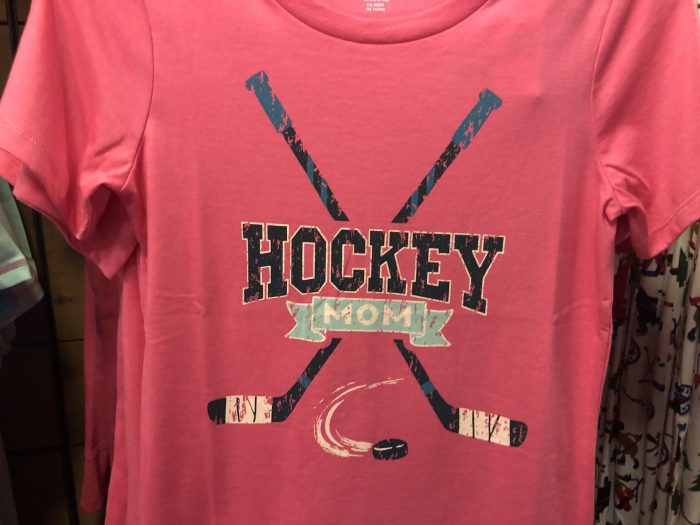 # 3 – Pickle Ornament (Germany Pavilion)
I have been informed by several members of the SATURDAY SIX staff that the pickle ornaments in the Germany Pavilion are, in fact, not weird. They allegedly stem from a German tradition in which children were rewarded for finding the pickle ornament hidden within their Christmas Tree. This practice would encourage children on Christmas morning to not just devour their presents under the tree, but instead to take a moment and appreciate the ornaments on the tree.
After careful consideration, I am here to debunk this tradition.
As a red blooded American, I spent much of my time as a kid going through high-sugar laden cereal boxes looking for the free toy inside. This did not make me appreciate the cereal surrounding the toy, and – if anything – greatly annoyed me. Every kid knows that unwrapping the presents is the highlight of Christmas morning. It's basically what we waited all year for. Wasting our time by having us go on a recon mission before opening up the gifts? Sorry, the pickle ornament tradition is just your grandparents' version of an ad you have to watch before a YouTube video.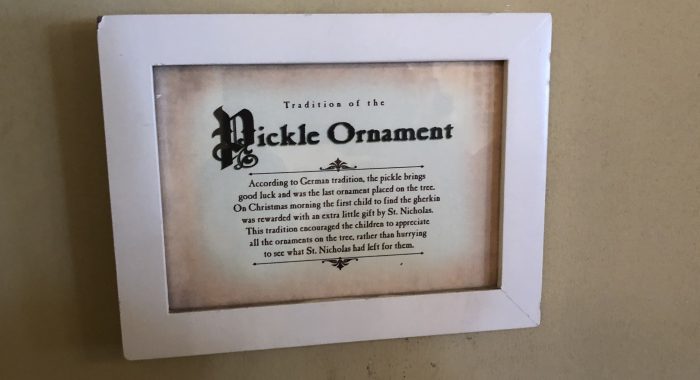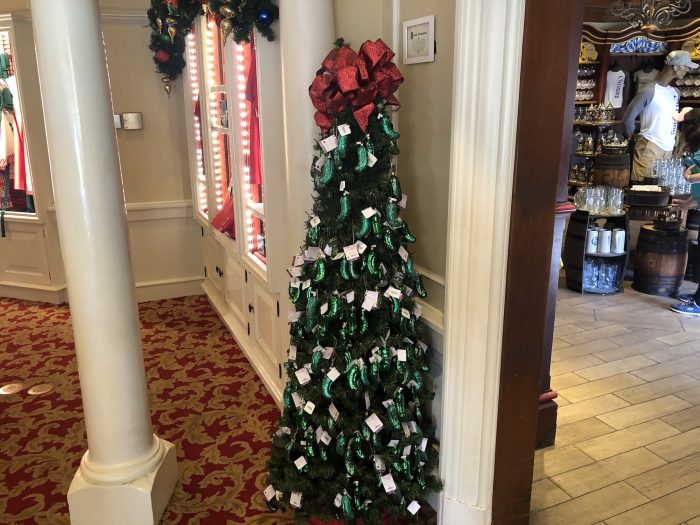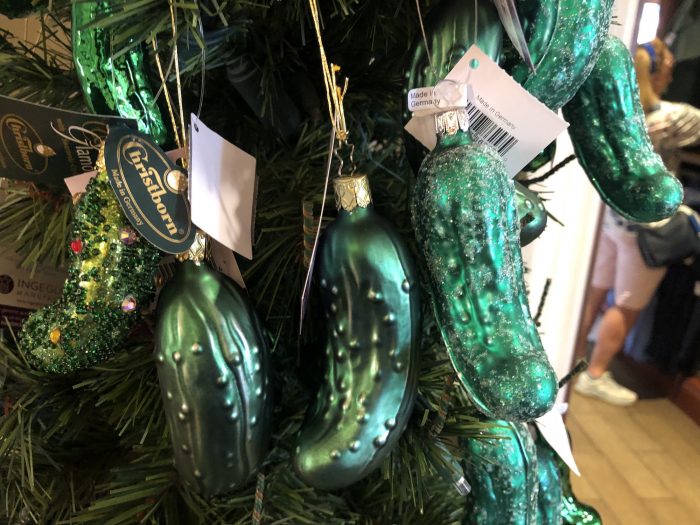 Instead of the pickle ornament, get one of these great salted pretzel ornaments instead!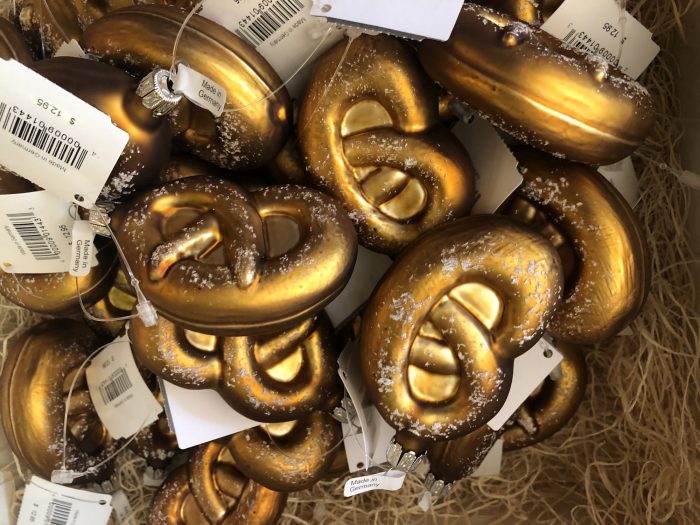 Because even Mickey and Minnie know what's up in Germany.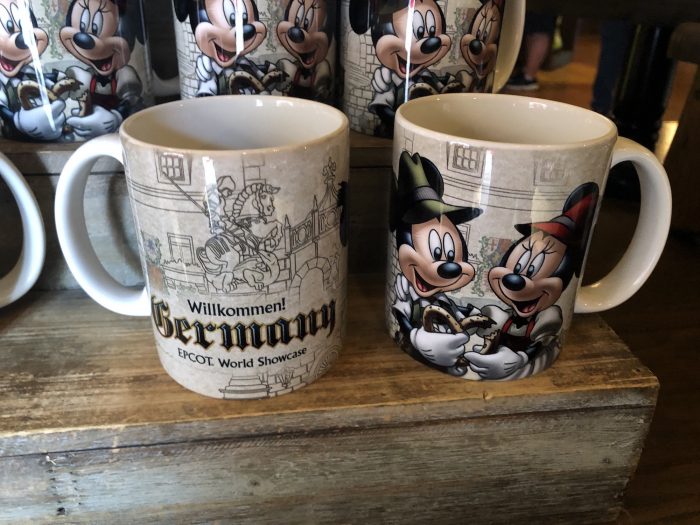 Would I lie to you?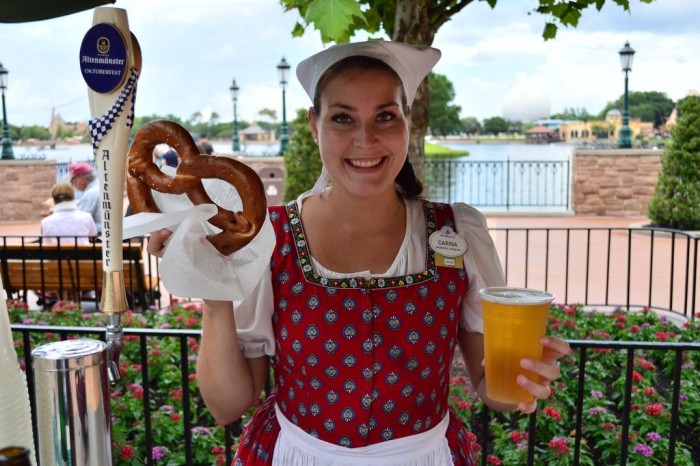 # 2 – Fish & Chips Shirt (UK Pavilion)
When it comes to iconic food items at Walt Disney World, we all have our favorite. Dole Whips. Premium Mickey Bars. Turkey Legs. The Kitchen Sink Sundae. EPCOT itself is loaded with must-try items, including the humongous pretzel in Germany mentioned above, the cheddar cheese soup in Canada, and the pizza at Via Napoli. For us, THE staple of every Disney vacation is a plate of fish & chips at the UK Pavilion. In the "real world," I never order fish & chips. At EPCOT? It's a must.
Across from Rose & Crown and the Yorkshire County Fish Shop is a gift shop selling cute versions of the UK's "fish and chips" on several items.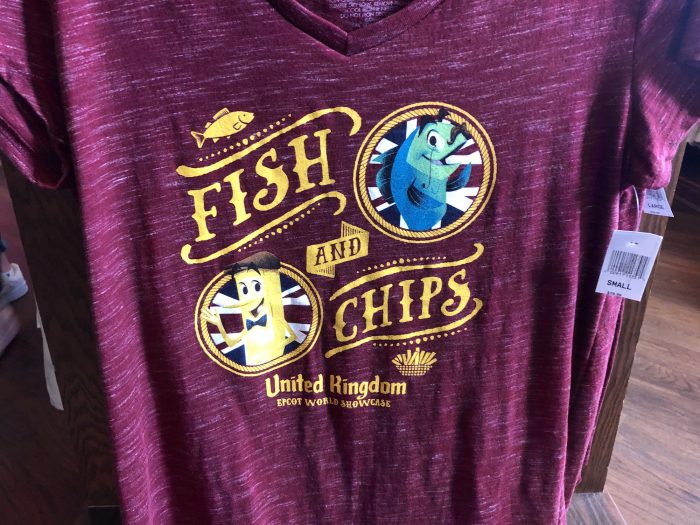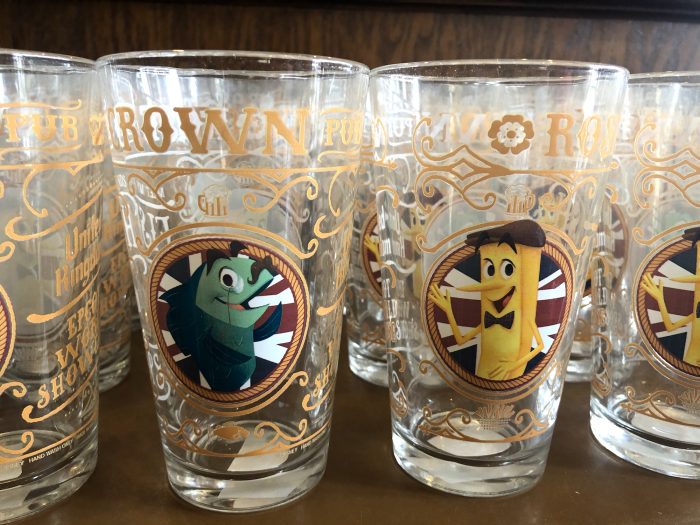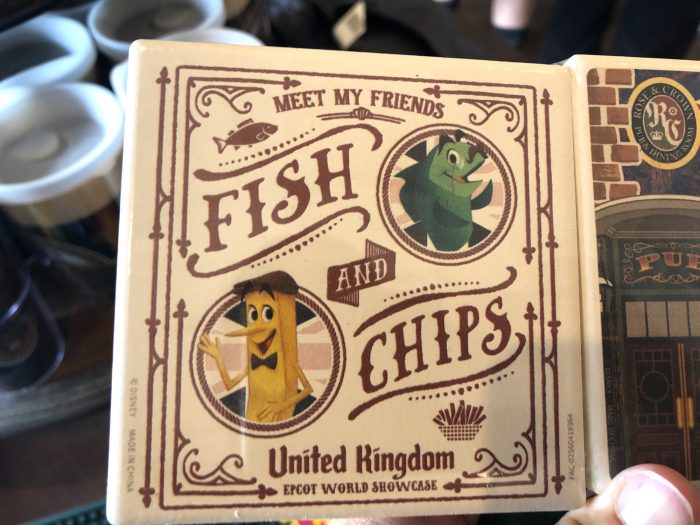 There's plenty of other Rose & Crown themed items to get as well, including an incredible bar mat.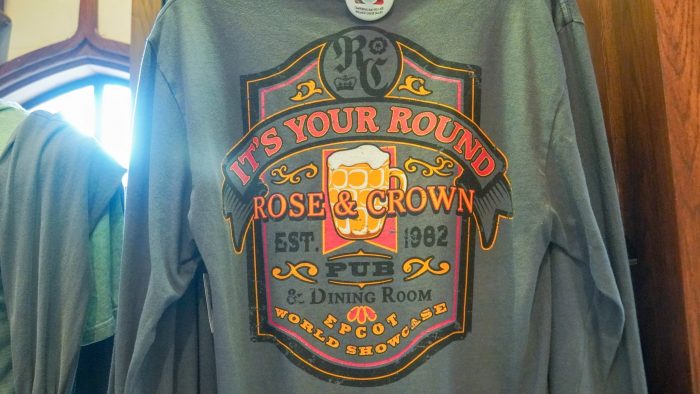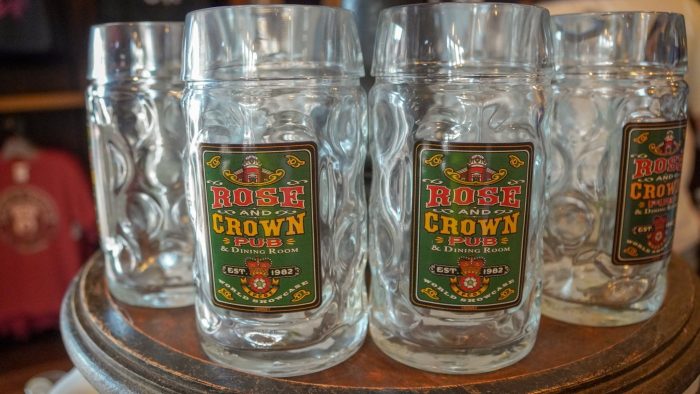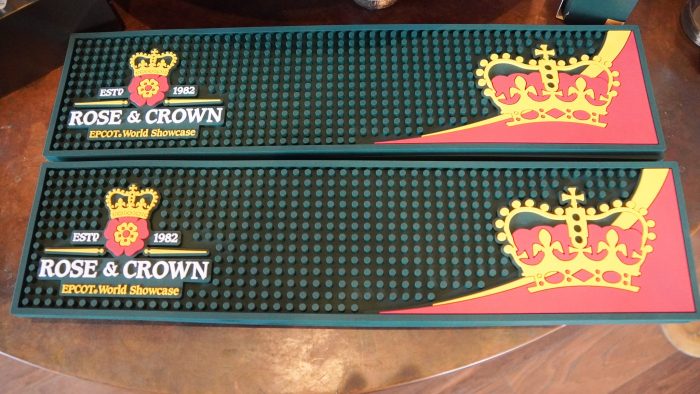 # 1 – Camel Shirts (Morocco Pavilion)
In our monthly the Magic, the Memories, and Merch Disney Outlet Photo Reports, I hand out a lot of grief to the Disney shirts which have a great looking face shot of a character on the front, only to turn the shirt around to see the back of the character sticking themselves through the shirt. It looks ridiculous. This camel shirt takes it to the next level, though. That said, I think Morocco is hands down the most underrated Pavilion in World Showcase. It is visually stunning and – for me – the only one that feels like I'm walking into a completely different environment as I explore it. Granted my world view is shaped by movies, but the Morocco Pavilion makes me feel like I am shopping in Aladdin's Agrabah marketplace or am about to turn the corner and see Indiana Jones shoot a swordsman. We buy a lot of gifts for our family at the stores in this area, including incense and traditional Moroccan clothing.
So anyway, about these camel shirts. First up we'll look at the version for kids.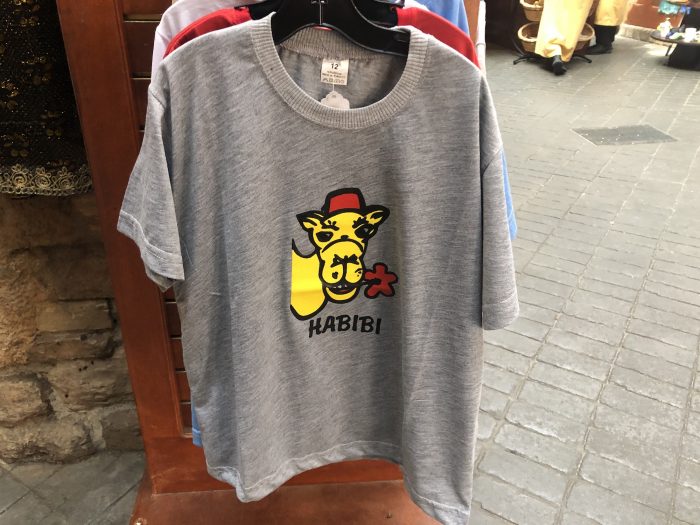 And the back.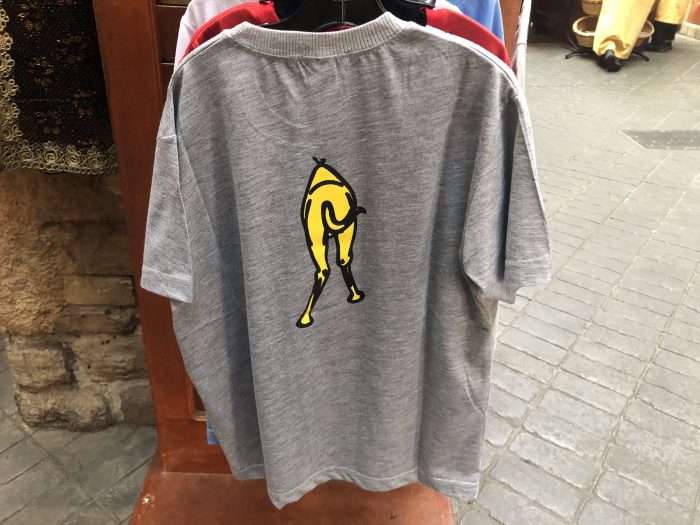 The adult version has a bit more decorative flourish on the front.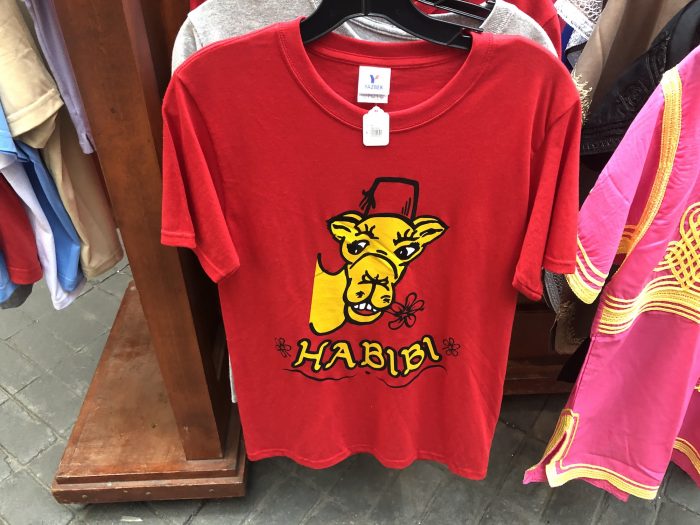 Same camel butt on the back.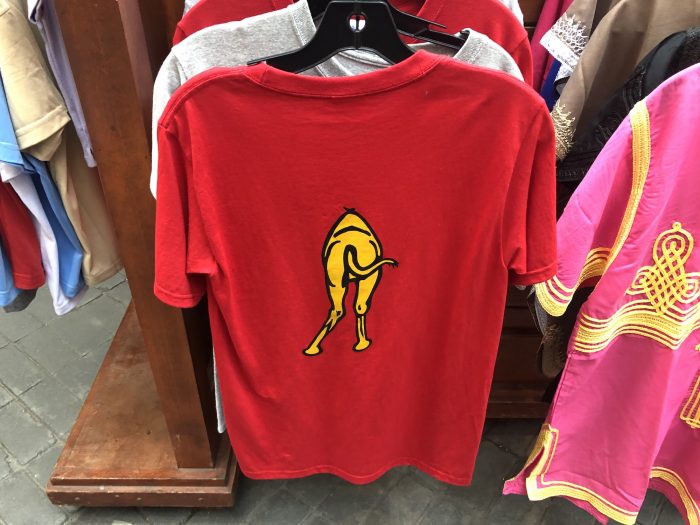 Thankfully our prayers were answered and a more realistic version of the shirt was created.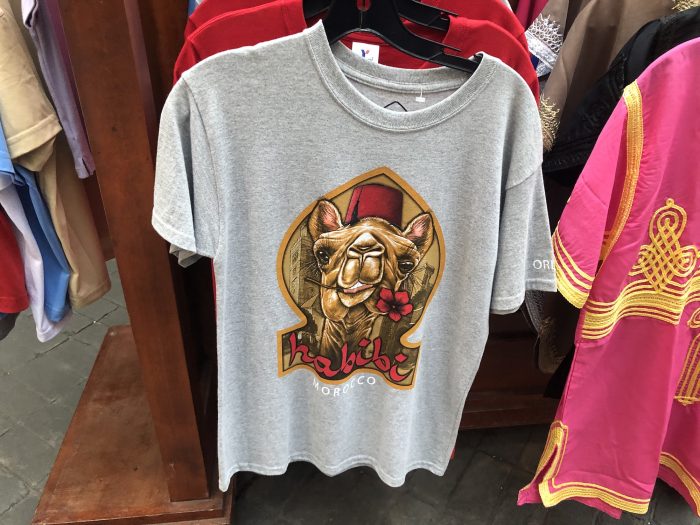 Never too early to shop for Christmas presents!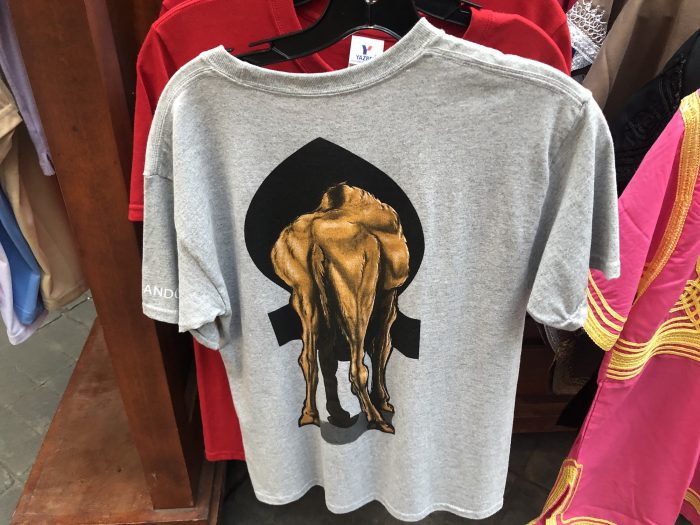 Remember the golden rule of Disney merchandise shopping: ALWAYS LOOK AT THE BACK OF THE SHIRT NO MATTER HOW GOOD THE FRONT IS.
So there you have it: A Look at Merchandise in EPCOT's WORLD SHOWCASE! See you next weekend for the latest installment of the SATURDAY SIX, where we'll look at something fun from the world of Disney and Universal. If you enjoyed yourself, be sure to check out The Magic, The Memories, and Merch! articles covering the latest from the Disney Outlet Stores. You can also follow Your Humble Author on Twitter (@derekburgan).
If you enjoyed this article, you will surely like the following: 
6 Pieces of Disney Merchandise That Doesn't Exist (but Totally Should!)
Disney Merchandise We Really – No, REALLY – Want To See
The Best Resort Specific Merchandise at Walt Disney World
Special Thanks to The Elite Brandon Glover, the bio-est of all reconstructs @bioreconstruct, World Traveler @FelipeWWoHP, Captain Cruiseline Scott Sanders of the world famous Disney Cruise Line Blog, my personal protege Hunter "Elvey" Underwood, the SAT SIX Fun Squad of Parkscope Joe and Nick, hot shot Michael Carelli, and Hermione Granger's tutor Megan Stump for their invaluable assistance with this article. The SAT SIX is inspired each week by goofballs Aengus Mackenzie and LitemAndHyde and you Potterheads will  enjoy Meg's other blog work over at the Central Florida Slug Club.