SATURDAY SIX: Six Reasons We Love Disney's Animal Kingdom Lodge
This week's SATURDAY SIX takes a look at Six Reasons We Love Disney's Animal Kingdom Lodge. Each of Walt Disney World's onsite hotels have their own unique feel, and that rings true from the value end (such as Art of Animation) through the moderates (including Port Orleans French Quarter) and all the way up to the deluxe resorts like The Contemporary. That said, no hotel in Orlando stands more by itself as a one-of-a-kind original experience than Disney's Animal Kingdom Lodge.
–
Located directly next to Disney's Animal Kingdom theme park (and absolutely nothing else,) many guests consider Animal Kingdom Lodge (AKL) too far out of the way to consider staying at. While the wait for the Disney buses may be a little bit longer than other resorts on property, today's edition of the SATURDAY SIX is going to count down six reasons we feel everyone should consider staying at AKL as part of their next vacation, starting with…
# 6 – Indian-style Bread Service at Sanaa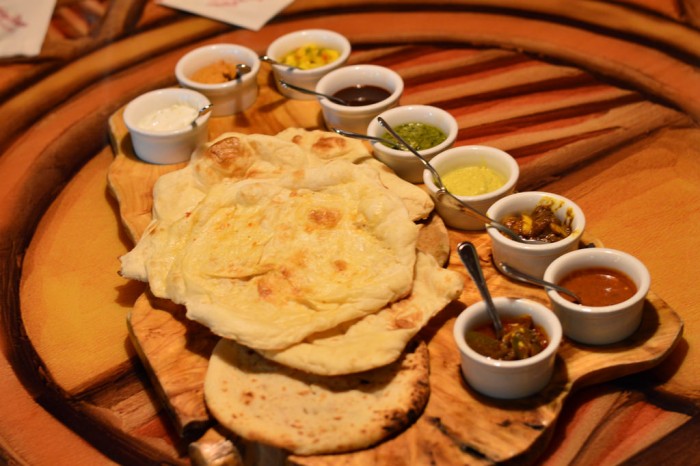 –
Animal Kingdom Lodge is broken up into two parts, the main hotel (Jambo House) and the Disney Vacation Club wing (Kidani Village.) In these two areas there are three of Disney's best restaurants including Boma and Jiko at Jambo House, and Sanaa at Kidani Village. Unlike many restaurants at WDW that have dumbed themselves down in order to maximize profits as part of Disney's Dining Plan, AKL's restaurants deliver an experience that is true destination dining. The standout of these three venues is Sanaa's bread service. With five different types of Naan bread available and up to nine different accompaniments to go with it, this is a bread service like no other.
The current pricing for this bread service includes a choice of three breads and three accompaniments for $10.49, or all nine accompaniments for $12.99. This may be one of the best values on Disney property as not only are you getting an amazing amount of food, but the presentation and overall taste factor is through the roof. You can also add extra pieces of Naan bread for $2.00 each, and this is one appetizer that the entire table can share the experience of. Pretty much anyone who has ever tried the Sanaa bread service becomes an immediate apostle for it. including our friends the Disney Hipsters. It's that good. Let me remind you that guests do not have to be staying at the Animal Kingdom Lodge to enjoy lunch or dinner at any of the onsite restaurants. Reservations are encouraged, however you can also order the bread service at Sanaa's bar area if you can not score an ADR, or just want to walk up.
–
Other dining highlights at AKL include Boma's amazing buffets for breakfast and dinner, and Jiko's award winning menu and shockingly large amount of wines from South Africa. How extensive is their wine list? Jiko actually came in 11th in Food & Wine's 50 Most Amazing Wine Experiences in America. If you find yourself eating the same old hamburgers, chicken nuggets, or ubiquitous pizza flatbreads on your next Disney vacation, do whatever you can to at least make one stop at AKL to try something different. You will not be sorry.
PRO TIP: Sign up for the free culinary tour at Disney's Animal Kingdom Lodge.
–
# 5 – Zebra Domes
We recently covered Zebra Domes in our article on top Disney snacks found outside of the theme parks. They are the signature snack at AKL, and while they were formerly only available at Boma (as if you needed another reason to make an ADR) they can be bought in packs of four at Jambo House's The Mara and Johari Treasures at Kidani Village. It's hard to explain why the Zebra Domes are so good – and the fact that you get to enjoy them in such a truly amazing atmosphere probably plays a part in it – but anyone who looks forward to their next Dole Whip or Mickey Premium ice cream bar knows what we are talking about. Forget the world class resorts and multi-million dollar E-Ticket attractions, sometimes it is just the snacks that make us fondly remember our last Walt Disney World vacation (and count down the days until our next one.)
# 4 –  The Lobbies
Walt Disney World has some amazing lobby experiences across property, including Wilderness Lodge and the stately Grand Floridian, but we love our first steps walking into Jambo House and Kidani Village. The huge open feeling of Jambo House is breathtaking, along with the stunning chandeliers above. You walk into the lobby of Jambo House on third floor of the resort, and right below you are the restaurants Boma and Jiko, so while walking near that area you will get some amazing smells that almost have you floating towards those restaurants like Yogi Bear to a picnic basket. There are many areas in the lobby to just sit down and take in all the atmosphere, including next to crackling fires. Disney in general is very good about transporting you away from the Real World, but Animal Kingdom Lodge just might be the best at accomplishing that feat.
–
Kidani Village's lobby is much more intimate than Jambo House, but it has elements that really give it the wow factor including large lighting fixtures made out of blown glass to resemble fire, as well as an unbelievable look into the savanna area. There are two large outdoor viewing areas at the end of Kidani Village's lobby, and we love to grab a pack of Zebra Domes and just sit on a huge rocking chair watching the zebras and giraffes graze. This is the type of experience that separates Disney from its competition, and one that you will remember for years.
# 3 – The Merchandise
It is very rare when merchandise makes our list for things that we enjoy at Disney resorts because, let's face it, for the most part the merch at the hotels stink. It's the same stuff literally everywhere. The toys and shirts you see at Port Orleans Riverside are the exact same ones you will find at the Grand Floridan and Pop Century. The gift shops at Animal Kingdom Lodge are not like this. Jambo House's Zawadi marketplace is one of my favorite stores on Disney property. It is HUGE and filled with many items you can't get anywhere else at WDW. There are unique pieces of African art and clothing. There are a ton of different types of instruments, all of which at least feel handmade and not off an assembly line. Johari Treasures at Kidani Village is much smaller than Zawadi, but it also offers a decent amount of unique items that can let you deliver a more interesting story when you return home to tell your friends, family, and coworkers about your trip. Five, Ten, Twenty years from now you probably won't remember where you got your Disney Parks 2015 t-shirt, but seeing your small bongo drum is more than likely going to instantly bring back vivid memories of AKL.
PRO TIP: In the refrigerated cases at the back of the Zawadi Marketplace you will find several bottles of African beer available, including Tusker Premium Lager.
–
# 2 – The Pools
More and more of my trips to WDW and Universal have young children in my family accompanying me, which means pools are becoming a bigger and bigger factor in deciding where we choose to stay. The Uzima pool at Jambo House and the Samawati Springs pool at Kidani Village are two fantastic resort pool areas. Both have great slides, including the massive 128 foot slide at Samawati, which is among the best on property. Directly next to Samawati is the incredible Uwanja Camp, an elaborately themed playground featuring water cannons, a bubbling geyser, and a huge water tower.  I am a huge proponent of encouraging guests to build in a "resort day" to their week long WDW vacations, but AKL's pool areas are also the perfect way to decompress after a busy day touring the theme parks.
PRO TIP: While the kids are enjoying the pool, adults can enjoy the benefits of Private Dining by the pool. These meals (including Tandori Chicken and Grilled Lamb Kefta) are served in a bento box and will be delivered directly to you poolside.
–
# 1 – The Savannas
This is it. This is by far and away the number one reason to book a stay at the Animal Kingdom Lodge. The beautiful savanna areas at both Jambo House and Kidani Village will give you an opportunity to see zebras, giraffes, and almost 30 other animals roaming the grounds. All Disney hotels have some sort of "preferred view" option when it comes to choosing hotel rooms, but "savanna view" at the Animal Kingdom Lodge is right at the top of a very short list of the best views in all of Walt Disney World. You can certainly make a case for "Magic Kingdom view" at, say, The Contemporary, but in my mind a savanna view room is one of the ultimate unique experiences at WDW.
You don't have to be staying onsite to at least get a taste of what this is like, as both Jambo House and Kidani Village have areas where anyone can walk out and take in the view. There are Cast Members who will answer any questions you have about the area and helpful tools that make it easy to identify what species of animal you are looking it.
Each savanna view room at Jambo House and Kidani Village also comes with a sheet that helps you in identifying the various animals who are out 24 hours a day (we had a zebra munching on some food near our room at 3AM in the morning.)
One thing I found truly amazing was how many opportunities there are to experience the savanna.  There are huge windows overlooking the area while walking through the hallways of Kidani Village. There are seats at various restaurants with a top notch view. There are nooks and crannies throughout both Jambo House and Kidani Village in which you can just stop, relax, and view something you just can't see at any other resort in Orlando.
–
HONORABLE MENTION: All The Little Touches Throughout the Resort
One thing that is fantastic about the Animal Kingdom Lodge is that it feels uniquely Disney, but doesn't hit you over the head with characters or larger than life theming. Everything feels right. While there definitely are hidden Mickeys throughout the resort, in many ways AKL reminds me of the early years of EPCOT Center, before that park became Epcot and transitioned into just another Disney park. Animal Kingdom Lodge is special, and doesn't need a three story tall Simba or Mufasa to inform you of it's African theme. The artwork alone throughout the resort could fill up its own article. The lobbies and hallways are filled with incredible pieces of art straight from Africa, almost to the point where you're getting a free museum trip with your hotel stay. One of the fun things I like to do at Disney's Pop Century is walking through the lobby and looking at the back wall filled with Americana. Animal Kingdom Lodge is like that taken to the next level, and it's everywhere you go.
So there you have it: Six Reasons We Love Disney's Animal Kingdom Lodge. See you next weekend for the latest installment of the SATURDAY SIX, where we'll look at something fun from the world of Disney and Universal. If you had fun, be sure to check out The Magic, The Memories, and Merch! articles, or, for your listening pleasure, check out the Pardon the Pixie Dust podcast. You can also catch Your Humble Author's attempt to make 1,000,000 typos on Twitter: @derekburgan
If you enjoyed this list, you may also enjoy:
Six Reasons We Love Disney's Contemporary Resort
Six Surprises of Disney's Art of Animation Resort
Six Reasons We Love Disney's Port Orleans French Quarter
Six Reasons To Check Out Disney's Pop Century Resort
Special thanks to crack staff photographer Brandon Glover, Disney photographer icon Tom Bricker, photo wunderkind Mike Sperduto, and Megan Stump for their invaluable assistance with this article. Be sure to also check out Brandon on The Park Blogger podcast with co-hosts Aengus Mackenzie and Brian Carey.