What To Do With Teens at Downtown Disney Once DisneyQuest is Gone
So you want to check out Downtown Disney during your next trip to Walt Disney World. The problem is…you have teenagers. Will they want to be pulled away from the thrill rides and water parks for several hours of shopping? Will there be anything for them? Is it even worth a try?
For years, DisneyQuest was a haven at Downtown Disney for older kids and teens, an interactive playground of sorts with experiences such as the Virtual Jungle Cruise and CyberSpace Mountain. It first opened in 1998, and unfortunately it hasn't changed much since then. In fact, during my last visit, DisneyQuest reminded me more of my local arcade with its faded carpets and outdated technology than something I would expect to find at Disney World. What I did notice was that older kids and teens, despite having smartphones in their pockets and the latest game consoles at home, were still having fun playing around DisneyQuest. But now, Disney has announced that DisneyQuest will be closing its doors for good in 2016.
So the question is: what does Downtown Disney have to offer this age group now? Is it all just stores and restaurants for Mom and Dad? No way! During my last visit to Downtown Disney, I discovered many restaurants and stores that I think teens are sure to enjoy. Like what? I'm here to tell you all about it with What To Do With Teens Once DisneyQuest is Gone.
Make Way for Disney Springs:
If you haven't seen Downtown Disney these days, you really haven't seen it at all! Disney World's shopping and dining district is currently being transformed into the newly imagined Disney Springs with many new stores and restaurants. Several, though not all, of the destinations that I think might interest teens are a result of this renovation and new places are opening their doors all the time! If you are planning to visit Downtown Disney in the near future, however, know that the transition is still ongoing and you may encounter some construction.
My Picks for Teens: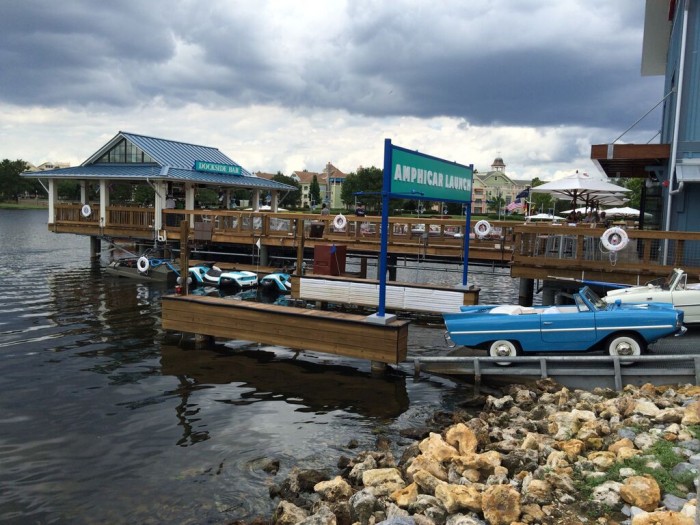 The BOATHOUSE – This is probably my new favorite place at Disney Springs! The BOATHOUSE is a classy, nautical-themed restaurant with some impressive, albeit pricey, dishes. What this place is most known for so far is its Amphicars: old fashioned cars that are also boats! For $125, guests can enjoy a 20-minute cruise aboard an Amphicar; and every time a car launches, a crowd gathers to watch; It's that cool! Most American teens dream of cruising around in a flashy car, so a literal cruise in a floating car is an experience they won't forget and which I'm sure will produce a number of selfies.
Marketplace Co-Op – One of the best stores currently in the Marketplace section of Downtown Disney these days is the Marketplace Co-Op. This store is divided into themed sections, each with its own awesome merchandise. While the "Disney Centerpiece" section gets a lot of attention, there are other that I think teens will like. For example, D-Tech on Demand gives teens the chance to design their own phone cases or browse Disney-themed electronics. My personal favorite picks for teens? The new Once Upon a Time and Star Wars case designs! Teen girls may also like Cherry Tree Lane and its purses and accessories, and teen boys and girls who love sports will want to check out the Trophy Room for vintage sports apparel.
Starbucks at Downtown Disney West Side – There are two Starbucks locations at Downtown Disney. The first is a walk-up counter in front of the World of Disney Store at the Marketplace and the second is a full-size location at the West Side. The latter has the most seating of any Starbucks at the Disney World Resort and boasts a trendy, modern design that I think will appeal to teens. It even has grass growing on the roof! While teens are inside sipping their favorite coffee treat or checking their phone, they should definitely check out the interactive chalkboard that reflects themselves and can be drawn on. It also offers a glimpse at what's happening at the exact same time in the Downtown Disney District Starbucks in Anaheim, California! Lastly, coffee connoisseurs will appreciate the Clover Bar which features rare, special reserve coffees.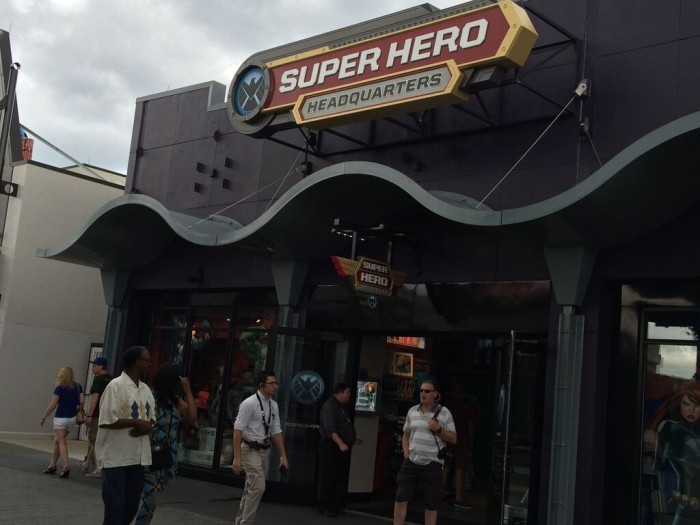 Sound Lion – Is your teen a music fan? If so, make sure they check out the new Sound Lion store at The Landing! Sound Lion is a cool spot to shop for speakers, ear buds, headphones, and anything else related to excellent sound and popular tunes.
Super Hero Headquarters – New to Downtown Disney is the Super Hero Headquarters, a store filled with Marvel merchandise! If you haven't heard, Marvel is big with kids and teens these days and this store is chock full of tees, action figures, accessories, gear, and more. I especially noticed a heavy presence of Avengers and Guardians of the Galaxy items during my last visit. The store also has excellent theming and little details Marvel fans will appreciate.
Food Truck Park – If your teen is hungry, which is probably nothing unusual, be sure to have them check out the Food Truck Park. Currently located at the West Side of Downtown Disney, these food trucks have their own individual themes inspired by different locations around Disney World. The menus range from grass-fed beef sliders at World Showcase of Flavors to chicken and waffles at Fantasy Fare to something for more adventurous taste buds, like the naan and samosa dipping safari from the Namaste Café. There's just something fun and youthful about grabbing a meal on the go from a food truck, especially when they look this cool, don't you think?
Splitsville Luxury Lanes – Remember back in the day when the local bowling alley was the cool place to hang out? Well, Disney is making bowling cool again with Splitsville Luxury Lanes. Here your teen can bowl a frame or two and show their competitive side in this two-floor complex with live music, dancing, fun décor, and food ranging from sushi to pizza; Something for everyone and lots of yum! If you're looking to chow down in the Splitsville Dining Room, I would recommend playing it safe by making a reservation in advance here.
AMC Downtown Disney 24 Dine-In Theater – This theater is a teen's dream! Not only can they catch a blockbuster flick while at Downtown Disney, they also can get the chance to feast on burgers, mac and cheese, tacos, and sundaes while they watch. Yes, these theaters have not just comfy seats, but tables too.
Tren-D – This store is the ultimate shopping destination for teen girls visiting Disney World. Tren-D has made Disney Princesses and characters cool for teen girls again with stylish and trendy tops, dresses, purses, and accessories that are Disney themed but fashionable enough to wear out and about. It should definitely be on your Downtown Disney to-do list if you have teen girls in tow.
Curl by Sammy Duvall – This Downtown Disney store is the ultimate shopping spot for teens who enjoy fun in the sun. Curl by Sammy Duvall is filled with sporty brands that I'm sure your teen boy or girl is familiar with, such as Billabong, GoPro, Roxy, Skull Candy, Oakley, O'Neill, TOMS, and Vans. It has sections for both guys and girls and is very spacious. My personal favorite item? Hand painted TOMS shoes, some of which were Disney themed and ready for purchase right there in the store!
Coming Soon:
NBA Experience – So with DisneyQuest closing, what's taking its place? The NBA Experience! What we know so far is that the NBA Experience will be both a shopping and dining destination with interactive, immersive activities for fans. If your teen lives for the NBA Finals or knows their favorite team's roster by heart, or if they just love the game of basketball, this new experience looks to be a future must-do and a big favorite.
Blaze Fast Fire'd Pizza – This delicious new addition to Downtown Disney lets guests to create their own pizzas and then have them cooked up fast in a super hot oven. The Touring Plans Blog recently shared an article telling about Blaze Fast Fire'd Pizza and explained the average cook time for an 11 inch pizza is only 3 minutes! Hey, I told you it was fast. Teens are sure to enjoy a meal at Blaze Pizza as pizza is often considered a separate food group to some teenagers' thinking, and because pizzas can be a creation all their own with fresh ingredients. This means there's something for everyone and the fact that the pizzas are cooked up lightning fast doesn't hurt either!
Sprinkles – It's a cupcake bakery. Need I say more? Probably not, but I will anyway. Sprinkles is known for specialty cupcakes, cookies, and slow churned ice cream! I highly doubt any teen with a sweet tooth will complain about dropping into this new bakery. In fact, they probably will be the ones to pull you through the door.
UGG, Lily Pulitzer, UNIQULO, Pandora, and Zara – This names are well known to teens with a passion for fashion, accessories, and style.
Planet Hollywood – While it's been at Downtown Disney for years, Planet Hollywood isn't being left out of the Disney Springs renovation that's underway. This film-themed restaurant is slated to adopt a look to match the new Disney Springs, as well as a new outdoor terrace and live entertainment.
So those are just a sampling of the places at Downtown Disney that teens can enjoy now that DisneyQuest has closed its doors, and the best part is that more shops and restaurants are on their way. But what do you think? Has Disney managed to provide enough for this age group now that DisneyQuest is closing? Would your teens enjoy spending time at Downtown Disney? Are you looking forward to Disney Springs?