Universal Epic Universe Preview
Years in the making, Universal Orlando's newest theme park is almost here. Epic Universe is more than just Mario and Monsters, this is Comcast's largest investment in themed entertainment ever. This article will cover all the information you need about Universal's latest theme park and hotels.
History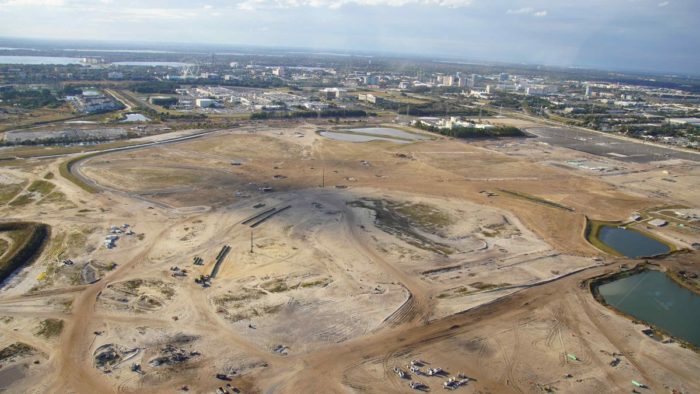 Universal first purchased the land that would become Epic Universe in 1998 from Lockheed Martin. Originally designed as a third phase of expansion for a resort after Islands of Adventure, the third phase of expansion would have housed golf courses, resorts, timeshares, and more. After the tourism recession in 2001/2002, the resort switched hands and the new owners sold the land in 2003 to keep the resort afloat.
Comcast fully purchased NBC/Universal in 2011 and finally fully took over the operations of the resort. Comcast was looking at expansion and started with Volcano Bay in 2017 and the Endless Summer hotels in 2019 and 2020. In late 2015 Comcast shocked the themed entertainment community by reacquiring the original 1998 land. While Universal remained mum on their purchase everyone knew it was for a third theme park.
After years of rumors, land cleanup, and roadway expansion proposals, Universal announced Epic Universe in August 2019 for a grand opening in 2023. Then the 2020 COVID-19 pandemic hit and Universal Orlando closed for months. Team Members either were furloughed or lost their jobs, and Epic Universe was paused.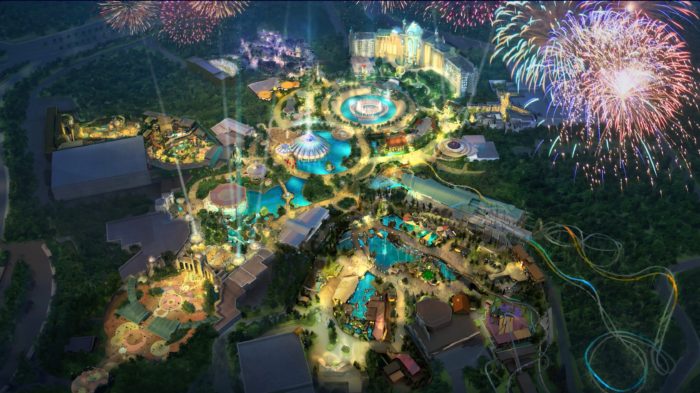 Thanks to a scrappy resort reopening in June 2020, fantastic ticket deals, and Disney's own mismanagement, Universal saw a huge comeback in late 2020. On March 3, 2021, Comcast excitedly announced Epic Universe's restart, admitting their pausing of the project was a mistake. Due to the pause and continuing supply chain issues the opening date of Epic Universe slipped to the summer of 2025.
Today the park, roads, and hotels are under active construction. Comcast has confidently stated the park will be open by the summer of 2025, leading us to believe Universal Orlando plans to offer extensive previews for the park. I don't know about y'all, but I am beyond excited.
Location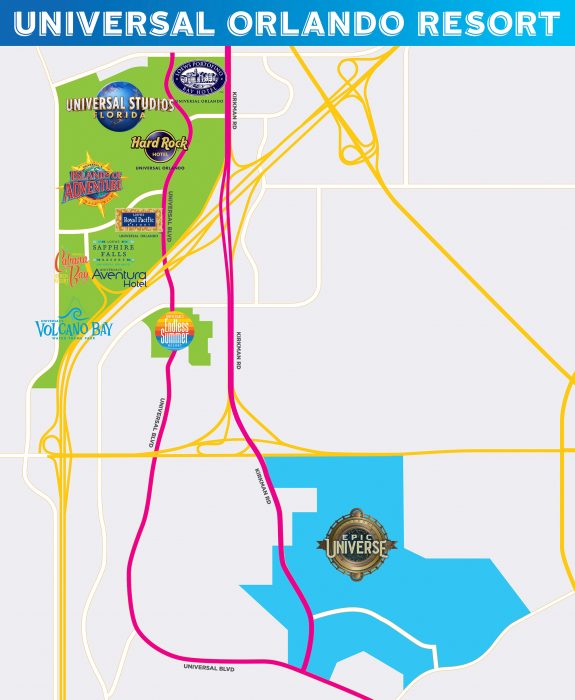 Epic Universe is located at the intersection of Kirkman Road and Universal Boulevard near the Orange County Convention Center. The north Universal campus is home to the current Universal Orlando theme parks and the south Universal campus will house the future Epic Universe park and its three themed hotels. This new campus is located south of the existing hotels and theme parks and will be accessible by bus or car. Unlike at Walt Disney World, Epic Universe is separated from the north campus by land Universal doesn't own or control.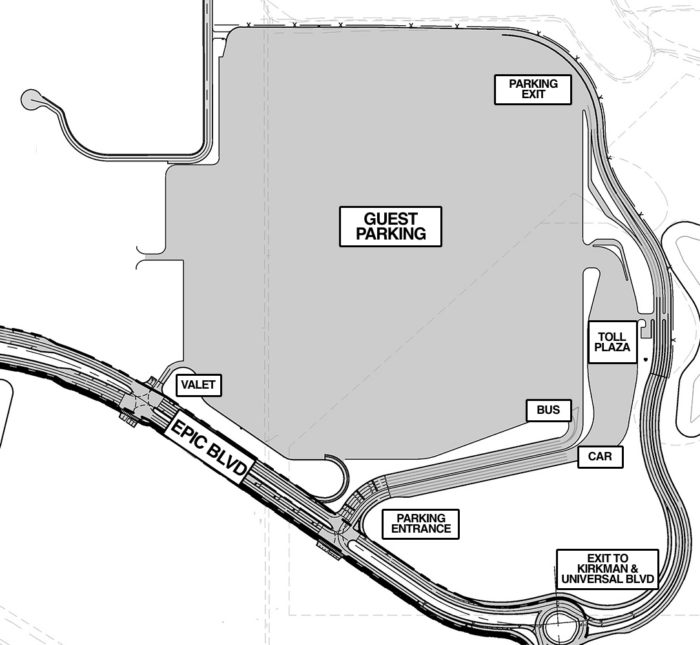 Guest parking is located in a surface parking lot off of a new street being built south of the park, Epic Boulevard. The easiest way to reach Epic Universe will be by taking I-4 North to 528 East. Take 528 East and then go north on Universal Boulevard. Follow Universal Boulevard and take a right onto Kirkman Road. Take the next right onto Epic Boulevard and follow the signage to parking. I-4 Southbound guests to take the Kirkman Road exit and then take a left on Epic Boulevard.
Hotels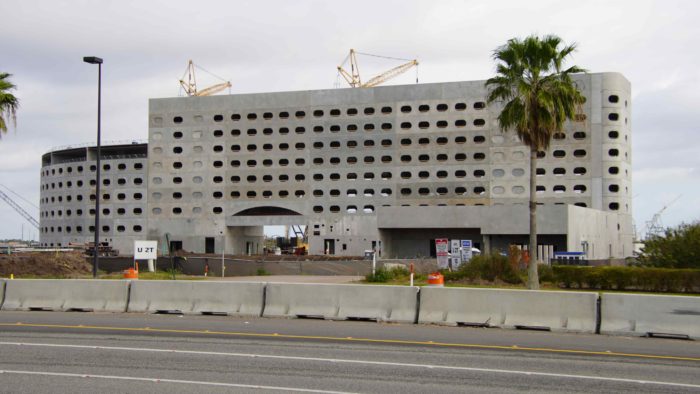 Universal has not announced any hotels for the south Universal campus… yet. But concept art, permits, and early construction show three new hotels around the park. Universal's prior hotels were announced 13 to 15 months before their opening, so we are expecting Universal to announce these resorts this winter or the spring of 2024. Watch the Touring Plans blog for future news or add your email to the Touring Plans Travel Epic Universe booking mailing list.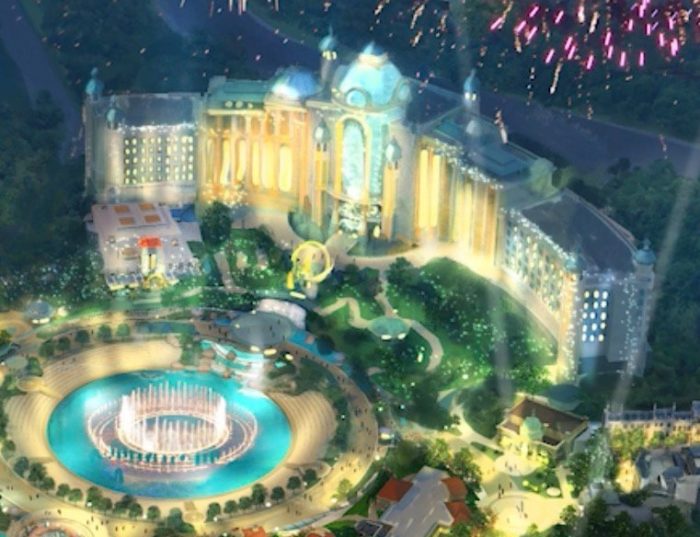 At the time of writing, Universal is expected to open three new hotels on the south campus. First is the Premier level Grand Helios hotel located at the back of Epic Universe. Themed to the sun god, Helios is expected to have full-service dining, concierge-level service, deluxe rooms, and complementary Express Pass. Many rooms will overlook the large fountain feature at the back of the park.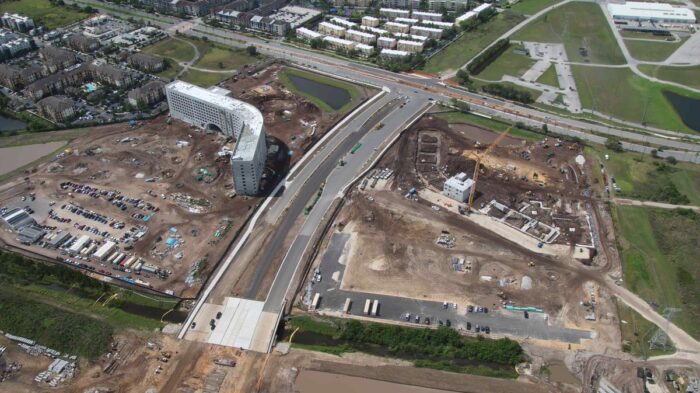 The other two hotels are south of Epic Universe, near Universal Boulevard. Based on the construction methods used and site plans we are expecting these resorts at the Prime Value level, similar to Cabana Bay or Aventura Hotel, and be priced slightly higher than Endless Summer. Access to Epic Universe will be by bus or pedestrian bridge and walkway. These hotels are rumored to be star and moon themed after Universal trademarked the names Stella Nova Resort and Terra Luna Resort.
Epic Universe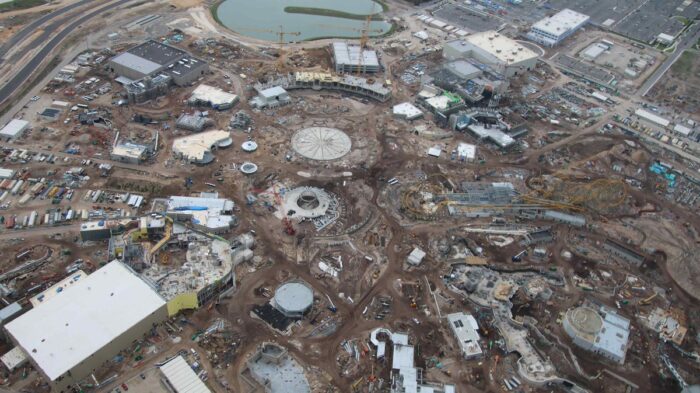 Universal Epic Universe is the third theme park at Universal Orlando Resort. Epic Universe combines industry-leading design and state-of-the-art technology to create an unparalleled theme park experience. If Universal Studios Florida has themed lands and Islands of Aventure is denoted by islands, then Epic Universe has worlds. Each of the four themed lands is an isolated location accessed through portals located in the hub. Epic is shaping up to be one of Universal's more well-rounded parks at the opening, with a slew of attractions designed for all ages.
Epic Universe is estimated to be around 110 acres in size, roughly the size of the Magic Kingdom. The park has a stem and leaf design, with the park's stem reaching from the entrance of the park to the hotel in the back. Themed portals branch off from the stem, leading to the universes of How to Train Your Dragon, Universal's classic monsters, Harry Potter, and Nintendo.
Rumored Attraction Type Overview:
Dark Rides: 4
Roller Coasters: 4
Shows: 3
Flat Rides: 2
Water Rides: 1
Interactive/Play Areas: 5
Entrance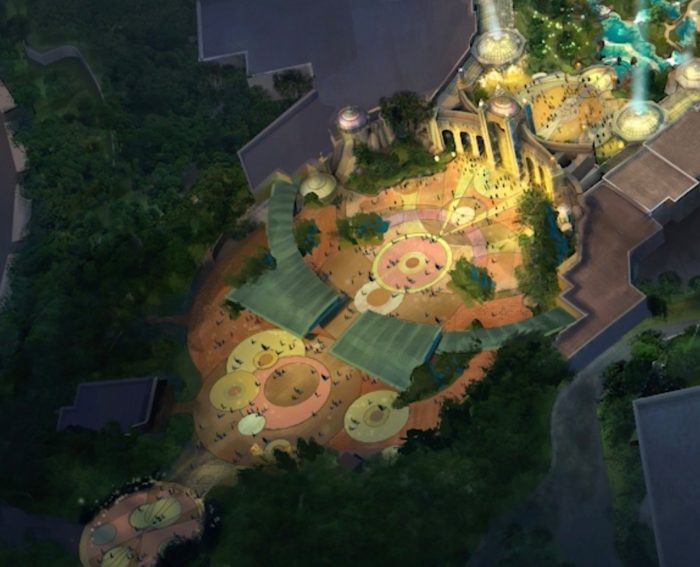 From the parking lot, guests pass through security and to the observatory-themed entrance facade. Once past the grand archways are the guest service, first aid, lockers, restrooms, rentals, and other part entrance essentials. The entrance acts as an observation portal into the worlds of this universe.
Celestial Park (The Hub)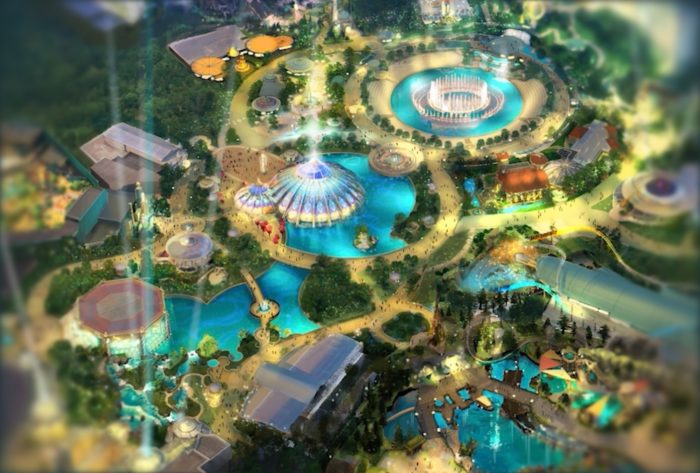 Rumored to be themed to aether and astronomy, the park's central hub is decorated with lush gardens and elaborate water features. Speculated to be named Celestial Park, this area is expected to have three attractions:
Starfall Racers – super headliner thrill coaster
Constellation Carousel – an innovative carousel
The Oculus – Fountain show
Water play area
Several shops and restaurants are expected in the gardens, such as the rumored full-service BBQ restaurant Oak and Star Tavern. A buffeteria is also located in the hub, but a rumored quick-service burger location and full-service Italian restaurant are rumored to be cut.
Super Nintendo World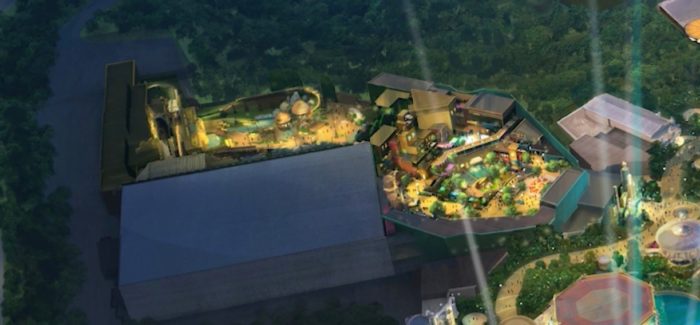 The only officially confirmed land for Epic Universe, Super Nintendo World brings the world of Mario and Donkey Kong to life. Super Nintendo World will be home to three rides:
Mario Kart Bowser's Challenge – interactive dark ride using Augmented Reality technology
Yoshi Aventure – omnimover attraction for young children
Donkey Kong Mine Car Mayhem – next-generation mine coaster
Toadstool Cafe, the interactive games, Bowser Jr's challenge, retail, and more are all here too. This will be the definitive version of Super Nintendo World, similar in scope to Japan's version but with larger guest areas.
Dark Universe

Universal found a winning formula with the Horror Make-Up Show and Halloween Horror Nights in Universal Studios Florida, so why not add a modern-day spin on the Universal monsters to Epic Universe? Straddling the line between horror and the silly, guests will find a quaint town full of shops, restaurants, and bars. The land's two attractions are both monsters adjacent:
Monsters Unchained: The Frankenstein Experiment – Thrilling dark ride similar to Forbidden Journey
Curse of the Werewolf – family coaster
Yes, the name of the land is based on the ill-fated cinematic universe.
The Wizarding World of Harry Potter – Paris & Ministry of Magic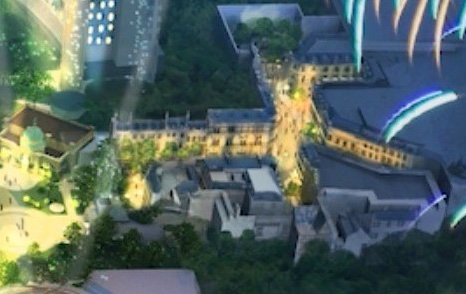 Walk through the Wizarding World portal and into Paris, with authentic winding streets full of magical surprises. Those magically inclined will find beasts behind those Parisian windows and guests will find a whole new batch of interactive wand locations. Expect to find a French wand merchant, pastry shops, counter service dining venue, and two attractions:
Battle at the Ministry E-ticket dark ride
Magical Beasts stage show
How To Train Your Dragon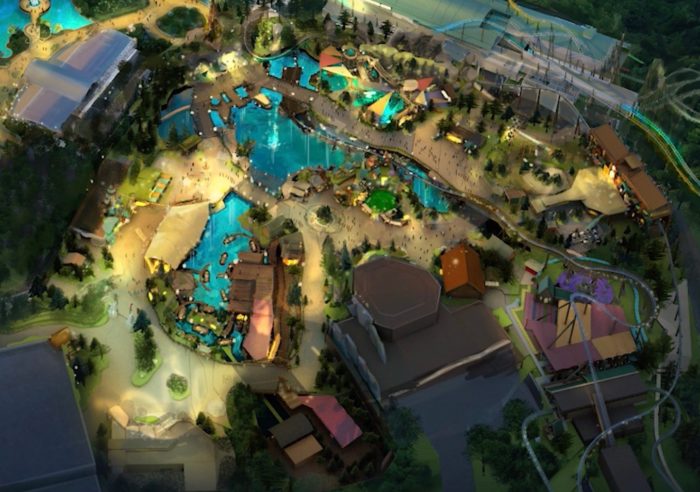 Enter the rocky portal to the Isle of Berk, the hometown of the How to Train Your Dragon series. Our story is the personal journey of learning how to ride a dragon, from fire extinguishing to dragon riding. Berk features several of the park's attractions:
Fyre Drill – Interactive boat ride
Family coaster with similar intensity to Hagrid's Magical Creature Motorbike Adventure
Hiccup's Winged Gliders – Mild-thrill flat ride
Headliner indoor stage show
Play areas
Of course, you will get hungry, so stop by the great hall for a meal. If you do decide to adopt your own dragon you will find plenty of space where your new buddy the residents of the land will interact with you.
Coming Soon…
Epic Universe and three brand-new hotels open in the summer of 2025. While Epic Universe vacations are not yet available, Touring Plans Travel is taking names now to notify guests once bookings open. TP Travel offers to find you the best prices and book as much or as little of the vacation as you wish. All hotel stays booked through TP Travel include a year subscription to Touring Plans for Universal Orlando and tickets include complimentary Early Entry.