10 Scrapbooking Resources for your Disney Vacation
Hello to all the scrapbookers out there! A few weeks ago, in my blog post about keeping the magic alive after your vacation ends, I referenced how hard it used to be to get Disney-specific scrapbooking supplies. During the first few years that scrapbooking became such a huge industry, Disney was slow to jump in. There was a real lack of official cute stuff, and Disney created a lack of unofficial cute stuff. Disney used to govern their copyright so strictly that it even policed eBay to make sure no one was creating and selling Disney-themed scrapbooking supplies. One quick search on eBay today, however, seems to indicate there are either a lot of people on eBay who do not fear the mouse, or Disney doesn't care anymore. So let's enjoy! And preserve some beautiful memories.
1. On Property Stores – Disney now sells a lot of supplies onsite. The World of Disney store on either coast has big selections, but you can find supplies in many other stores as well. They even carry a selection of supplies in the small stores onboard the cruise ships. There are stickers, paper, punches, and albums by the ton. Even the pickiest of scrapbookers can find something.
2. Non-Traditional Supplies – This won't come as news to most scrapbookers, but save everything! Everything! Disney can make anything cute, even a napkin. Save (preferably unused) napkins, park maps, Mickey confetti, anything that's flat or close to flat. If you're not sure if it's acid free, buy some acid free spray and you're good to go.
3. Disneystore.com – Did you wish you had bought more scrapbooking material when you got back from your trip? I'm sure your wallet didn't, but did you? The selection on Disneystore.com varies from time to time, but they do carry some cute things. Right now there is a good Cruise Line Scrapbooking Kit online. Some of it is very clearly cruise line-specific, but some of it would work on any Disney page.
4. eBay – Yep. eBay. Those scofflaws selling Disney stuff on eBay. Just kidding! Not only are people creating their own things and sharing their talent, they are also unloading supplies they didn't use or bought to sell. Are you feeling uninspired? Several people are selling premade pages! Just put your pictures in and add to your album.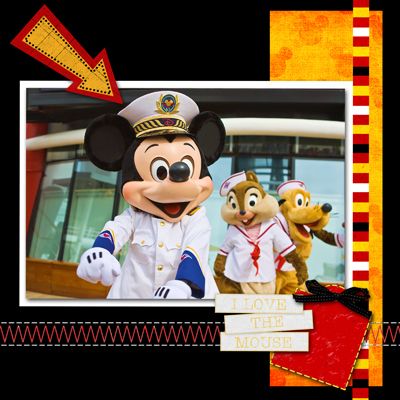 5. Etsy – Etsy is a website where people buy and sell handmade, vintage, and similar items. And wouldn't you know it, it's a place where people are creating and selling scrapbooking supplies! Some really neat ones too! Go look!
6. Local Stores – Local stores vary greatly in their selections of course, but almost all have a Disney selection these days. Big craft stores like Michaels have a great scrapbooking section with a decent sized Disney selection too. If you've never been in an Archivers, stop what you're doing right now and find the nearest one. If you don't have one near you, find one in a city you will soon be traveling to. Tell me you don't hear angels singing when you step inside one. Wait, it may not actually be angels. It may be the sound of dollar bills leaving your wallet…
7. Online Stores – Online shopping for scrapbookers has greatly improved in the last few years too. It used to be that some of the great stores (like Archivers) didn't sell anything online or would only have a very limited selection online. Nowadays that's not the case. In addition to the specific online stores mentioned above, there are a myriad of stores trying to stay afloat with huge selections. It's not a very economical way to shop if you only need one thing like a piece of paper. Many stores offer free shipping if you buy a minimum, so try to get a lot taken care of at once. Google "Disney scrapbooking supplies" and look at the pages and pages of options that come up.
8. Digital Downloads – If you're a digital scrapbooker, you probably already know what a wealth of options you have online. There are some absolutely adorable digital kits out there. Some amazingly talented people are creating and selling individual items as well as kits for you to use on your digital pages, or to print and use in your traditional books. Unless you've got an amazing printer, however, digital items will probably lose some of their appeal in that process. Look at the creations Kellybell Designs comes up with on a routine basis. I'm amazed by her creativity and talent! And Britt-ish Designs. Adorable!! Don't forget about the free clip art that's out there too! Not to mention free Disney fonts!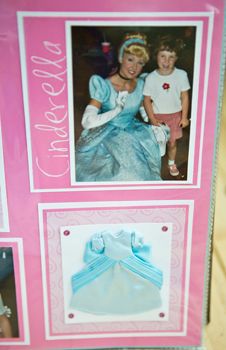 9. Pinterest – Are you tired of searching for supplies yourself? Well odds are good someone on Pinterest has already done it for you. If you've been living under a rock (or maybe you're a man) and don't know what Pinterest is, Pinterest is a photo-sharing website where people can organize images they've found online and want to share or remember. Search "Pinterest Disney scrapbook" and you'll find a ton of boards and pins from people doing the exact same thing you are. They've been looking for Disney scrapbooking supplies and ideas and they already found some! So they pinned it!
10. Message Boards – Disney message boards are a great resource for you believe it or not. There are whole communities of Disney focused scrapbookers sharing ideas and resources they've found. They post ideas, links to sales, whole pages, and have discussions about all of the above. Join a Disney message board! It's a great way to share and grow your skills!
Do you have any other Disney scrapbooking resources for us?