Your Next Disney World Vacation Might Actually Be a Vacation
We finally have some news about when Walt Disney World will begin their theme park (starting July 11) and resort (starting June 22) reopening. Along with those critical dates, we also have a bit more information on what the initial phases of reopening will look like.
At least at the beginning, there will fewer activities that draw stagnant crowds. This means no parades or fireworks and limited character greetings. Guest capacity will be reduced (you'll need a reservation to get into a theme park), meaning fewer lines and shorter wait times. It's likely that you'll be able to get through all the available park attractions, even multiple times, in a single day, or even part of a day.
Additionally, park hours are changing. Epcot is starting out opening the entire park at 11:00 a.m., rather than its usual 9:00 a.m. for the Future World attractions. Even with Extra Magic Hours, the Magic Kingdom will be closing at 9:00 p.m. at first, a contrast to the usual post-midnight closings during the summer.
All of this means that there will simply be fewer things to do in the theme parks and less time available to spend there.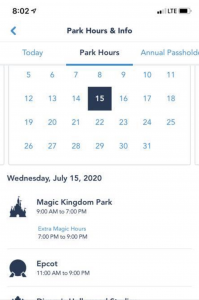 It's a truism that many guests complain about needing a vacation from their Disney World vacation. If you were in pre-COVID kamikaze theme park mode, you may have found yourself up for rope drop in the wee hours of the morning and then running straight through until the Kiss Goodnight. During a long trip to WDW in February 2020, I averaged over nine miles a day of walking, trying to work in all the available activities. With the new hours, required park reservations, and reduced number of attractions, that ride-or-die, I'll-sleep-when-I'm-dead mode of WDW touring simply won't be possible for a while.
And maybe, just maybe, that's a good thing. A formerly hectic Disney World vacation will look a little more like a relaxing Disney Cruise Line vacation, where you have some structured activities, along with lots of time to just chill.
For example, on a Disney Cruise Line sea day, my family will typically go to some of the planned events like onboard classes or entertainment, but we also spend lots of time reading books on our stateroom verandah, playing board games, watching movies, napping, and generally being lazy. While we are more active with touring during shore days, we tend to leave DCL vacations relaxed and refreshed. This is not always the case with our Walt Disney World vacations.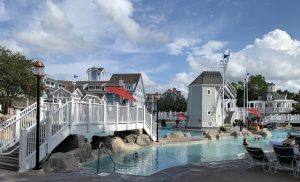 If you are planning a Disney World vacation this summer, you will likely have more down time than previous trips. I encourage you to think of that time as a gift – a way to reset the former frenzied mode of touring. Consider ways to build more relaxation into your vacation: sit by the pool and read a novel, take a leisurely bike ride around Fort Wilderness, play card games with your family, or take a boat ride on Bay Lake.
The slow restart may be just be the vacation your vacation needs.