10 Ways to Keep the Disney Magic Alive After You Get Home
If you are anything like me, it's a little painful every time a Disney vacation ends. And I'm not just talking about the pain you feel after you get on the scale when you get back home. I'm talking about the pain of leaving the Magic bubble and reentering the real world. That capital "M" was intentional. Disney has its own kind of magic, and if you've been, you know what I'm talking about. Leaving the Magic is a harsh jolt, but there are some fun ways to keep the Magic going until your next trip! Here are a few ideas for you.
1. Scrapbook! – Do you remember those commercials where the child is frozen mid-jump in the pool and he reminds his mom to get their pictures off the camera? Well, that's the first step to keeping the Magic alive – get those pictures off the camera and do something with them! No one wants to look at your pictures on a tiny LCD screen on the back of your camera. So get them off your camera! What should you do with them once they're off? Scrapbook them of course. There are so many Disney-centric scrapbooking supplies out there. Years ago, I had to cut three circles out of paper and create my own Mickey heads! Nowadays you can find Disney supplies at Disney, in craft and hobby stores, online, and in just about every specialty scrapbooking store in the country. If you're a digital scrapbooker, there are some absolutely adorable online kits out there. If you're not a scrapbooker, don't worry, there are lots of "drag and drop" photo options. Disney's very own Photopass website is one of them. They've got layouts already set up for their custom photobook pages. You just add photos and fork out the bucks! However you create that scrapbook, you've got a souvenir that you and your kids will treasure forever. Trust me, your Magical memories will come flooding back every time someone picks up one of your books to look through.
2. Souvenirs – Souvenirs are a great way to keep the Magic alive. Buy souvenirs that will take you back every time you use them. I like to buy new magnetic message pads every time we go. They hang on the fridge, and whenever I'm jotting down groceries or something else, I remember the Magic. We've got about twenty Disneyland popcorn buckets that are great fun to break out at home. If you're a coffee drinker, buy a coffee mug that will put a smile on your face in the mornings. I'm not saying you should walk around your house in Mickey ears, although I'm not saying you shouldn't walk around your house in Mickey ears, I'm saying there are some simple, inexpensive souvenirs that you can incorporate into your daily Magic-filled life.
3. Read Disney Blogs – This may seem oddly self-serving, but it really is true. A great way to keep the Magic alive is by keeping up on what's happening at Disney. There are excellent blogs out there, (you've already found your way to one of the best!) and they're fun to read! Blogs aren't just for planning; they're for reminiscing, discussing, and enjoying too.
4. Listen to Podcasts – Listening to Disney podcasts is also a great way to remember all things Disney. Did you know The Unofficial Guide has podcasts? Podcasts about all kinds of Disney topics. And they're free! You can subscribe on iTunes and new episodes will automatically download when they're available. There's about 40 episodes of the Unofficial Guide's Disney Dish with Jim Hill out there right now on iTunes. Give them, or any other Disney podcast, a listen and see if you feel the Magic.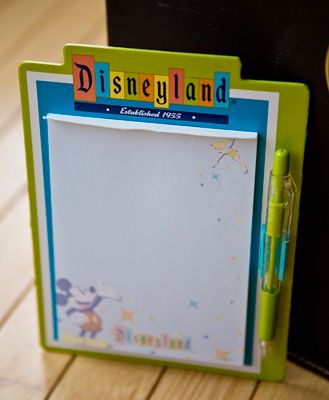 5. Disney Message Boards – If you think you are the biggest Disney fan there is, you'd probably be wrong. Did you know there are whole websites dedicated to giving Disney fans a place to talk about Disney topics? All. Day. Long. They argue with each other, ask questions, discuss rumors, rejoice with each other when Disney trips are approaching, and follow along when people return from Disney and retell the stories from their trips in (sometimes) excruciating detail. Message boards can be a little intimidating and some are "friendlier" than others to be sure, but odds are good you can find one where you'll fit in. I've been a member of a couple of the bigger ones for more than 10 years and I'm amazed by how much I've learned from them and how many friends I've made over the years. I'm going on a cruise with several of these friends this fall. If you want to relive the Magic, remember the Magic, plan the Magic, anything with Magic – a message board is where you should be.
6. Disney Game Night – Have a Disney game night! Or a lot of Disney game nights! There are so many fun Disney games out there for the whole family. Some of our best family times have involved taking a break from computers and television and sitting and playing games together. Disney's versions of our favorite games have been a special treat. Do you like Cranium? Try Cranium Disney. Are you a fan of the old classics like Clue? We loved Disney Haunted Mansion Clue. This Christmas one of our family members brought HedBanz for us to play. It was great fun until we realized we could have been playing Disney HedBanz! Man! We missed out. There are Disney versions of so many great games these days. Is anybody else clamoring for a Settlers of Disneyland? No? Just us? Okay.
7. Have a Disney Themed Meal – A Disney Meal will keep the Magic alive! You could find recipes for some of your favorite Disney restaurants, or make your favorite things in Mickey shapes! Either way would be fun! Trying your favorite recipes may be a little more of a balanced meal than a table full of Mickey shaped waffles, pancakes and pizza, but everything tastes better when it's shaped like Mickey!
8. Watch Videos – Videos are an excellent way to be sucked back into the Magic. Your own or other people's! Thanks to this wonderful invention called YouTube, you are no longer limited to your own (poor?) video skills and home movies. Now you can watch other people's home movies too! And other people take wonderful Disney videos. There are videos of fireworks, parades, rides, shows, you name it! Just google what you're looking for and enjoy.
9. Disney Music – In today's age of iPods, Mp3 players, computers and ring tones, Disney music is easier than ever to come by. It's also a good way to keep the Magic alive WHILE you are still getting other things done that you may really need to do. Like work! My boss doesn't read this, right? Disney Music can make me smile anytime I hear it. Even when I've been on hold for over an hour waiting to talk to an agent the morning Free Dining has been released at Walt Disney World. Well, it makes me smile for most of that hour anyway.
10. Plan Your Next Trip – Here's the best way to keep the Magic alive between trips – plan the next one! Nothing takes the sting out of leaving Disney as much as knowing when you'll be back. So get yourself the latest Unofficial Guide and start planning your next one!
So what do you do to keep the Magic alive between Disney trips?