10 Wonderful Things About the Royal Suites on Disney Cruise Line
The Roy O. Disney and Walter E. Disney suites on Disney Cruise Line are absolutely incredible.  I was lucky enough to celebrate a milestone birthday in the Walt suite on the Disney Dream a couple of weekends ago, and it was a cruise like none I've had before.   I knew that big birthday was coming, and I wanted a once in a lifetime experience!  I planned for almost two years, and I knew I wanted some friends along to really enjoy the experience, so they planned early too.   I've been inside both suites on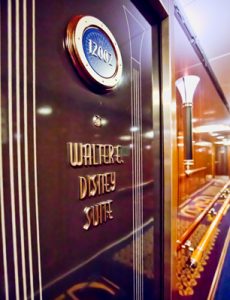 the Dream class before, but actually getting to settle into one for a short 3-night cruise was incredible.  The Royal Suites come with some perks that even the other concierge rooms, which are awesome, don't get!  So I thought I'd share some reasons why I was blown away.
First let's talk differences between the class of ships and the two kinds of suites.  The Roy and Walt suites on the Dream class ships are flipped in the general layout, but they aren't quite mirror images.  The bedroom in the Roy suite is along the outside of the ship with a wall of windows, and the master bathroom is in the interior.  In the Walt suite the bathroom is along the outside, and the bedroom is in the interior.
The suites on the Magic class ships are very different, but still very luxurious.  They are much more compartmentalized, and the deck is very different.  It's very long, but no wider than most verandahs.  They do sleep 7 as opposed to just 5 on the Dream and Fantasy, which is great, and they have two actual bedrooms instead of curtains to close around pull downs in the living rooms on the Dream and Fantasy.
Now back to some of the specific things that are awesome about them!  10 things, of course!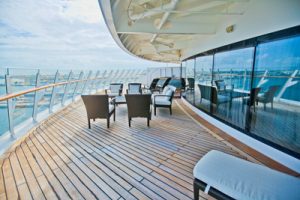 1. A Verandah So Big It Shouldn't Even Be Called a Verandah – I was a bit surprised just how much I loved this verandah on the Dream. It may actually have been the best part of the suite. It was ginormous.  Bigger than most staterooms on the ship.  Calling it a verandah just doesn't do it justice.  It was like having our own private deck.  This was probably the first cruise I've done where I spent zero time on deck four or on the pool deck.  There was no reason to!  We had ample room and some of the best views on the ship.  One night we were out there late and saw the Fantasy sail by!  That was unreasonably exciting, I will fully admit.  I mean we've seen the Fantasy before?  But seeing it out there in the wild, unannounced?  Super exciting.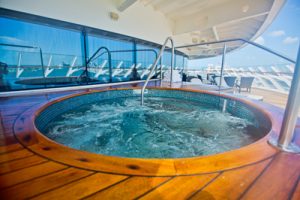 2. A Private Hot Tub – Also on this ginormous verandah, was our own private hot tub!! Our OWN hot tub! The hot tub was a full-size hot tub with lights at night, temperature controls, etc.  I absolutely loved having it right outside our room.  I never had to worry that I would change clothes and go up to the pool deck to find it was full of people or even closed.  I never had to sit with strangers and wonder if we should talk to each other or sit quietly.  If I wanted to go in, which I did, I just put on my suit and walked outside!  Glorious.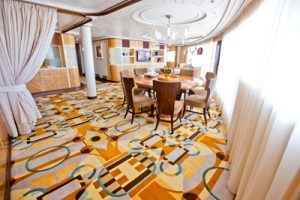 3. Huge Living Area – The living room in the suite was also giant. There was an oversized curved couch, an armchair, a round table for 8 and a large TV. The living room also had two pull down murphy beds with curtains to section them off if you needed to use them.  We had large groups of people in this living room at times, and never felt cramped.  The side of the living area was a curved wall of floor to ceiling windows which let in tons of natural light, and afforded sweeping views of the deck and scenery.
4. Three Televisions – There wasn't just one TV, there were actually three! One by the bed, one in the bathroom mirror and a large one in the living room. My husband was able to put football on and actually hear what the commentators were saying, as opposed to being in a public area.  Personally, I stuck to On Demand Disney movies when I had one of them on, and luckily there were enough TVs to go around if we couldn't agree!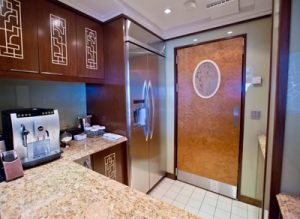 5. It Had a Kitchen! – My initial thought on having a kitchen was – "How silly? I'm not cooking!" But I soon saw its true value.  It was fully stocked with dishware, glasses, and napkins which were handy when we ate in the room.  There was a super nice Espresso Machine for all of our coffee wants and desires (although how to use this machine was stunningly confusing according to my husband), with a bowl of Mickey sugar cubes to top off our coffee in style.  There was a wine cooler with full size bottles of a variety of champagnes and wine for purchase.  There was also a full-sized refrigerator/freezer full of a variety of unlimited sodas and unlimited bottles of Evian.  The piece de resistance of the kitchen (maybe the suite?) was revealed when we opened the freezer and found a shelf full of Mickey bars!!  We audibly gasped.  And ate our weight in them over the next three days.  We couldn't help it!  They were there for the taking and were refilled without even being asked!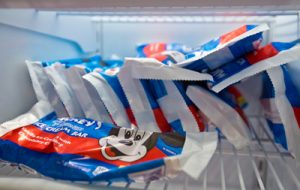 6. Enough Space to Party with Friends – There is soooo much space in the Walt Suite on the Disney Dream. We were part of a group of 20 and we were able to spend a lot of time together in the suite. We started off the cruise with our own private sail away party.  We spent most of Nassau day on the verandah, in the hot tub, and in the living room catching up, laughing and relaxing with our large group.  We had another party on our last night with everyone staying until well past midnight.  Sure, we could have found somewhere else to meet on the ship, but having our own space that was quiet and we knew was always available, was just wonderful.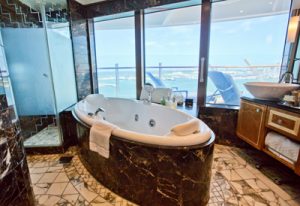 7. Incredible Master Bathroom – Yes, I said master bathroom. Because there are two bathrooms! There's one bathroom in the entry way with a full shower and that is super handy.  The master bathroom is large and marble, and beautiful.  There's a separate room for the toilet, a shower, a giant jacuzzi tub, two sinks and some storage.  The ceiling is covered in star-like lights that fade in and out.  The same lights are also above the bed in the bedroom!  In the Walt suite, the wall of the bathtub and shower area is that same floor to ceiling glass in the living room so there are natural light and views for dayssss.  There's nothing on that side of the ship, so you have complete privacy. If you are docked next to someone, or you had guests on your deck, the glass is switchable glass!  What's that, you ask?  It's clear glass, that with the flip of a light switch becomes frosted and opaque!  It's brilliant, and perfect for this situation.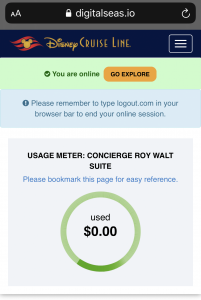 8. Unlimited Internet – Say wut? Yep. Unlimited!!  I know, I know, unplugging is wonderful!  But sometimes you just have to check in with someone.  Or look something up on the internet.  Or post something on social media.  Or streaming Disney music from our favorite Pandora channel.  I've written a couple of blog posts on conserving data while onboard, so I'm pretty good at not using a lot.  But let me tell you how freeing this was!  I put it in airplane mode when we left port, turned on Wi-Fi and didn't turn off a single thing on my phone.  Whoa.  We were able to FaceTime our son that evening before dinner!  It was my birthday, after all, so I didn't want to disconnect from everyone!  At dinner when someone couldn't remember an actor, well I just looked it up.  And I spent a relaxing morning in bed the next day answering Facebook birthday wishes.  Unlimited.  Amazing.  (And, please don't think Disney is having bandwidth issues on their ships which having two rooms with unlimited internet would exacerbate—if you haven't heard, Disney Cruise Line is starting to roll out free texting for its Cast Members!)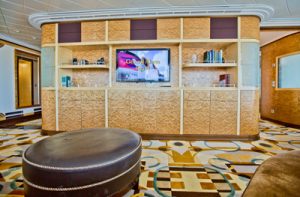 9. Enough Storage to Move In – Sadly, they will not let you move in, I checked, but there's enough storage that you could. In the living room alone, I counted 46 cabinets and drawers. 46.  That's insanity!  We could put everything away somewhere!  Admittedly, it did take me a while to open everything the day we left and double check to make sure I hadn't stuck something somewhere and forgotten it!  And it did take me a while to locate one cord I tucked away.  But hey!  I'd rather have that problem than the problem of not having anywhere to put things!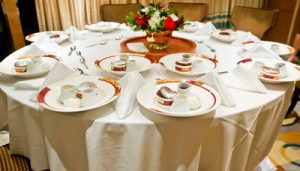 10. Palo in the Room – In any concierge room with a table, you can order meals from the Main Dining Rooms to be delivered. In the Royal Suites, you can also order Palo! Every night if you want!  We decided to actually go to Palo on the first night, but on our last night, we did something special.  Your mileage may vary on this, and it's totally up to the concierge team and the chef if he has time, but we were able to order just the chocolate souffles!  12 of them!  I mean, hey – milestone birthday!  They covered our table with a tablecloth and set them all up for us.  I have never had so much fun eating a souffle.  What a great celebration that was!
Have you been lucky enough to try a Royal Suite?  Do you have any questions about them?  Just ask!
Tammy Whiting is the owner of Storybook Destinations. Did you know Storybook Destinations offers a complimentary subscription to TouringPlans with qualified Disney and Universal bookings? Click here for a no-obligation quote on your next vacation!