25 Drinks of Christmas Countdown – Day 2: Grand Marnier Orange Slush at Epcot
The Christmas season is my absolute favorite time of the year. Growing up, one of the little things I loved most was getting an Advent calendar and counting down the days until Santa would be coming down the chimney. As I grew older, I had to leave Advent calendars in the rear view mirror,* but I still miss that daily countdown building anticipation to the big day. So, we're going to start a virtual Advent calendar here at TouringPlans. For 2014, we are going to countdown our favorite drinks at Walt Disney World and the Universal Orlando Resort.
Criteria: Drinks can be alcoholic or nonalcoholic. Drinks can come from any venue on property as well as the Disney Cruise Line. Bonus points awarded for atmosphere where drink is served. Any drink with glow cubes is immediately disqualified. Ready? Let's go!
DAY TWO: Grand Marnier Slush at Les Vins des Chefs de France (Epcot)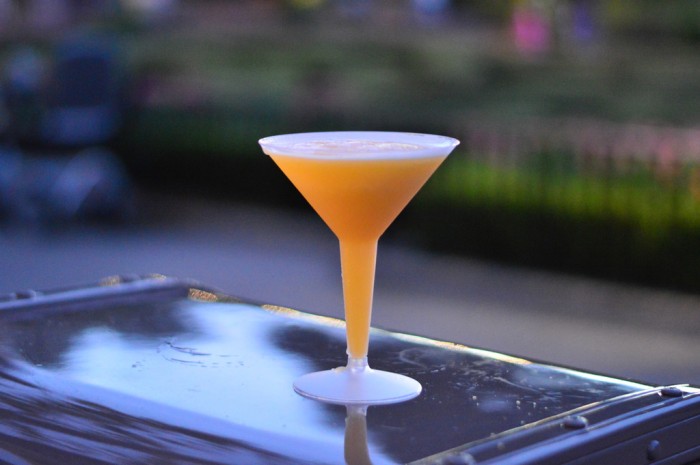 Who doesn't love a good Slurpee/Slush Puppie/Squishee? Well, it turns out you can make these frozen drinks even better by adding just one more ingredient…alcohol. Available at the Les Vins des Chefs de France kiosk in Epcot is the tasty Grand Marnier Orange Slush. Similar in taste to an orange sorbet with just the right mix of Grand Marnier and Grey Goose vodka, this slush is absolutely delicious and the perfect drink during a hot touring day at Epcot.
PREVIOUS DRINKS OF CHRISTMAS:
DAY ONE: Shark Attack at Chez Alcatraz
See you tomorrow for the next entry into the 25 Drinks of Christmas Countdown, where we are going to head back to Universal Studios Florida. If you had fun, be sure to check out The Magic, The Memories, and Merch!  and Saturday Six articles, or, for your listening pleasure, check out the Pardon the Pixie Dust podcast. Your humble author can also be seen producing typos at an inhuman rate on Twitter: @derekburgan
Interested in theme park drinks? Then do we have a eBook for you! The Walt Disney World Bars and Lounges eGuide by Brian McNichols. Over 250 pages and containing well over 400 photos, this eGuide takes you through EVERY bar and lounge on WDW property (trust me, Brian has the kidneys problems to prove it!) Also included? Recipes for some of your favorite WDW drinks. Ratings, descriptions, and photos for each of the 70+ bars and lounges. Talk about the perfect Christmas present!
Special thanks to crack staff photographer Brandon Glover and Megan Stump for their invaluable assistance with this article. Be sure to also check out Brandon on The Park Blogger podcast with co-hosts Aengus Mackenzie and Brian Carey.
*That is an absolutely lie. I still buy an Advent calendar every year with chocolates in it, and I also buy an annual box of Christmas Crunch, but we'll keep that between us.