25 Drinks of Christmas Countdown – Day 14: Hog's Head Brew at the Hog's Head
The Christmas season is my absolute favorite time of the year. Growing up, one of the little things I loved most was getting an Advent calendar and counting down the days until Santa would be coming down the chimney. As I grew older, I had to leave Advent calendars in the rear view mirror,* but I still miss that daily countdown building anticipation to the big day. So, we're going to start a virtual Advent calendar here at TouringPlans. For 2014, we are going to countdown our favorite drinks at Walt Disney World and the Universal Orlando Resort.
Criteria: Drinks can be alcoholic or nonalcoholic. Drinks can come from any venue on property as well as the Disney Cruise Line. Bonus points awarded for atmosphere where drink is served. Any drink with glow cubes is immediately disqualified. Ready? Let's go!
DAY FOURTEEN: Hog's Head Ale at the Hog's Head (Islands of Adventure)
Our latest entry comes from the Wizarding World of Harry Potter – Hogsmeade Village.  Hog's Head Brew is exclusively made for Universal by the Florida Beer Company. The brew is amber in color, with a slightly off-white head. The taste is surprisingly good for a theme park beer, with hints of a good Scottish ale while having a crisp taste. The Hog's Head pub itself is ripped straight out of the pages of JK Rowling's novels, and also played an important role in the film series as it was where the Hogwarts students formed Dumbledore's Army in Order of the Phoenix.
The Hog's Head is connected to The Three Broomsticks and also sells Butterbeer, making it a great alternative if the carts outside are swamped with muggles. There is a huge animatronic Hog's Head behind the bar that is worth going out of your way to see, along with other Potter-themed details such as shrunken heads and bottles of Fire Whiskey. My personal favorite detail is the chalkboard with "yesterday's specials" written down. However, my favorite part of Hog's Head is that it starts selling alcohol LONG before any place else in Islands of Adventure, and there's something special about standing on the bridge looking over at the majestic Hogwarts Castle with an ice cold Hog's Head Brew in hand.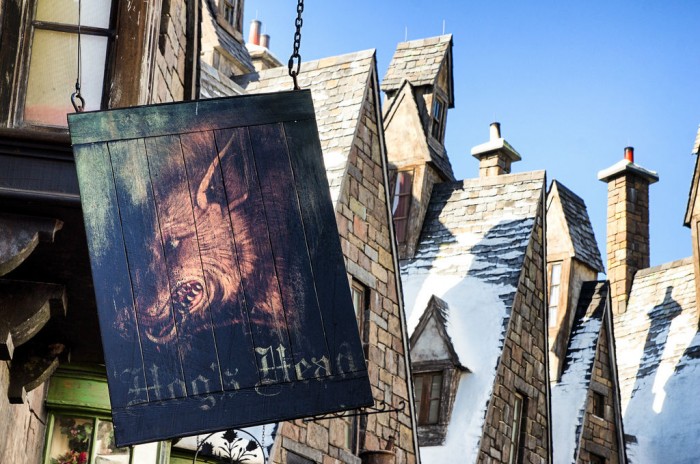 PREVIOUS DRINKS OF CHRISTMAS:
DAY ONE: Shark Attack at Chez Alcatraz
DAY TWO: Grand Marnier Slush at Epcot
DAY THREE: Flaming Moe at Moe's Tavern
DAY FOUR: Sunken Treasure on the Disney Cruise Line
DAY FIVE: Mai Tai at Emeri's Tchoup Chop
DAY SIX: Avocado Margarita at La Cava del Tequila
DAY SEVEN: Pumpkin Fizz at the Three Broomsticks
DAY EIGHT: Old Fashioned at Belle Vue Lounge
DAY NINE: PBR in a Paper Bay at Cabana Bay Beach Resort
DAY TEN: Bay Lake Sunset at Top of the World Lounge
DAY ELEVEN: Tongue Tying Lemon Squash at the Leaky Cauldron
DAY TWELVE: Sugar Cane Mojito at Dawa Bar
DAY THIRTEEN: Pint of Guinness at Raglan Road
See you tomorrow for the next entry into the 25 Drinks of Christmas Countdown, where we are going to head into Epcot's World Showcase. If you had fun, be sure to check out The Magic, The Memories, and Merch!  and Saturday Six articles, or, for your listening pleasure, check out the Pardon the Pixie Dust podcast. Your humble author can also be seen producing typos at an inhuman rate on Twitter: @derekburgan
Interested in theme park drinks? Then do we have a eBook for you! The Walt Disney World Bars and Lounges eGuide by Brian McNichols. Over 250 pages and containing well over 400 photos, this eGuide takes you through EVERY bar and lounge on WDW property (trust me, Brian has the kidneys problems to prove it!) Also included? Recipes for some of your favorite WDW drinks. Ratings, descriptions, and photos for each of the 70+ bars and lounges. Talk about the perfect Christmas present!
Special thanks to crack staff photographer Brandon Glover, photo-wunderkind Mike Sperduto, and Megan Stump for their invaluable assistance with this article. Be sure to also check out Brandon on The Park Blogger podcast with co-hosts Aengus Mackenzie and Brian Carey.
*That is an absolutely lie. I still buy an advent calendar every year with chocolates in it, and I also buy an annual box of Christmas Crunch, but we'll keep that between us.