A Look at the Web Slinger Vehicle For Upcoming Spider-Man Attraction at Disney California Adventure
Avengers Campus appears as though it's close to being done, given that the land was supposed to open on July 18 at Disney California Adventure, prior to the park closing in March due to COVID and today, we got a very brief glimpse at what the WEB SLINGERS: A Spider-Man Adventure ride vehicles are going to look like, in real life.
Now, in a blink and you miss it and very dark video clip that was shared during the IAAPA Expo: Virtual Education Conference, there was a very quick glimpse of the ride vehicles in action for this upcoming attraction.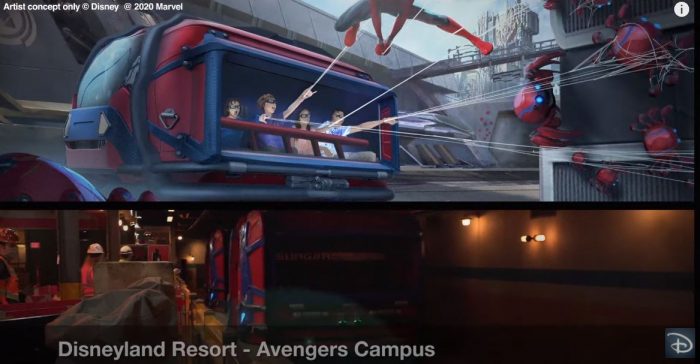 Too dark for you? You can catch the vehicle moving in action here and maybe see it just a bit better:
In the attraction, Guests will enter the Worldwide Engineering Brigade, or WEB. Here, they are testing a revolutionary "Web Slinger" vehicle when something goes wrong and you'll have to help Spider-Man clean up all of the Spider-Bots that are now on the loose.
The most interesting part of the web slinger attraction is that there are no web guns or any other kind of special equipment needed to shoot webs. All you'll have to do is just stretch out your hand and shoot!
WEB-SLINGERS: A Spider-Man Adventure will be part of the new Avengers Campus land where Guests will be be able to step into the world of the Avengers and be recruited as the next generation of superheroes alongside those iconic Marvel heroes.
More details about what to expect in the land can be found here. Of course, with Disneyland Resort having no official time-table on when it will reopen, there's no word on when Avengers Campus, and with that, WEB-SLINGERS: A Spider-Man Adventure will be opening now.