The Wilderness Must Be Explored!
If you read that title and your brain auto-completed it with "Kaw-Kaw! Raar!" then you are exactly the sort of person who is ready to join the Wilderness Explorers. And if you have absolutely no idea what I'm talking about right now … then you are also exactly the sort of person who is ready to join the Wilderness Explorers. This free, self-paced activity at Disney's Animal Kingdom is part of what makes this park so special. It combines touring the park, interacting with great cast members, and learning activities tailored to every individual – no matter your age.
Wilderness Explorers is a station-to-station scavenger hunt with stops throughout Disney's Animal Kingdom. Explorers earn badges by completing activities just like Russell in the movie "Up." Explorers get to learn about animals, fossils, conservation, and much more. With over 25 different badges to earn, the subjects are quite varied! Good to know: there's no gotta-get-them-all obligation (although your kids might think so).
Getting Started as a Wilderness Explorer
Wilderness Explorers does technically have a headquarters (how official!) on the bridge between the Oasis and Discovery Island. You can start your adventure here by picking up a Wilderness Explorers handbook. You'll spend a few minutes learning about the program, and you'll earn your first badge by learning the Explorer call (Kaw-Kaw Raar) and motto. There's even a hand symbol that kids will think is very cool and parents of a certain age will think is very "What-Ever" from Clueless.
If you're entering Animal Kingdom at park opening and hoping to beat the crowds at a popular attraction, stopping on the way is not a great use of your time. You can come back later. Or, you can pick up Wilderness Explorer handbooks from "Troop Leaders" in any of the park's lands. Not every badge station will have handbooks, but they'll be able to point you to your closest option. Much easier than waiting at headquarters at the beginning of the day.
Finding Stations and Earning Badges
In the front of your handbook is a map that shows the location of every badge station throughout the park. Some locations let you earn more than one badge in a single stop. Others are more spread out. Since there are so many stations throughout the park, I recommend getting your handbook and then simply carrying it with you as you tour the park. Stations are easy to spot, and you can stop whenever you see them. You don't need to seek them out unless you're trying to complete them all.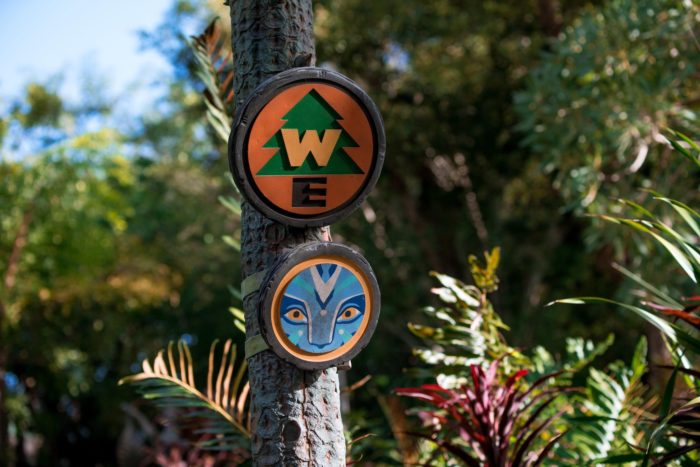 At each station, a cast member will teach you more about a specific topic. You might need to listen well, answer a few questions, or complete a short activity. And the requirements might vary depending on your age. When you're done, you'll get a sticker to put in your handbook. That's your badge!
Each station will have something to look at or interact with while the Troop Leader is teaching you about their topic. The Cast Members make sure to involve the whole group in the experience, even the adults. They are definitely experts in scaling the complexity of what they have to teach.
If you're excited to learn more about animals or conservation or paleontology or veterinary medicine, you can participate even without kids. Troop Leaders are some of the smartest people and most engaging communicators you'll ever meet. These passionate teachers are part of the reason you'll see parties of adults doing Wilderness Explorers.
Wilderness Explorers Tips
If you want to earn a lot of badges at once, look for spots on the map where two (or even three!) badges are lined up right next to each other. That tells you that you can earn multiple badges in the same location. Often you'll find it's the same Troop Leader; they'll do a couple of activities with you at the same time and then hand out the stickers.
Rafiki's Planet Watch is an excellent place for Wilderness Explorers to visit. You can usually find two badge stations on the path over to Conservation Station, then another FOUR inside the building! Bonus: this is one of the least crowded areas of the park because it's so removed. So you generally won't have to wait in line to take part like you might at other badge locations.
The two major animal trails (Gorilla Falls Exploration Trail and Maharajah Jungle Trek) have multiple badges each. Our family found these stations especially engaging because they generally have something to do with the animals that are just steps away.
Got a little one who is too short for Flight of Passage? There are two badge stations in Pandora that can help use up some of the time waiting for the rest of the party.
Is Wilderness Explorers Right For You?
Do you love a good checklist? Do you want a way to motivate your kids to explore all the areas of the park? Then Wilderness Explorers is a great "gotta find them all" activity to help keep you moving along.
If you want to lean into Animal Kingdom's education opportunities, Wilderness Explorers is an easy way to find new things to learn. If your kids are missing school for this Disney trip, they can show off the handbook when they get back. It can help them to share what they learned on their theme park vacation.
If you want to meet some of the best and smartest Cast Members, Wilderness Explorers will lead you right to them. You'll be easily able to ask more curious questions about things you see in and around the area. I find it awkward to go up to a Cast Member and ask about nearby animals or things I've wondered about the park. Talking about the badge is a great icebreaker that helps me feel more comfortable bringing up other questions.
If your trip only includes a half day in Animal Kingdom, you'll need to make choices. With everything else there is to do in the park, you won't be able to finish many badges. You can come back and work on them on another trip, but it might be easier to simply spend your time on other things.
Have you been a Wilderness Explorer? Share your stories about some of your favorite badges, activities, or experiences in the comments below!