Best Easter Eggs in Mickey and Minnie's Runaway Railway
Note: This review may contain spoilers for Mickey and Minnie's Runaway railway.
Mickey and Minnie's Runaway Railway is a first-of-its-kind, trackless dark ride at Disney's Hollywood Studios and the first ride where Mickey and Minnie are the stars!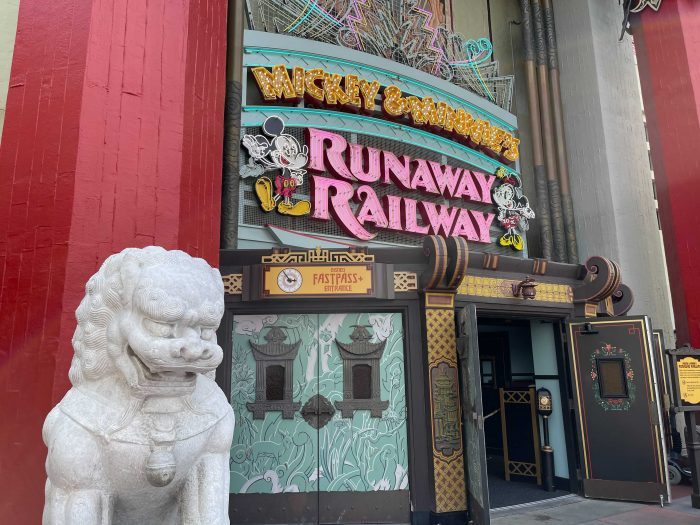 Guests are welcomed to literally step into a new, Paul Rudish-style Mickey cartoon short, and I do mean literally. The pre-show screen showing the "Perfect Picnic" cartoon short opens for guests to pass through to enter the cartoon world!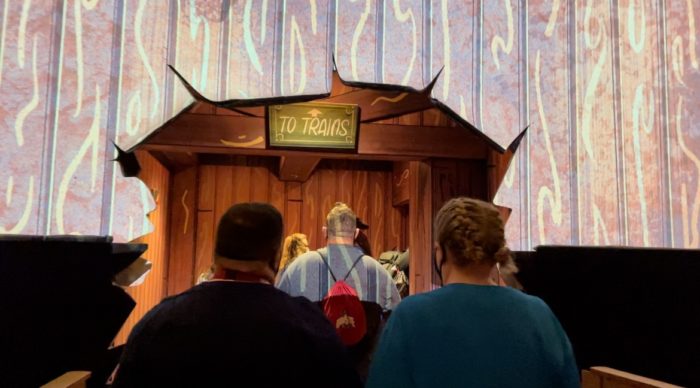 Now the ride's effects and show scenes are state-of-the-art and literally layered with detail. And among those details are dozens of Easter Eggs cleverly hidden by the Imagineers. Note: For reference, Easter Eggs are references and tributes to Disney History, characters, other park attractions, and the like.
So let's take a spin aboard Mickey and Minnie's Runaway Railway to discover some of the best Easter Eggs that you can spot when riding this Hollywood Studios attraction!
Carousel in Runnamuck Park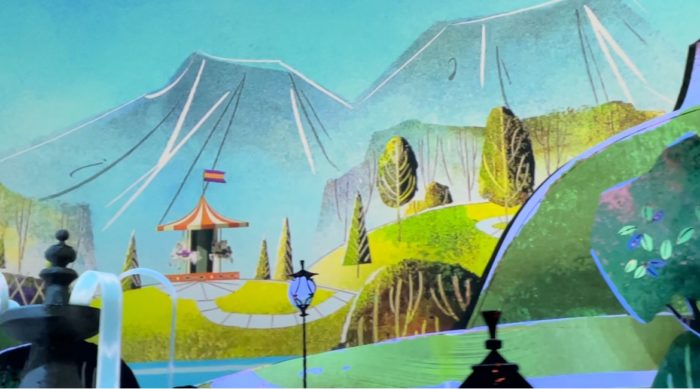 In the room where guests board Goofy's train and take the first turn into the tunnel, be on the lookout for a carousel. Walt Disney was actually inspired to build Disneyland while watching his daughters ride a carousel during a father-daughter outing.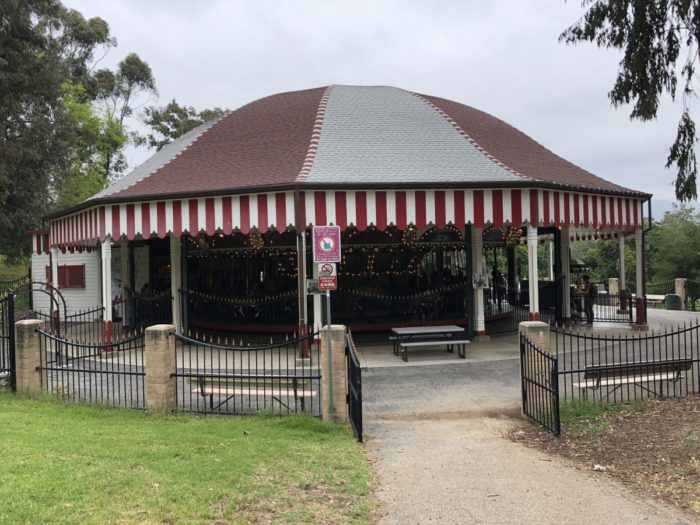 The Year 1928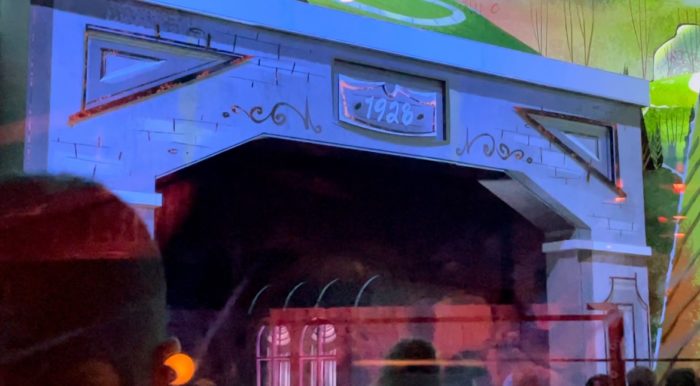 Once aboard Goofy's train, guests are transported into a tunnel bearing the date 1928. This year is important in that "Steamboat Willie," Mickey Mouse's breakout cartoon, was released in 1928.
Odes to The Great Movie Ride
Mickey and Minnie's Runaway Railway opened in March of 2020 replacing The Great Movie Ride. This former attraction took guests into scenes from various classic Hollywood films, including The Wizard of Oz.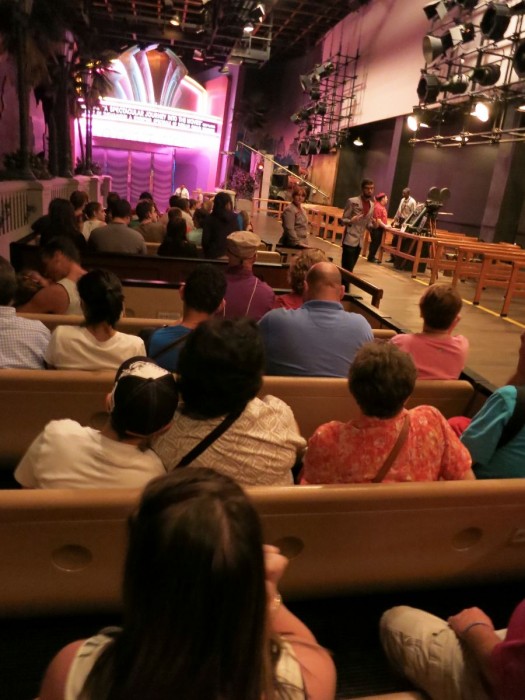 But the scene before The Great Movie Ride's Munchinkland was a little bare with only wind effects and projections of the Sorcerer Mickey scene from Fantasia. This is because Imagineers originally intended for this scene to feature the twister from the 1939 film.
Well, Imagineers have finally put a proper twister in this space that's dotted with Easter Eggs and references, including a mailbox that reads "There's no place like home!"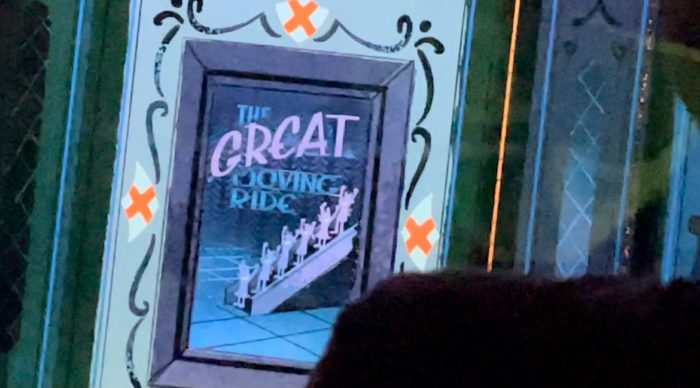 In addition, during Mickey and Minnie's carnival scene, there's a poster for "The Great Moving Ride" which is a fun homage to the original attraction.
The Brave Little Tailor Shop
This one may be hard to spot. Located between Daisy's Dance Studio and the factor scenes, look around for the Brave Little Tailor shop which is an Easter Egg for the 1938 Brave Little Tailor short where Mickey contends with a giant.
Instruments in the Twister
Also during that twister scene, keep an eye out for some instruments zipping by. This could be a reference to Mickey's Philharmagic at the Magic Kingdom where the instruments in Mickey's orchestra get swirled around thanks to the magic of the sorcerer hat.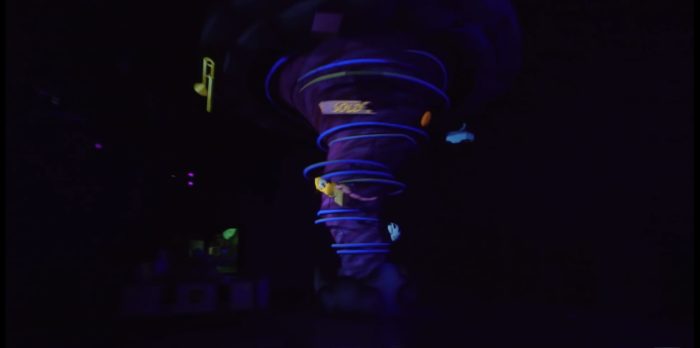 But it could also be a nod to the 1935 cartoon short "The Band Concert" where Mickey and the band get caught up in, well, a twister!
Oswald the Lucky Rabbit
Mickey Mouse wasn't Walt Disney's first big character. That title actually belongs to Oswald the Lucky Rabbit.
But when Walt lost the rights to Oswald to Universal, he then decided to create a cartoon mouse who his wife Lillian suggested be name Mickey. While aboard the ride, be looking for a newspaper stand with a newspaper reading "Oswald Wins!"
Engineer Goofy's Train Whistle
As most Disney History fans are likely aware, Walt Disney loved trains. So it's only appropriate that the first attraction starring Mickey Mouse would have a train ride vehicle.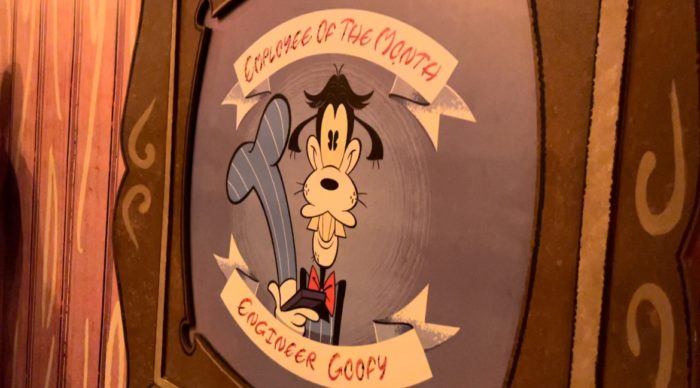 While aboard, be sure to listen for the tri-tone train whistle. The sound is actually from 1928's "Steamboat Willie."
Iwerks Waterworks
The water treatment plant within the ride is named Iwerks and Uwerks Waterworks which is a punny nod to Disney Legend Ub Iwerks.
According to D23, Ub is credited with sketching Mickey Mouse for the very first time. He also drew Oswald and later worked with on park attractions.
Retlaw Parking
Also within the city scene is the sign for Retlaw parking. Do you know what Retlaw is spelled backwards. That's right! It's Walter for Walter Elias Disney.
Walt Disney's Birthday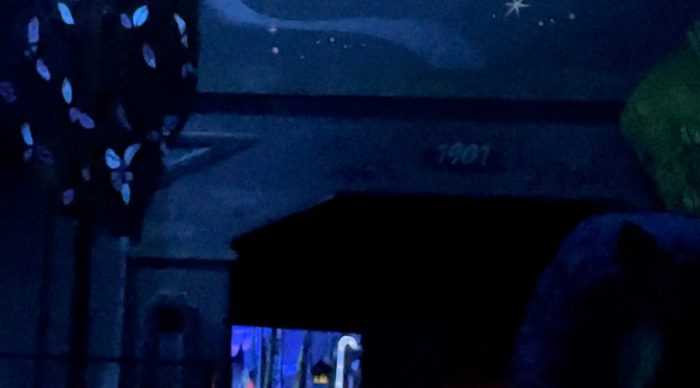 In addition to the year 1928, guests aboard Mickey and Minnie's Runaway Railway are likely to see the year 1901 as well, particularly above the culvert in the sewer scene. This is because Walt Disney was born on December 5, 1901.
1401 Flower Street
The address for the headquarters for Walt Disney Imagineering is 1401 Flower Street in Glendale, California. The 1401 Flower Shop within the ride is a fun homage to the Imagineers themselves.
Hollywood Studios' Streets of America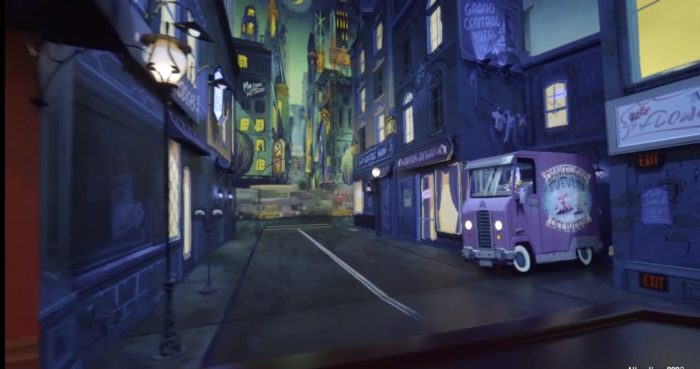 It's possible that a portion of ride's city scene could be inspired by the former Streets of America that once stood at Disney's Hollywood Studios.
Potatoland's Great Moments with Mr. Lincoln
Another tough one to spot, tucked between two booths within the carnival scene is a poster for Potatoland's version of Disneyland's classic show Great Moments with Mr. Lincoln.
Typhoon Lagoon's Miss Fortune
Disney World's Typhoon Lagoon water park is home to an attraction called the Miss Adventure Falls which was originally supposed to be called Miss Fortune Falls.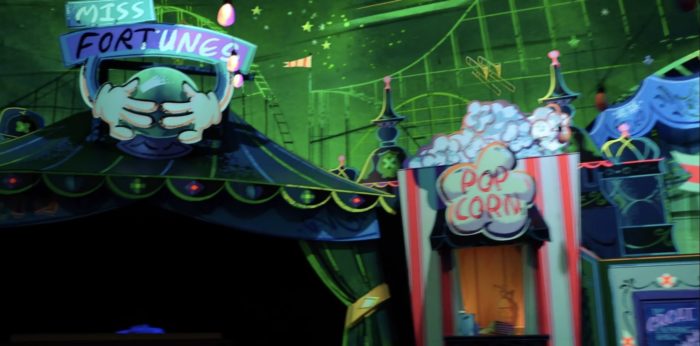 While the name didn't fly at the water park, Miss Fortune is included inside Mickey and Minnie's Runaway Railway during the carnival scene. It's also worth noting that Kevin Rafferty who oversaw this attraction also worked on Typhoon Lagoon and came up with many of the names for the park's shops and restaurants.
Yensid Valley
Speaking of Walt Disney, look for a sign at the end of an attraction that includes the name Yesnsid Valley. Much like Retlaw, Yesnid spelled backward is Disney! Yen Sid was also the name of the sorcerer in Fantasia's Sorcerer's Apprentice who animators designed after Walt!
Is Mickey and Minnie's Runaway Railway one of your favorite attractions? Which Easter Egg was your favorite? Let us know in the comments!