Best Waterfront Dining at Walt Disney World
There's just something so relaxing about dining on the water's edge, an expansive waterside view sprawled out before you. Florida is a subtropical climate and sometimes the humidity makes it rough to be outside, but a nice breeze off a lake can make all the difference. Florida fall and winter weather are on their way (I promise), so enjoying a meal al fresco by the water is a must-do before summer shows up again. Here are my picks for the best waterside dining at Walt Disney World.
It's hard to think of any other waterfront experience at Walt Disney World that tops The Boathouse. The restaurant itself sits along the water's edge, granting diners with a lovely view. Nautical decor is just the beginning as full-size boat fixtures line the walls. For the ultimate waterside dining experience go for sitting outside. A pier juts out into the lake, affording diners not only the joy of dining along the water, but being surrounded by it. If you don't desire a full meal, you can grab a spot at the Dockside Bar and enjoy handcrafted cocktails and fresh seafood appetizers, all while watching those curiously cool amphicars.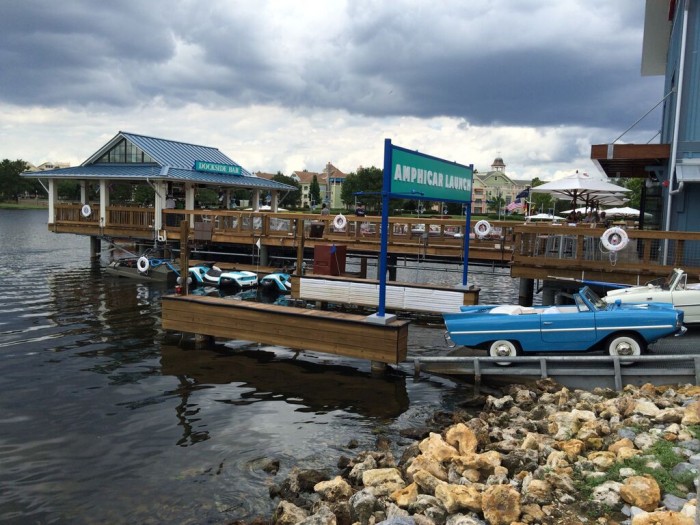 This restaurant was one of the first to open when Downtown Disney became Disney Springs. The vibrant flavors of Latin cuisine are showcased here. From Mexican to Peruvian to Caribbean, you can sample the varied tastes of exotic tropical destinations. Many of the tables in the dining area face the interior of the restaurant, but there is a back porch that wraps around all the way to the the side of the building and overlooks the water.
The building that Paddlefish occupies is an icon. This riverboat has stood at this spot since the beginning of Lake Buena Vista Village, then Downtown Disney, and now Disney Springs. Paddlefish has a bountiful menu of classic seafood dishes. The interior seating has water views, but the deck is the place to be for the best experience, and there is live music on Friday and Saturday nights.
Chef Art Smith's Homecomin' – Disney Springs
My Florida Native heart rejoices every time I set foot inside this Florida-centric restaurant. The mural on top of the kitchen makes me swoon. Traditionally this Florida fare eatery is not considered as a waterfront dining option. But there is a porch and outdoor seating which have great views of the fake, but beautiful, Disney "springs". When the weather is right you've got to grab some sweet tea moonshine and some appetizers, and enjoy this view.
Le Cantina de San Angel – Epcot
No other counter service restaurant in Epcot offers ample outdoor seating like the cantina at the Mexico pavilion. Enjoy traditional, casual Mexican food with an unbeatable view of World Showcase lagoon. You might be tempted to siesta here.
Okay, admittedly this one is an unconventional addition to this list. After all, San Angel Inn's seating is all completely indoors. Yet, most of its tables have some of the best water viewing of any Disney restaurant because it overlooks a delightful boat ride: the Grand Fiesta Tour. Grab a margarita and some delicious chile rellenos and savor that view that only Epcot can offer.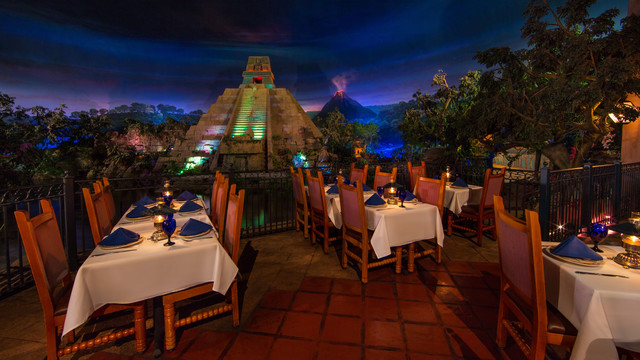 When Disney announced they were adding another full-service restaurant at the Morocco Pavilion it raised many an eyebrow. The dining in this pavilion isn't all that popular with the average guest. However, this lagoon-side restaurant should not be overlooked. Its expansive patio allows for wonderful views of World Showcase Lagoon. Their menu pairs perfectly with watching a sunset or Epcot's fireworks right from your table.
Rose and Crown Pub and Dining Room – Epcot
This popular spot for grabbing a drink also has more than just pub grub. The bulk of the seating is indoors, but there are side and back patios, the back offering relaxing views of World Showcase Lagoon. This area is very popular around fireworks time. 
Flame Tree Barbecue – Disney's Animal Kingdom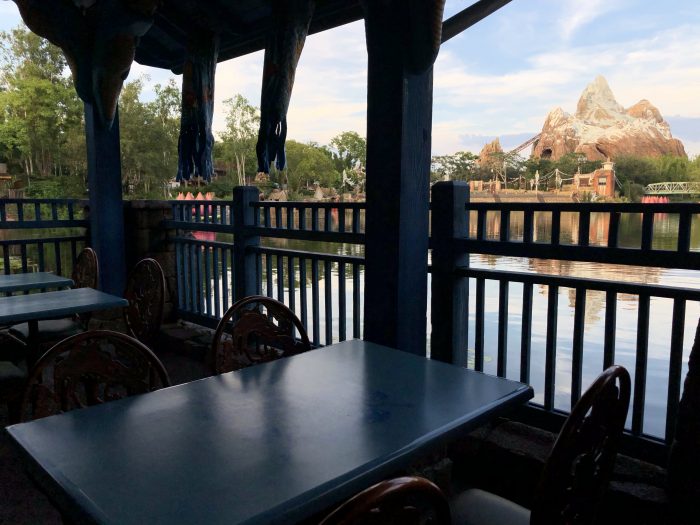 Before the days of Tiffins and Nomad Lounge, my go-to meal at Disney's Animal Kingdom was always Flame Tree Barbecue. Even though the park's dining options have expanded a lot recently, Flame Tree is still a solid choice and if you go to the seating pavilion that faces the lagoon on which Rivers of Light performed, you're in for a memorable meal. The lagoon is lovely anytime of day.
Nomad Lounge – Disney's Animal Kingdom
My absolute favorite Lounge in any theme park is Nomad Lounge. It's beautiful, it's relaxing, and has a great menu. The wrap-around patio overlooks the park's Discovery River and has a view of the bridge that leads guests to the wondrous land Pandora – World of Avatar.
Three Bridges Bar & Grill – Disney's Coronado Springs Resort
You can't get more waterside than being surrounded by water. The Three Bridges Bar and Grill at Disney's Coronado Springs Resort is one of many new additions to this thoroughly re-imagined resort. This spot is fantastic for relaxation or socialization, with appetizers meant to be shared. The drink menu is larger than most Disney hotel lounge menus. The views are spectacular, but are made all the better when a soft breeze crosses over the lagoon. 
Geyser Point – Disney's Wilderness Lodge
This lakeside Lounge-style eatery has found a place in my heart as one of my favorites. I love the relaxed seating. I love the completely open air. And I cherish the lakeside views. The menu is great too! The brisket dip appetizer is packed with flavor, the salads are fresh and bountiful, and a great beer and wine menu add to the delights.
Tips and Information
Reservations are recommended for most of the full-service restaurants in this guide. Be sure to make note of your desire to sit outside when making your reservation.

Arrive early for outdoor seating as it is often desired by most guests.

If you wish to view sunset or fireworks from the applicable restaurant or bar, arrive early and be patient.

Enjoy the view!